Breakfast, is it the most important meal of the day? Absolutely YES!!!! It literally means break the fast. It kickstarts your metabolism and helps you burn calories during the day. It fuels you up for the rest of the day after an overnight fasting.  When we wake up in the morning, our blood sugar levels are low. For our body to function and make our muscle and brain work. Breakfast helps us replenish it. Without breakfast our body is like running a car without petrol. We should consumes our breakfast within two hours of waking up and it should 20-35% of your guideline daily allowance (GDA).
So today we have lined up some really awesome breakfast recipes for you that are quick and healthy. We want to take a moment and give a big shout out to all our fellow bloggers listed below for contributing your recipes for this post. We encourage you to check out these amazing blogs for more ideas and inspiration. We are sure you will enjoy them. So lets get started.[adinserter block="2″]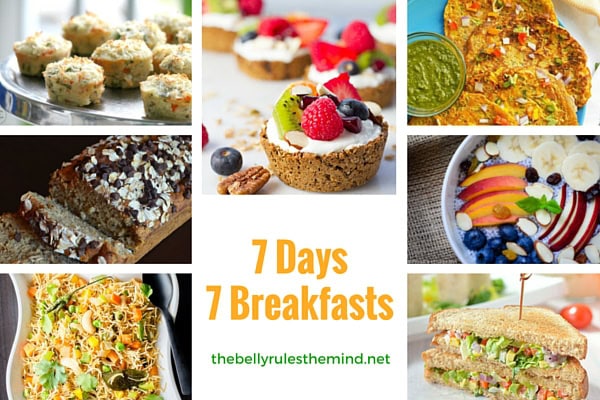 Fruit & Nut Breakfast Tarts by Jar of Lemons , these fancy breakfast tarts are not only super healthy, but will lure anyone to the breakfast table.  They have just the right amount of whole grains, protein, and natural sugar. You have to check out the secret ingredients of these containers, you will be taken by surprise. 

Chia Seeds Breakfast Bowl by Framed Recipes They say the best breakfast is a colorful breakfast. So here you go,this colorful rainbow breakfast is a no-fuss, no-cook, almost-zero-effort and yet super nutritious. Loaded with the goodness of Chia seeds and nuts and fruits to kickstart your early mornings. Dig in or pack it to-go.
[adinserter block="2″]Savory Chickpea Flour Crepes by Aromatic Essence These vegan and gluten free crepes make a perfect savory breakfast, ready in under 20 minutes. Rich in protien and carbs. These are delicious.
Vermicelli Upma by Herbivore Cucina Combat your AM woes with this hot breakfast. Healthy breakfast doesn't need to be bland. This one is loaded with veggies and spices that you can alter to your taste. 
[adinserter block="2″]Avocado Mayo Sandwich by Ruchi's Kitchen In a rush, toss in a few ingredients this no cook, tasty, filling sandwich loaded with nutrients is ready. Grab and go.
Savory Vegetable Semolina Muffins Bored of the sweet muffins, these savory muffins are a great way to sneak in veggies in your morning breakfast. These totally work with kids. Best of all you can even make these ahead of time. I usually make them on a Sunday evening and Monday morning are so much easier. Life is good, atleast on monday mornings. 
Whole Wheat Oats Banana Bread It's a classic recipe that you can't miss for breakfast. It's soft, moist and loaded with banana flavor. Make it ahead of time for those busy mornings. Enjoy it as is or toast it like me.[adinserter block="2″]
Remember the phrase
Eat Breakfast Like a King, Lunch Like a Prince, and Dinner Like a Pauper
So tell us what's your morning routine like? Do you make your breakfast the most important meal of the day? What is your favorite breakfast? Please leave your comments below. If you like these breakfast recipes share them with your friends and family.
For more healthy ideas and recipes subscribe to our email or follow us on Facebook to stay updated with all the healthy information  we share. Check out our Pinterest boards for all the healthy eating inspiration you'll ever need. For an unending buffet of healthy photographed food, follow us on Instagram