Valentine's day is almost around the corner. For some of you who haven't thought of how to make it special for your loved ones. Here is a very simple and straight forward idea, to make this holiday special. I often make this chaat for my LO and my hubby, and they love it. Anybody who has had this street side aloo chaat can vouch that it is really delicious. I often use my cookie cutters to cut different shapes depending on holidays and seasons. Since my 2.5 year old is learning about Valentine's day in school,  these days I have been using my heart shaped cookie cutter to bring in the element of love. The best part about this chaat, are the ingredients, easily found in every home.
Ingredients
2 potatoes, boiled
1 sweet potato, boiled
Chaat masala to taste
salt to taste (optional)
1 tsp fresh cilantro, chopped. to garnish  (optional)
1 tsp lemon juice (optional)
2 tsp oil
Please ignore the sweet potato in the picture below, it would have gone bad if not consumed.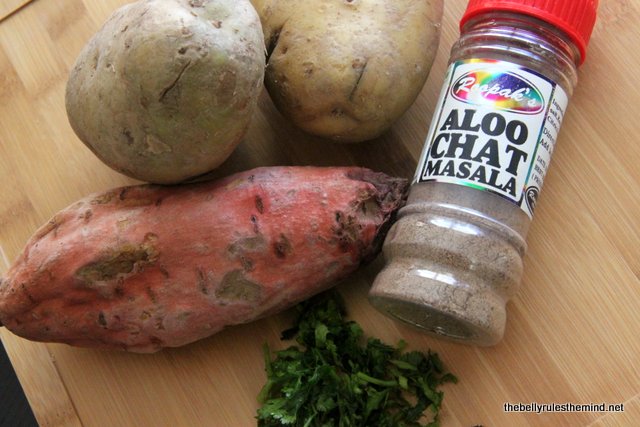 Did you know
Sweet Potatoes  & Potatoes are a good source of vitamin B6, vitamin C & vitamin D.
They are a good source of potassium, magnesium  & iron.
Natural sugars from sweet potato are released into the blood stream regulating blood sugar levels.
Instructions
Boil the potatoes & the sweet potatoes.
Slice them  into circular discs.
Use a heart shaped cookie cutter or a cookie cutter of your choice, cut the circular discs into the desired shapes.
Heat some oil in a pan.
Toss the hearts into the pan and cook them until crispy n golden brown for approx. 5=7 minutes in each sided
Once cooked, sprinkle chaat masala and lemon juice over the potatoes. Lucky for me that with the Roopak Chaat Masala, I don't have to add in extra masala or lemon juice, it is pretty flavorful and self sufficient. I have been lucky that Roopak Masale have been easily available to me here in the US. First couple of years my parents sent them to me and then I pretty much found them at the Indian stores in all the three states that I have lived in.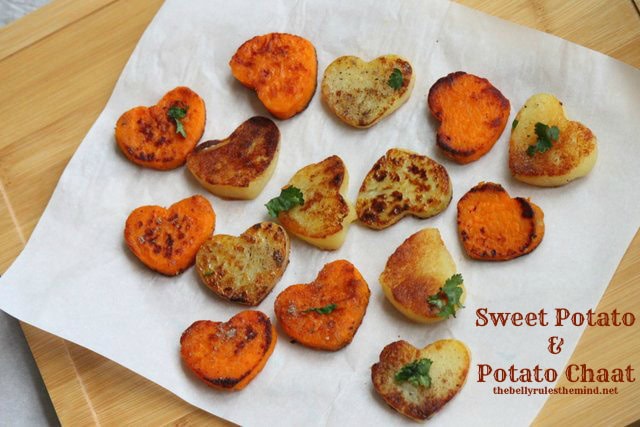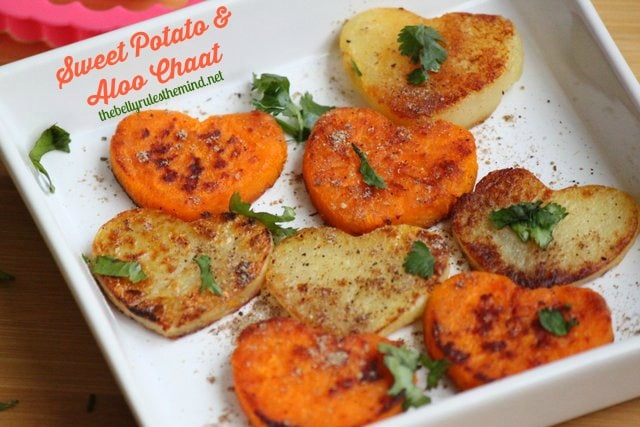 Wishing you a Happy Valentine's day in advance. Have a good one.
Don't say that you love them, show that you love them.