So here we are again with me and my yummy, hearty, healthy Dhokla/ khaman with tons of goodness I mean Beetroot , few spicy chilies, and my appetite  ;).  This Beetroot Dhokla/ khaman is surprisingly very delicious and is an even more nutritious version than the original dhokla.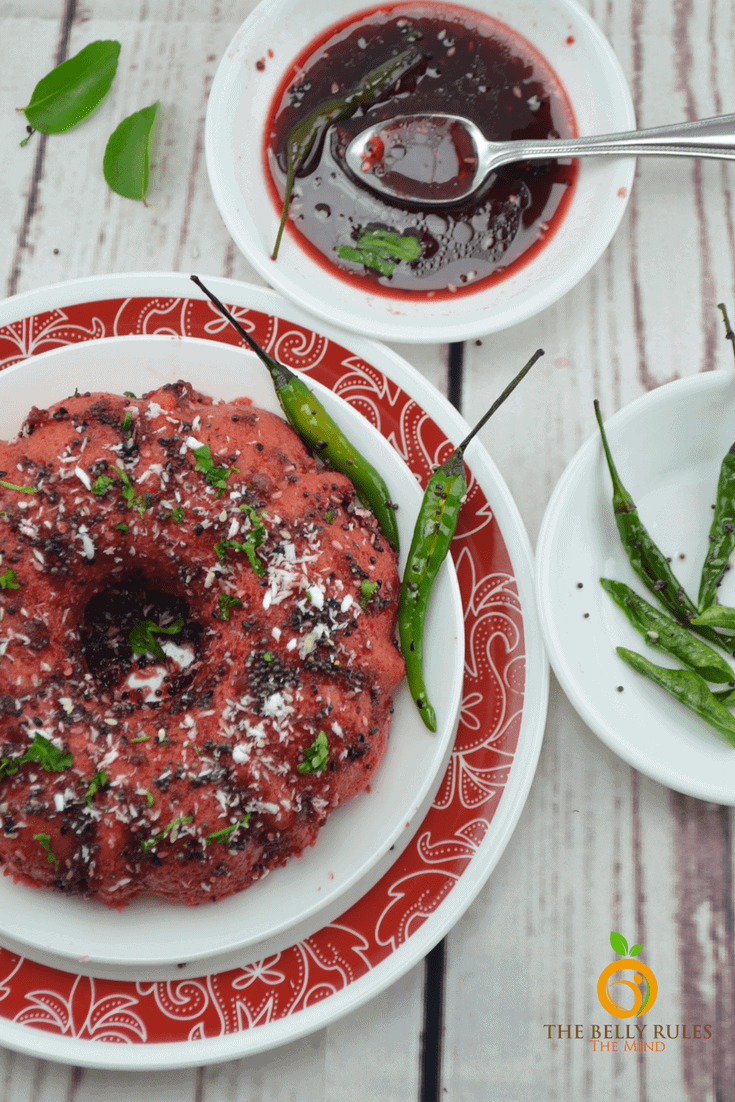 You might have tried a variety of Dhoklas with various flours, flavors and tempering, but have you ever tried a combination of Chickpea Flour, semolina and beetroot for your dhokla batter? This nutritious combo gives you many essential nutrients  in a sumptuous platter. At TheBellyRulesTheMind, we love to experiment with our ingredients and see how they turn out. We do end up with disasters that are not edible, however most of the times we end up with scrumptious recipes that is sure to wow you with its flavors. We experiment so that you have a reference point for your experiments. We have a huge variety of Dhoklas on our website ranging from Semolina, to Daliya to oats and more. Do check them out here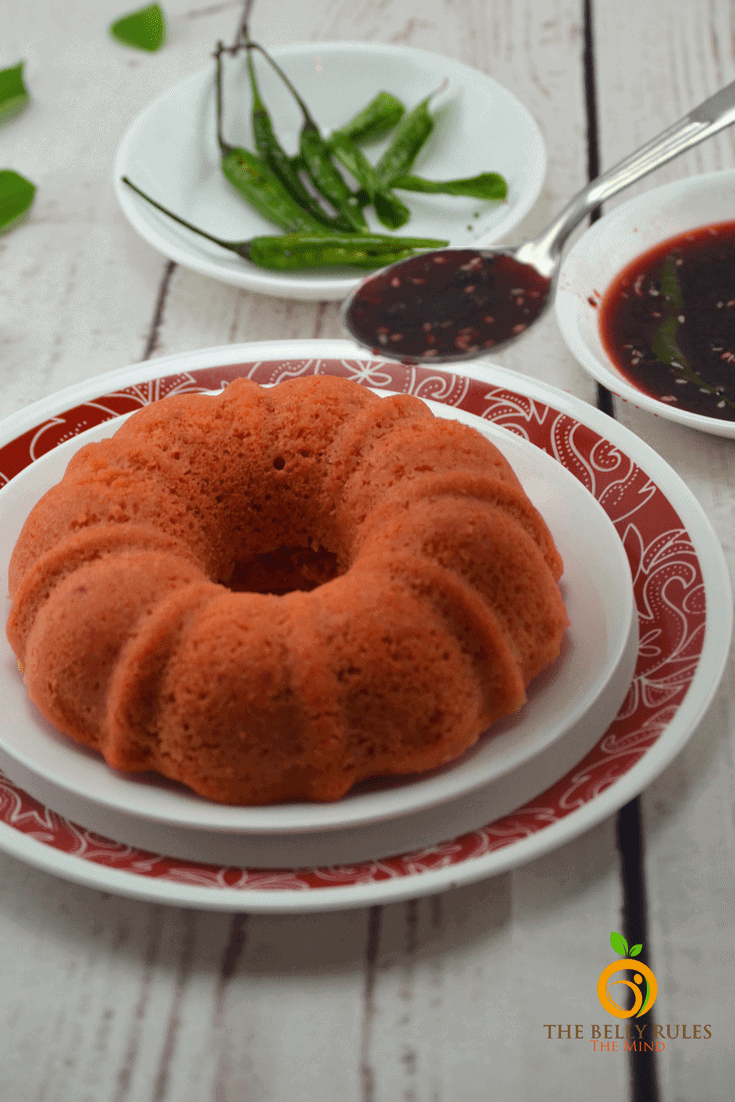 This yummy Beetroot Dhokla /Khaman snack is neither too complex nor does it require too much of prep time.. totally my kind of dish  :P, yet it is irresistibly tasty and sure to be loved by all!  All my boys R1 , R2 & R3 simply loved it . Just add a link somewhere… You can make them in any shape.. round, square, in an idli maker ..or impress you family and friends by making them as I did in a mini Bundt pan. It looks so beautiful.
Enjoy this delectable snack with a cup of hot chaai. This beetroot Dhokla/ khaman are also good to serve for Breakfast and also make satiating Tiffin Snacks .
I always keep Beetroot in stock  coz it so healthy here are few reasons you should include this amazing veggie in your daily diet.
Did you know?
Helps lower blood pressure. Beetroot juice may help lower your blood pressure.
Improves exercise stamina. 
May improve muscle power in people with heart failure. 
May slow the progression of dementia. .
Helps you maintain a healthy weight. 
May prevent cancer. 
Good source of potassium. 
Good source of other minerals.
This delectable Gujarati snack, made of a besan and yogurt.It is easy to make, and can be made without any advance planning as it requires no soaking or fermentation. Serve it with our  Delicious Multipurpose green chutney.

You can also add more fun to your tea-time with our Healthier alternative recipes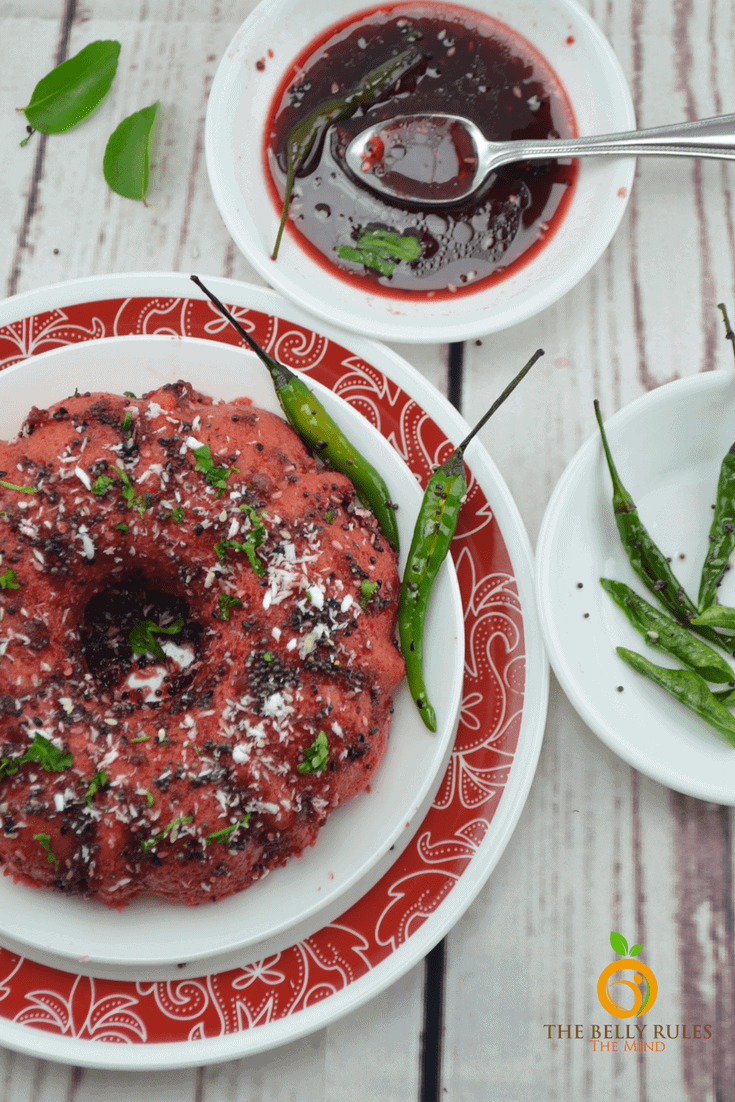 Ingredients
2 Cup Gram flour/ besan
2 medium size beetroot /boiled/add water and make puree (2 cup puree)
few tbsp water if need
salt taste
1 tsp baking soda
1 tsp cooking oil
Juice of 1 lemon
For the tempering
1 tsp cooking oil
4 - 5 curry leaves
3 green chilies slit into half lengthwise
2 tsp mustard seeds
Juice of 1 medium-size lemon
2 tsp sugar
1 cup of beetroot puree
Instructions
In a bowl, add all the dry ingredients, mix well.
Boil the beetroot and make a puree
To that bowl, add all the wet ingredients (Use1 cup of beetroot puree), whisk it well. Make sure there are no lumps. Now batter looks frothy.
Grease the aluminium pan with some oil, pour the batter into it.
Place the steamer, add water to the bottom, lay the stand. Place the pan in the steamer.
Cover it with a lid. Steam it for 15-20 mins.
Take it out and allow it to cool down for few minutes. Insert a knife around the edges to loosen up dhokla. Flip it over onto a plate
Heat a pan with oil, add all the tempering after it pops up, add the remaining 1 cup of beetroot puree and coriander leaves. Pour the tempering over the dhokla. now you will see the dhokla changing the color to blood red.
Cut your dhokla to your desired shapes and enjoy with chutney of your choice.
Notes
Notes lots of people like using fruit salt/Eno now a days ....Adding eno and citric acid makes the dhokla soft and fluffy. If you dnt have eno in your home, use baking soda. Instead of citric acid, add lemon juice. The batter should be of pouring consistency.cake like batter You can use cooker or large cooking vessel to make dhokla Or a Idli maker. To check if its cooked, insert the tooth prick and check. If it comes out clean, your dhokla is ready. Follow the same recipe for microwave dhokla. After adding baking soda dont let the batter to sit for long time. Steam it quickly. You can also make dhokla idly by steaming the same batter in idly plate.
https://thebellyrulesthemind.net/beetroot-dhokla-khaman/
If you land up trying this recipe, don't forget to send us you pictures on Instagram and tag us. Or drop in your review on our Facebook page.  Check out our Pinterest boards for all the healthy eating inspiration you'll ever need.