Pizza just got healthy with these delicious Bhakri Pizza Bites. Ditch the all purpose flour, these thin crust and crispy mini pizzas are made with whole wheat. The pizza base is Vegan, Eggfree & Dairy Free.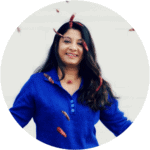 Bhakri is an unleavened (no raising agents used) disc shaped flatbread, commonly consumed in some states of India. It is one of India's traditional flatbreads which is usually coarser than the modern Rotis and Naans. It's pretty much like a think crust pizza bread or is often compared to a British biscuit because of it's hardness. You can make it soft or hard as you desire.  Although a lot of different kinds of flours can be used to make Bhakris, I have used the most commonly available flour in every home and made them with Whole Wheat Flour.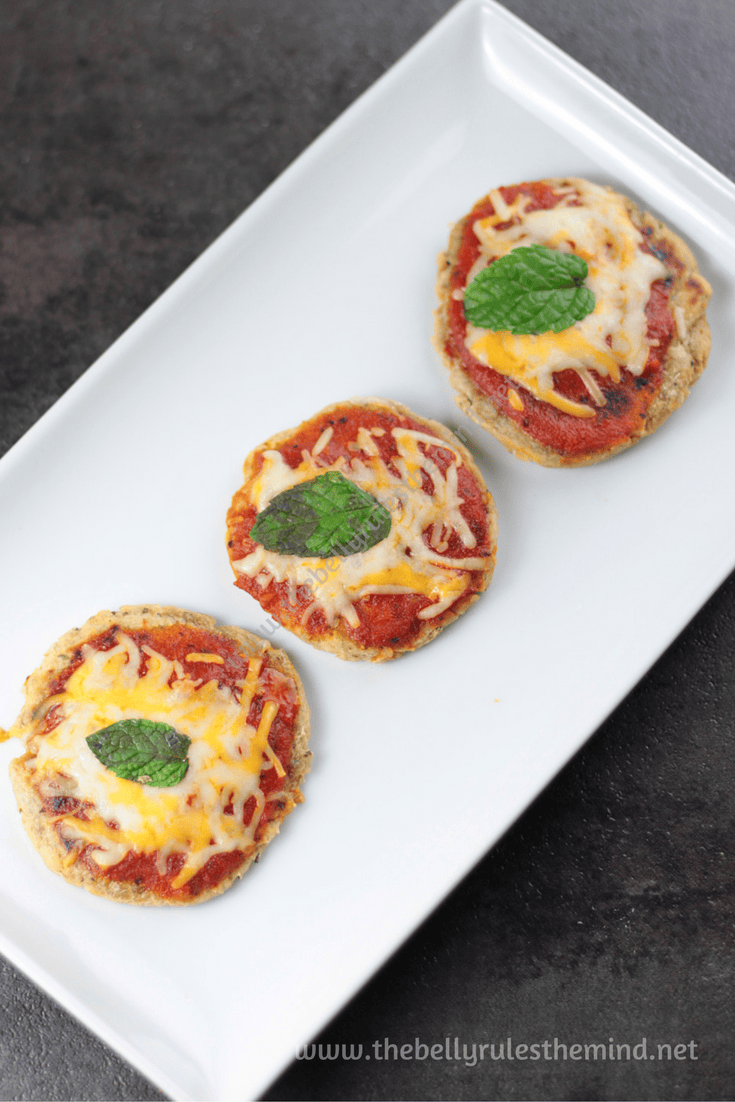 Honestly I have had Bhakri's a few times to taste but had never made them myself. To my surprise, they turned out to be better than I had expected. Thanks to my sisters MIL who decided to make Bhakris for us one evening. I wanted to make it enticing for Little A so came up with the idea of making Pizza Bites out of it. Usually the first time I introduce Little A to something new I try to dish up something that would appeal to him. As anticipated he absolutely loved his pizza bites.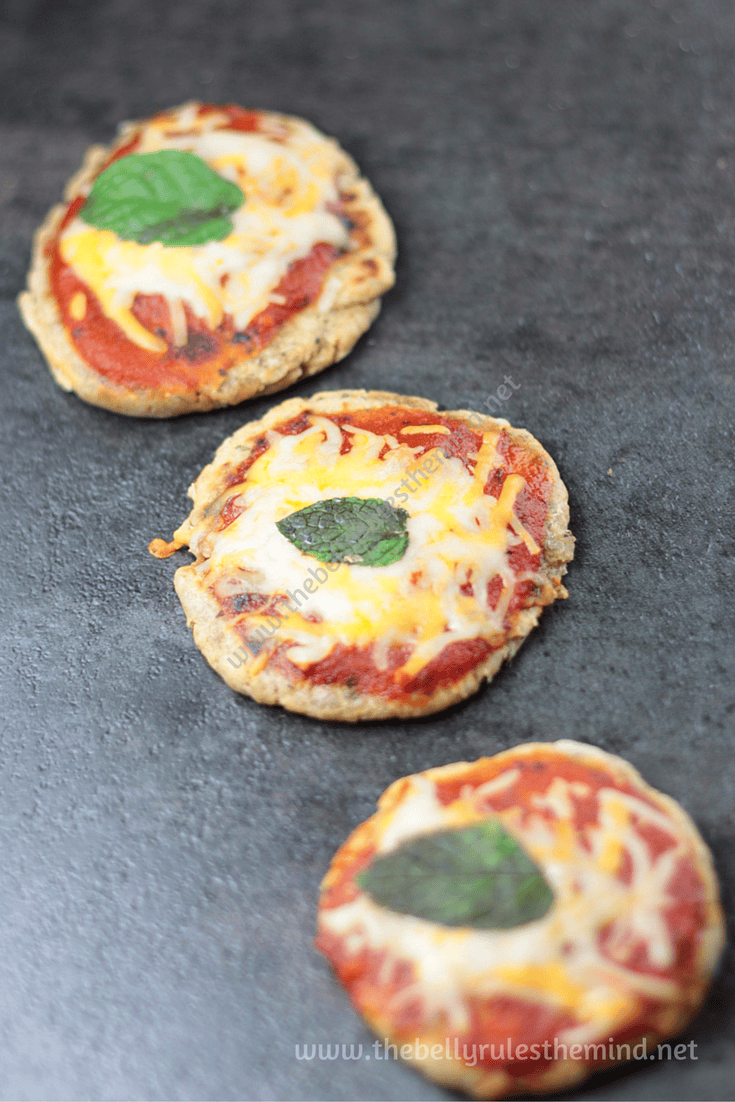 As a mom what I liked about this healthier twist is that, this pizza crust is prepared with minimal ingredients. I try to minimize the use of All Purpose Flour (Maida) as much as I can. Infact it's not something that is easily found in my pantry. This pizza crust is made with whole wheat and since it's the kind of bread where no raising agents are required, I like that I can skip the baking powder, baking soda or yeast.  I have flavored my crust with herbs but if you think herbs are not readily available or if you want to skip them entirely that's fine too.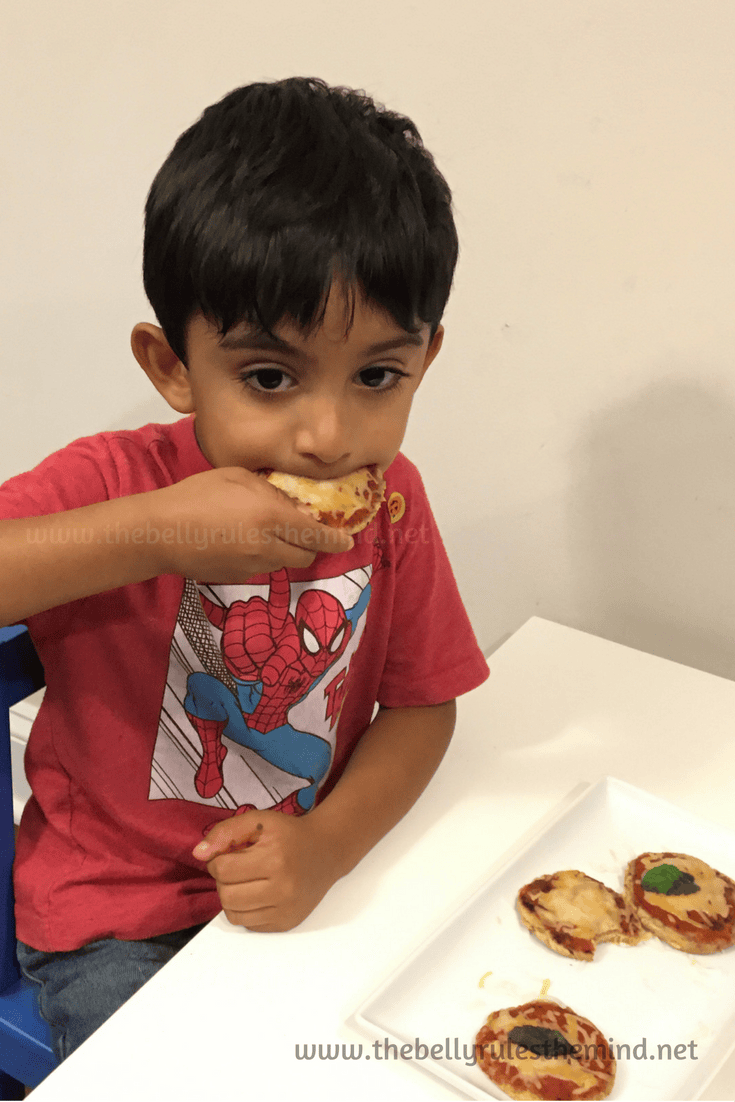 If you are looking for healthy Pizza recipes, Sauce or Pizza flavored snack ideas you might also like the following posts
Mixed Vegetable Pasta / Pizza Sauce
Quick & Easy Paneer Tikka Pizza
Pizza Flavored Namak Pare / Savory Crackers
For more healthy ideas and recipes subscribe to our email or follow us on Facebook to stay updated with all the healthy information  we share. Check out our Pinterest boards for all the healthy eating inspiration you'll ever need. For an unending buffet of healthy photographed food, follow us on Instagram
Ingredients
1 cup whole wheat flour
4 tbs oil
1 tsp salt
1/2 tsp basil (preferably fresh leaves)
1/2 tsp oregano
1/4 tsp garlic powder (optional)
1/4 tsp paprika (optional)
1/4 (60 ml) cup water.
4 tbsp Mix Veg Pizza Sauce or any other Pizza sauce you have. This batch of my Pizza sauce was dominant on tomatoes thus the bright red color.
4 tsp Shredded Cheese
Instructions
Mix all the above ingredients and knead into a dough.
This dough will be a little firm and hard.
On a clean surface or on a parchment paper, roll the dough as thin as possible into 4 inch discs.
You could even use your favorite cookie cutter to give them a shape you would like.

If cooking on a griddle or tava

Cook both sides of the discs on slow to medium heat until you see golden brown spots and is crisp.

If using an oven

Preheat the oven at 400 degrees F.
Transfer the discs on a baking sheet and bake them for about 15-20 minutes until golden brown. Watch them closely as they can easily burn. The thicker discs will take a little longer to bake.
Once the crust / base is ready. Spread the Mix Veg Pizza Sauce to make the pizza bites even more healthier. Or spread any pizza sauce that you have. Garnish with Cheese and toppings if you would like to add any. Toast them in a toaster oven for 1 min for the cheese to melt.
Garnish with basil or herbs you like. Please note, do not add basil or cilantro while baking the discs as they will discolor and turn black.
https://thebellyrulesthemind.net/bhakri-pizza-bites/