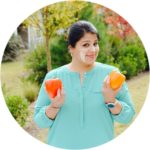 I have officially hit that point in summer where Lunch/dinner needs to be cool and light instead of heavy and filling. I need to find ways of having my kids eat while enjoying the time off from school. So lately I've have started making different kind of wraps. The Chickpeas Spinach Wraps is a tasty, and satisfying vegan recipe. I do not make them frequently and that needs to change. This Chickpeas Spinach Wrap is so easy to make yet it's so incredibly flavorful and delicious! I opted to go with a homemade Multipurpose chutney because I always have it in my fridge.  You can easily change the spread like I do to add different flavors. We are big HUmmUs lovers and I use the HUmmUS spreads to make the wraps with different flavors so that the kids do not get bored with just one option. You can checkout our Hummus trio  recipe to use them in the wrap. You could also make these into more of a gyro style wrap by swapping out the hummus for our Vegan Tzatziki . After so many  different options you need more wraps in your  life! A great quick and easy lunch idea that's perfect for the whole family.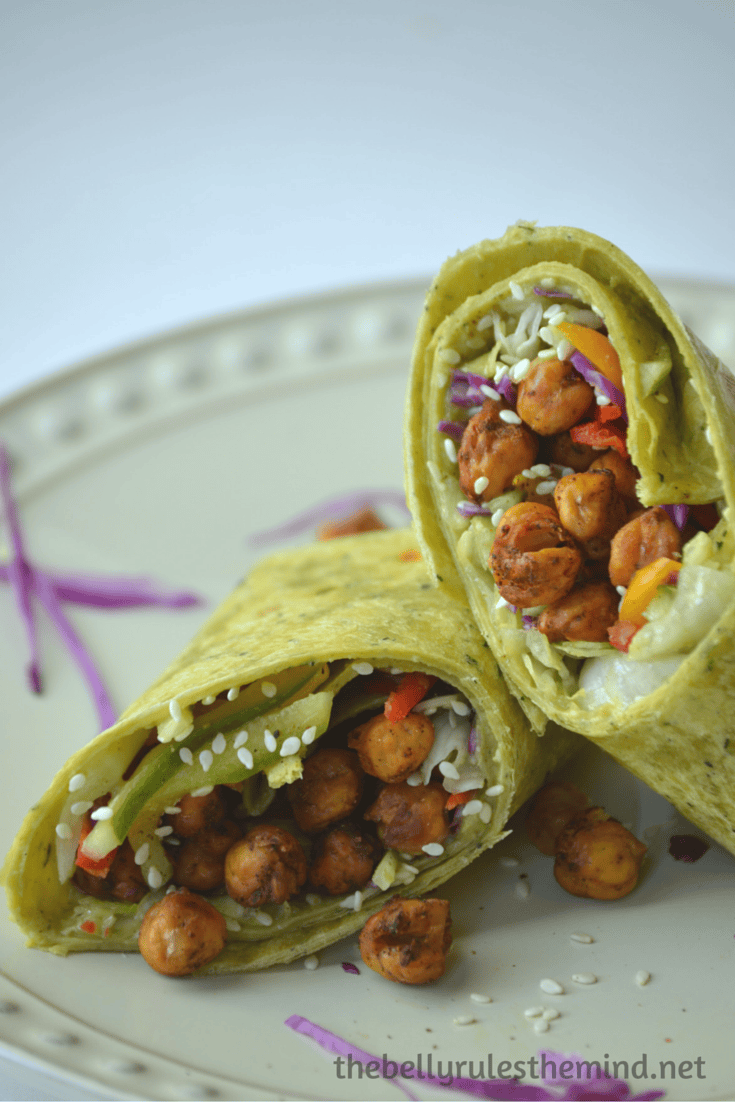 Whole-wheat Spinach tortillas provide a tasty twist in this quick Chickpeas Spinach wrap recipe that combines all the elements of a Chickpeas chat into a wrap. WARNING Serve some extra napkins :D.

Fresh lettuce, bell peppers our famous Multipurpose chutney and Mint & garlic flavored Chickpeas fill these hearty , wraps. This wrap is great for picnics or when you need to have lunch/dinner on the run. Add some shredded Cheddar for another layer of flavor.You can also try Hummus trio too in this wrap.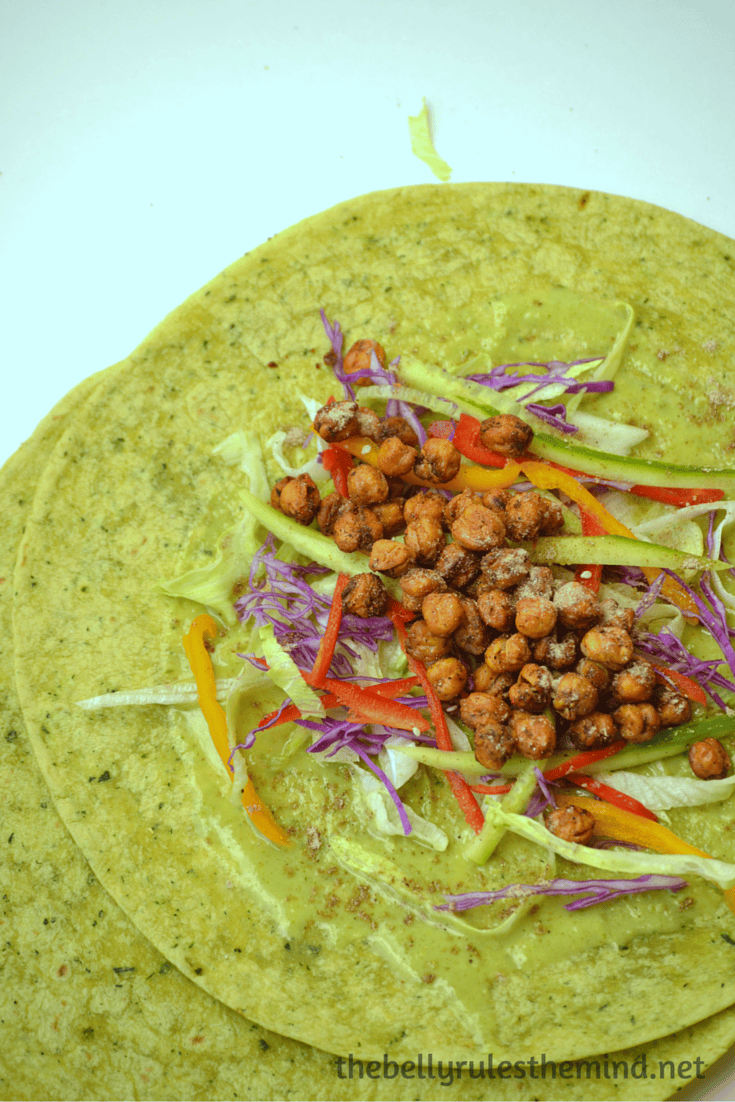 Chop all the veggies, then set aside.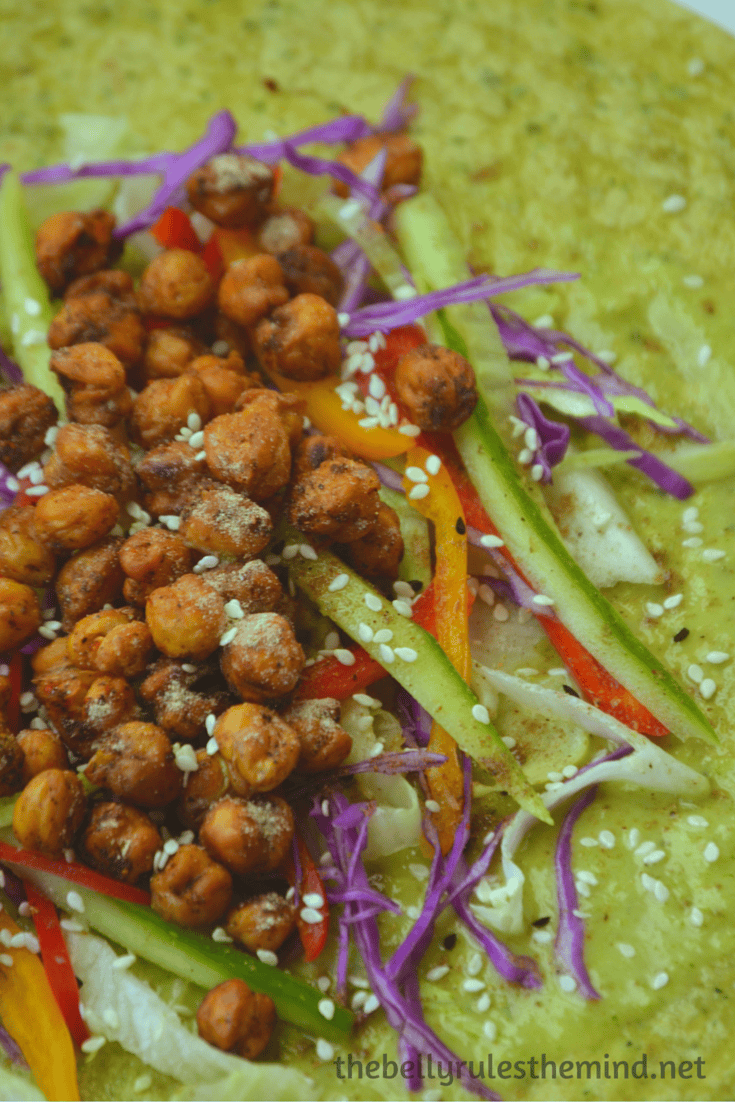 Warm the tortillas following pack instructions, then pile in the lettuce, bell peppers , cabbage and the roasted chickpeas , sprinkle some chaat masala , lime .
1 cup Minty & Garlicky Roasted Chickpeas
2 Tsp Chaat masala
1 lime juice
½ cup purple cabbage/ thinly sliced
4 soft organic Spinach tortillas/ any of your choice
2 cup iceberg lettuce/shredded
½ cup red/orange/ green bell peppers / thinly sliced
1 cup Multipurpose chutney or Hummus trio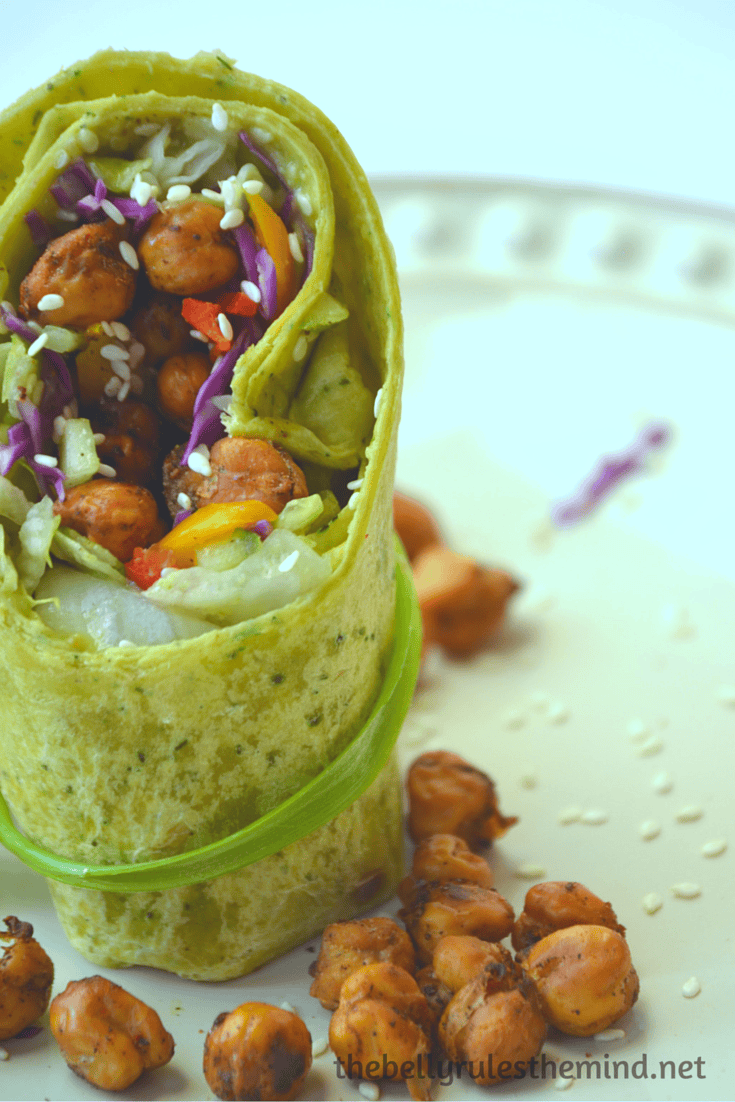 Ingredients
1 cup roasted chickpeas(check out our Roasted minty and garlicky chickpeas recipe)
2 Chaat masala
1 lime juice
½ cup purple cabbage/ thinly sliced
4 soft organic Spinach tortillas/ any of your choice
2 cup iceberg lettuce/shredded
½ cup red/orange/ green bell peppers / thinly sliced
1 cup Multipurpose chutney or Hummus trio
Instructions
Chop all the veggies, then set aside until serving.
Warm the tortillas following pack instructions, then pile in the lettuce, bell peppers , cabbage and the roasted chickpeas , sprinkle some chaat masala , lime & Relish them
https://thebellyrulesthemind.net/chickpeas-spinach-wraps/