Flavors are just bursting in this Cucumber & Mango Salad with Cilantro chili Dressing – so many fresh ingredients that will have your mouth asking for more! An awesome summer side dish, perfect for picnics, pot-lucks, and backyard cookouts!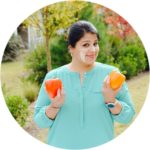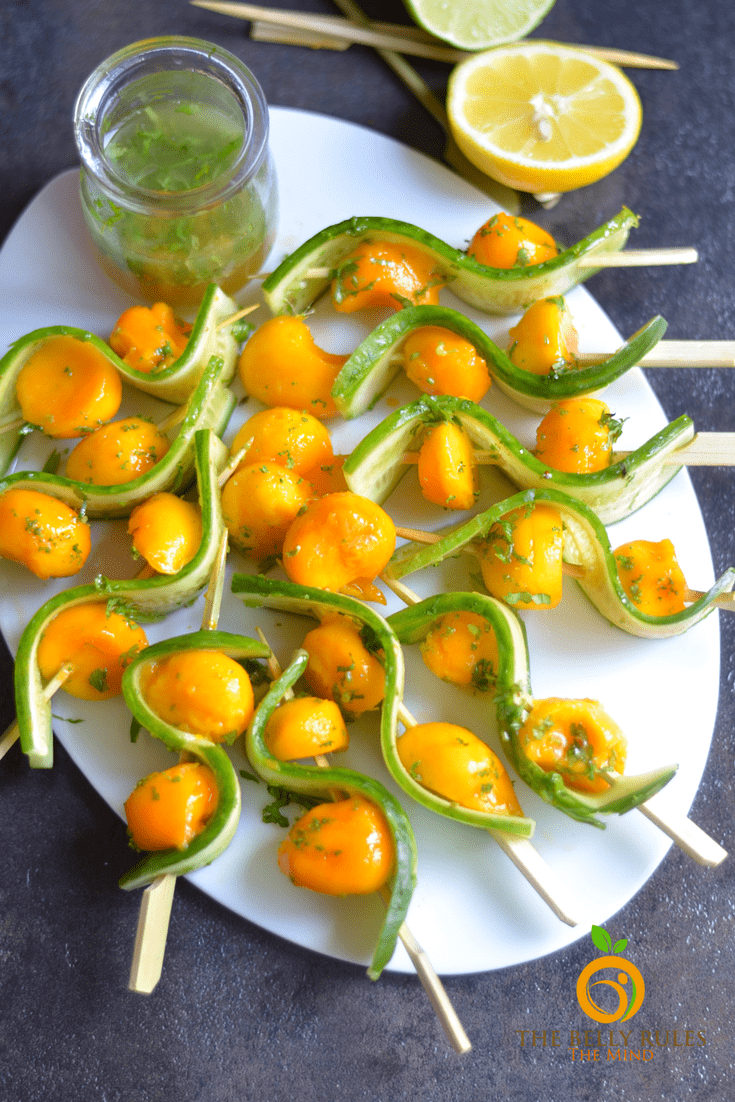 The pictures for this recipe is recently upgraded :)
Fruit and Vegetable salad brought to a whole new level!  Crunchy cucumbers & sweet mangoes along with a delicious Cilantro chili dressing makes this salad wonderfully fresh and delicious! This Cucumber & Mango salad is as tasty as it is beautiful, and I think it would make a lovely addition to your next summer meal or a get-together. !
Believe it or not, yesterday here in Virginia touched  92 degrees! Hello …  And I'm not complaining!  It was wonderful to be outside to soak up the sun and warmth but it was like where is spring?? I got the perfect excuse to grill on my deck and make this crisp, cool and darn delicious salad.
Mangoes is one of my family(BOYS) R2 & R3 favorite fruit in summer. They have to eat Mangoes every day. If we run out, R1 knows he is going to the store :P They like it sliced, cubed, balled…. my kids even asked me if we could spiralize it :D It's a summer salad recipe that goes great with Lunch or dinner. It's crisp, cool, and tastes amazing. With Cilantro chili dressings, it's such a simple and clean dressing. It has fresh lime juice in it, cilantro, jalapeno, salt, sugar, cumin powder and a little EVOO.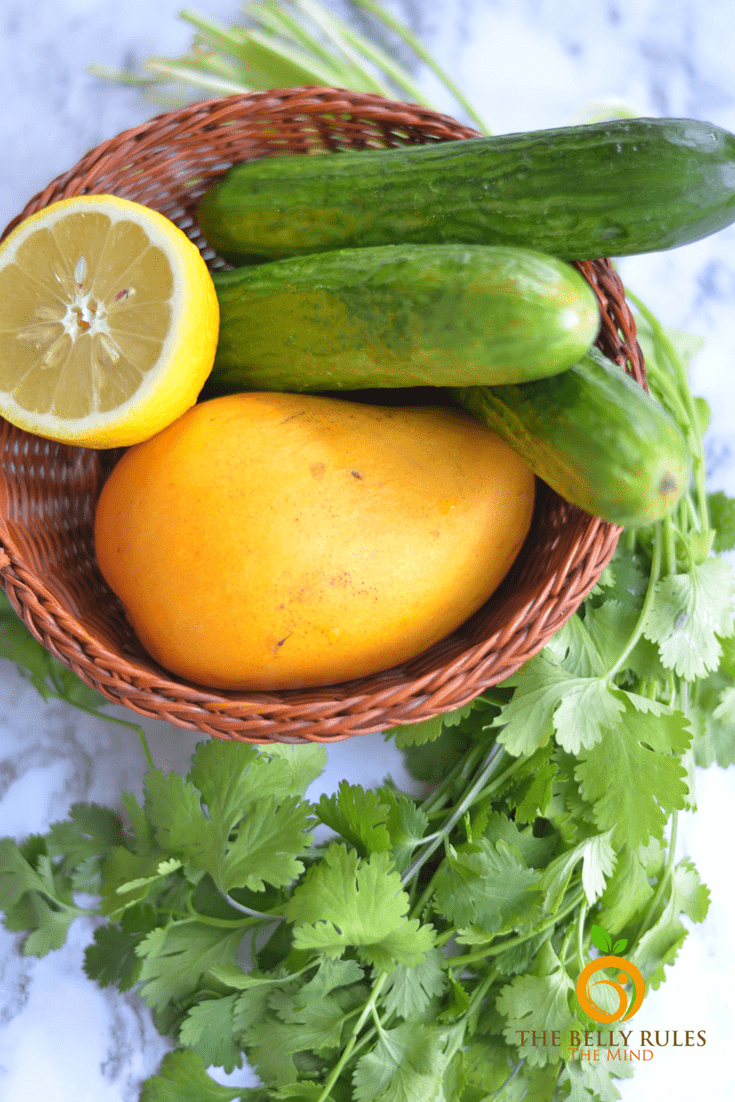 Cucumbers and Mangoes go so well together, and their colors look so good together. The colors are bright, beautiful, and will make you love the salad even more!
Cucumber & Mango Salad with Cilantro Chili Dressing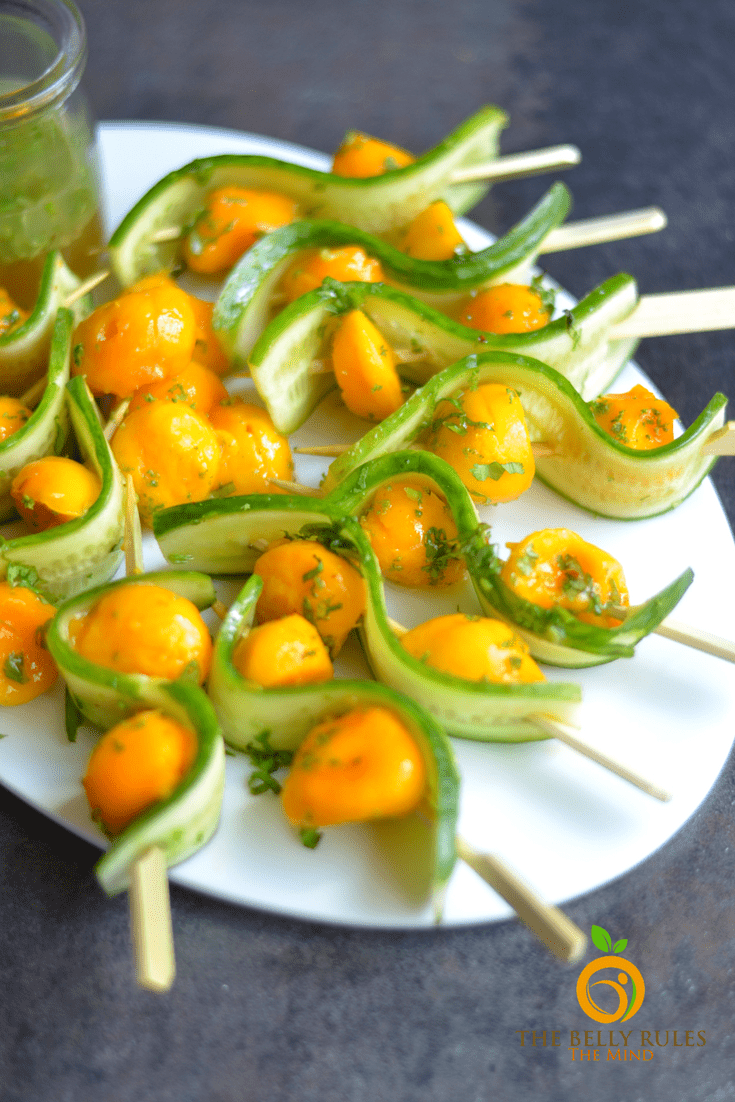 Ingredients
2 ripe mangoes, peeled, scoop them in balls pit or sliced into strips
3 Perician cucumber, seeded and cut into strips
1 Lime
2 Tbsp Olive Oil
1/3 Cup Cilantro, chopped
2 Tsp Jalepeno Peppers, minced
Salt to taste
1/2 Tsp Sugar
1 Tsp Roasted Cumin seed powder
Instructions
Crush the Chili in a mortar.
Add the lime juice in the minced jalapenos to a small container and set it aside.
Let it infuse depending on how hot you want the dressing. About 5 minutes should give you a decent amount of heat and body. If you want more, let it set for long.
While the chilli is infusing the lime juice, mix together the remaining ingredients.Just add the lime zest on the chopped cucumber and mangoes.
Add extra virgin olive oil, cilantro, salt , Roasted cumin powder and sugar to a small mixing bowl and whisk it all together.
Now add the lime juice, straining out the jalapeno. Mix together .
Whisk together all the dressing ingredients in a large bowl.
pour the dressing to the bowl with the cucumber and mangoes and toss to combine. Taste and add more lime juice or salt if desired.
https://thebellyrulesthemind.net/cucumber-mango-salad-with-cilantro-chilli-dressing/