Tempting No Fry Fasting Dahi Vade(fritters) teamed with chilled sweet Yogurt & spicy green chutney is a perfect recipe to enjoy while observing fast (Vrat) and did I mention the best part is that the vade (Fritters) are not fried and made in appe pan. Farali dahi vade (Tapioca fritters served in sweet yogurt) is one of the most loved fasting snack in India. Do try this fasting snack as it tastes divine and very filling.
Navaratri is just around the corner and there are a lot of people that observe fast during those 9 days. There are some food items that are allowed to be eaten during the fast, however as you would have guessed it, people think eating healthy is boring. My mom always fasts for the 9 days of navarati and I have always seen her eat regular fasting food made with sabodana / tapioca, aloo/ potatoes, and singada / water chestnuts. As a kid, I would always wonder how my mom could eat food with so little flavor.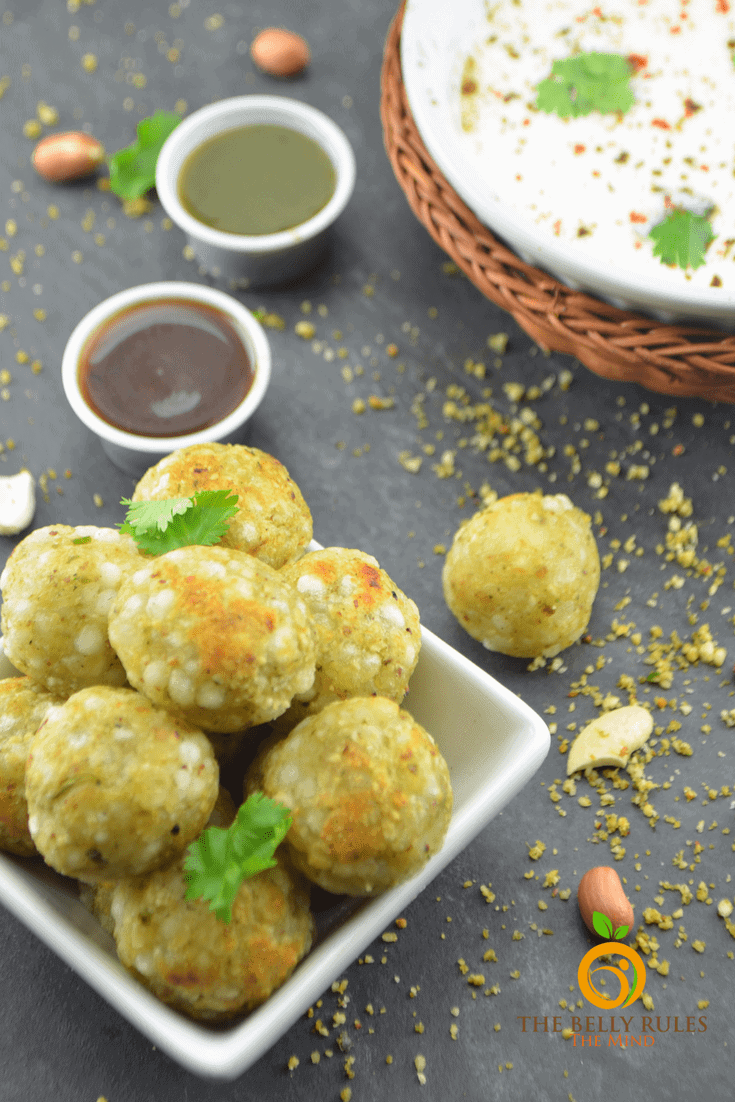 So this Navratri, I planned to prepare some traditional dishes with a twist of my own to make fasting food more enticing. I will be preparing these dishes and be posting it for her and for others who follow and observe the navrati fasts.
No- fry Farali Dahi vade is a quick delicious and healthy recipe that helps you preserve the energy (in the kitchen) you deserve while fasting. The best part is you don't have to fast to relish these dishes, people like me enjoy them even without observing fasts. I am relishing these No Fry Fasting Dahi Vade as I write this post.
Some more farali snacks recipes to enjoy on fasting days :
1: Farali Pattise
2: Farali Khandvi
3: No-Fry Sabudana Vada
4: Immune Booster Juice
If you liked this recipe and need some ideas and inspiration to enjoy guilt-free cooking, check out our most popular post on the blog : 30 Appe Pan Recipes, Tips & Video . If you would like to buy the Appe pan, we recommend buying the Tabakh brand from Amazon.
Faraali dahi vade(Aloo& Sago vade) made in Appe pan
Ingredients
1/2 cup soaked Sabodana/ tapioca
2 boiled Aloo /potato/ mashed
1 tbsp zeera /roasted ,few green chillies,cilantro ( make a paste /chutney)
Salt to taste
2 cups yogurt/curd
senda namak /rock salt to taste
1/2 tbsp Sugar /optional
Instructions
Take a bowl and add mashed potato, sago, and chilli paste, sugar and 1/2 tablespoon of salt and mix well.
Make small balls out of the mixture and keep aside.
Heat the appe pan add in some oil in each cavity and cook the balls till golden
Beat the curd add cumin powder and salt. Dip the aloo sago balls and serve immediately.
https://thebellyrulesthemind.net/faraali-dahi-vade/
For more healthy ideas and recipes subscribe to our email or follow us on Facebook to stay updated with all the healthy information we share. Check out our Pinterest boards for all the healthy eating inspiration you'll ever need. For an unending buffet of healthy photographed food, follow us on Instagram