[adinserter block="1″][adinserter block="2″]
A few days ago our friends from the 3 Curious Monkeys, reached out to us asking if we were doing anything special for Makar Sankranti. At that point we were still hashing out ideas for our upcoming posts. 3 Curious monkeys suggested us to come up with something healthy for the kids for Bhogi. After doing some research we found out that Bhogi is nothing but just a different name for Makar Sankranti in Sourthern India.  Makar Sankranti, is a harvest festival celebrated in various parts of India.  This festival has several names across different regions of the country. The celebrations and rituals differ from one region to another.
[adinserter block="2″]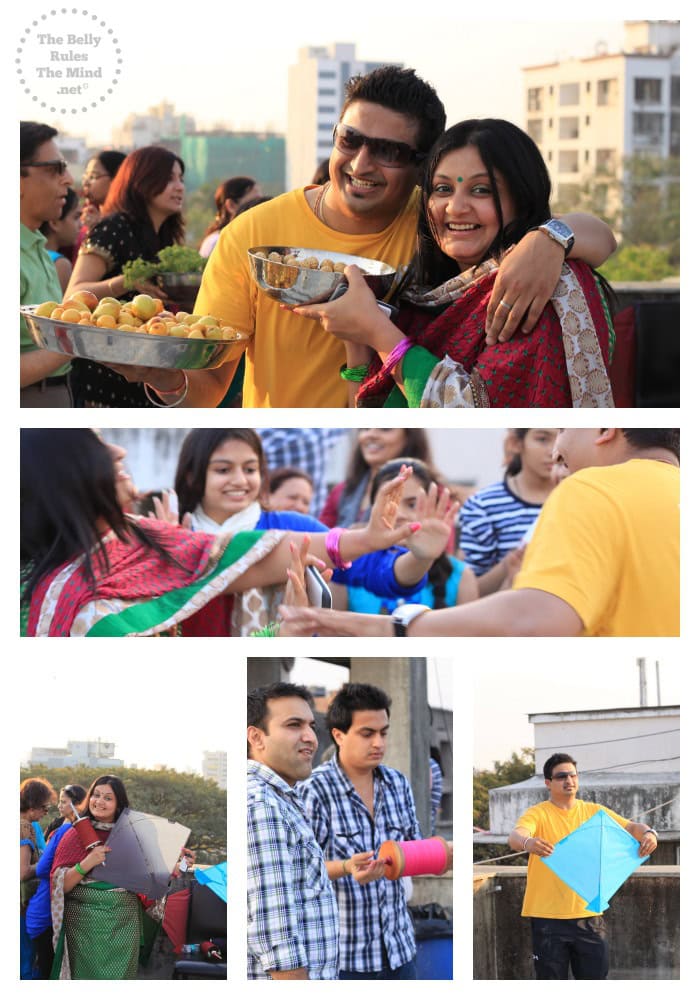 [adinserter block="2″]
Lohri – In the northern states of India , it is the time to harvest sugarcane crops. People light up bonfires signifying the end of winter and the return of longer days. Children go door to door singing folks songs and collecting Gajak and Revdi (treats), made of jaggery, sesame, peanuts, crystalized sugar and popcorn.  These treats are even tossed in the bonfires
Uttarayan  – In the western state of Gujrat, kite flying is very popular. Thousands of kites are seen in the sky. The traditional Undhiyu is cook in almost every household.[adinserter block="1″]
Makar Sankranti – In Maharashtra, it is a 3 day long festival. Sesame- Jaggery (Til-Gud) and Puranpolis (jaggery and chickpea stuffed flatbreads) treats are exchanged with friends and families. Kite flying is a popular sport here too.
Bhogi / Pongal – In the south again it is typically a four day festival. Day one begins with discarding old things in the bonfire and getting rid of old habits and vices to embrace the new. Typically people wear black clothes . Kids wear edible ornaments made with sweetmeats or sugar.
So getting back to Bhogi celebrations back in the days, kids often wore edible sugar(refined) ornaments. The fact that we are a health food blog, we wanted to give it a healthy twist so we came up with healthier versions of edible garlands. It also turned out to be a fun activity with our toddlers.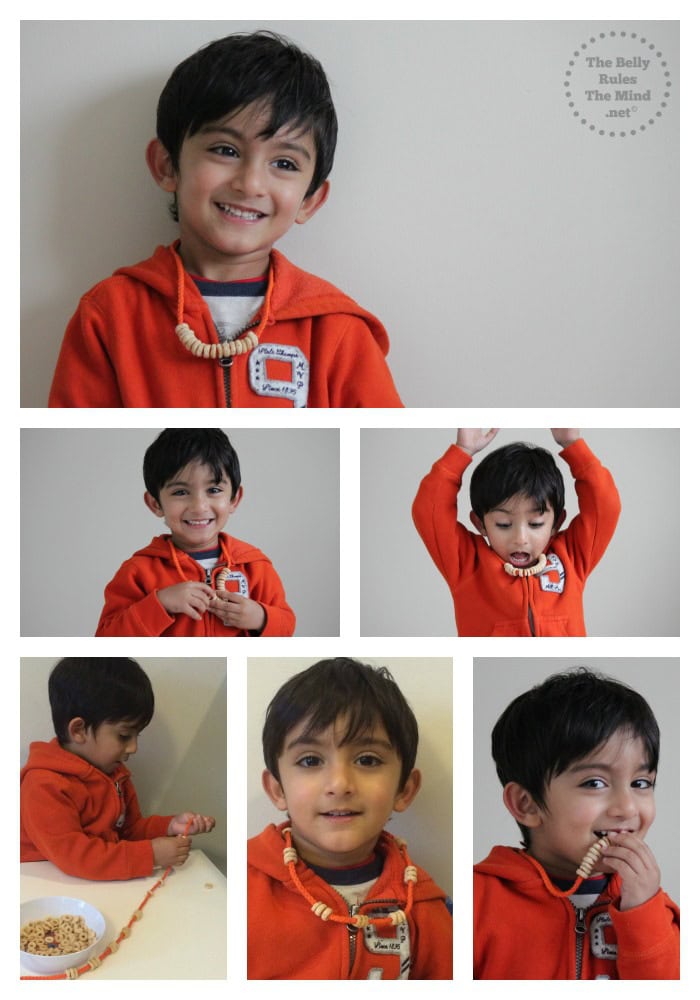 [adinserter block="2″]Although refined sugar jewelry is still very popular back home, we all know (atleast I hope)  the repercussions of consuming sugar. It simply spike up your blood sugar level and and leave your with unwanted calories. So how about choosing an healthier option than the traditional. We made this edible garland for Bhogi, using Cheerios. Until last year Cheerios were considered fake health food because of the BHT in it.  However in February 2015 General Mills released a statement that Cheerios no longer contains BHT, which is good news. Phew!!! What a sigh of relief , as you can see my toddler loves Cheerios. So I hand over a bead string to A with some cheerios and ask him to make a garland. He had so much fun as it was so much more easier to  string these together than his beads. He could barely resist and started munching on his cheerios as soon as he finished wearing them. We repeated this exercise several times. It's good for his fine motor skills. [adinserter block="1″]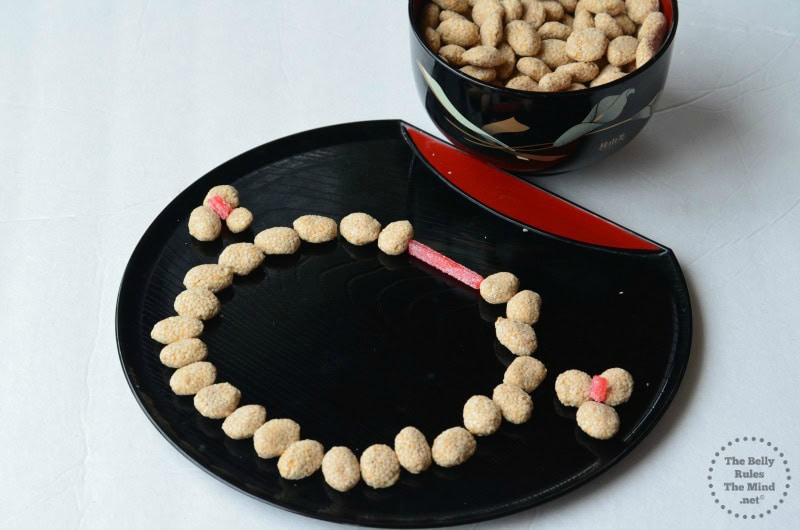 What is special about this garland is that it is made from Revdi (sweetmeat) which is made of jaggery and sesame instead of refined sugar and sesame. That is where the healthy quotient comes in. Although we didn't make ourselves, we were lucky enough that the grandparents sent Revdi for the R2 & R3. Got R2 to make a necklace pattern out of these.
[adinserter block="1″]
Guess what??? Flying kites to welcome spring is just not limited to India. Here is a picture of DC's Blossom Kite Festival from 2013.  Happy Sankranti.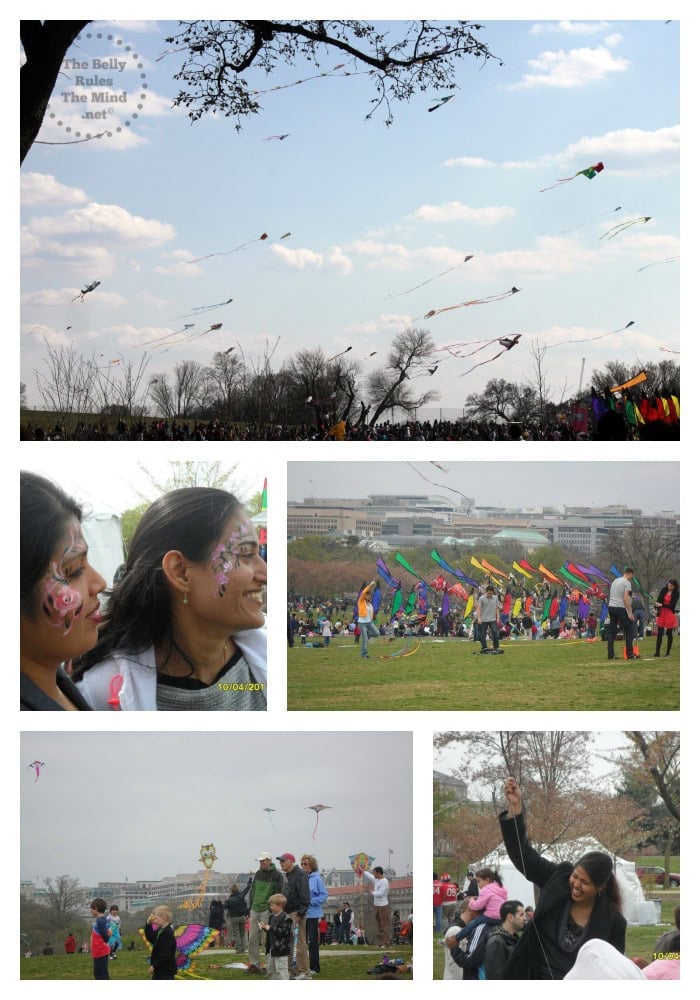 [adinserter block="1″][adinserter block="2″]