This Healthy Fudge Cake is not only a good-for-you treat occasionally, but is flour less, sugar free and chocolate free. Packed with goodness of Indian Superfoods, this fudge cake can be enjoyed for any special occasion, guilt free. All you need is some dates, nuts, food processor and 10 minutes of your time. Give it any shape you like, energy balls, laddoos, squares of modaks and wow your guests.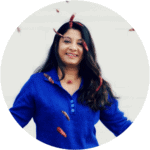 Curb your sweet tooth cravings with this fudge cake . In the world of desserts, it is pretty uncommon to find a dessert made with healthy ingredients only. Yes, you read it right, no refined sugar, no flour, no chocolate, no preservatives, no artificial colors. It's as pure as it can be as it is made from raw ingredients only. If this isn't enough, let me tell you it's no-cook too, no kidding. No tricks here. This cake can be transformed into brownies, squares, powerballs or laddoos anything you like. Bite sized or a large party tray, smooth or nutty, it's a dessert everyone will enjoy.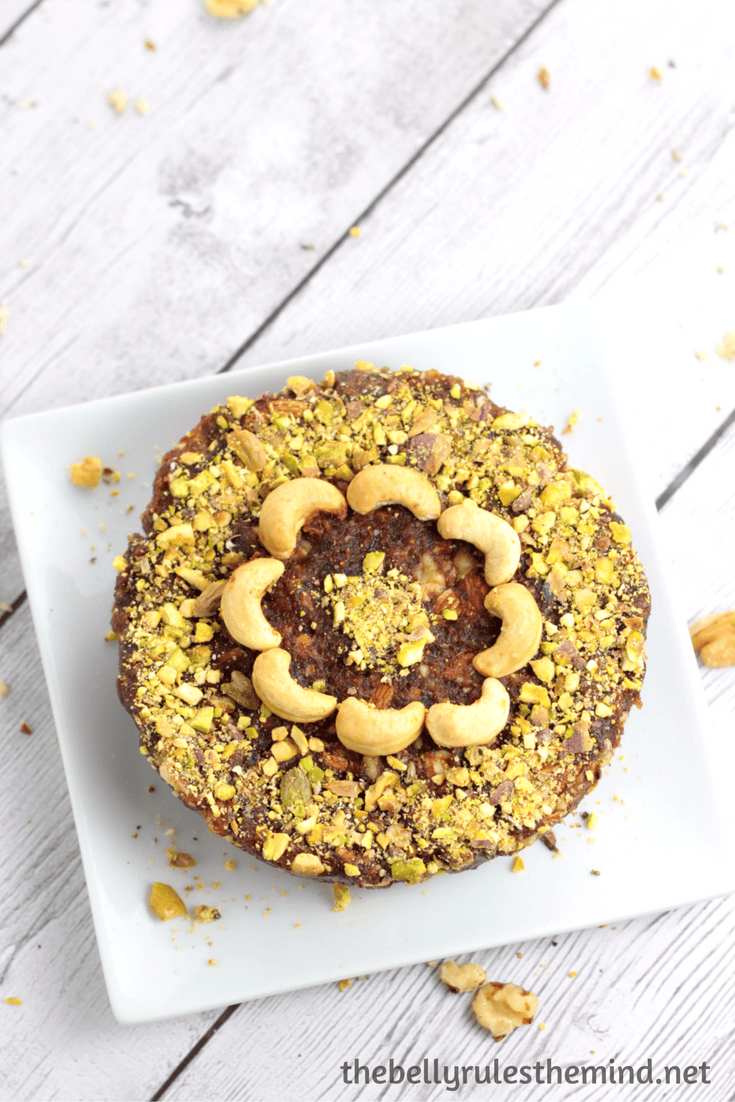 "Pick-me-up" without overindulging. I have to admit that this dessert is very calorie- and nutrient-dense, so you don't need a lot of it to feel satisfied. A lot of folks think that dates spike up blood sugar levels. However as per a study published in the Nutrition Journal, certain varieties of Dates have a low glycemic index that ranges between 46 to 55 and their consumption even by diabetics does not result in significant postprandial glucose excursions. Infact Dates are rich in carbohydrates, salts, minerals, vitamins, fatty acids, proteins, and fibers. On the other hand Dr. Mark Hyman in his book Eat Fat, Get Thin, talks about how these nuts contain healthy monounsaturated fats, along with some omega-3s. If you think, eating fat makes you fat, Dr. Hyman has done an amazing job sorting through the confusing science around fat. I highly recommend for you to grab a copy if you haven't read this book yet.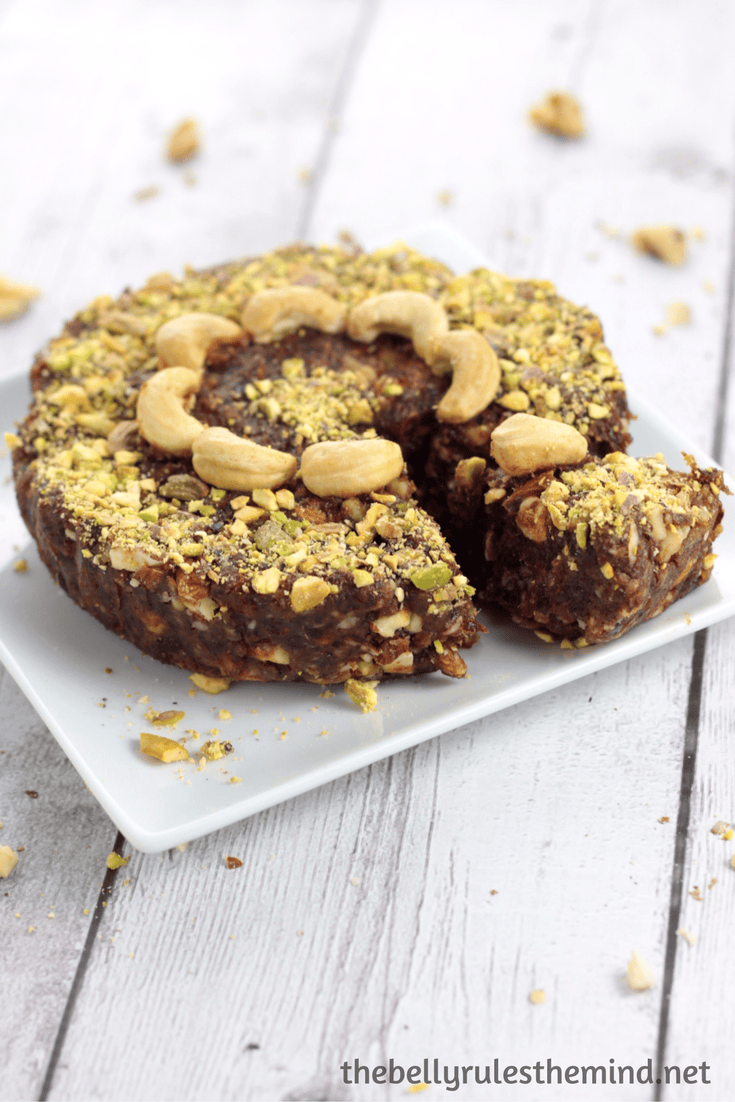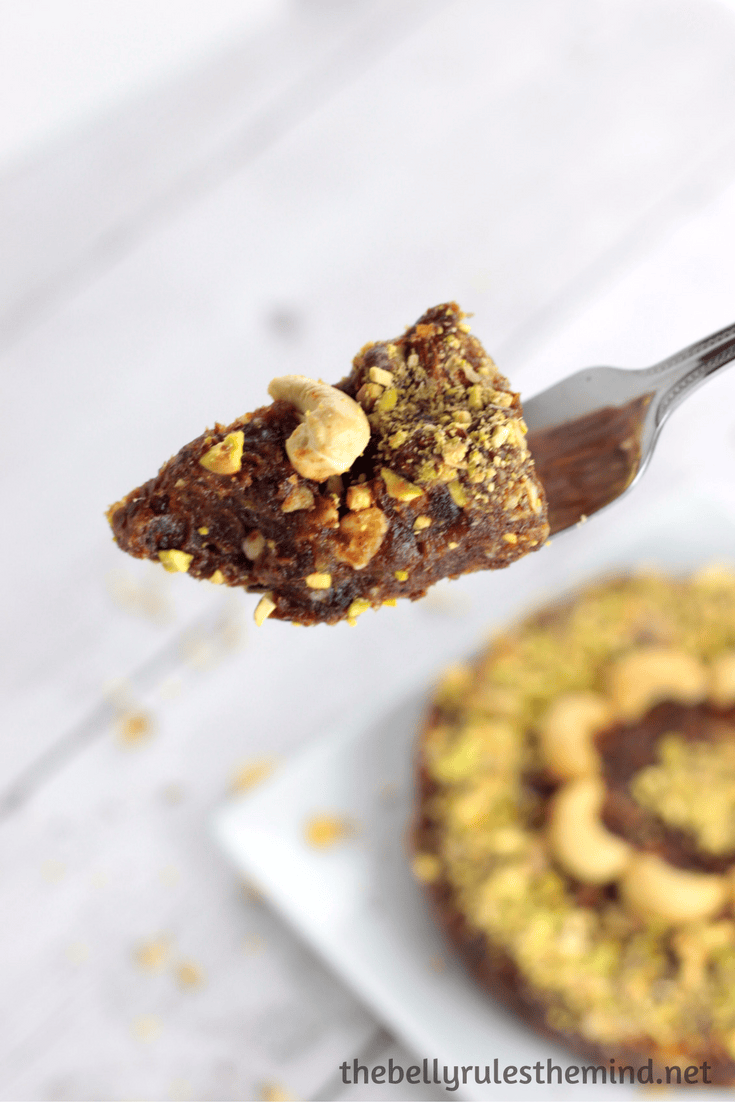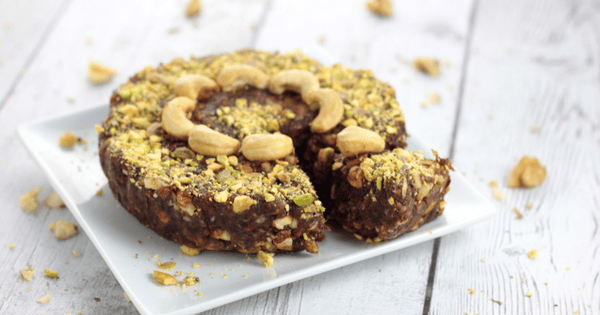 Ingredients
Instructions
In a food processor combine all the ingredients and pulse until the nuts break down. This will give you a nutty fudge, if you would like a smooth fudge soak the dates in water and microwave for 5 minutes, before pulsing.
Line your container with parchment paper and and spread the mixture evenly. Press firmly and garnish with pistachios and cashews.
Refrigerate. Slice it into squares or pies. Or roll them into balls or give them a shape of a Modak. Enjoy
Note : Should be stored in the refrigerator but can come down to room temperature before enjoying.
https://thebellyrulesthemind.net/healthy-fudge-cake/
If you like to check out more recipes using Dates & Nuts
For more healthy ideas and recipes subscribe to our email or follow us on Facebook to stay updated with all the healthy information  we share. Check out our Pinterest boards for all the healthy eating inspiration you'll ever need. For an unending buffet of healthy photographed food, follow us on Instagram
Products Listed