Dhokla is a famous vegetarian food item that originates from the Indian state of Gujarat. It is usually made with a fermented batter derived from rice and split chickpeas. Dhokla is very similar to Khaman, and the terms are frequently used interchangeably. We at The Belly Rules The Mind have tried making Dhokla with different types of batters and ingredients. This quick street snack Corn Dhokla has been made in negligible oil and its perfect for anytime hunger!
Who does not love Dhokla? There is an authentic way of making them, and then there are 7 min, 5 min and even 3 min instant dhokla recipes. This is NOT a 1 min dholka recipe prepared using some instant mix  :P, but it is different… how cliche!!.
So R2 for some reason does not like Corn kernels.I have tried lots of ways to feed him corn but no he will not eat if he sees corn in it. So I did what a Mom has to do and i am sure you must have heard the Indian saying "Ghee seedhi ungli se na nikle, to ungli tedi karni padti hai" .. Translating that in to English would mean "Where straightforwardness does not have a chance of working, crookedness flourishes".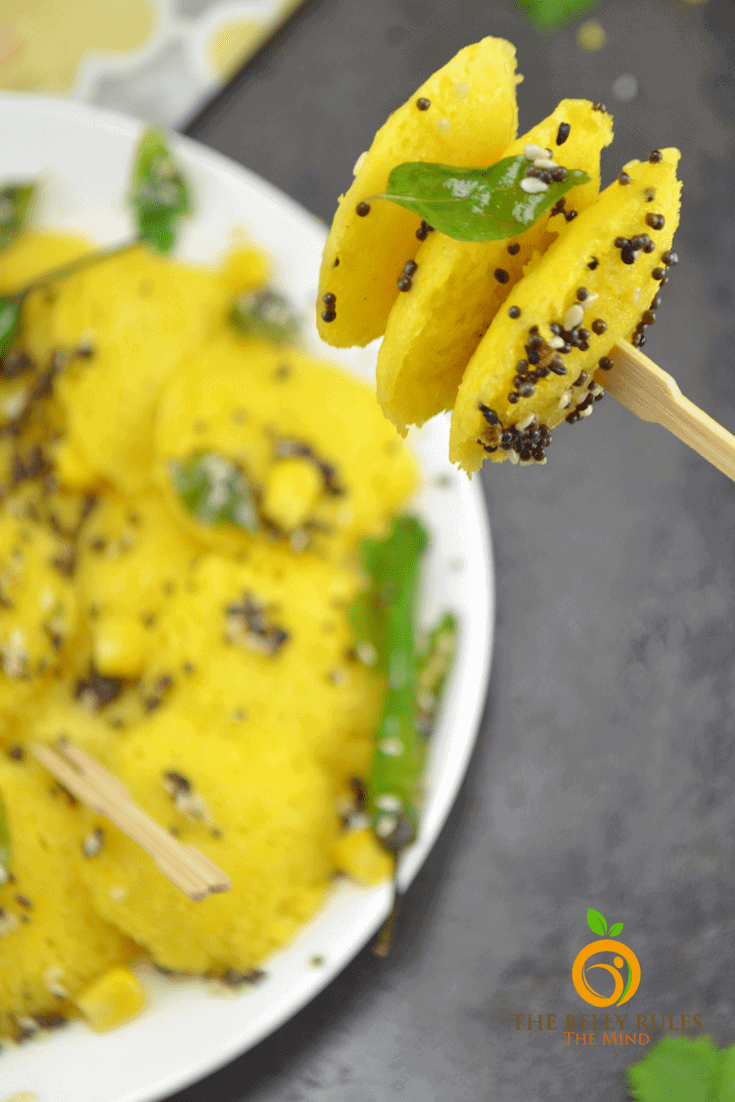 Made these Mini Corn dhokla/Khaman with Corn kernel and guess what he loved it and even asked me if I can give them in his lunch box for snack time….HURRAY!!! mission accomplished :)
This Mini Corn Dhokla/ Khaman are so quick and easy to make it took me 30 mins start to finish …looks like lots of steps but believe me they are quick and easy and yummy!!
Ingredients
Ingredients
1 cup sweet corn
¼ cup Chickpea Flour/Besan
1 cup semolina /rava
½ cup Yogurt
salt to taste
1 tsp green chilli paste
1 ½ tsp fruit salt
a few drops of lemon juice
few thin slices of Paneer/If youwant to make sandwich dhokla /optional
1 tbsp finely chopped cilantro/coriander
1 tbsp grated coconut
Instructions
Combine the sweet corn kernels and curds and blend in a mixer to a smooth paste.
Transfer it to a bowl, add the Chickpea flour,semolina, salt, green chilli paste and ½ cup of water and mix well.
Just before steaming, sprinkle the fruit salt, lemon juice and 2 tsp of water over it. When the bubbles form, mix gently.
Pour the batter in a Plate/thali .
Steam in a steamer for 10-12 minutes or till the dhoklas are cooked.
Cool slightly, cut into sqaure pieces and garnish with coriander and coconut.
Serve immediately with green chutney
https://thebellyrulesthemind.net/instant-corn-dhokla/
If you land up trying this recipe, don't forget to send us you pictures on Instagram and tag us. Or drop in your review on our Facebook page.  Check out our Pinterest boards for all the healthy eating inspiration you'll ever need.