This Colorful Pasta salad infused with an Indian twist will be a hit of any Get-together or picnic! There are a lot of amazing textures in this Pasta salad with Indian Twist , Its Crunchy , Crispy, Tangy and spicy. This is a very exciting salad, which will be loved by young and old alike.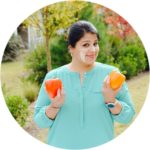 I can't believe it's August already , time flew by so quick and three more weeks before the kids get back to school. This year summer flew past quickly. One of the main reasons being my parents visiting us here in US :D. So now that the Summer swim practice and meets are over, its time to enjoy and go out for picnics, have get-togethers at home. I love entertaining friends and family and I love to pamper them with delicious food. So today's Pasta salad is unlike any you have ever tried. You will never want another boring salad when you try this one packed with all your favorite Indian Twist!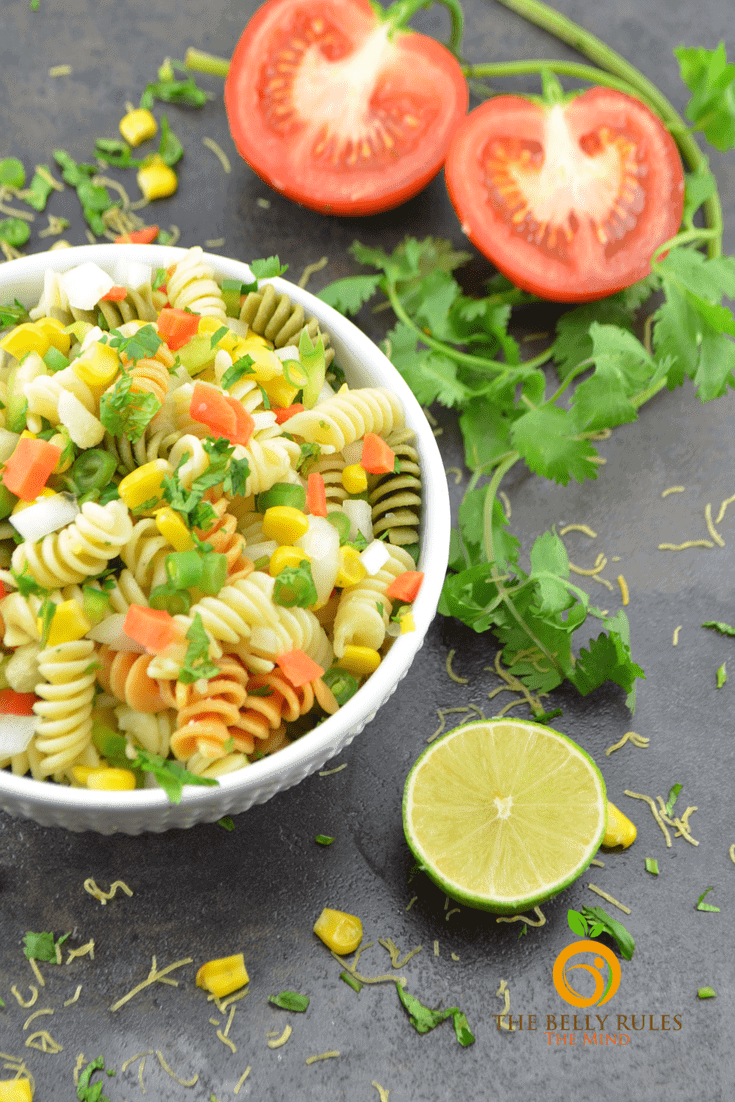 You may have heard of Mumbai bhel, Chinese bhel, but have you heard of Pasta bhel ?? May be not, but I have being making this bhel/chat for years. Summer is at full peak and this is a perfect pack and go picnic dish. No need to worry about it getting soggy as well. It can be made colorful by adding your favorite  veggies or even fruits(Apple/pomegranate to name a few) . Now how can the equation go wrong!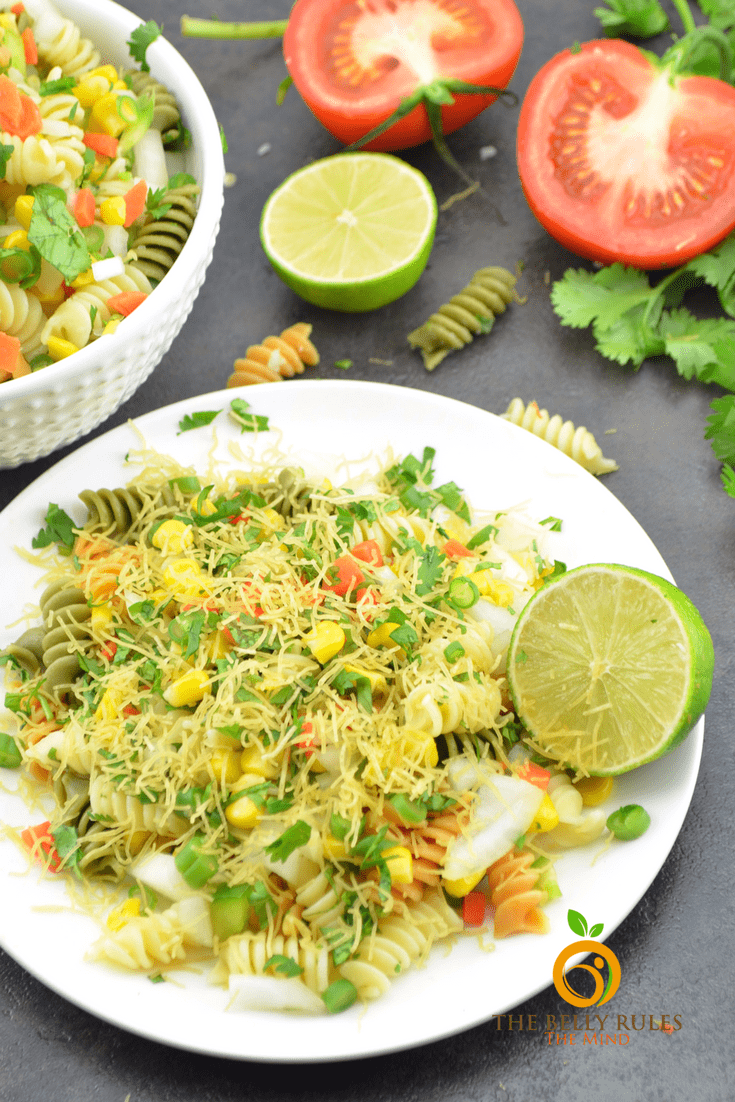 Serve it at room temperature or chilled. You can also serve it with our Multipurpose green chutney /Sweet gauva chutney or just with lime juice ,Red chilli powder & chat masala .This Pasta Salad with Indian Twist its a hit with all age groups . R2 loves it when I give it to him in his lunch box. You can add traditional Sev(Thin fried garam flour vermicelli)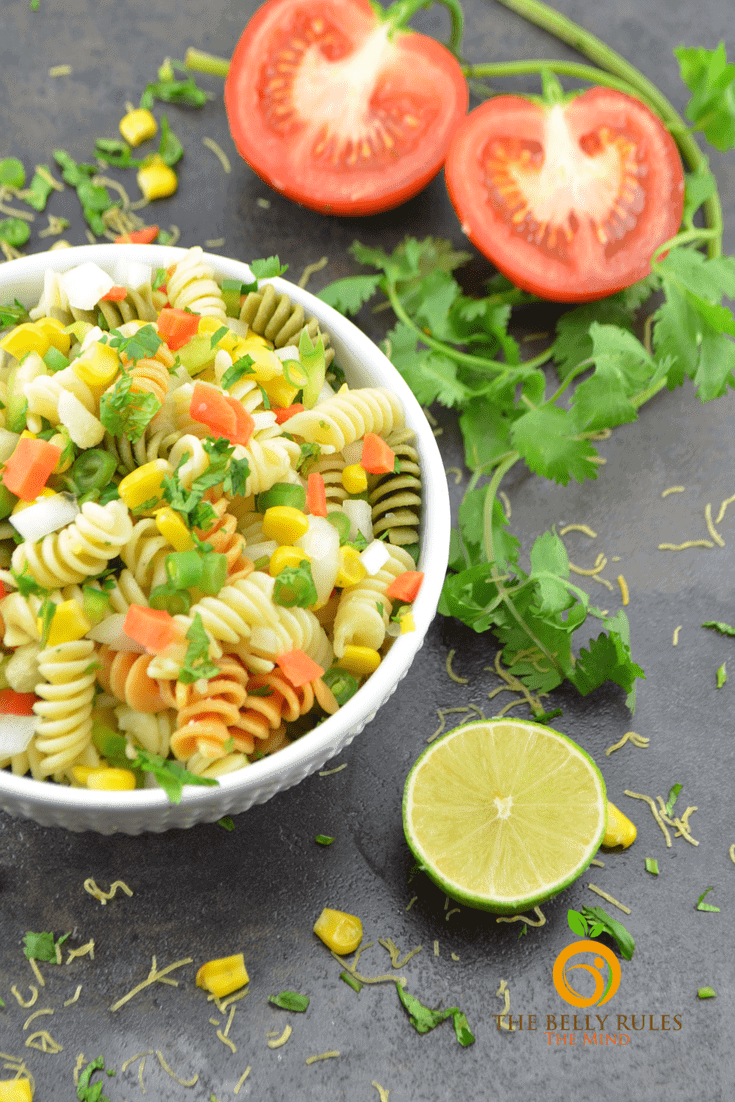 Ingredients
1/2 Box pasta/Boiled/ I have used
1 carrot / finely chopped
1 small potato/boiled/chopped
1 small onion/ finely chopped
few green beans/finely chopped
Red and green bell pepper/ finely chopped
handful of corn
cilantro/ coriander leaves/chopped
salt to taste
red chille powder
black pepper powder
1 lime juice
chat masala
fried garam flour vermicelli/ Sev
Instructions
Boil the pasta.According to the instruction given on the box
Finely chop all the veggies.
Boil Carrot, corn and beans for few minute in the microwave.
Mix all the veggies in the pasta.keep it in the fridge for few minutes to chill.
Remove it from the fridge and add lime juice and seasoning to taste.
Just serve it as it is or top it up with some sev
https://thebellyrulesthemind.net/italian-bhel/
If you end up trying this recipe, don't forget to send us you pictures on Instagram and tag us. Or drop in your review on our Facebook page.  Check out our Pinterest boards for all the healthy eating inspiration you'll ever need.