Lemonade with Tropical Fruits and Butternut Squash – A refreshing Lemonade with health benefits! Tropical flavors and lots of fiber. Perfect for a hot summer day.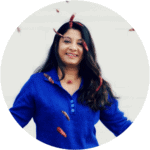 This isn't a regular lemonade. We have taken the classic lemonade and given it The Belly Rules The Mind twist by adding lots of fiber. It's still delicious with lots of tropical flavors from mango, pineapple, ginger, mint and lots of fiber from the butternut squash. I know, probably the idea of adding a vegetable to a lemonade is making you go crazy. But believe me you, the classic lemonade just got better with our twist. Remember our Vegan Tropical Butternut Squash Smoothie, the low-fat one that has less than 100 calories per serving? This lemonade is a derivative of that smoothie. We simply couldn't resist not experimenting with those flavors again. If you haven't tried the Vegan Tropical Butternut Squash Smoothie yet, click here for the recipe. You will immediately understand why had to try this lemonade.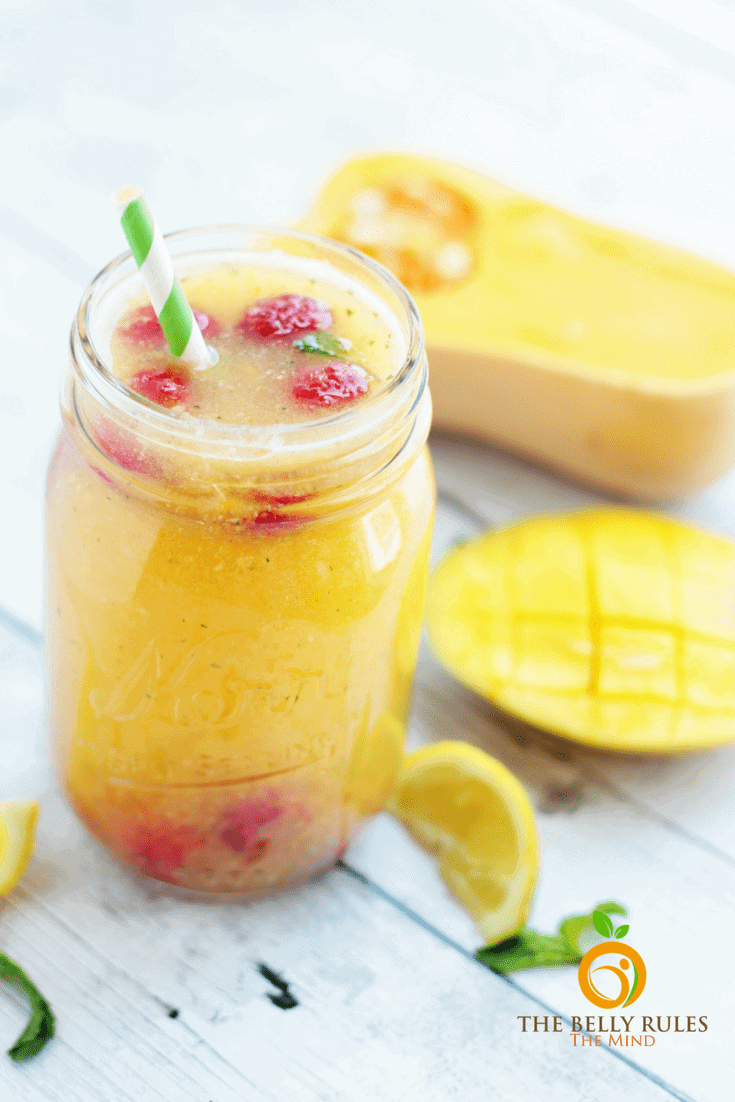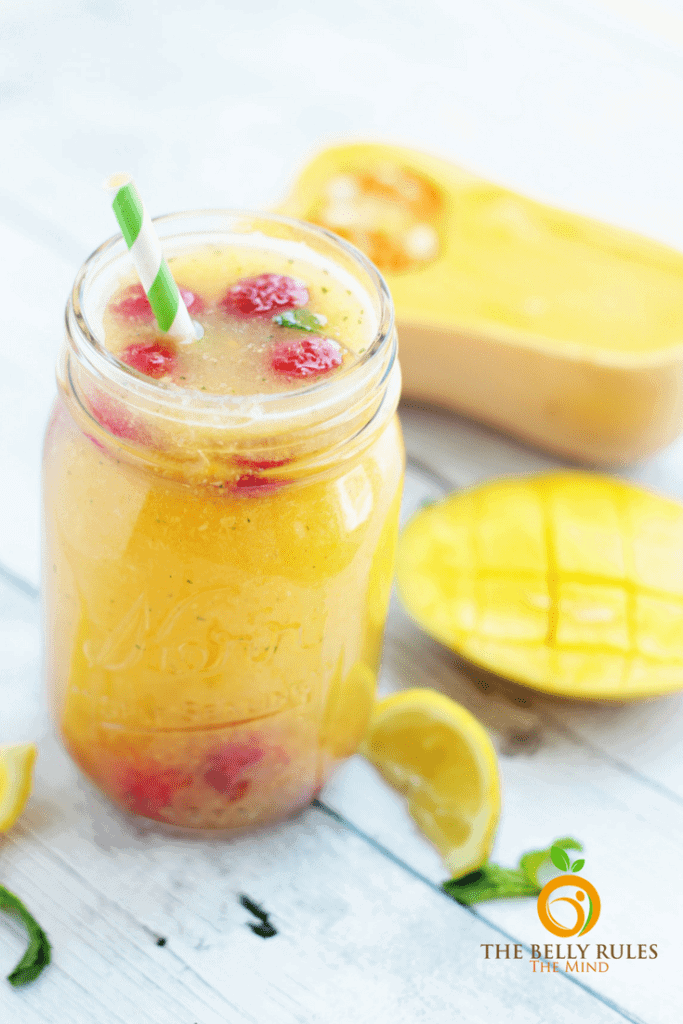 Lemonade with a twist
You know from our Strawberry Mint Lemonade and Cucumber Basil Lemonade recipes that we love giving the classic lemonade our twists. What we love about this lemonade is that it's different. It's not like any other lemonade you have tasted. Infact it doesn't even look like the classic lemonade. However, it's still a lemonade with all the exotic flavors. Can you even imagine the burst of flavors from refreshing ingredients like lemons, ginger and mint? Combine them with the tropical flavors of mango and pineapple. Add the healthy quotient to it by adding the fibrous butternut squash and garnish with fresh mint leaves and raspberries.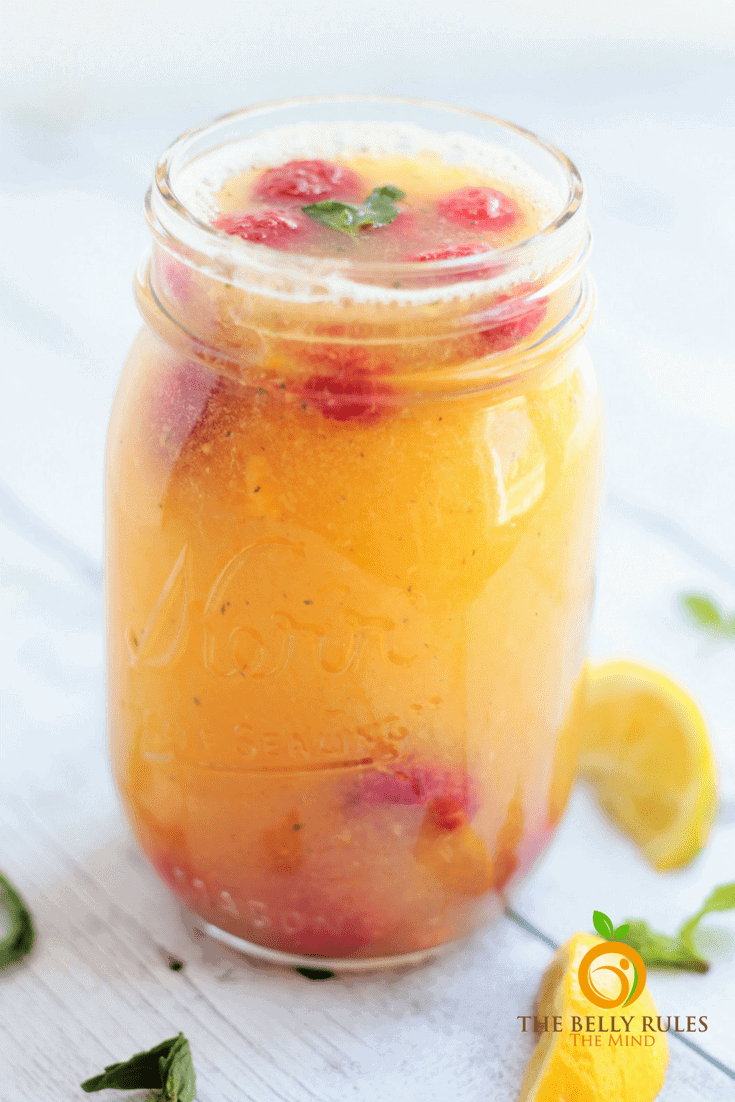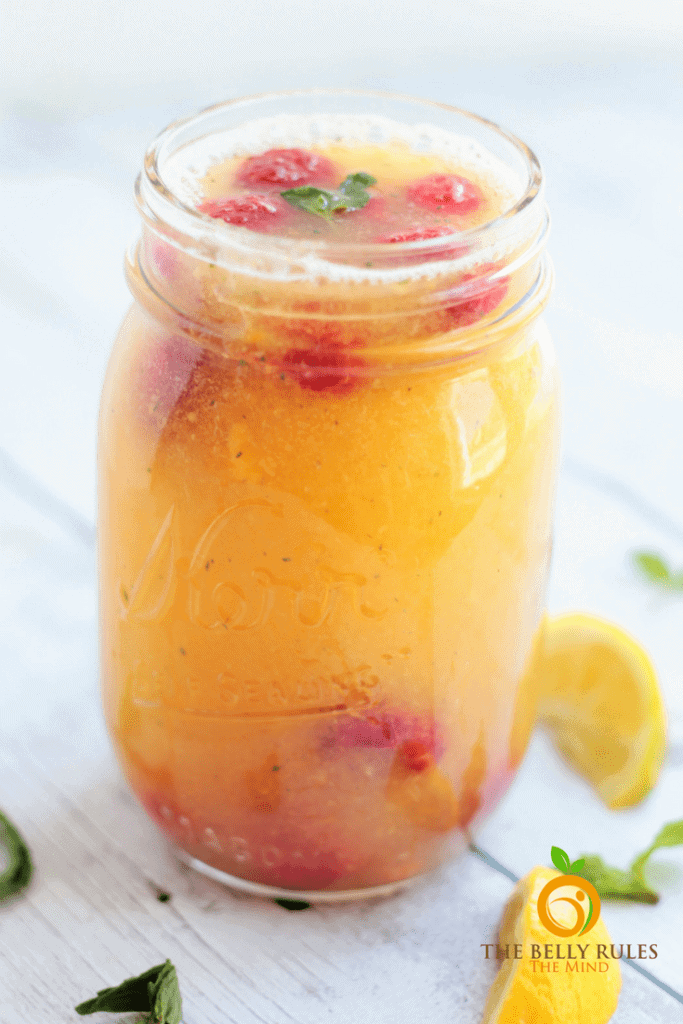 Why Butternut Squash?
Can you see all the fiber in the picture above?  It's more visible around the red raspberries. Guess what? That fiber from the Butternut squash aids digestion and also improves blood sugar levels. Butternut squash is a nutritional powerhouse.  It contains soluble and insoluble dietary fiber. Insoluble fiber adds bulk to digested food, which helps it travel through the digestive tract and prevents constipation. Soluble fiber slows the absorption of carbohydrates, which prevents large spikes in blood sugar after you eat.  Butternut squash is naturally sweet with a moderate glycemic index of 51. Combine that with the fiber and it's ideal for people with diabetes.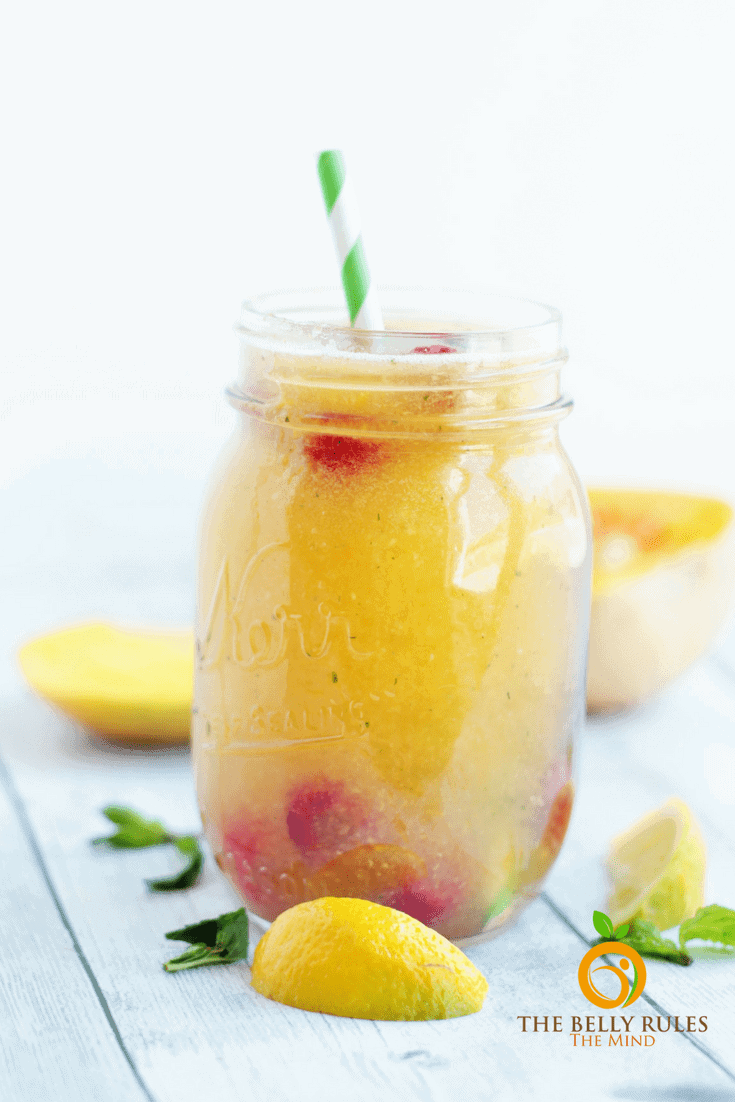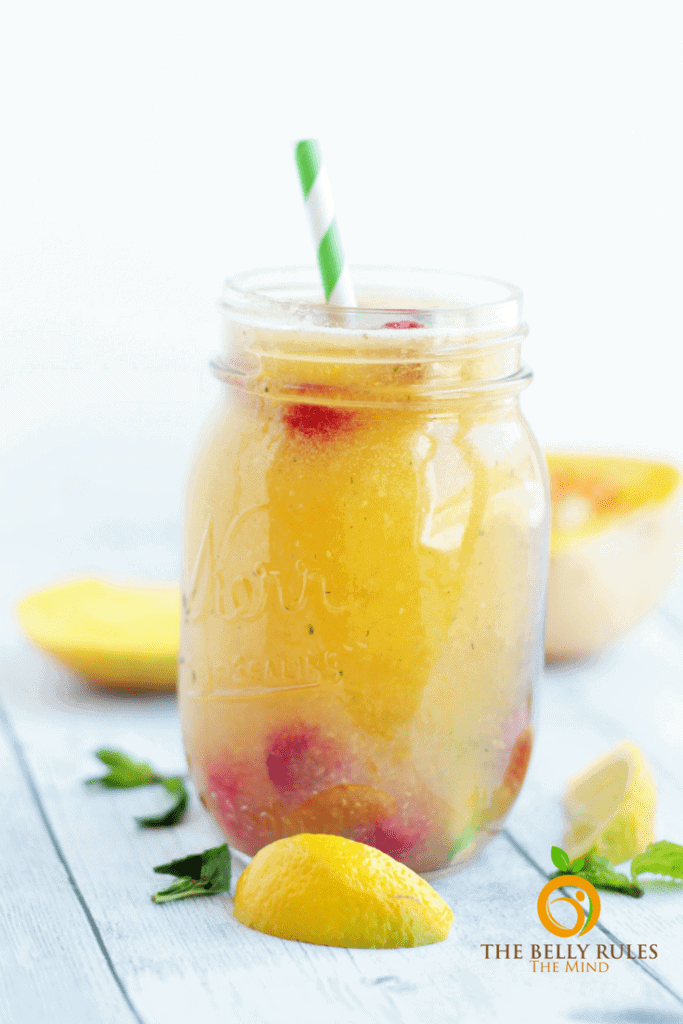 What else can you do with this Lemonade?
Aren't you in love with the color? It's all natural. I wish could have made this for my dad who was diabetic. I am sure he would have liked it. A great drink to beat the heat. I also want to make a big batch of this and freeze it in popsicle molds. My son would love that. These popsicles will definitely come handy from next week when he will be home for the summer break. Although the texture isn't very fibrous if you use a good blender like my Ninja, but if you want to serve it to a texture freak, you could sieve the lemonade but, mind you the entire fiber element will be lost.  If you want to serve it in a large gathering, I made a concentrate of this and kept it virgin. Those who want to spike it can spike it. BTW, I didn't sieve the concentrate and nobody complained, everybody actually was wowed that it was something new and different they had tried.
So are you ready to make this bold deicision and try this lemonade? Let's get started.
Lemonade with Tropical Fruits and Butternut Squash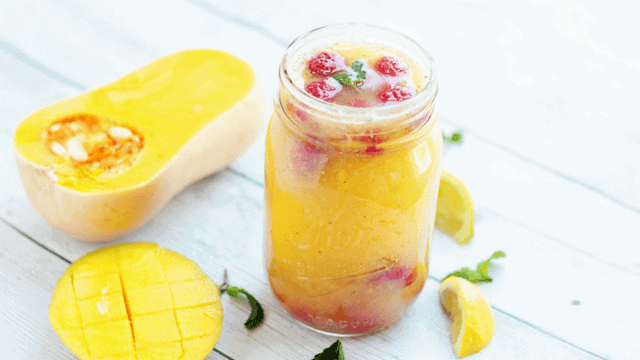 Ingredients
1/2 cup lemon juice
1/4 cup mango
1/4 cup pineapple chunks
1/4 cup butternut squash
1 inch ginger root
6 basil or mint leaves
6-7 raspberries
water
monk fruit sugar / maple syrup (optional)
Instructions
Use fresh organic, non-gmo produce to the extent you can.
Add all the ingredients, except water into a blender and blend until you get a smooth consistency.
Pour concentrate into individual glasses or jar.
Add water as per desired taste. Some like a strong tangy lemonade will some prefer it mild. It's always better to add less water than more. You can always add more water if require.
If you feel the need to add a sweetener, feel free to use some monk fruit sugar or maple syrup.
For popsicles
You can also add coconut water instead of water. Pour into a popsicle mold and freeze for a couple hours.
https://thebellyrulesthemind.net/lemonade-with-tropical-fruits-and-butternut-squash/