This Minty Paneer Sabzi  is a hit with any age.Mint+ Cashews+ cilantro + paneer or tofu = out of this world, refreshing and heaven in your mouth. The green sauce kicks it up a notch and leaves your mouth bursting with flavor! MintyPaneer Sabzi  is ready in a jiffy!!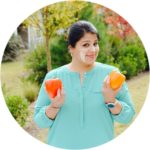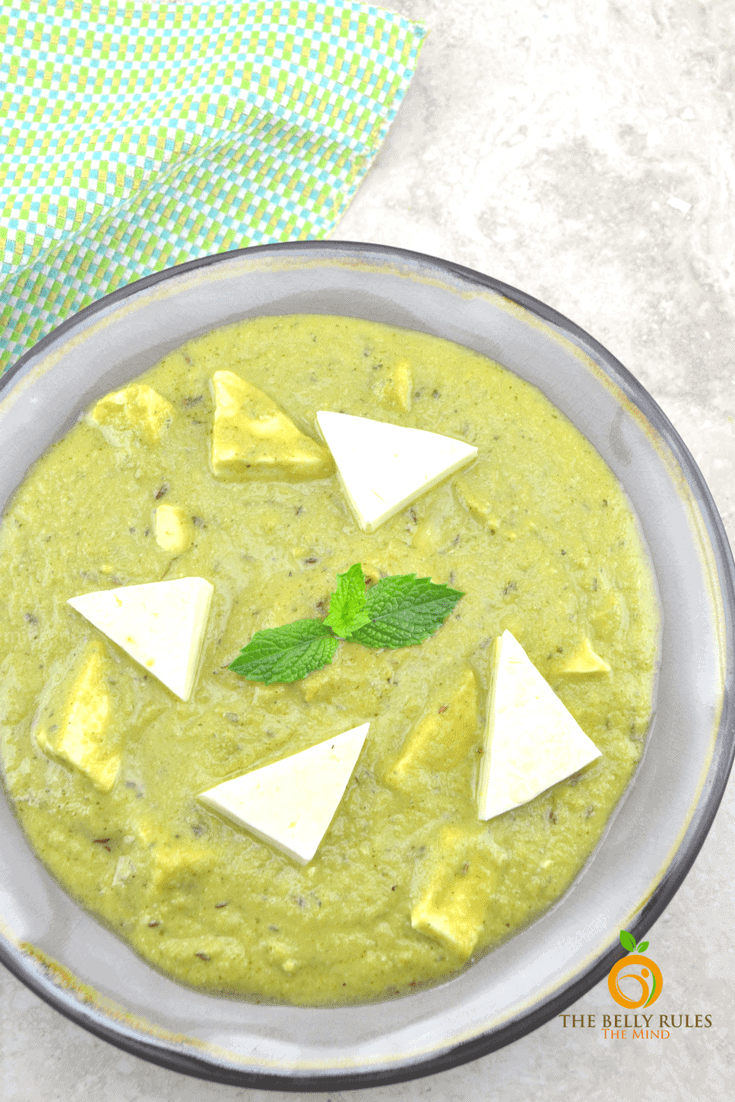 There are not many people who do not like the green color in their food. I love it !! Summer is here and we have created a vegetable patch where we grow all our NON-GMO, organic vegetables. All the vegetables used in this recipe are from our vegetable patch :-). So as a tribute to our first harvest (the vegetables are not completely grown yet), today's recipe is GREEN. You will find the experience of preparing gravy for curry / sabzi quite different from the usual sweaty, time-consuming process. So easy that you will want to indulge in preparing this Minty Paneer Sabzi more often! Serve hot with rice, roti and salad .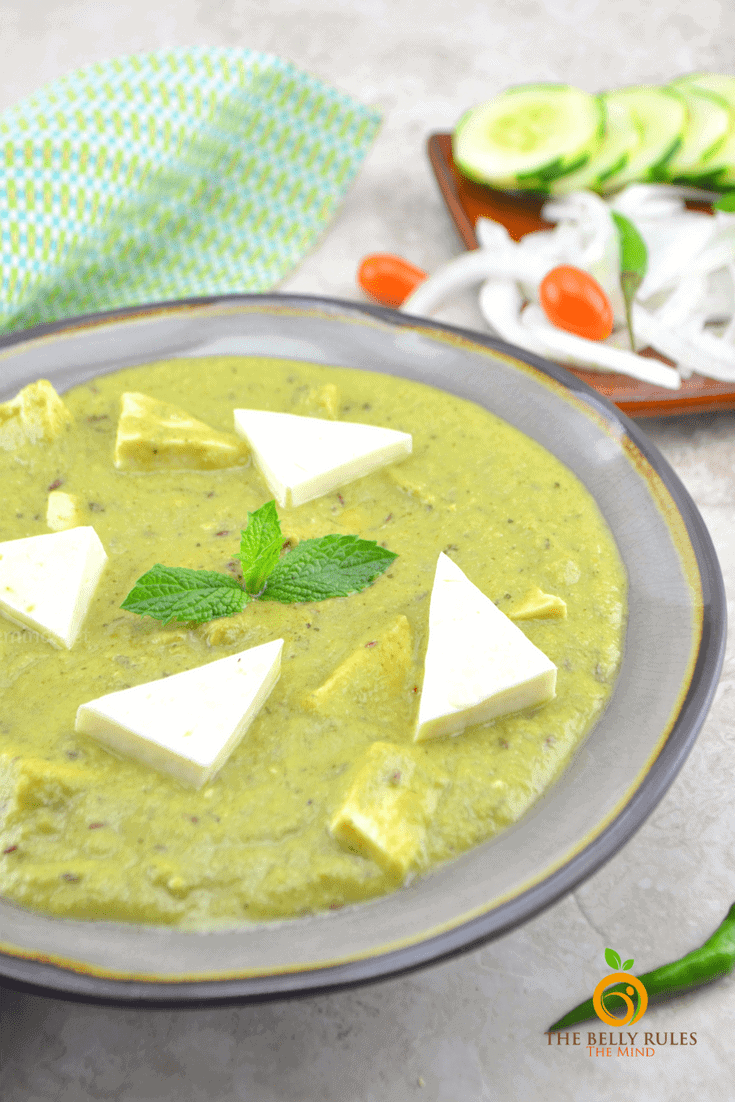 Are you guys enjoying your summer ?? We are :D As my parents are visiting me from India, its the time of the year where I relax and enjoy my moms cooking :) I have learned most of my cooking from my MOM and this is one of the recipes I loved when she used to cook it for us. She was surprised that I do not have this recipe on the blog. So lets learn this recipe from the expert herself ;)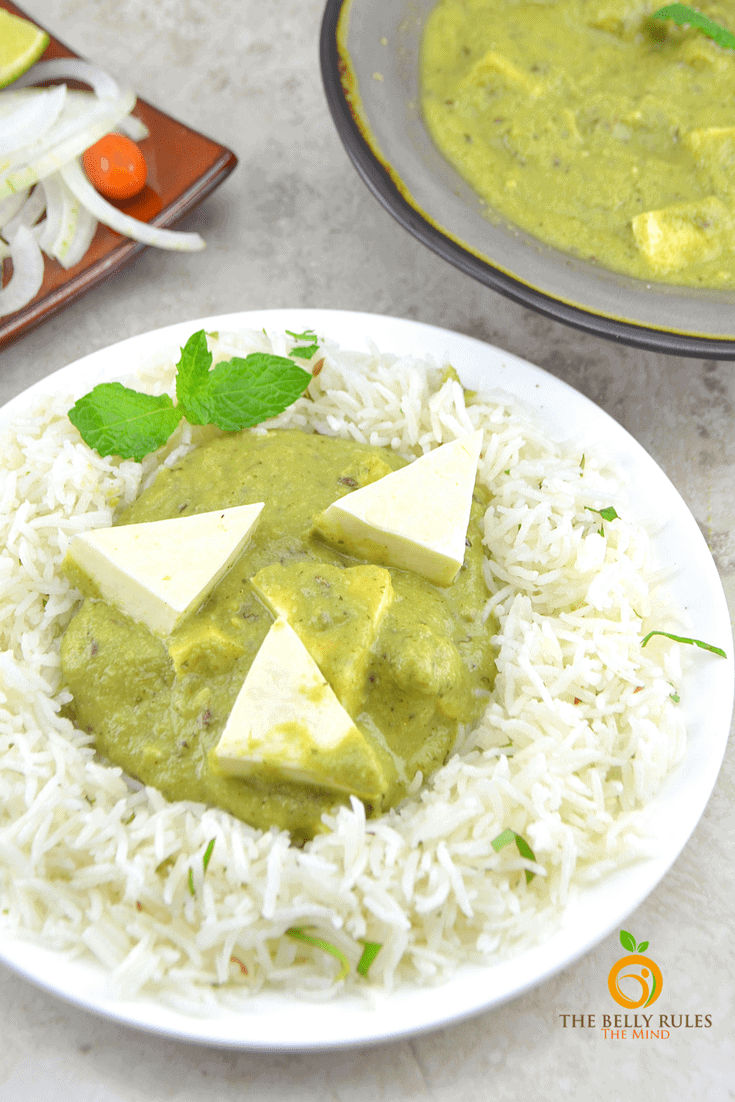 Who wants an easy/pretty/yummy/Minty recipe? You're in the right place.
This dish could not be more simple make a paste of these refreshing herbs add in a onion,ginger, garlic & add in the paneer or tofu if you want a VEGAN version , cook it up for few minutes into a yummy sauce and BOOM: you've got Lunch or dinner!

Minty Paneer Sabzi in 10 mintues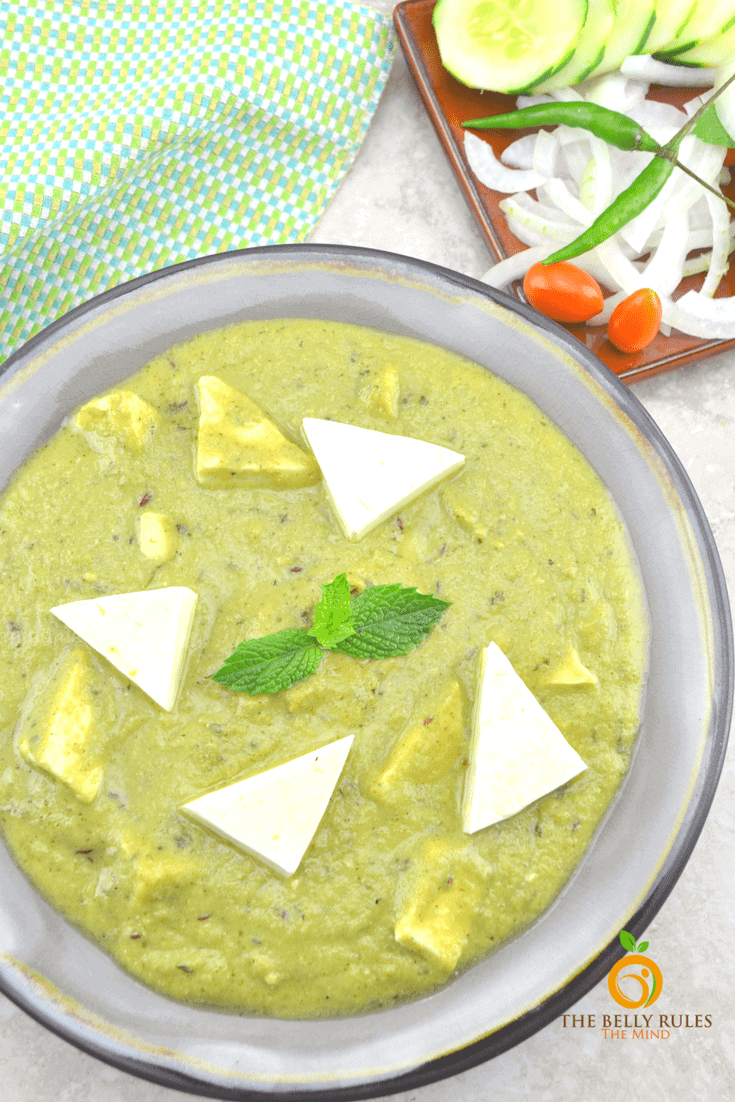 Ingredients
12- 15 Paneer Cubes /medium size
1 cup fresh mint leaves
1 cup fresh Cilantro leaves/ dhaniya
1 medium onion /white
2  Green chilli
1/2 inch  ginger piece
2 garlic cloves
1/2 cup cashews
1 Tsp Cumin seeds
1 Tsp Fennel seeds
2 tsp Dried fenugreek leaves /methi kasoori
1 Tbsp Olive oil
to taste Salt
Instructions
Make two parallel slits on the paneer and cut into desired shape .
Add mint, cilantro, green chillies, ginger, garlic , cashews  and onion.Add little water and  make a smooth puree in a blender.
Add paneer or Tofu in the minty sauce and mix well.
Heat a pan and add oil .
Add the cumins seeds , fennel seeds and some green chillies  .
Add the Minty paneer sauce and cook it for few minutes .Add in crushed Fenugreek leaves .
Transfer to a serving bowl and garnish with some minty or cilantro leaves.
https://thebellyrulesthemind.net/minty-paneer-sabzi/
For more healthy ideas and recipes subscribe to our email or follow us on Facebook to stay updated with all the healthy information  we share. Check out our Pinterest boards for all the healthy eating inspiration you'll ever need. For an unending buffet of healthy photographed food, follow us on Instagram