It was not only after I moved to South India that I got acquainted with all these South Indian delicacies namely dosa, upma, idli, vada, etc that are world famous dishes now. My mom has made them ever since I can remember. Her sambar is still my favorite and I still struggle to make mine taste like her's. One very clever thing she used to do (which I do now with V) was make these very same dishes will different ingredients that are very nutritious but normally don't find a place in everyday food. Just like the many unique dishes that we have shared with you here.
This Ragi Utthapam with a Spiced Yogurt Dip is something on the same lines, inspired by mom's super genius. V loves dosa, or anything that has been made out of a batter of some kind for that matter, so this was a big hit with him as well as everyone else. The fact that he'd anything with/for/in/on yogurt means bonus! :D
So here it is folks. Our next installment commemorating the World Health Week that started yesterday. Do let us you what you think. Your feedback is something that we really look forward to.
Ragi Utthapam with Spiced Yogurt Dip.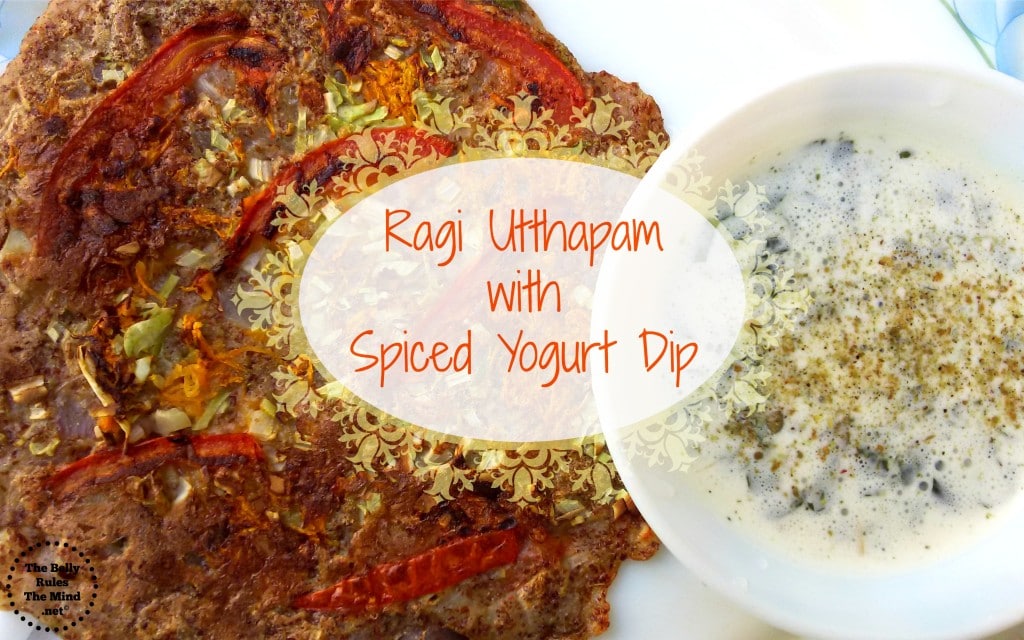 Ingredients:
Ragi/Millet – 1 cup
Lentils – 1 cup
Rice – 2 cups
Onion, chopped – 2 medium
Tomato, sliced – 1 medium
Cabbage/Carrots/Any other vegetables you like, (anything goes) chopped/grated – 1 cup
Curry Leaves, chopped – 8 to 10
Mint Leaves (for yogurt) – 8 to 10
Chaat Masala – 2 tsp ( 1 tsp for batter, 1 tsp for yogurt)
Mango Ginger, chopped – 1″ stick
Cumin – 1 tsp
Ajwain/Carom seeds – 1/2 tsp
Salt – 1 tsp/to taste
Red Chilli Powder/Fine chopped green chilli – 1 tsp
Vegetable oil – For drizzling on skillet
Method:
Soak the ragi, lentils and rice overnight, grind them in a dosa batter maker, and leave it to ferment for a couple of hours. I normally soak it in the night and grind it first thing in the morning so by lunch time it ferments nicely.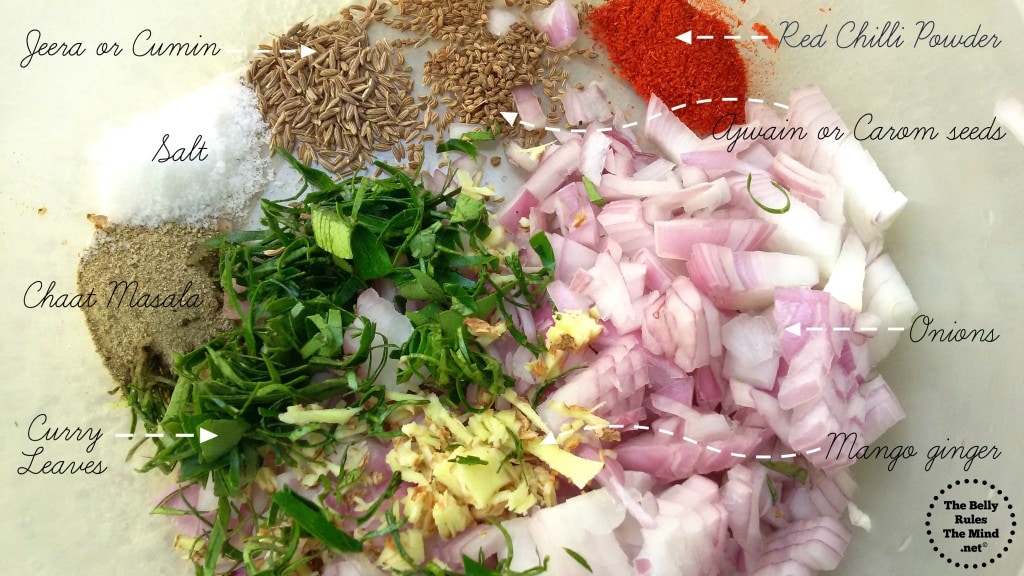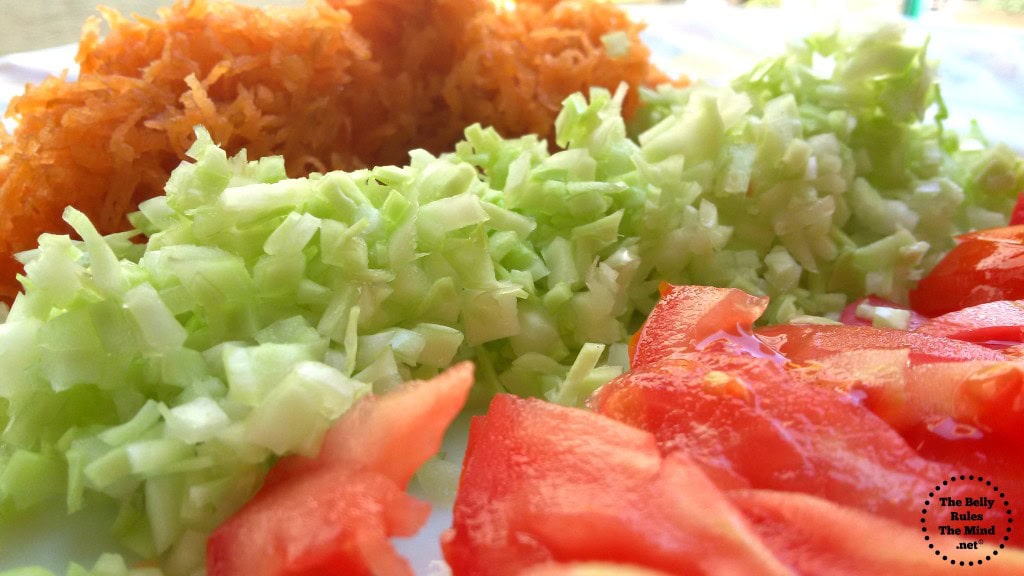 Now to the batter add the chopped onions, curry leaves, mango ginger (looks like ginger and smells like raw mango, has a pungent tangy odor), cumin, ajwain, chilli powder/chopped green chilli, chaat masala and salt.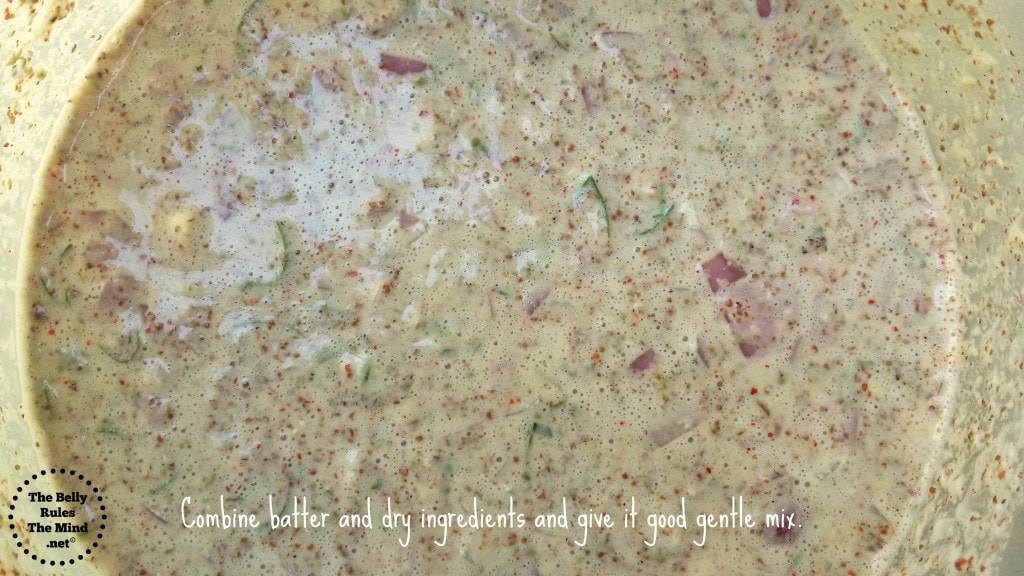 Heat a skillet, drizzle oil on it and heat it at medium. Take a laddle of batter and pour it on the skillet, spreading it as you do with a dosa, evenly all over.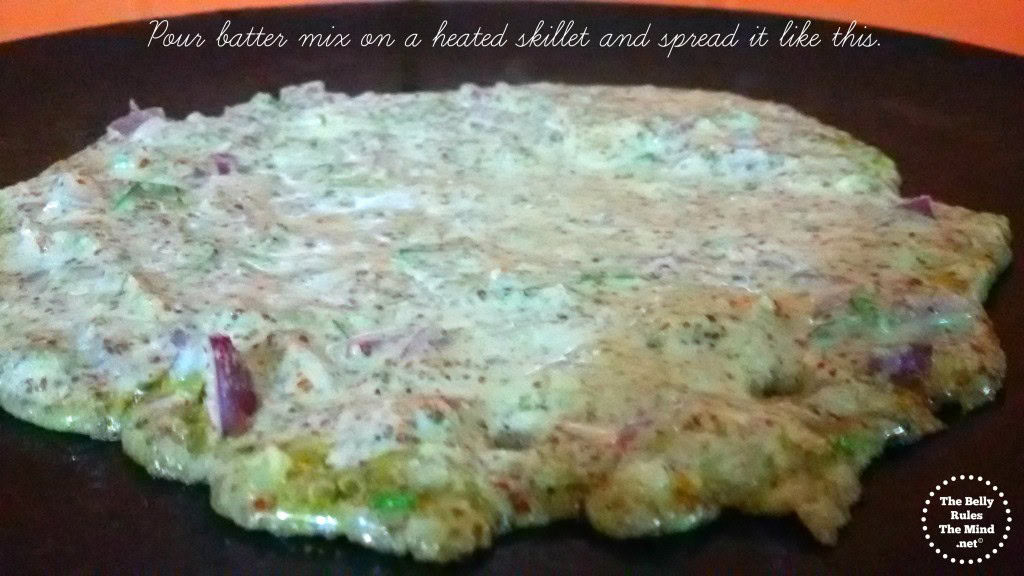 Now sprinkle the greens, chopped cabbage and grated carrots in my case because that's what I had in my refrigerator then. Let it sit for a couple of seconds and flip it in a swift motion so you let the veggies fall off. Line it with a few drops of oil and take it off the skillet onto a plate.
For the Spiced Yogurt Dip all you need to do is take a bowl of yogurt, the mint leaves, chaat masala and salt and blend it for a few seconds with a stick blender.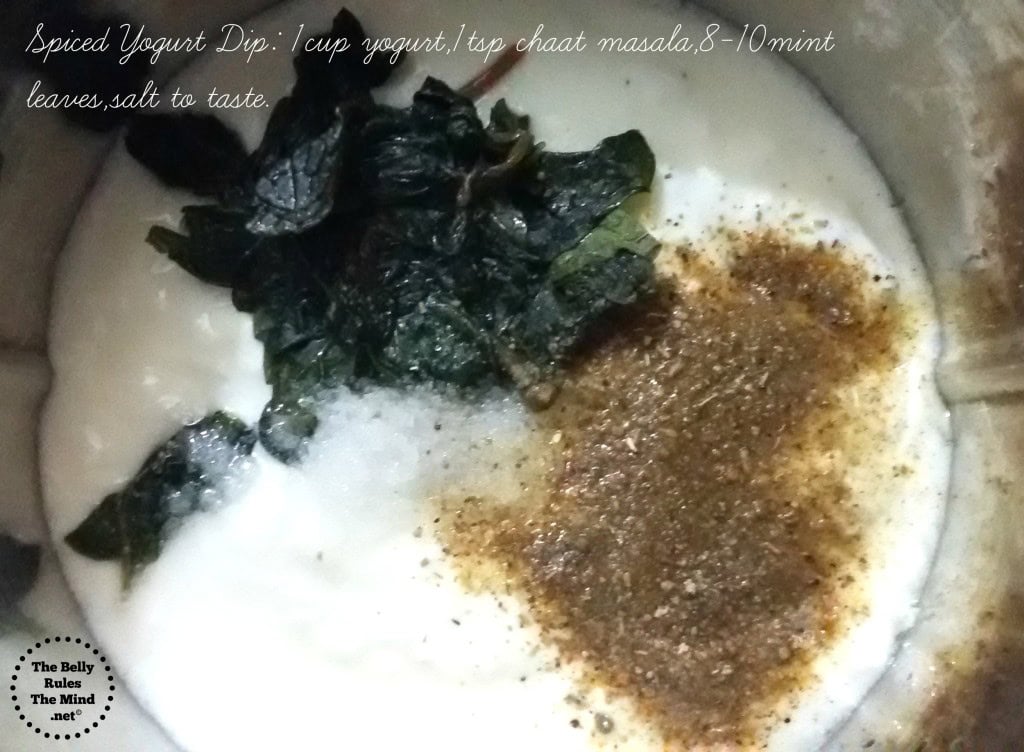 And lunch is ready! Enjoy!