This tex-mex style, Southwest Chipotle Salad with Avocado Cilantro Dressing is a healthy salad bowl with incredibly delicious flavors. 100 times yummier than any other salad & is protein and fiber packed!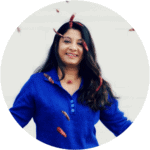 Spring is all about bright colors and  fresh flavors right? So yet again I have another healthy, colorful and flavorful salad recipe to share with you today. This is a great time of the year to enjoy light and refreshing salads bowls. I usually ditch the elaborate fancy meals, and enjoy these easy peasy salad bowls. I don't have to do a lot, just chop in some ingredients, make a dressing which is usually read in 5 minutes with minimal ingredients and voila, there is a whole meal waiting for you on the table to grab a bite. I also like to incorporate salads into my diet as it's a great way to consume raw ingredients which are more nutritious than cooked vegetables.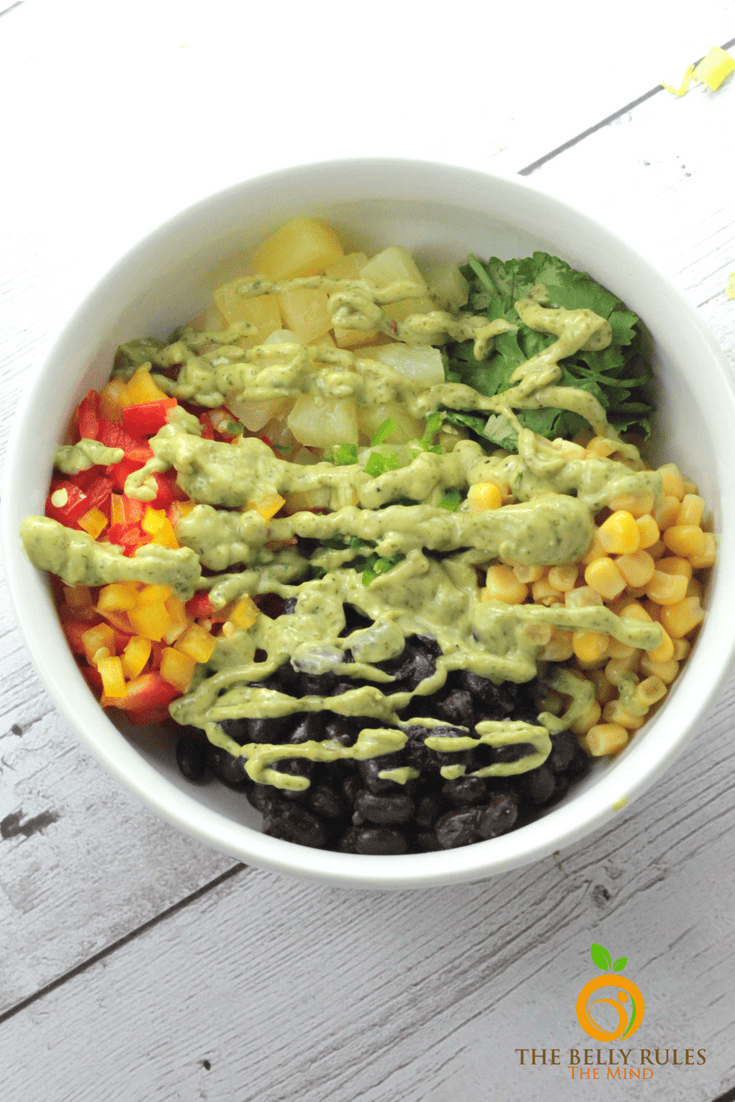 So remember my last post on the Spicy Chipotle Vegetarian Pizza. Well I had a few left over ingredients from the toppings the other day. I usually have a tendency to cook a little more than required, for those just incase moments, if you know what I mean. Just-incase you feel like eating a little more. Just-incase you have unexpected guests. Often times if I am trying something new and it turns out to be good, I like to share it with my sister who lives just 5 minutes away. So you see leftover's are common in the Mistry household. So with leftover beans and bell peppers, pineapples, corn & avocado cilantro dressing it was obvious that I was going to toss them all into a Southwest Chipotle salad. Throw in some cilantro and jalapenos and your done. Lunch is ready. 
What I love about this Southwest Chipotle salad is the it is a great mix of flavors. It has a zing to it from the jalapenos however the pineapples balance out the fiery flavor. I love the texture of soft cooked beans combines with raw and crunch vegetables. I can never get enough of cilantro ever, so I like to add fresh leaves that I can enjoy with every bite and ofcourse what tops it all is the avocado cilantro dressing. It's creamy, savory and a very mildly sour from the yogurt.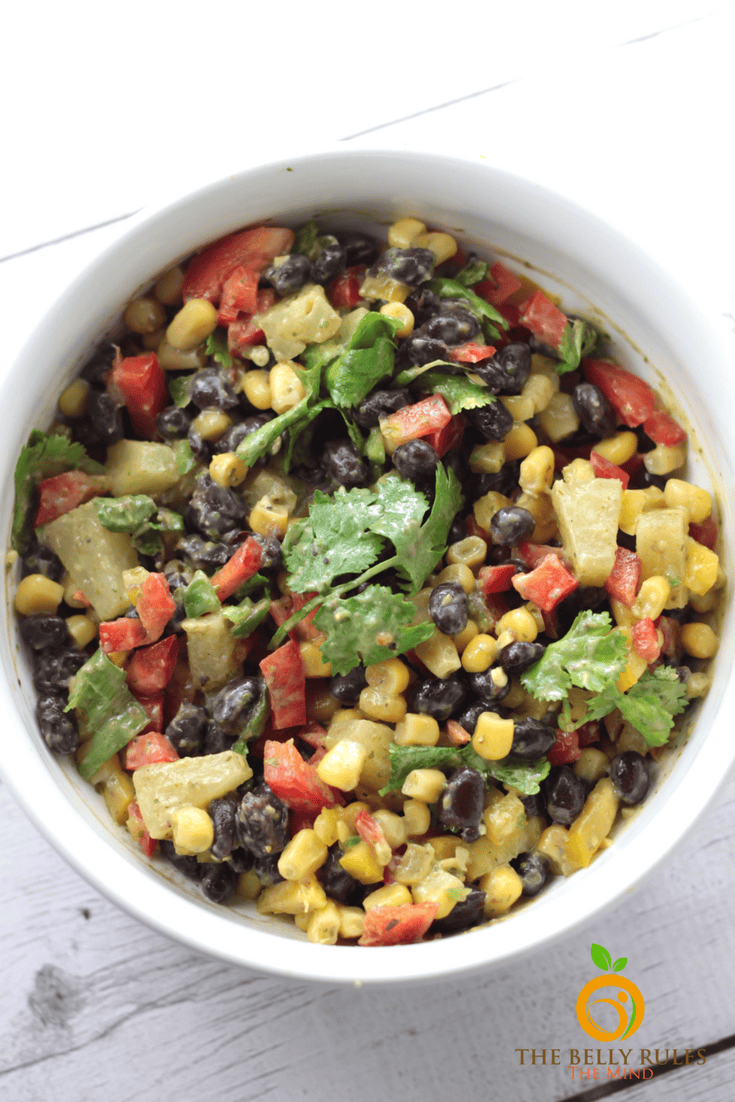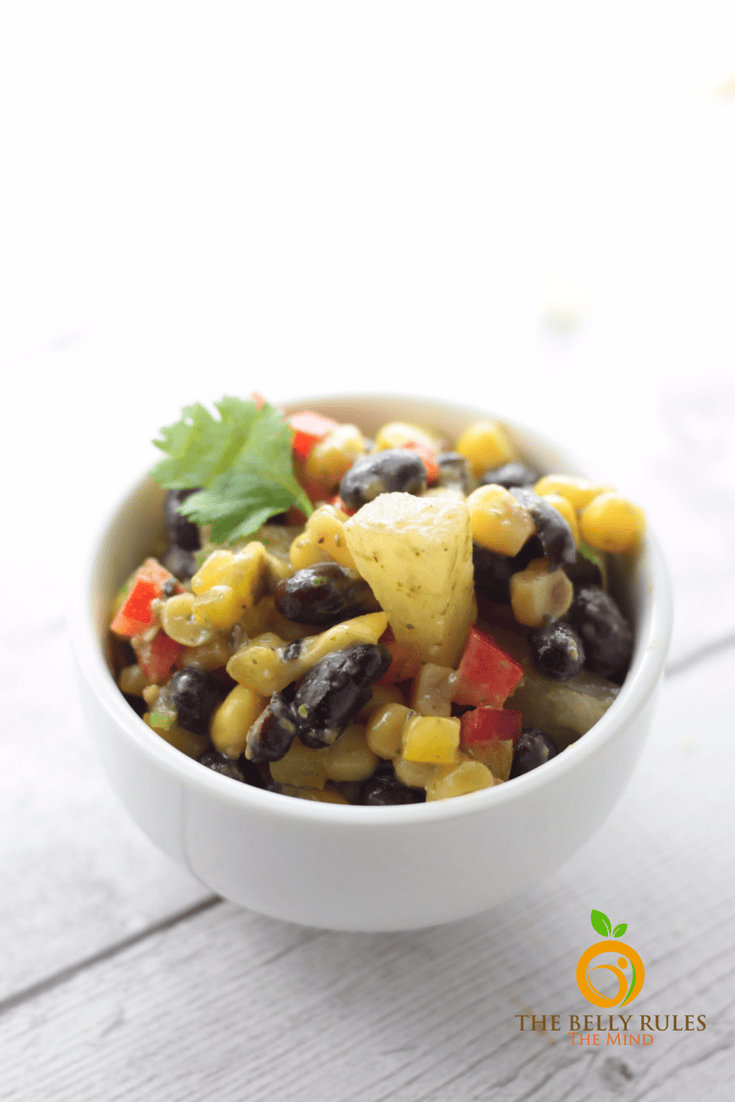 BTW, just incase if you land up having left overs from your salad, the salad makes an awesome dip with chips (wink wink).In short I loved my Southwest Chipotle salad bowl. Have I told you before that I am a salad lover???  If not, well now you know. If you think being a salad lover is boring, the salad recipes on TBRTM blog are going to prove you wrong. If you browse through TBRTM, you will find recipes for some of the most flavorful salads and dressings on the web. If you want to give those boring salads a makeover, the following dressings are sure to wow you with their flavors. Almost all of these dressings are Vegan and can be made in just 5 minutes. Simply blend the ingredients into a blender and your done.  Asian Ginger Garlic dressing, Asian Peanut Sauce, Green Coconut Dressing, Cranberry Ginger Vinaigrette, Creamy Vegan Dressing. If you need inspiration to make some healthy flavorful salads check out our Thai Salad, Tropical Pasta Salad, Pineapple Mung Salad, Sprouted Mung Salad, Mung Breakfast Salad, Bulgar Salad.
Southwestern Chipotle Salad with Avocado Cilantro Dressing
Ingredients
1/2 cup black beans, cooked
1/4 cup bellpeppers, chopped
1/4 cup corn, cooked
1/4 cup pineapple, chopped
12 cilantro leaves
1 tbsp jalapenos chopped
2 tbsp avocado cilantro dressing
Instructions
In a bowl, toss together the black beans, bellpeppers, corn, pineapple, cilantro leaves and jalapenos.
Drizzle over the avocado cilantro dressing and your salad is ready. Enjoy!
https://thebellyrulesthemind.net/southwest-chipotle-salad-with-avocado-cilantro-dressing/
So what do you think? Changed your mind about salads? Have I converted you into a salad lover too? Let us know in the comments below. Better yet try out any of these recipes for yourself. You will instantly fall in love with these salads. When you do try them, tag us on social media and let us know. We would love to hear from you.
Products Used