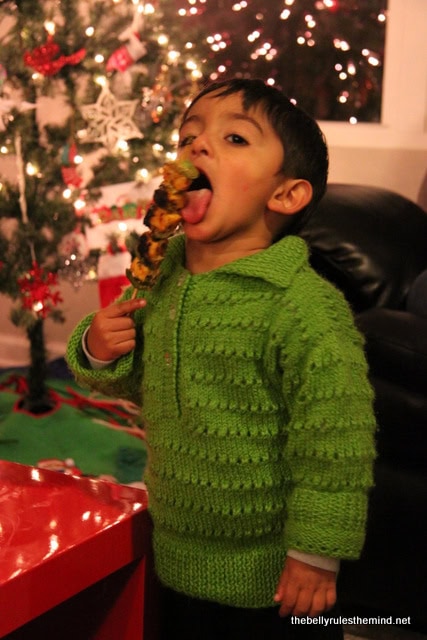 I finally get around posting the recipe of my stove top Paneer Tikka, after 2 days. This has been a crazy week for us as we were on a major reorganization project. Ever since we moved into our house, we just made our closets and storage functional, this week we spent out time optimizing them. Hence, you see it was a busy week.
Anyways, as promised on my Facebook page, here is the recipe for my favorite marinade. Since I wanted to use up all the Paneer from my refrigerator, I decided to make Paneer Tikka.
[adinserter block="2″]
[adinserter block="3″]
Ingredients
14 Oz (aprox 400 gms) of Paneer or Indian Cottage Cheese, cut  into half inch cubes
2 Bell Peppers cut into half inch cubes
6 tsp. of Hung Curd / Hung Yogurt
2 tbsp. of Mustard Oil
3 to 4 Garlic cloves, crushed
1 tsp. Grated ginger
2 tsp. Cumin powder
2 tsp. Coriander powder
1 tsp.  Turmeric powder
1 tsp. Chaat Masala
Chili Powder to taste
Salt to taste
1 tbsp.  Tandoori Masala Powder (optional). If you don't have any of the above spices, you can just buy a bottle of dry Tandoori Masala at the Indian grocery store.
Wooden skewers
Steps
[adinserter block="2″]
[adinserter block="3″]
First we prepare the marinade, by adding hung curd, mustard oil, crushed garlic cloves, grated ginger, cumin powder, coriander powder, turmeric powder, chili powder, chaat masala, tandoori masala &  salt together. If you are using only Tandoori Masala, add it to the hung curd, mustard oil, ginger, garlic and salt. I always prefer to prepare my marinade in a flat baking dish so that the veggies soak some amount of the juice from marinade.
Now mix together all the ingredients to marinade the paneer and bell peppers. Make sure the mixture is evenly coated  and let it marinade for minimum 30 minutes to as long as 24 hours.
[adinserter block="2″]
[adinserter block="3″]
Alternately pierce the Paneer and Bell Pepper cubes on the skewer.
[adinserter block="2″]
[adinserter block="3″]
Did you know
Paneer is really good for health as it is a good source of Protein and Calcium
It's also Gluten free.