Strawberry Lemonade is my classic summer drink to quench my thrist when the temperatures are soaring high. It's a greak drink when you want to cool off with something quick and easy and hydrate yourself too. I love the sweet and tangy flavors from the strawberries and lemons and the mint definitely adds a zing to the drink. These days in the summer, I get super concerned about my bundle of joy who is an absolute outdoor kid. Even in these temperatures, he loves to spend his time in the sun playing soccer or his sandbox keeps him busy for hours. On hot summer days, I often get requests for juice / lemonade. Since I am not a fan of store bought juices I either juice at home or make him lemonades.
So in the last few weeks, I have tried so many different consistencies of this Strawberry Lemonade. Sometimes the frozen slushy, sometimes the icy slurpy and sometimes the watered down drink. Honestly I can't tell which one is my favorite. When you try it, let me know which consistency you liked the most. In my opinion they are all equally good, depending on the temperature outside.
The other day I had a playdate at my place and the kids were playing in the patio. When they came back in their cheeks were red and I could tell it's time to hydrate them. When I blended the strawberry lemonade for them they were so excited that they could barely wait pulled out glasses even before I was ready. What I love about this lemonade the most, is the ease of preparation and it's much better than the store bought juices. If you haven't read my post What is in your juice? yet, I highly recommend it. Ofcourse I still believe that consuming fruits is better is juicing them. Since I follow the 80-20 rule at home sometimes it's ok to make a healthier alternative at home, specially in those hot summer days. I often freeze the concentrate for later use as well.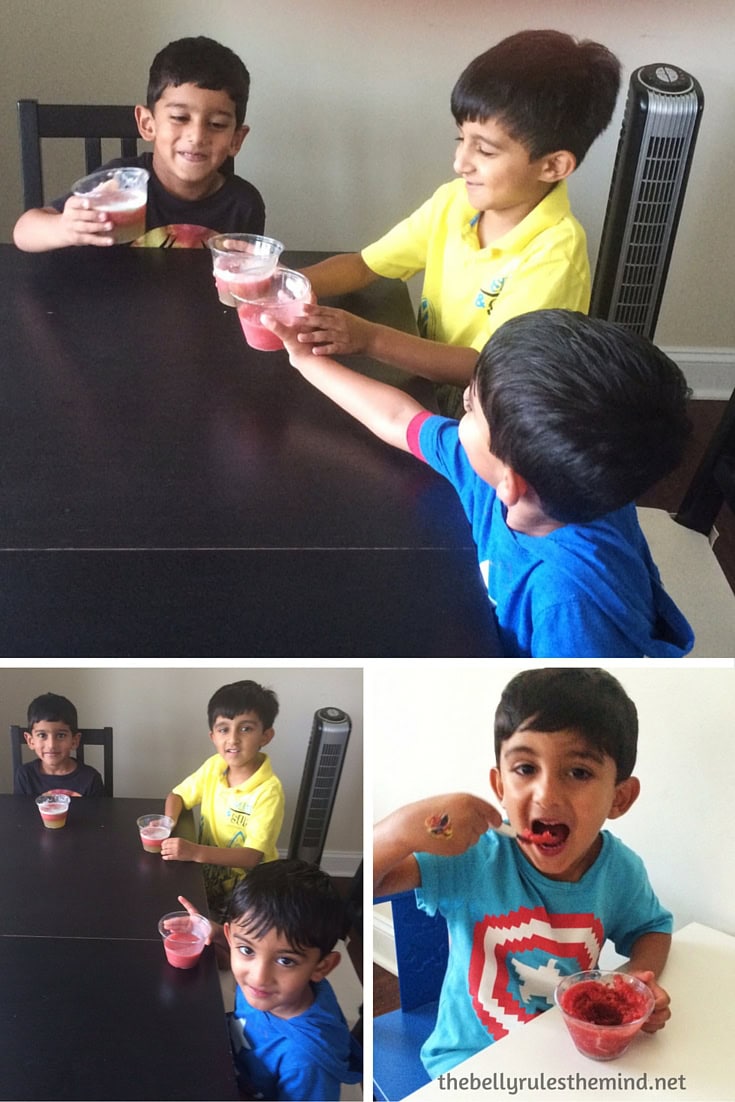 Do you have a favorite thirst quencher for summer? What's your go to drink to keep your kids and yourself hydrated? Drop in your ideas in the comments section below. If you know of someone who will love this recipe, feel free to share it with them.
Ingredients
1 cup of strawberries, washed and cut into halves.
1 tbsp lemon juice
4 mint / basil leaves
Honey to taste, depending on sweetness of strawberries
Ice and water depedning on the consistency you like.
Instructions
Add ice, strawberries, honey, lemon and mint leaves in the blender and blend it.
Once the concentrate it ready, you can either freeze it in icetrays or freezer bags or or dilute it with water to your desired consistency and blend it for another 30 seconds.
Voila it's ready.
https://thebellyrulesthemind.net/strawberry-lemonade/