These sweet potato curly fries make a perfectly healthy side or snack, full of fiber & nutrients! Mind you — they're addictive! Vegan. Gluten-Free.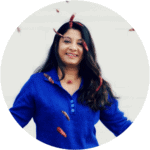 Gotta love healthy fries, isn't it? Especially when they are sweet and salty, I mean super delicious and easy peasy to make. These Sweet Potato Curly Fries are perfect to fix your 'fries' craving. Made with 3 easy ingredients, these fries are ready in no time and are always a big hit. Loaded with fiber & nutrients like vitamin A, Sweet Potatoes have anti-oxidant and anti-inflammatory properties. Although Sweet Potatoes are a root vegetable, they have the ability to potentially improve blood sugar regulation due to their low glycemic index and high fiber content.  In short they are a much better alternative to the starchy, fried potato fries.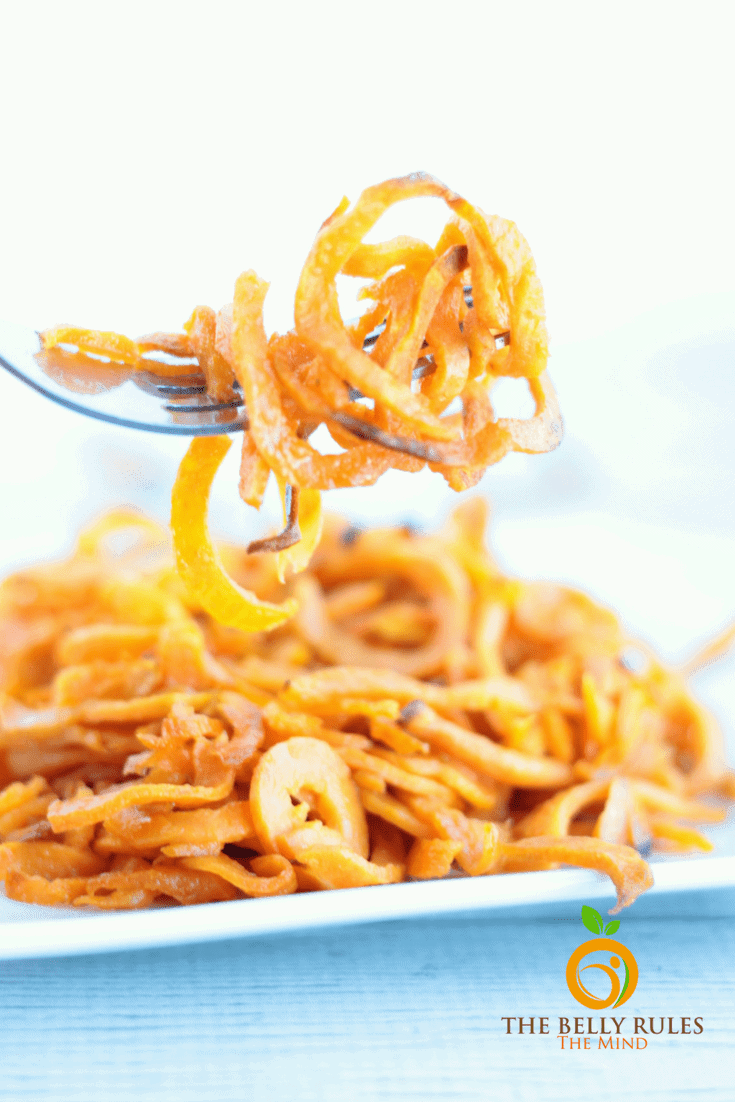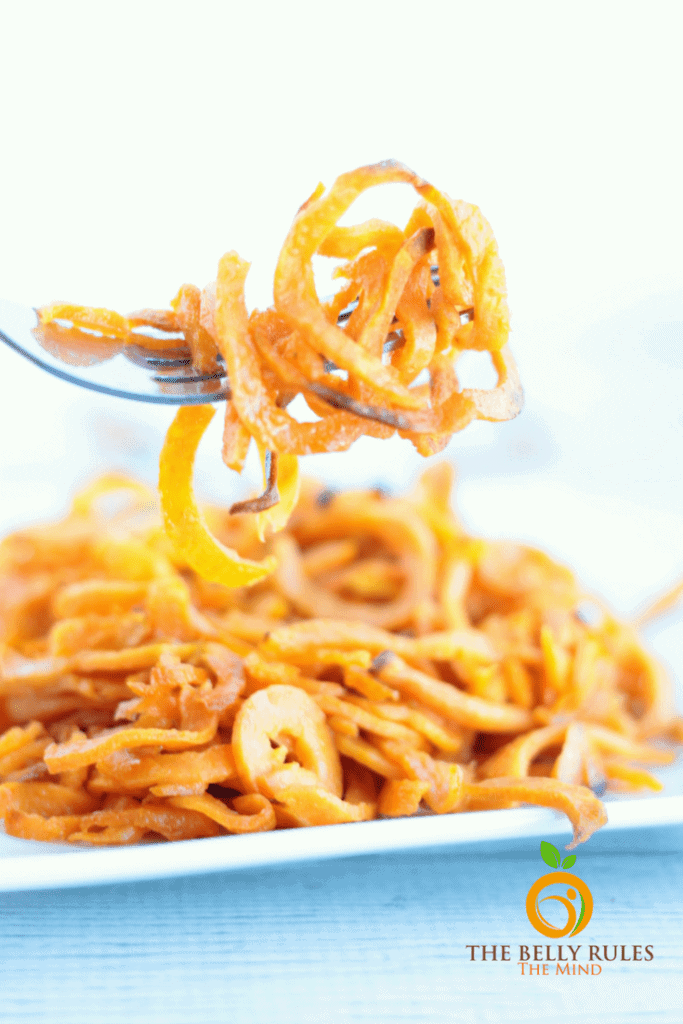 Don't you feel like grabing a bite of these delicious mildly sweet and savory Sweet Potato Curly Fries. We love them for their taste and also because these are so easy to prepare. Thanks to my Ninja Intelli – Sence Kitchen System with Auto Spiralizer, that life has become so easy when you want to spiralize. Remeber the first recipe I made using Ninja's Auto Spiralizer was the Spiralized Thai Salad .  I am in love with it. Makes life so much easier and efficient.  I used to use a manual spiralizer before I got this and life has changed ever since. We spiralize so much more often. Sometimes we don't even make anything fancy using our veggie noodles. Just a twist to the good ol' cucumbers and carrots will do. However this time it's all about our Sweet Potato Curly Fries.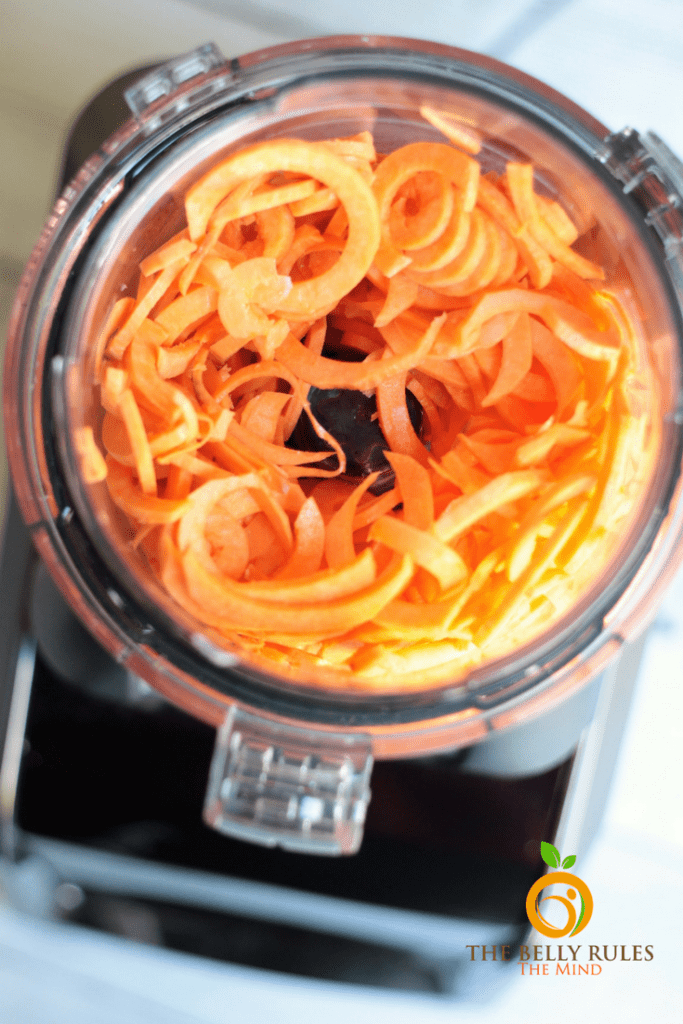 If you have been reading TBRTM regularly, you will know that little A loves to spiralize veggies with me. So this one really got him excited. It was a surprise for him. I made these Sweet Potato Curly Fries for him as an after-school snack. Honestly, before he even got back home, these fries were all gone from just the mere tasting. Trust me when I say that these are addictive. So once Little A was back, we together spiralized some more sweet potatoes to make a fresh batch of fries for him. My little munchkin is always ready to help me in the kitchen. I guess I involved him pretty early on in the kitchen. If you haven't already my post on How to engage kids in the kitchen? , I have shared some really good ideas that actually worked for me to help make a connection between food and smart eating habits.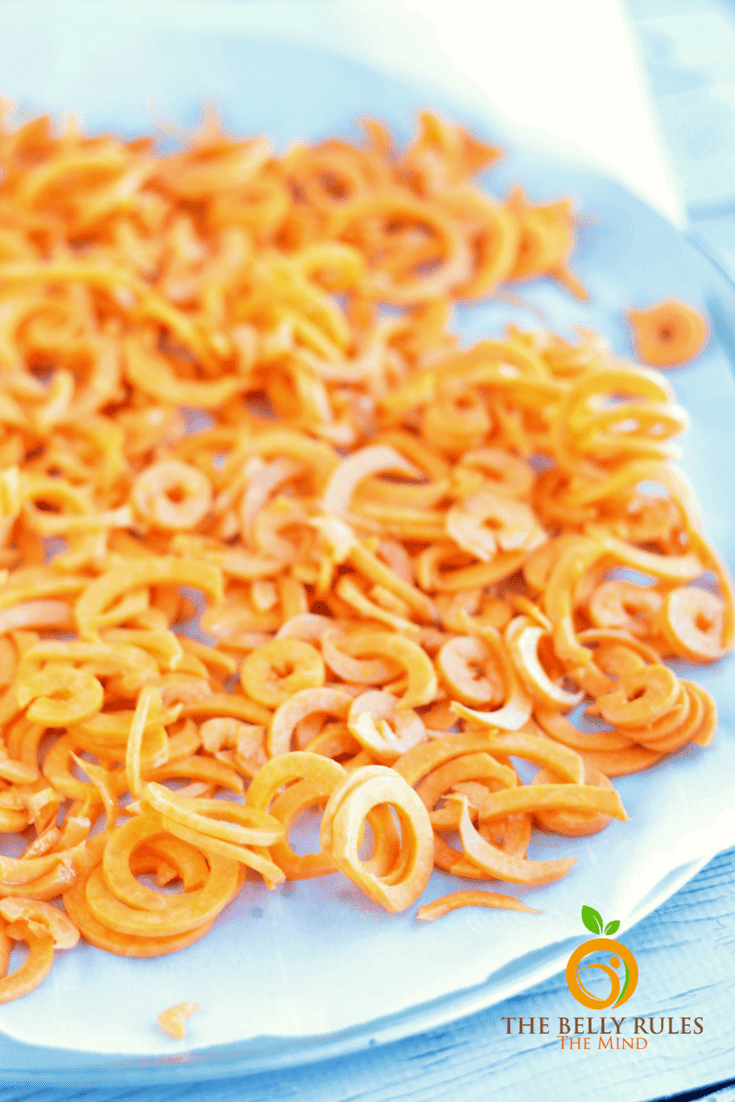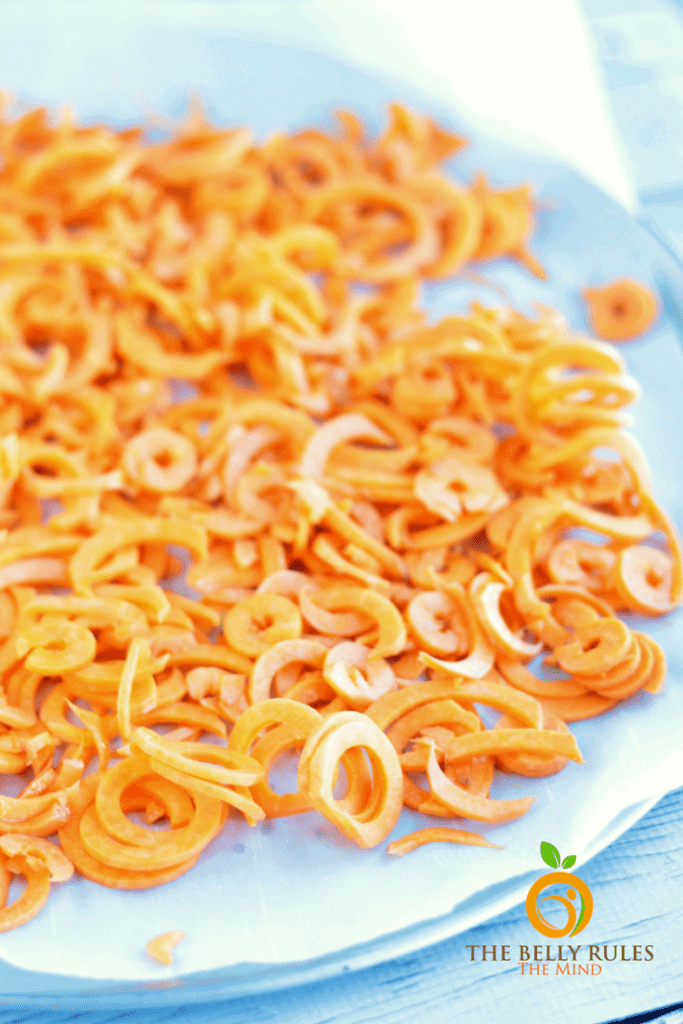 It can't get simpler than this, spiralize the Sweet Potatoes, coat them with oil, sprinkle some salt and bake them. These are literally love at first bite. If you are concerned about the texture mind you, these are crunchy and crispy too. Don't be afraid to serve them with Sandwiches or Burgers, you won't go wrong with this recipe. Honestly we have been relishing these curly fries just as is.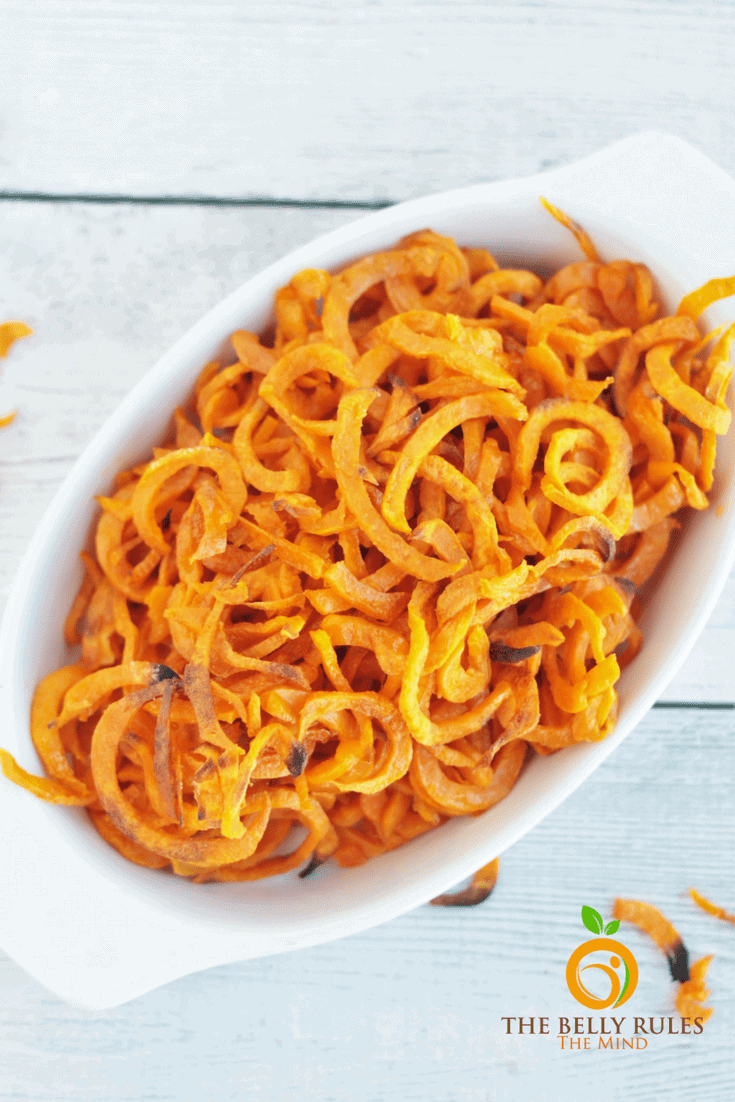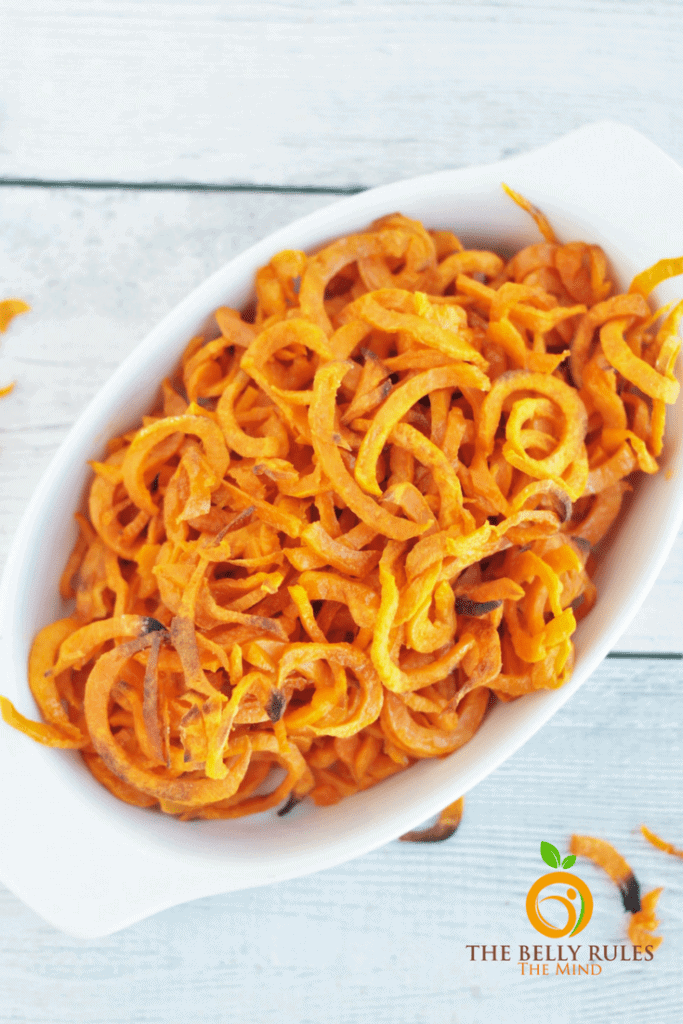 Make sure you keep a close eye on these curly fries, or else they can easily get burnt. Typically 25-30 minutes are good enough but obviously, oven temperatures might vary. Cool them down before you indulge so these fries can get crunchy. Yum yum!!!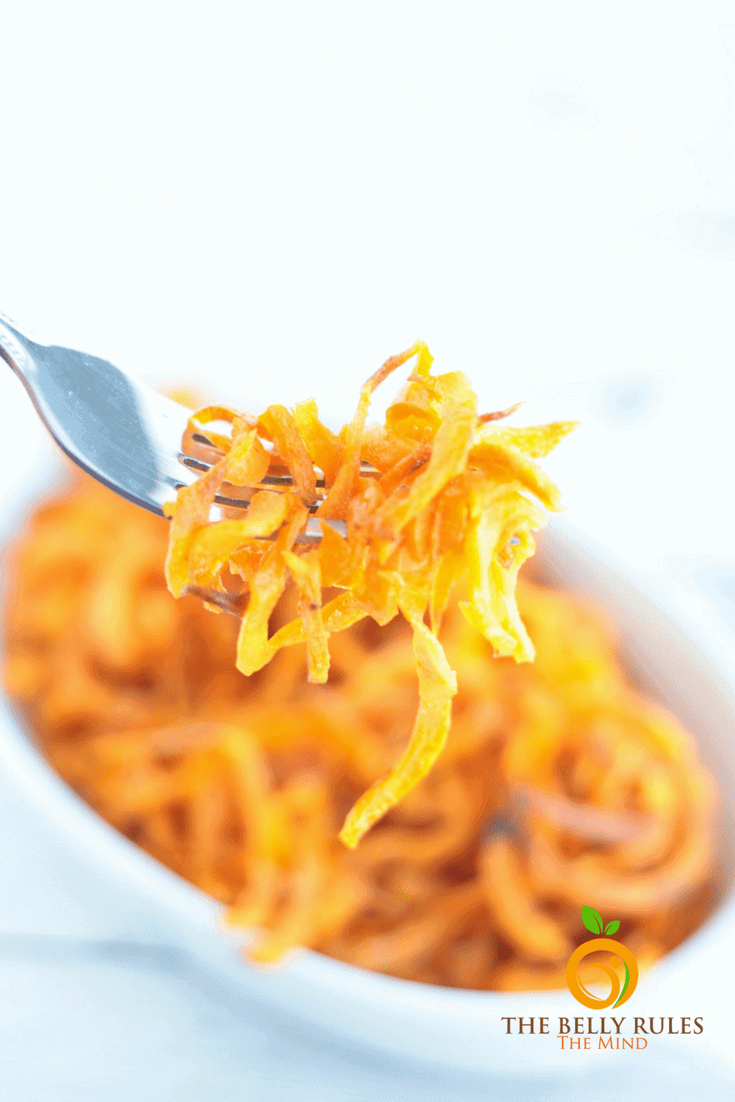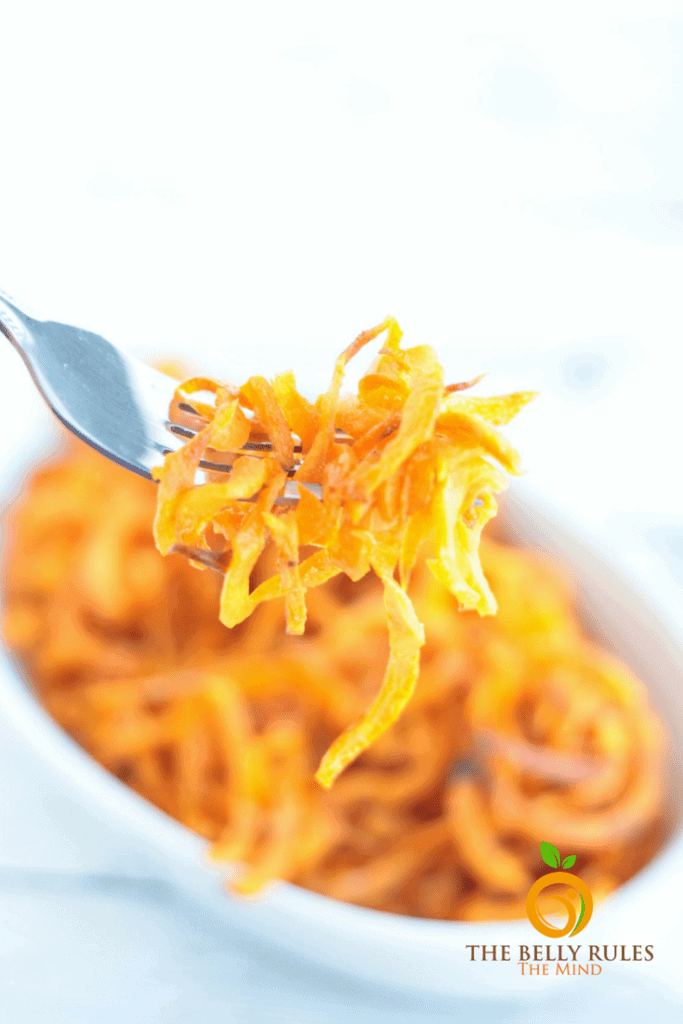 Sweet Potato Curly Fries (V+GF)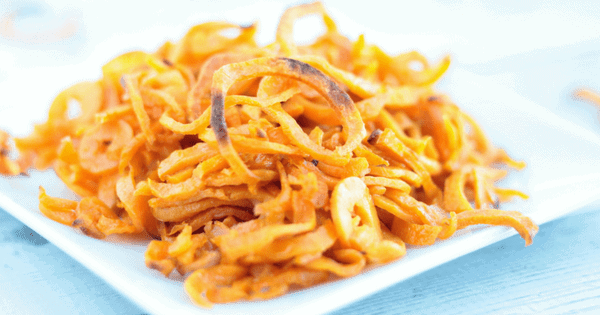 These sweet potato curly fries make a perfectly healthy side or snack, full of fiber & nutrients! Mind you — they're addictive! Vegan. Gluten-Free.
Ingredients
4 sweet potatoes
2 tbsp olive oil
salt to taste
Instructions
Preheat oven to 400 degrees F.
Spiralize Sweet Potatoes either using a manual spiralizer or Ninja Intelli-Sense Kitchen system with Auto Spiralizer.
Coat the Sweet potato with oil and salt.
On a baking sheet, like parchment paper.
Evenly spread the sweet potato curls in a single layer, making sure they are not on top of each other.
Bake at 400 degrees F for approx 30 minutes, but keep an eye out after about 20 minutes. If the fries start turning black, that means they are getting burnt.
https://thebellyrulesthemind.net/sweet-potato-curly-fries-vgf/