TGIF!!! Although Friday's, we usually share a video recipe, today is an exception. I have been waiting for too long to share this recipe with you and finally I am able to do so today.
Ta'amiya Fulesh, before I actually tell you what exactly it is, you need to know the story behind it. So almost three and a half years ago when little A was born, my sister was visiting me. Back then we lived in Maryland. Her in-laws were visiting her in North Carolina, so they came along too the meet and bless the newborn. One night, my sisters mother in law cooked a meal Ta'amiya Fulesh. She said she learnt it from one of her friends who was from Sudan and often visited them. I had never heard of the dish before, or eaten anything like this before. It looked so appetizing. That was the first time I tasted this dish and ever since then, it frequently rotates on my menus. /specially on the weekends when you are looking to make something different or when we have guests. I must admit, every single guest who has tasted Ta'amiya Fulesh, has loved it. They are taken aback when they realize how healthy it is and the fact that it's different.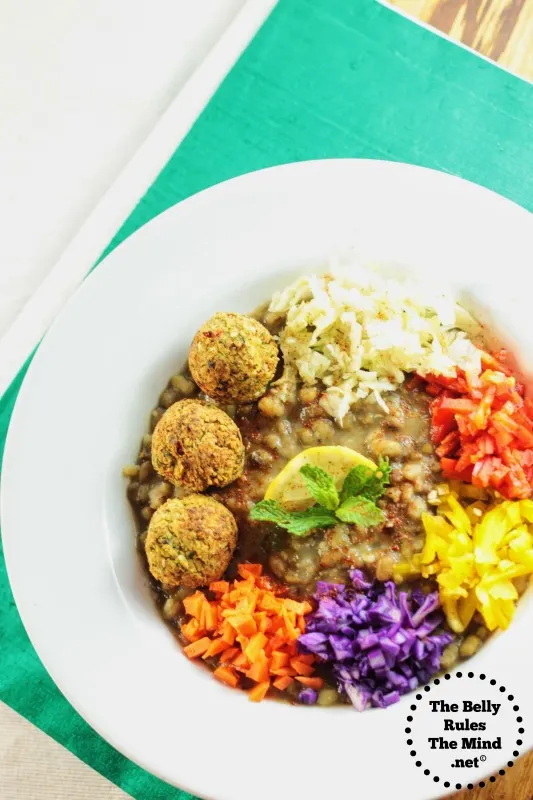 Since our household enjoyed Ta'amiya Fulesh so much I researched a little bit more about this dish. Started off with Sudanese food as that was the only clue I had. According to Wikipedia Ful medames is the national dish of Sudan. Fūl, is an Egyptian dish of cooked fava beans served with vegetable oil, cumin, and optionally with chopped parsley, garlic, onion, lemon juice, and chili pepper. Medames is originally Coptic which means buried. My guess is that as the food became popular and migrated to the neighboring countries and there were numerous variations and fusions. In my last post on No-Fry Falafel, I have already talked about how the Egyptians made fritters with white fava beans which were known as Ta'amiya. Since Ful is also made with Fava beans and Medames means buried, I would like to assume that the dish is typically dunken fava bean fritters thus got the name Ta'amiya Fulesh. However in modern day today, since chickpeas are more easily available my version of Fulesh is with chickpea fritters or Falafel, that are not fried.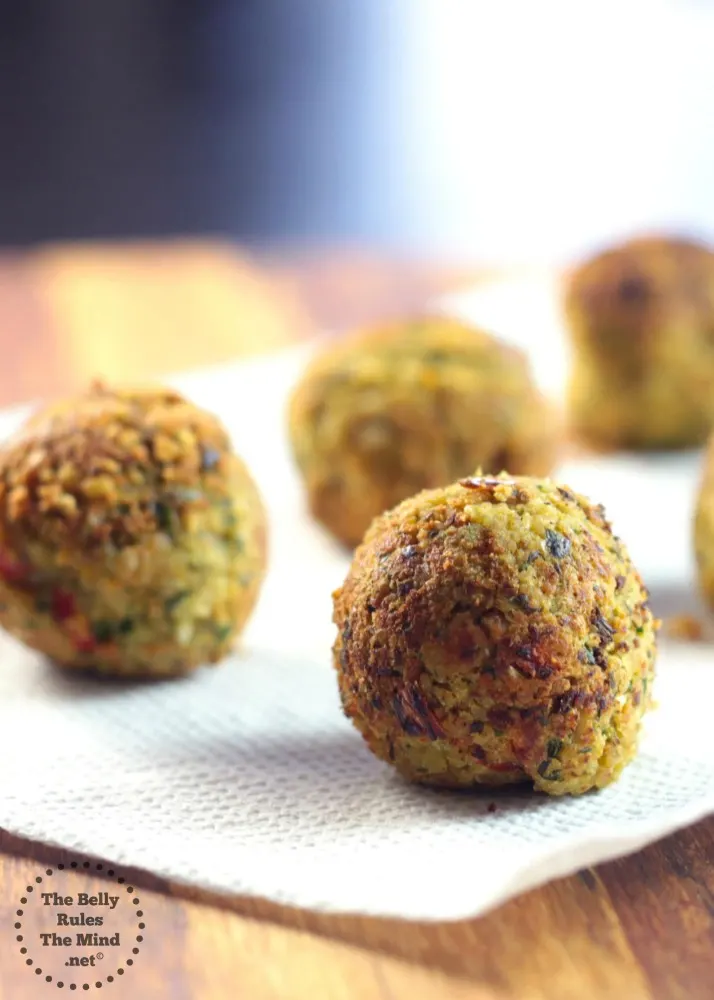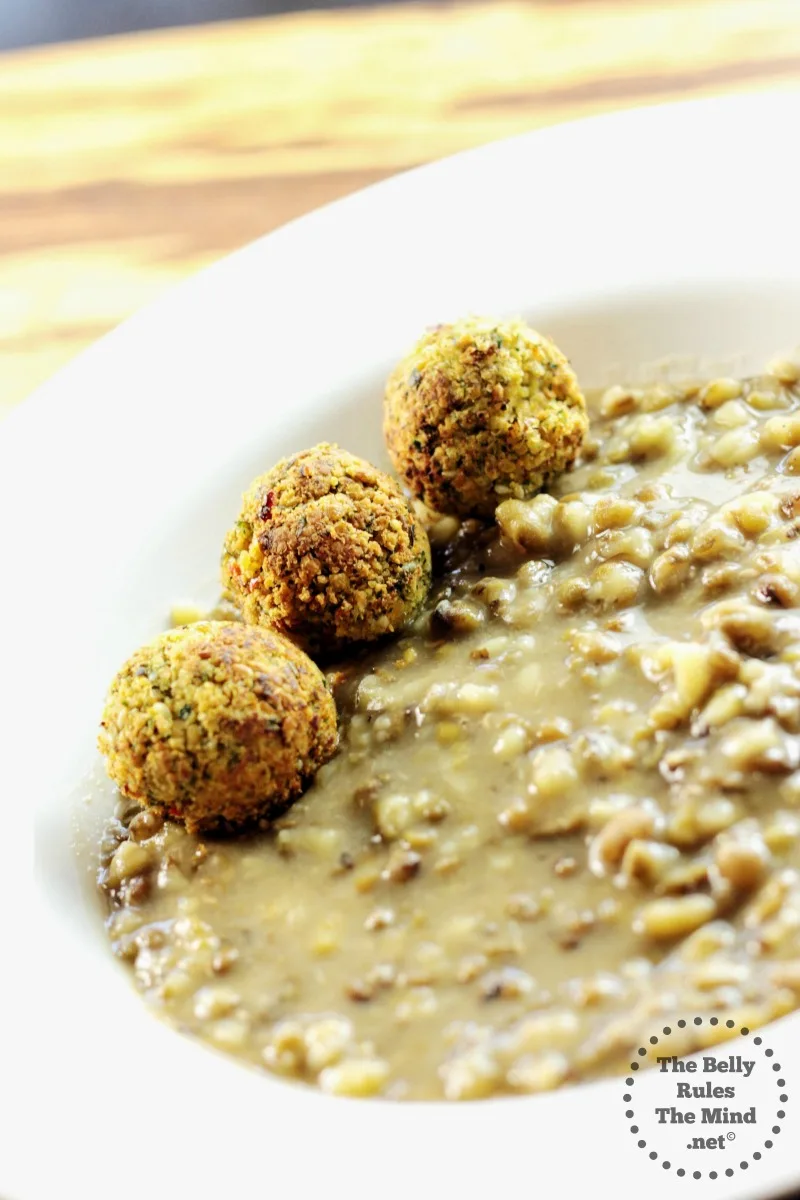 Now that we have established the fact that the dish is dunken fritters, what do we dunk them in? Some kind of soup / stew right? So we make the soup out of lentils too. The dish is also traditionally served with lots of fresh vegetables which back in the days served as salad. You can use whatever salad veggies you have at home, lettuce, onions, bell peppers, cabbage, carrots, mainly veggies that add an element of crunch to the dish. However there are a few secret ingredients to this dish.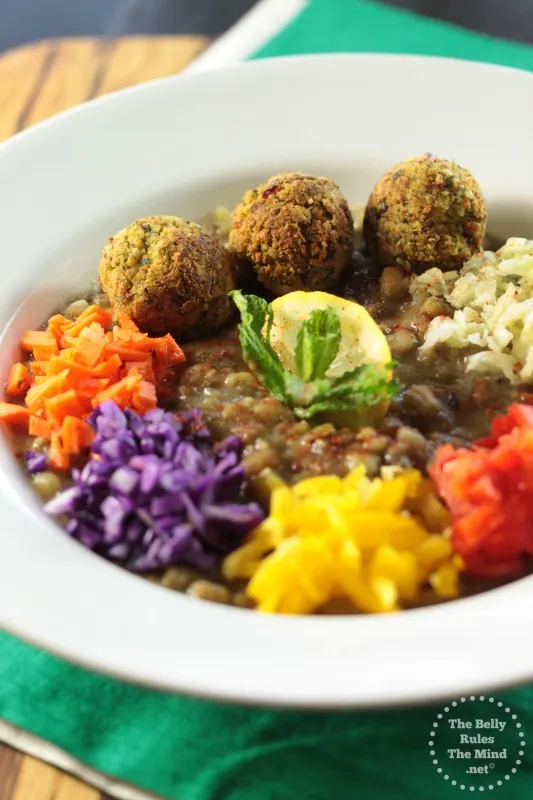 Now let's talk about the health quotient of this dish..... needless to say it's super healthy. No no-fry Falafel helps eliminates the unnecessary oil consumption, so helps you watch you calories. Although my son can afford those extra calories but he liked the Falafel as is. Both the Falafel and soup are loaded with the goodness of proteins. This could actually be a great option for a Meatless Monday too. The fresh vegetables are full of other nutrients like carbohydrates, photo nutrients and essential vitamins and minerals. So to sum it up, it's a guiltfree meal, which looks exotic and is a total crowd pleaser. So let's dive into the recipe. It is also Vegan and Gluten Free.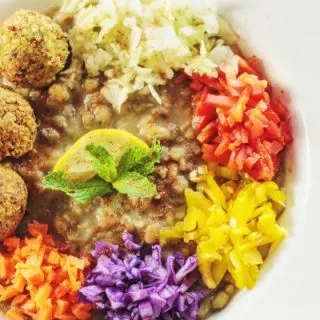 Ta'amiya Fulesh Recipe
Ingredients
1 cup boiled Mung Beans (not the sprouted ones, dry mung beans)
For the Garnish
(All of the ingredients below can be as per taste, you don't necessarily have to follow these measurements.)
1/4 cup chopped Raw Mango (secret ingredient)
1/4 cup chopped Lettuce
1/4 cup chopped Red Cabbage
1/4 cup chopped Carrots
1/4 cup chopped Bell Peppers (NON GMO Colored Sweet Peppers)
1/4 cup chopped Tomatoes
Salt to taste
1/2 teaspoon roasted Cumin powder to taste
1/4 teaspoon Paprika
1/4 teaspoon Chaat Masala
Lemon juice to taste
Instructions

Make Falafel ahead of time.
I presoaked the Mung beans in 3 cups of water the previous night and pressure cooked them. Add salt while pressure cooking. Some like their soup thick while some like it more watery. It is totally upto you. Personally I prefer it a little watery. you can also make the Soup ahead in time if you are hosting a party.
Chop the vegetables.
!For Garnishing
Pour the soup in a bowl. Add the Ta'amiya to the soup. If the soup is watery, the Ta'amiya will sink if not the Ta'amiya will not soak entirely like the picture.
Sprinkle the veggies either individually or you could even mix them all like a salad and sprinkle it.
Add the raw mango bits.
Pour in the chutneys according to taste. (I will upload a picture version of this too. Ofcourse traditionally, the chutneys were not added but those of you consume chutneys on a regular basis can attest how much flavor the add.
Sprinkle some salt, cumin powder and Chaat Masala.
If you don't find raw mango easily, use some lemon juice like me.
Mix it all together and dig in.