This post was sponsored by Green Giant Fresh as part of an Influencer Activation for Influence Central and all opinions expressed in my post are my own.
Looking for a quick healthier lunch or weeknight meal bowl? This Vegan Cauliflower Burrito Bowl is a savior. 3 minutes and staple kitchen ingredients is all you need for this. Vegan. Gluten-Free.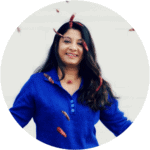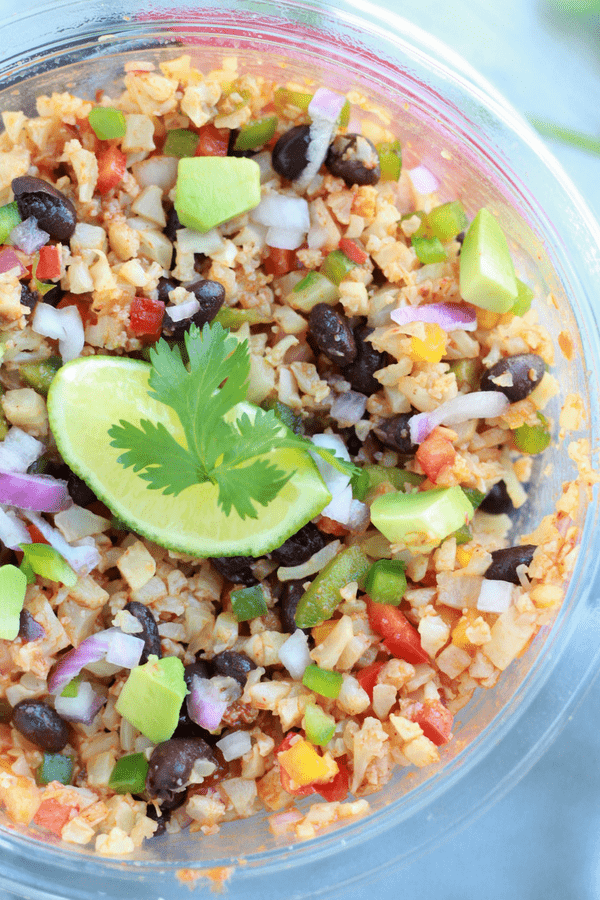 Phew!!! Somedays can be so overwhelming. Yesterday was one of those days. From the time I woke up until I finally laid on my bed to sleep, I was continuously on my toes.  From one thing to another. It was just one of those days when your weekly errands have backed up you have reached a point where they can't wait anymore. Had a busy weekend so the errands were neglected. They needed attention like 'now', if you know what I mean. Not sure if that happens to you or not, but I am not the best at organizing my errands. By the end of the day, all
I wanted to do is put my feet up and thank God that the day is finally over. For days like these I need quick nutritious meals and Green Giant Fresh Meal Bowls come to the rescue.
Have you tried them before? I spotted these at our local Super Target last week in the fresh produce section and I must admit I was tempted to try the Cauliflower Crumble Burrito Bowl because I've been wanting to make a Cauliflower Burrito Bowl for a while now.  Although this new line of microwaveable fresh vegetable Meal Bowls come in a variety of distinct world flavors like Pad Thai Bowl, Buddha Bowl, Fried Rice Bowl, Ramen Bowl, Rancheros Bowl but when I saw Cauliflower Crumble Burrito Bowl, I just had to try this.  I mean who doesn't love Burrito Bowls? More so I couldn't resist because of the following reasons
Green Giant Fresh Meal Bowls are 100% vegetable and vegan
These microwavable bowls are ready in minutes.
You can either heat or eat them or they are so versatile and can be customized to your taste. Toss in your favorite proteins and veggies and your custom meal is ready.
You can explore the other flavors here.
So the bowl actually just comes with cauliflower crumble and the sauce. All you have to do so heat up the cauliflower crumbles and drizzle the sauce and enjoy the bowl as if or if you are like me, who loves to customize my food to my taste then you can make your own burrito bowl with just a few kitchen staples.  My quick fix for this Vegan Cauliflower Burrito Bowl, just throw in some black beans, onions, bell peppers, avocado, cilantro and poured the dressing that came with the package. It was delicious! The ancho peppers sauce was so yum and the whole thing came together pretty well.
To be honest, I had never tried  Green Giant Fresh's Cauliflower Crumble Burrito Bowl before. I actually really liked it. Not only did it taste good but it was a nutritious, versatile, easy and convenient option which could be microwaved in its own package and a healthier alternative to the traditional store-bought ready-to-eat meals.  I was happy that my bowl was loaded with only the good fresh stuff.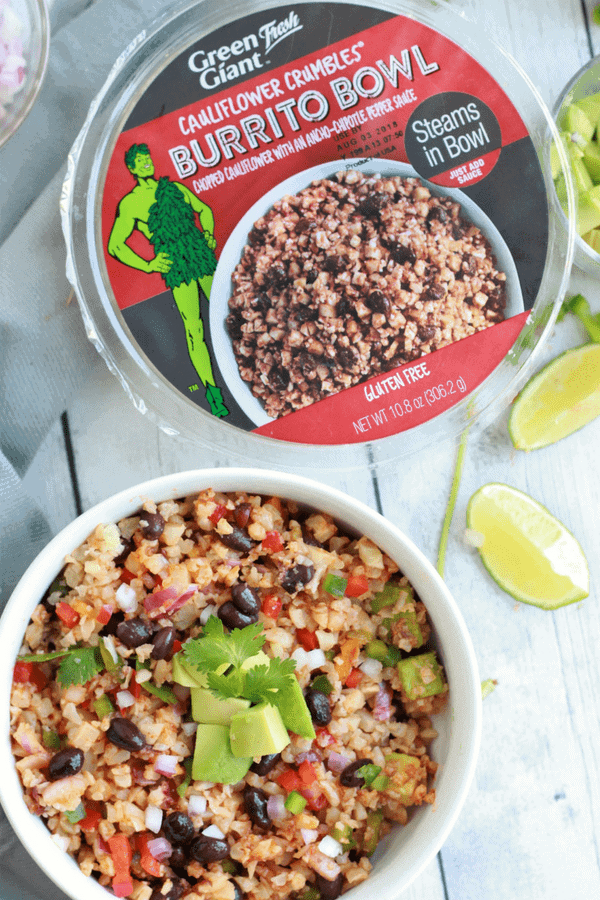 So the next time you are walking across the fresh produce aisle at Super Target, don't forget to check out the Green Giant Fresh Meal Bowls to make this Vegan  Cauliflower Burrito Bowl. From kids to adults, there's a favorite Green Giant Fresh Meal Bowl for everyone in the family! You can check out the different flavors here. Stock up a few for those busy weeknights or a quick lunch fix. They will definitely come in handy and you won't regret them at all.  I know the next few months will be a little crazy for me, you will soon learn why. So stay tuned. I would love to try some of the other flavors too like the Buddha Bowl or Pad Thai. So if you have a favorite that you would like first, leave us a comment. We love hearing from you. In the meal while here is the recipe to the Vegan Cauliflower Burrito Bowl we made using Green Giant Fresh Burrito Bowl
Vegan Cauliflower Burrito Bowl
Looking for a quick lunch or weeknight meal bowl? This Vegan Cauliflower Burrito Bowl is a must-try. 3 minutes and pantry staples is all you need for this.
Ingredients
4 oz. black beans, cooked or canned
4.oz. colored bell peppers, diced
2 oz. onions, diced
1/2 avocado, diced
1/2 cup cilantro, chopped
1 lime wedge
Instructions
Remove the sauce package and heat the Burrito Bowl as per the instructions and let is stand for 3 minutes.
Toss in the fresh veggies in the bowl. Dress up the bowl with the sauce in the package and there you go. A quick delicious and healthy meal is ready for you.
https://thebellyrulesthemind.net/vegan-cauliflower-burrito-bowl/