Walnut & Coconut Fudge Bars/ Barfi- A quick sweet recipe made with walnut, coconut flour, cardamon powder, and dates. Its gluten free & a Vegan recipe. Want to try an Indian sweet that is not loaded with sugar? Try this recipe and I can assure you that you will not be disappointed. Provides the awesomeness of an Indian Barfi without the sugars :-).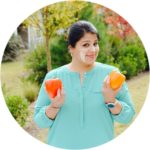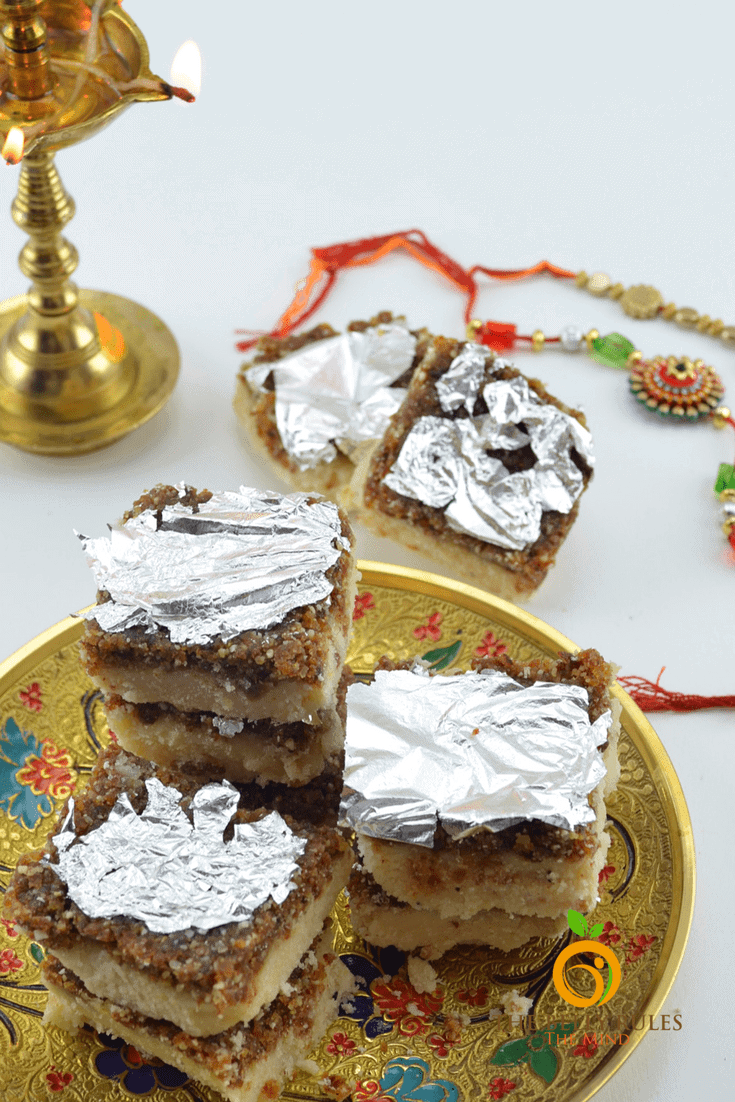 Happy Raksha Bandhan everyone! This delicious Walnut & Coconut Fudge Bars/ Barfi  will get you started for the celebration!
Bored of the same old pistachio, Almond and Cashew barfis? Why not try this mouth-watering Walnut & Coconut Fudge bars/Barfi for a change?
Just follow the simple instructions, and very soon you will have a mouth-watering sweet / Mithai , with a rich texture and flavor of coconut and Walnut. The best part is that this tasty Mithai/Dessert can be prepared in a jiffy .
This 2 layered Walnut & Chocolate Fudge Bars/ Barfi recipe is sure to melt your heart with its Yumminess . Do checkout our other recipes made using Dates & Nuts
The Nutty taste makes for a great sweet snack without the guilt . No Refined sugar is added in this Walnut & Coconut fudge bars/ Barfi. Although Walnut is a superfood ,but we often limit them due to its bitterness. Take care to crush the walnuts coarsely as that gives the best texture and flavor. If you powder it too finely, it might get a little gooey and bitter as well.
So do you have a favorite recipe using dried fruits & nuts? We love using these healthy ingredients. Apart from the 10 minute Healthy Fudge Cake , We have made No Cook Date & Nut Snack Balls, Modaks, Loaf Cake  and trust me we still don't get bored of these ingredients. Check out the recipe below and if you like it, don't forget to share with someone you love :)
Walnut & Coconut Fudge Bars/ Barfi ( GF+V)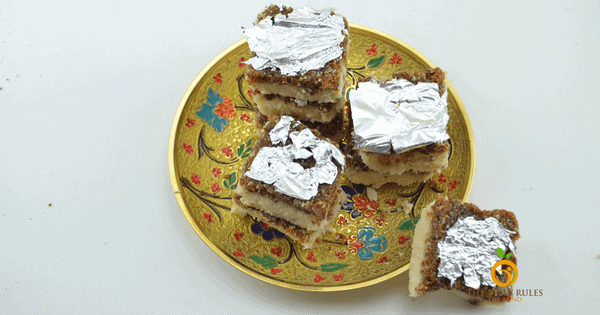 Ingredients
1 cup walnuts
1 cup Organic coconut flour
5 -8  Organic Dates/pitted
1 tsp Cardamom powder
1 Tbsp Coconut oil
1 Tbsp Maple syrup
Few Tbsp Non-dairy milk
Instructions
Dry roast the walnut in a pan for few minutes. Add it in a chopper and make a corse powder.
Add in the dates in the chopper with the crushed walnut .Blend until they are crushed and slightly sticky. It will become a sticky lump with most of it stuck together when you will press it with your hand
In the same pan add coconut oil and then add in the coconut flour, cardamom powder , maple syrup , milk and mix well. Keep mixing and the mixture will thicken and form a soft dough within a minute .
Grease a container.
Evenly spread and smooth the coconut flour dough.press it with a glass to get a smooth and even layer.
Spread the walnut and date mixer and press it light. keep it in the fridge for few hours.cut it in small squares.
You can decorate it with sliver varak and serve.
https://thebellyrulesthemind.net/walnut-coconut-fudge-bars-barfi-gfv/
For more healthy ideas and recipes subscribe to our email or follow us on Facebook to stay updated with all the healthy information  we share. Check out our Pinterest boards for all the healthy eating inspiration you'll ever need. For an unending buffet of healthy photographed food, follow us on Instagram