Today's post is a very special one. It's marks the occasion of The Belly Rules The Mind's successfully completing it's first year. So on this very special day for us, I decided to finally get my hands around a healthy refreshing treat that I have been meaning to make ever since this blog started.
If you are looking for a cake that you don't have to bake or a cake that fits into today's popular dietary theories, this is the cake you are looking for. It is egg-free, gluten-free, vegan and paleo friendly and yet loaded with powder of antioxidants. The best part is it's low caloric value. As you can see not many treats actually satisfy all these criterias. Told you!!!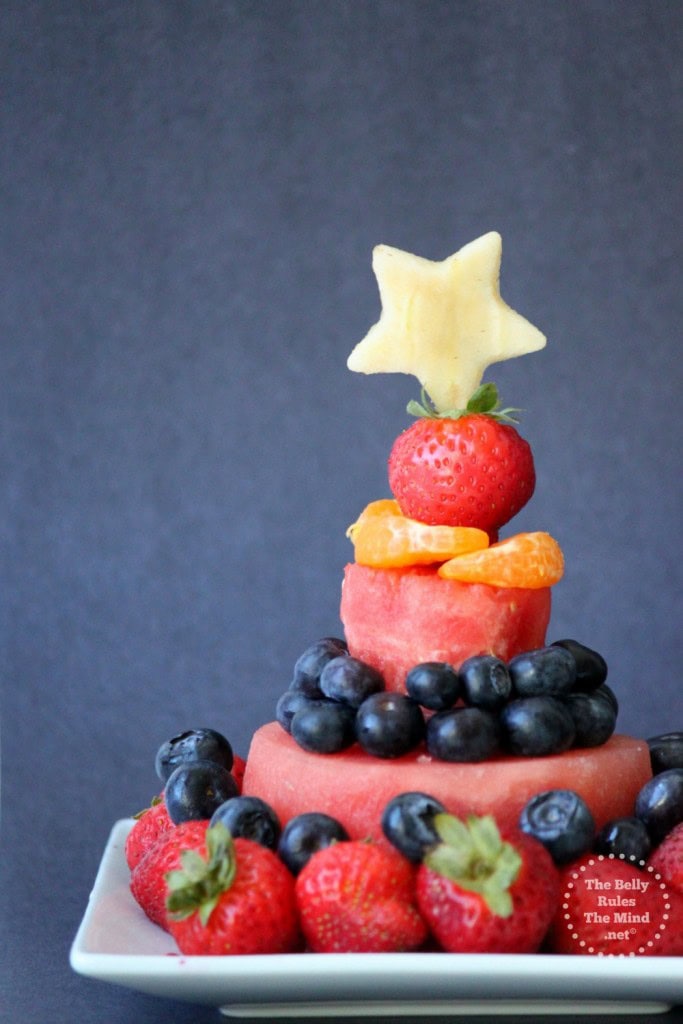 Although this is typically a summer cake, I couldn't resist making something healthy for a health blog like ours. Don't you agree? So here is presenting to you my first attempt at a cake made with only fruits, Watermelon Fruit Cake. It makes a perfect center piece to wow all your guests at party.
Confession!!!!I must admit that it isn't made to perfection, given the fact that, I had to deal with inappropriately cut watermelon and also lack of right tools. It was all last minute, as I changed my mind. Never the less I would like to celebrate this special day with all our readers. Here you go.
Ingredients
1 watermelon
1 cup blueberries
1 cup strawberries
1 slice of apple
1 mandarin
1 toothpick
Creativity
Instructions
Ideally you would place the watermelon horizontally and cut 1/4 of its either sides on the left as well as right. Remove the rind, until you are left with a cake shaped piece. Unfortunately in my case, I had already cut the watermelon into equal halves so I had to do this differently as you can see in the pictures below. Once I removed the rind I used one of my lock n lock containers to cut the watermelon into a circular base. I repeated the same procedure for the second half to make a second tier out of it. Since I wanted to make the second tier smaller, I used one of my cookie cutters to cut through the watermelon. Compared to the lock n lock container this definitely needed more pressure and was not as neat as well.
Once the second tier was cut just place it on top of the base tier and start decorating your cake with the fruits you have. I used blueberries, strawberries and mandarins to decorate it. Using contrasting colors would definitely make the cake more appealing. One could even use Kiwis, pineapples, grapes or whatever you life. Be creative and use your imagination.
For the crown, I pierced an entire toothpick through the strawberry first. Use a star shaped cookie cutter to cut the apple and then inserted one end of the star shaped apple onto the toothpick. Once my crown was ready, I inserted the bottom end of the toothpick into the second tired of the watermelon.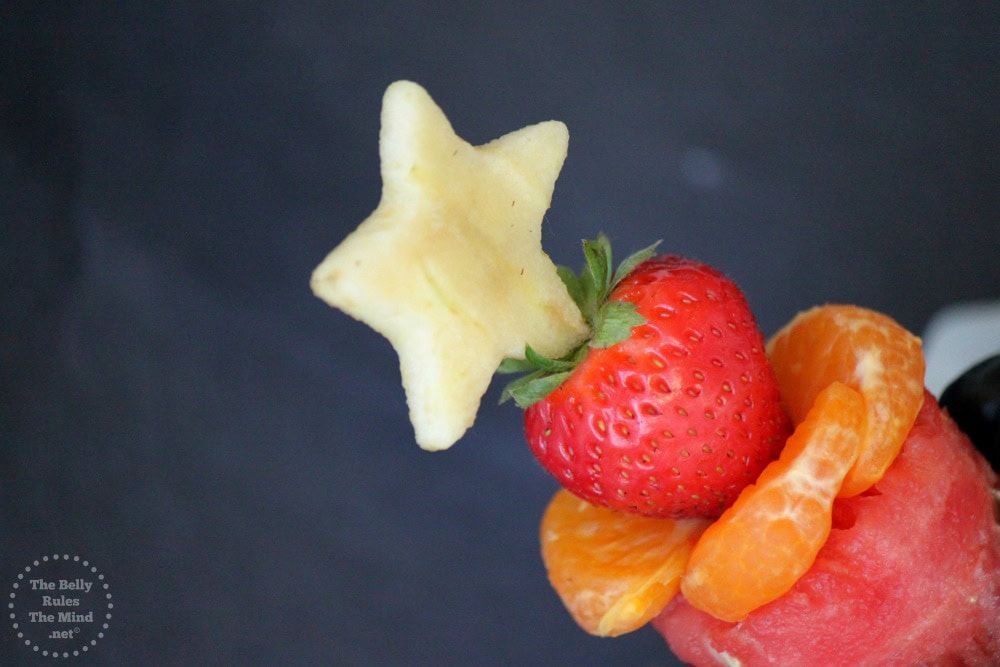 There you go. It's ready.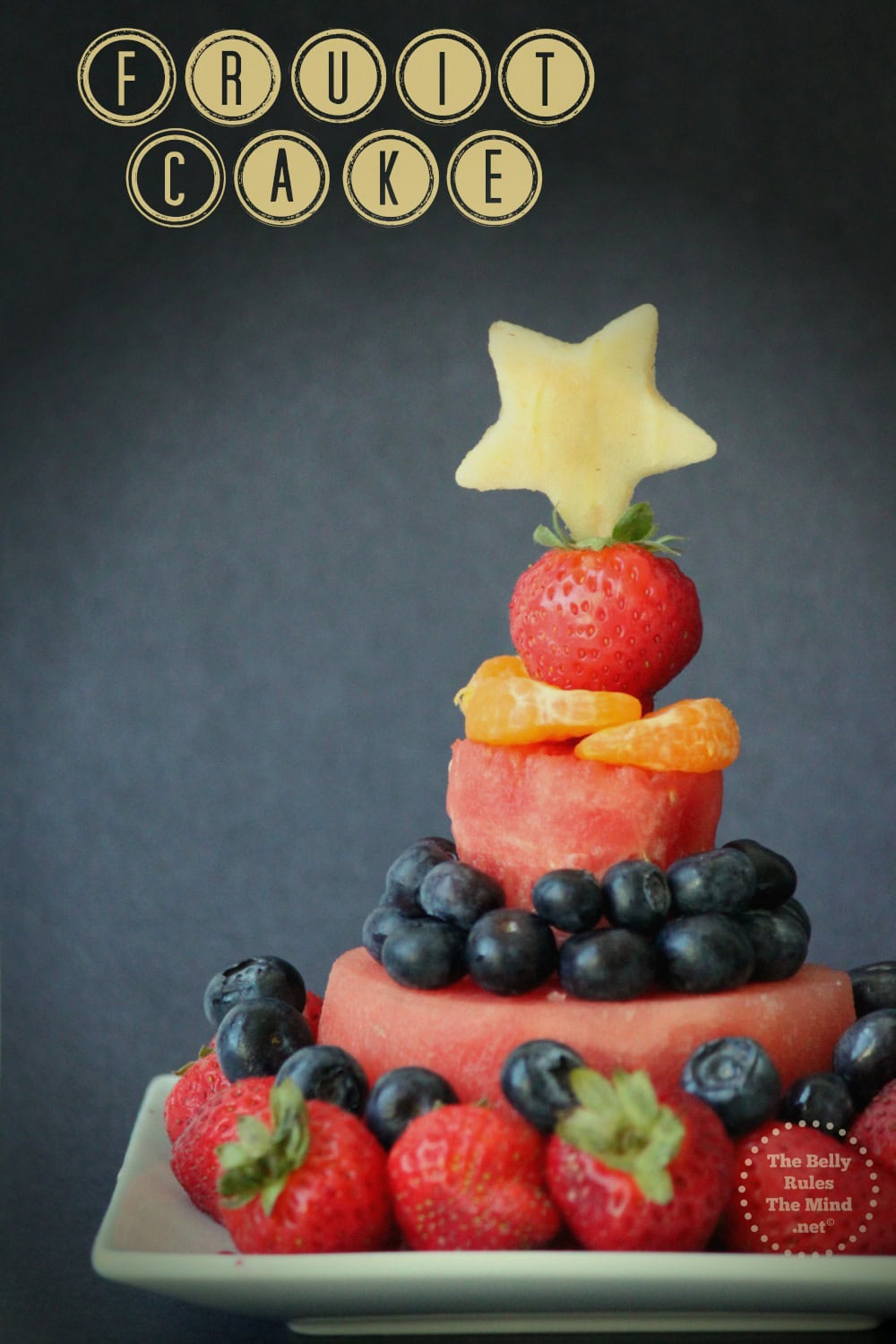 Ingredients
1 watermelon
1 cup blueberries
1 cup strawberries
1 slice of apple
1 toothpick
Creativity
https://thebellyrulesthemind.net/watermelon-fruit-cake/