Easy to make with minimal ingredients these 2 Ingredients Crunchy Rice Puff Donut rings are loved by all generations! A truly guilt-free snack everyone can enjoy.
These Crunchy Rice Puff Donut rings are made up of just 2 ingredients and way better than the store-bought stuff. Now there is a very good reason for me to share and make this recipe now. Coming from a traditional Punjabi family, we celebrate Lohri every year. Lohri is popularly considered to be celebrated to mark the end of peak winter, however, this festival is traditionally associated with the harvest of the rabi crops. Lohri is seen by some to be a harvest festival.
[easy-tweet tweet=" Easy to make with minimal ingredients these 2 Ingredients Crunchy Rice Puff Donut rings are loved by all generations! A truly guilt-free snack everyone can enjoy. "]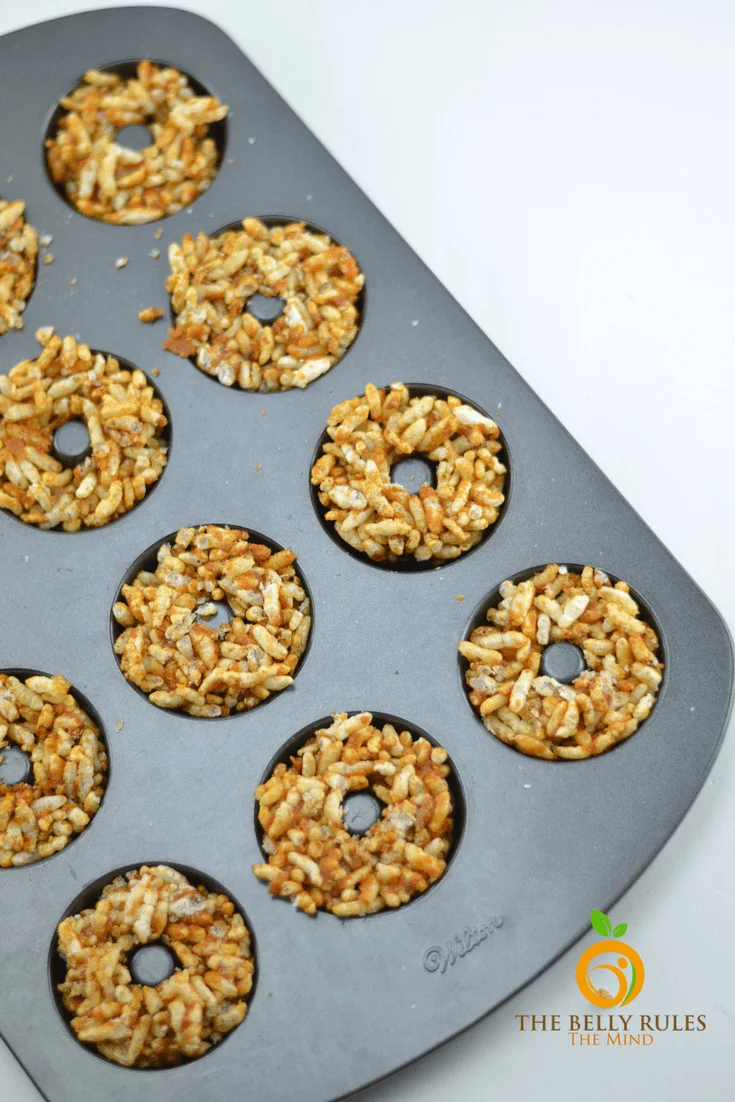 Anyone who has ever celebrated the festival in full fervor around the bonfire would tell you gur/ rewri, peanuts and popcorns are the three edibles associated with this festival. Being from Mumbai and bought up in a multicultural society, we have always associated Lohri with another food item. Yes, you guessed it right, its the Crunchy Rice Puffs. These Crunchy Rice Puffs are a treat that I grew up eating and I have amazing memories of it. I got very nostalgic, excited to see them at a local chain store, however, my happiness was short lived as it did not have the same taste as what I had expected.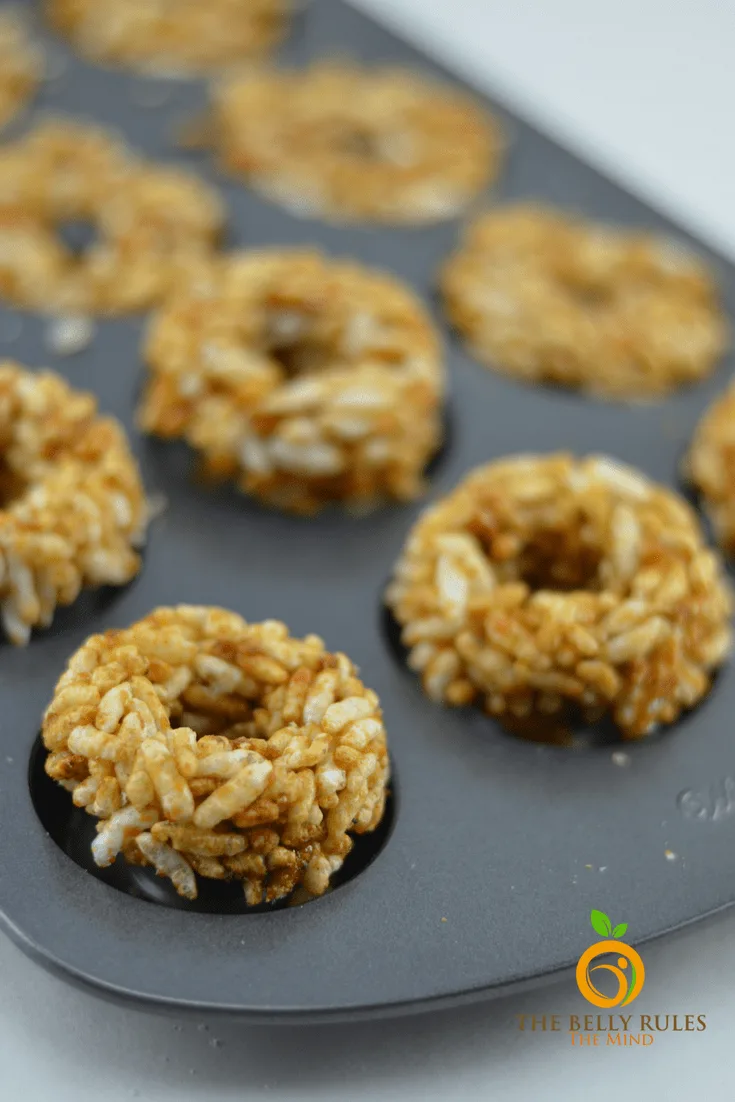 If you think they look like rice crispies and would taste like them, you are in for a healthy surprise. These are just made from 2 ingredients with no added sugar or preservatives. That is the biggest difference between the Rice Crispies Treats and the Crunchy Rice Puff Donut. These work well as a quick finger food and are much healthier for children. Personally, I prefer the rice rolls that I bought once and ever since making them at home.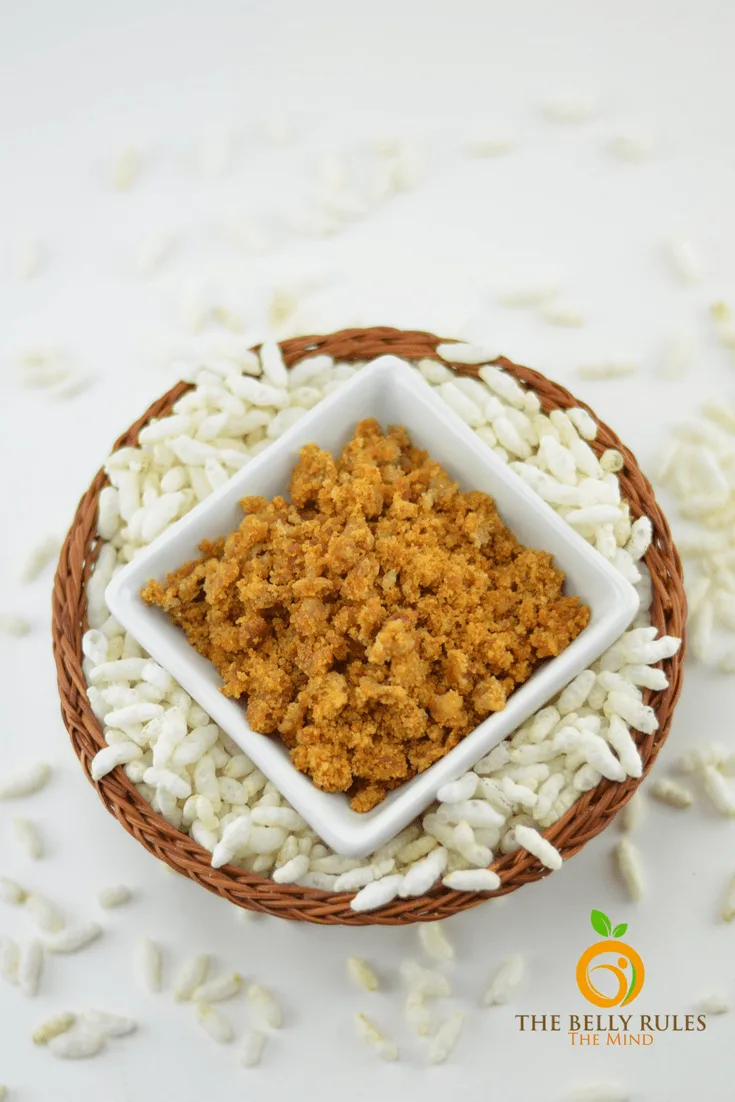 Now you may ask me what is Jaggery? Jaggery is primarily made from unrefined sugar and is obtained by boiling raw, concentrated sugar cane juice till it solidifies. It can also be made from the sap of coconut and date palm, however, the one sourced from sugarcane juice is most widely accepted and used. Jaggery helps in digestion, acts as a good detox, and since the sugar is decomposed slowly, it does not spike your blood sugar level instantly. It also has mineral salts that are beneficial for the body. You can get Jaggery from most Asian stores or Amazon. For people who are not inclined to trying out Jaggery for this recipe, you can use organic cane sugar mixed with water.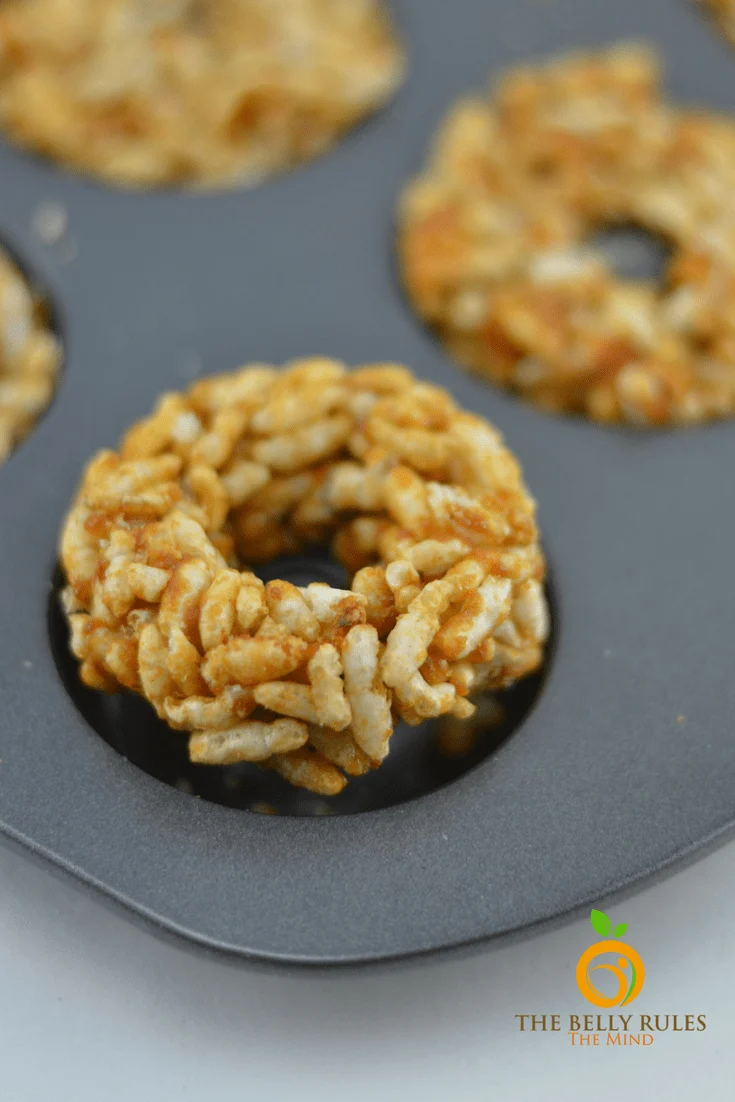 Light sweet taste that is surprisingly filling and satisfying. Its a quick & easy snack for the office or on the road.
A light snack made with puffed rice and jaggery that you can hand roll into roundels, spread it on a tray, cut it in bars or make this cute mini Donut rings just like what I did.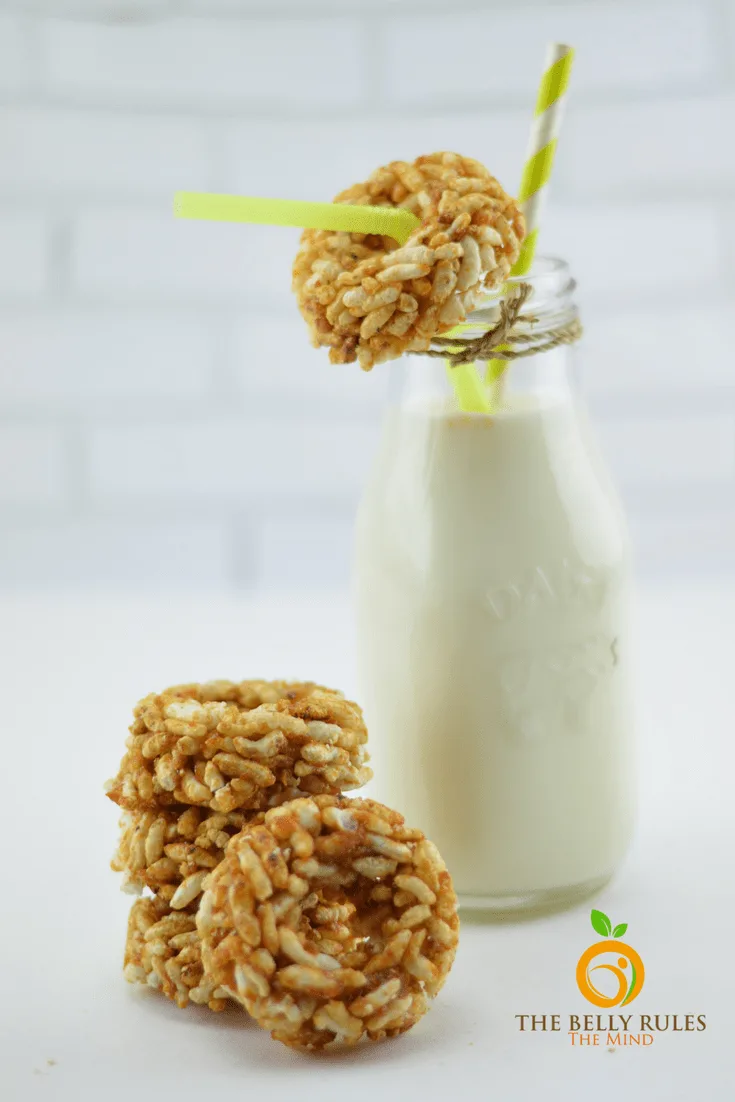 These 2 Ingredients Crunchy Rice Puff Donut Rings are fast and easy. I know people say that all the time, but in this case, it's fairly true.These can be stored in airtight containers for many days. Oh and I forgot to mention Happy Lohri!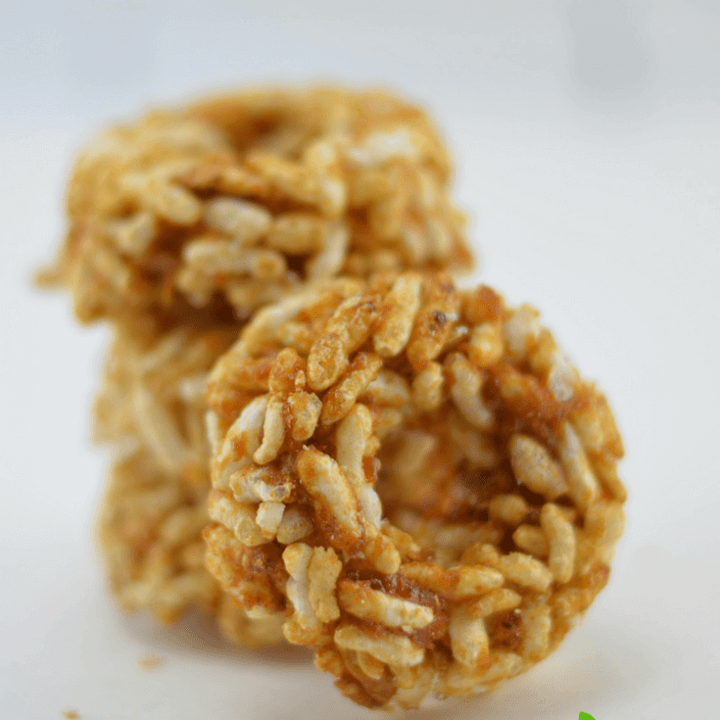 2 Ingredients Crunchy Rice Puff Donut Rings
Ingredients
3 cups Puffed Rice /brown puffed rice
1 cup Jaggery
2-4 tablespoon water
1/2 teaspoon Cardamom powder or 1 teaspoon Vanilla essence(both are optional)
Instructions
Heat a heavy bottomed pan, dissolve jaggery with 2 tablespoon water till it becomes 1 string consistency.
When the right consistency is got,then turn off the gas.
to check if the syrup is ready take a bowl with water When the jaggery water becomes little thick, take little bit of syrup in a spoon and add it to the bowl of water. it should solidify immediately .
Mix the jaggery syrup with the puffed rice.Use long spoon while mixing.
Then mold them into a mini donut pan & and let set..
Gently pop them out and put aside.
Enjoy them!!