Nothing beats the aroma and smell of a fresh bread baking in your kitchen! No Knead Dutch Oven Raisin Walnut Bread is no Exception! This no-knead whole wheat bread is perfectly crusty on the outside, with a fluffy, nutty interior that's just begging for some creamy butter. Try it with your breakfast! The easiest artisan bread you will ever make!

[avatar user="soniyasaluja" size="thumbnail" align="right" link="https://thebellyrulesthemind.net/about-us/" target="_blank"]Soniya.Saluja[/avatar]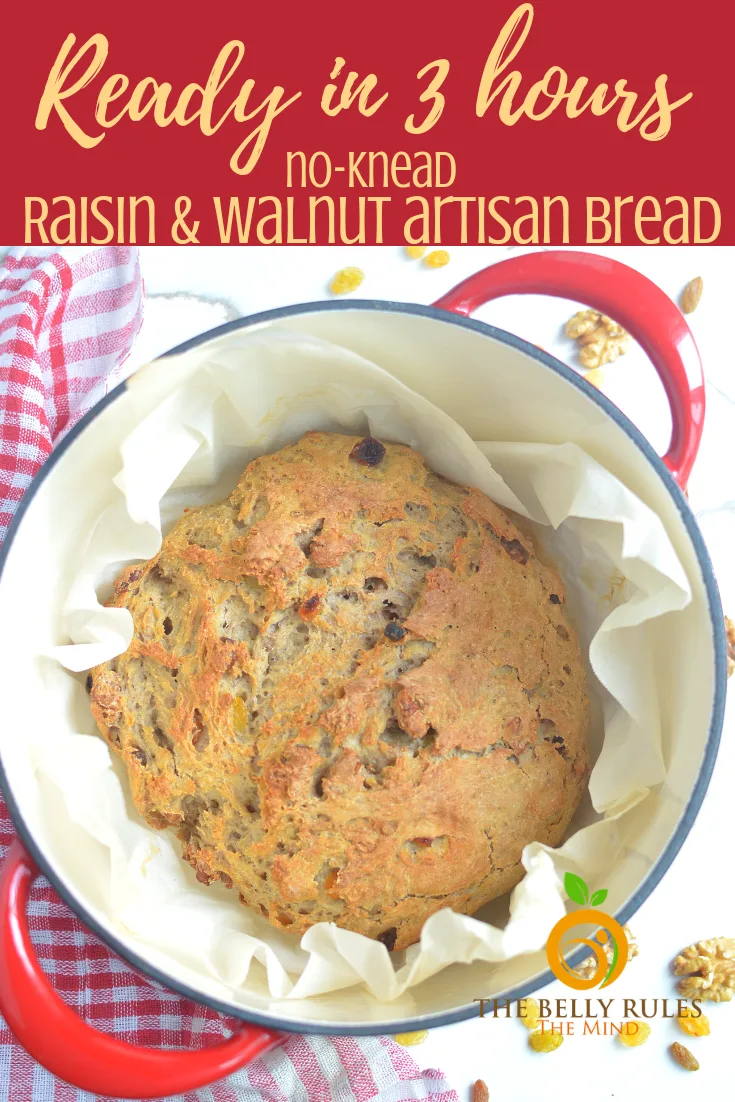 Hi you all !! I can't wait to share today's recipe with you all :). No-Knead Dutch Oven Raisin Walnut Artisan Bread - sounds fancy pantsy? Well, making bread at home can be a challenge for most people, but this whole wheat bread recipe, is really simple. The outcome is not just delicious, but also healthy, as the whole wheat has so many benefits. If you are new to baking bread you may think homemade bread is complicated. It involves too many ingredients, a bunch of steps plus 18 + hours of wait and rises. This bread does not follow the traditional cumbersome methods of preparing bread.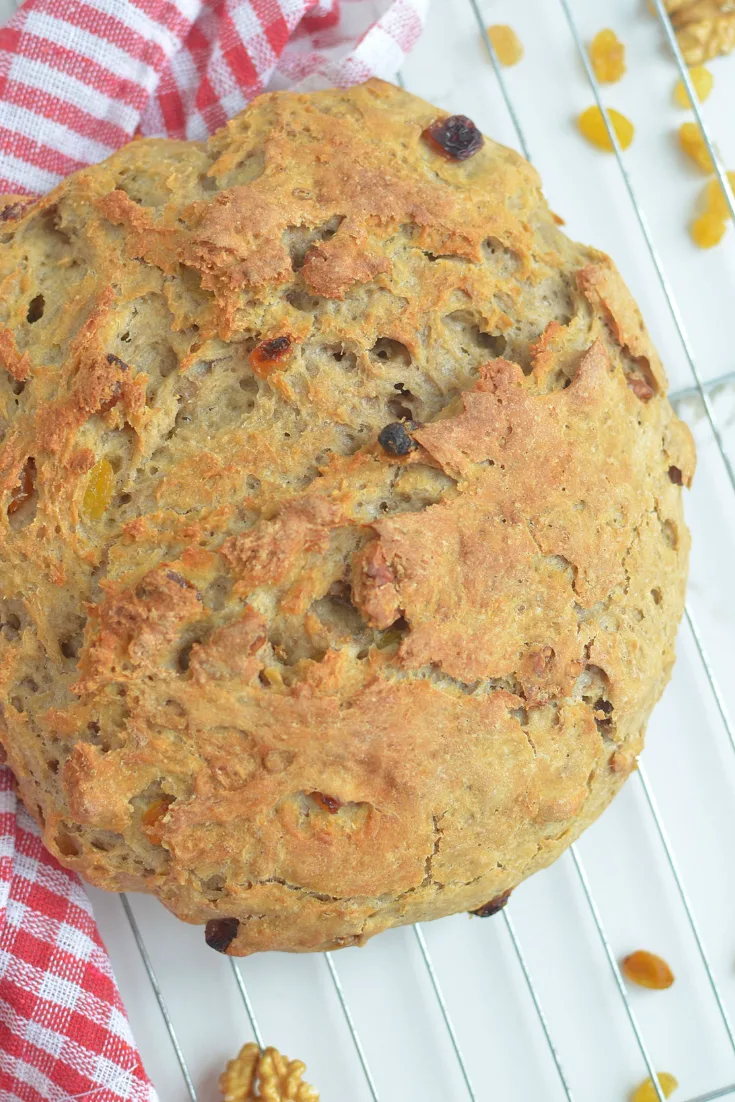 I love baking and if you think crusty artisan bread is only available from the bakery / Costco / whole foods, this post will change your mind and make you think again! This artisan bread is made incredibly easy, and is easy to customize with add-ins for different flavor combinations! The flavor of the freshly made bread, the crispy crust, the texture and the satisfaction of having it made by yourself, will definitely convince you to repeat the experience!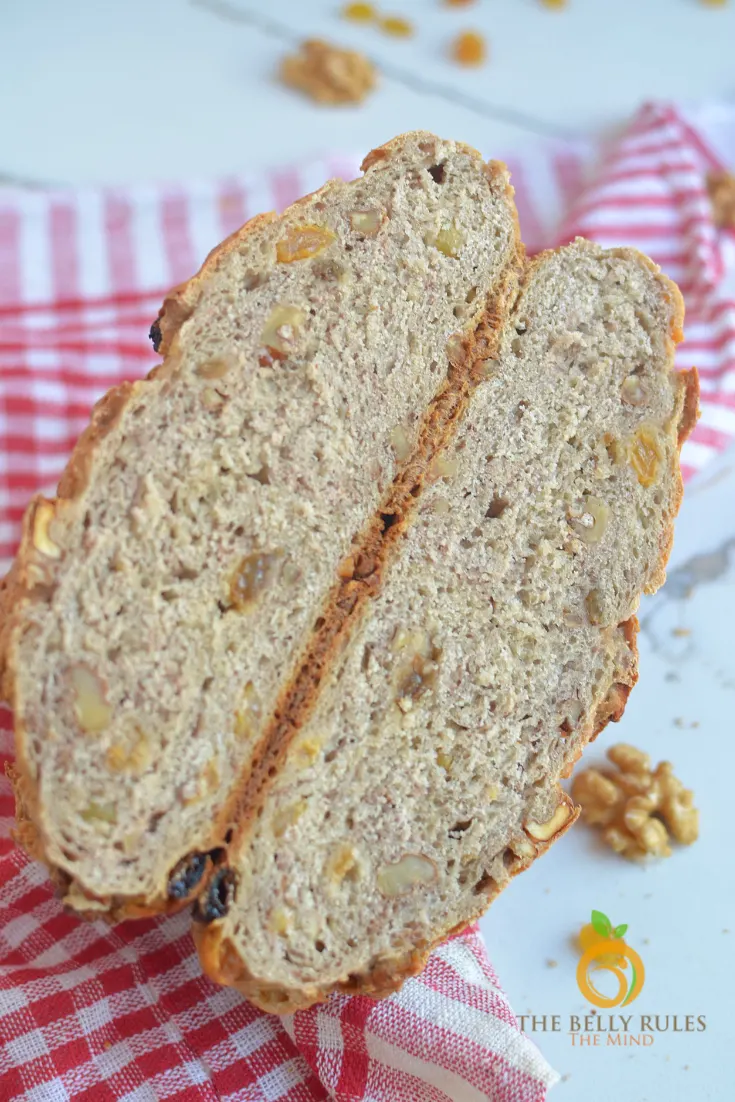 Crusty Raisin and Walnut Bread- A savory bread with a tinge of sweetness
This crusty Raisin & Walnut bread is not a sweet bread, but it is more on the savory side. The whole wheat flour and the raisins gave it a subtle sweetness that makes it ideal for breakfast but also for a simple snack. This bread can be toasted and it makes for just about the best toast ever. Perfectly crisp on the outside, perfectly chewy and soft on the inside, with a touch of sweetness from some raisins and that hint of crunch from the walnuts. My Kids love to eat this Walnut and raisin bread sliced and toasted and topped with a delicious spread of butter on the top. It makes for a perfect breakfast or as a snack. I've also used this bread to make French Toast.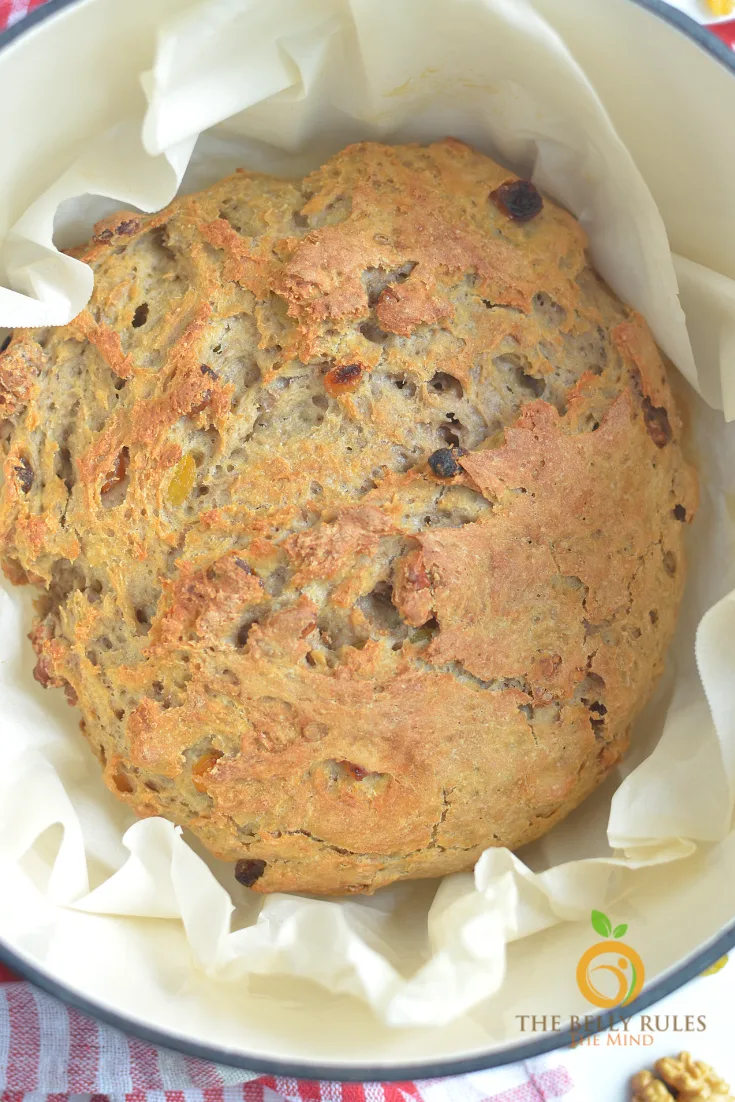 Kid Friendly Crusty raising and walnut bread for any time!
My family's favorite way to enjoy fresh bread is lightly toasted with a good slather of Irish butter and a drizzle of raw honey. My boys love to have this bread at any hour of the day. The crumb in this bread is slightly chewy, moist and hearty. Absolutely delightful! Look at the crackly brown crust here is the result of baking this bread in a dutch oven. By keeping the lid on while the bread bakes, you create a nice steamy atmosphere inside the pot – and the steam is what gives the bread that crispy, magical crust!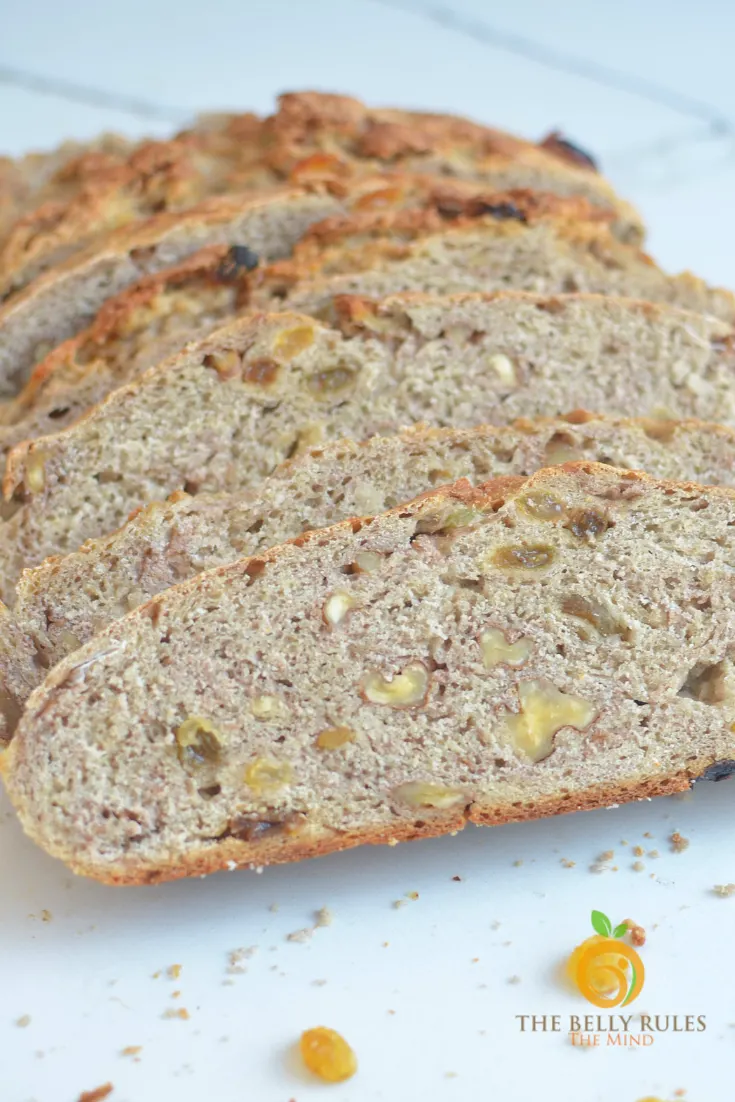 NO KNEADING??
No stand mixer needed… just a bowl /a wooden spoon and your electric pressure cooker! This whole wheat no-knead bread recipe is a recipe that can be mixed together quickly and thrown into the oven with no kneading! The instructions here look a little long, but they're all basically just notes on technique – so don't let the number of steps intimidate you! After a couple of adventures with this bread, you'll be able to throw it together with your eyes closed. You will need the yogurt button on your pressure cooker to remove the guesswork out of the process.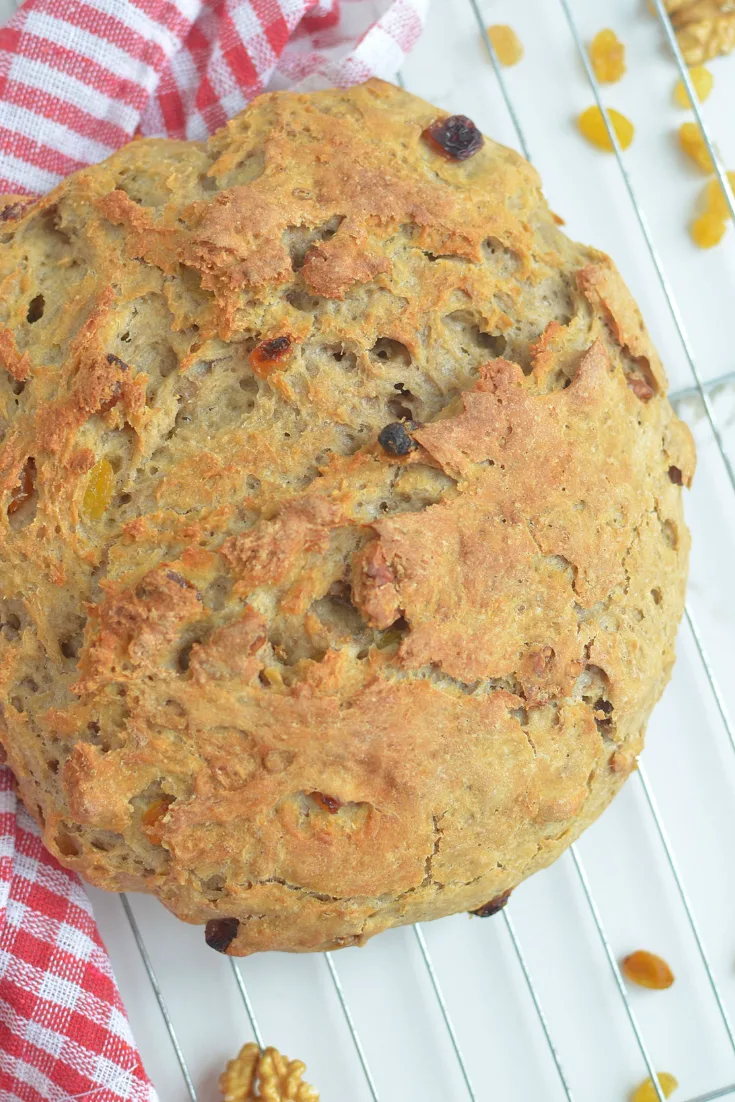 What is artisan bread?
Artisan bread can be easily defined as a bread that is made by an expert bread maker who has been trained to understand the art of mixing, fermenting, shaping, kneading and baking a hand-crafted loaf of bread. Become the expert in your house and try this easy homemade artisan bread. Look at that amazing texture! All those little nooks and crannies are just begging for some creamy salted butter or make french toast.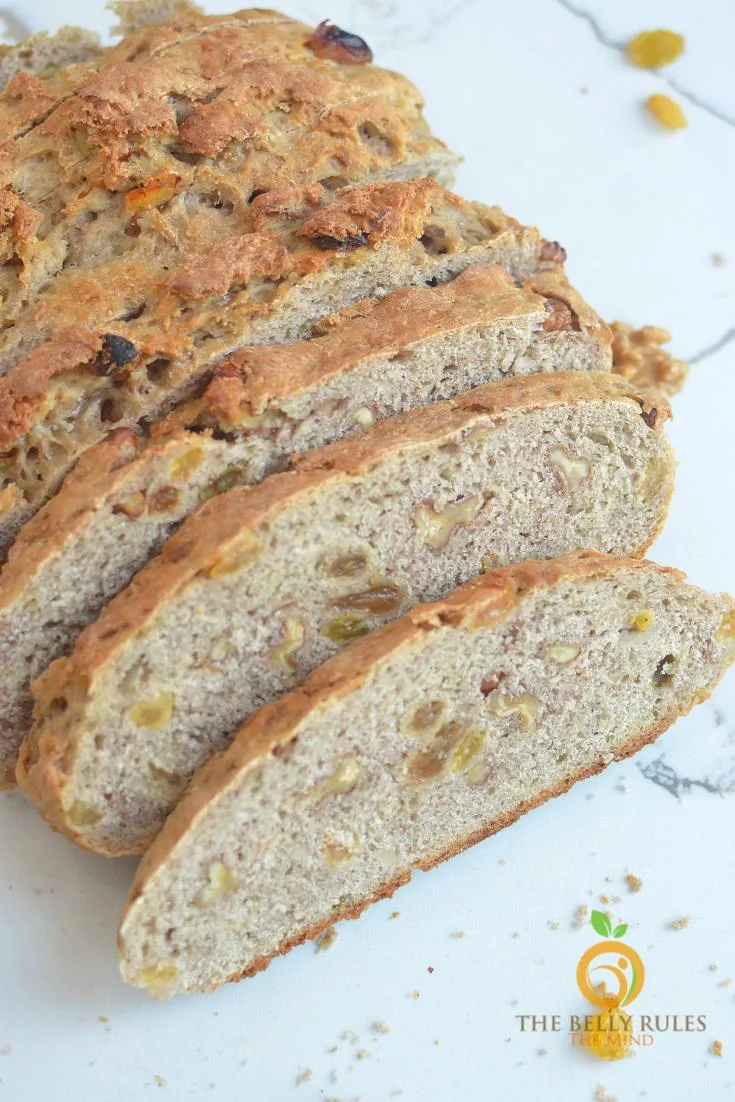 Quick Tips to ensure that your homemade bread is easy to make
Tip on how to store Yeast
Always check the expiration date on your yeast and make sure it hasn't expired.
If you don't bake often, buy the smaller yeast packages rather than a big jar of yeast. It is a living organism and over time it will lose activity. It will deteriorate even if you've never opened the jar or package.
Keep unopened yeast packages in a cool and dry place to have them last longer. Something like your food closet.
Once your yeast package or jar has been opened, you must refrigerate the yeast or freeze it in an airtight container.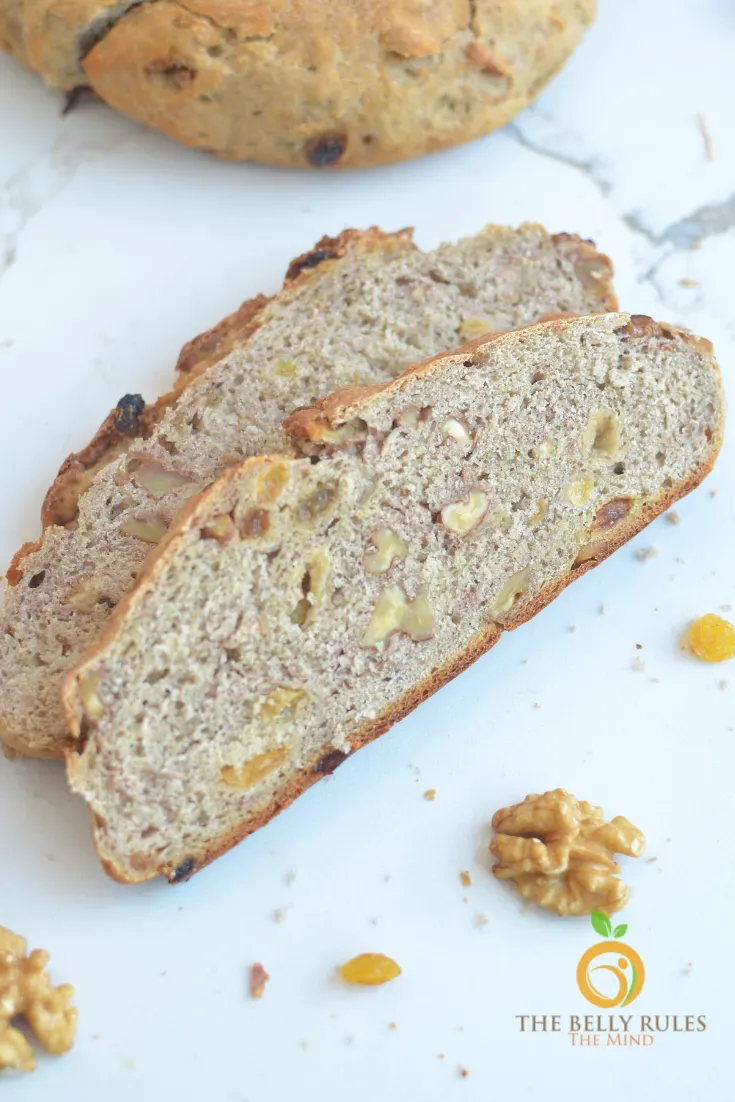 Why is my no-knead bread so dense?
No-Knead bread can become dense if you add too much flour into the mix or too much humidity. Please follow the measurements provided in the recipe card below and you will love the final product. Another thing to remember is to try and use fresh flour as much as possible to get the best results.
How do I know when my bread is done?
The easiest way to know that is by tapping the bottom of the bread. When ready, the bread will sound hollow if you knock the bottom of the bread.
How do you store artisan bread?
The best way to store homemade bread is to wrap it in a dish towel or a paper bag and keep it in a dry place.
What goes good with artisan bread?
If you like baking, you will love our following baking recipes
Try our healthy snack recipes for healthy snacking during the summer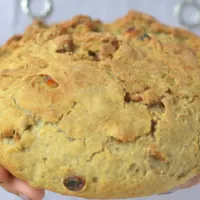 No Knead Dutch Oven Raisin Walnut Bread
Additional Time:
30 minutes
Total Time:
3 hours
40 minutes
Nothing beats the aroma and smell of a fresh bread baking in your kitchen! No Knead Dutch Oven Raisin Walnut Bread is no Exception! This no-knead whole wheat bread is perfectly crusty on the outside, with a fluffy, nutty interior that's just begging for some creamy butter. Try it with your breakfast! The easiest artisan bread you will ever make!
Ingredients
1 1/2 cups bread flour (or all purpose flour)
1 1/2 cups whole wheat flour
1/2 cup diced walnuts
1/2 cup black raisins
1/4 cup golden raisins
2 tablespoon sugar
1 teaspoon salt
1 pack instant yeast
1 1/2 cups warm water up to 130° F.
Few Tablespoons extra flour for shaping
Instructions
In a big mixing bowl combine flours, walnuts, raisins, sugar, salt & yeast .Mix it well.


Pour in the water and mix until it's well combined (Sticky dough)

Place the dough on a piece of parchment paper (not wax paper) and use the parchment to transfer it to the electric pressure cooker . Press Yogurt, adjust to medium and 3;00hrs..


After 3 hours dough will become puffy and dotted with bubbles. Transfer to a well-floured surface and sprinkle dough with a little flour. Using a scraper fold dough over 10-12 times & shape into a rough ball.

Place it back into the electric pressure cooker for 30 minutes. and cover it with a kitchen towel. Meantime , place a 3 or 5-qt Dutch oven with lid in a cold oven and preheat to 450°



When oven reaches 450°, carefully, using oven gloves, lift the parchment paper and dough from the bowl and place gently into the hot pot. (parchment paper goes in the pot too) Cover and return to oven and immediately REDUCE HEAT TO 400° F. Bake for 30 minutes.

After 30 minutes, remove lid and parchment paper. Return, uncovered, to oven and bake about 10 more minutes.