We are all busy and looking for new easy meals to prepare for our family. Quick and Convenient has become the modern mantra for preparing food and while we would like to have something quick, we also want to ensure we are eating healthy. This Asian Quinoa Salad with Sesame Ginger-Garlic Dressing using Dorot Gardens Crushed Ginger & Crushed Garlic makes for a protein-packed, no-cook meal the whole family will enjoy!

Can you believe it is already March? That means its almost Spring and spring means almost time to start planting seeds for gardening. We use a lot of fresh herbs in our cooking. The flavor of fresh herbs compared to dried just can't be beaten and will elevate any meal. We prefer to use fresh ingredients and we grow our own during summers, however, winters are harsh out here on the east coast so we end up buying herbs from the market. We use a lot of Ginger & Garlic in our recipes and were not too happy with the quality of ingredients to the cost they come at until we discovered Dorot Gardens.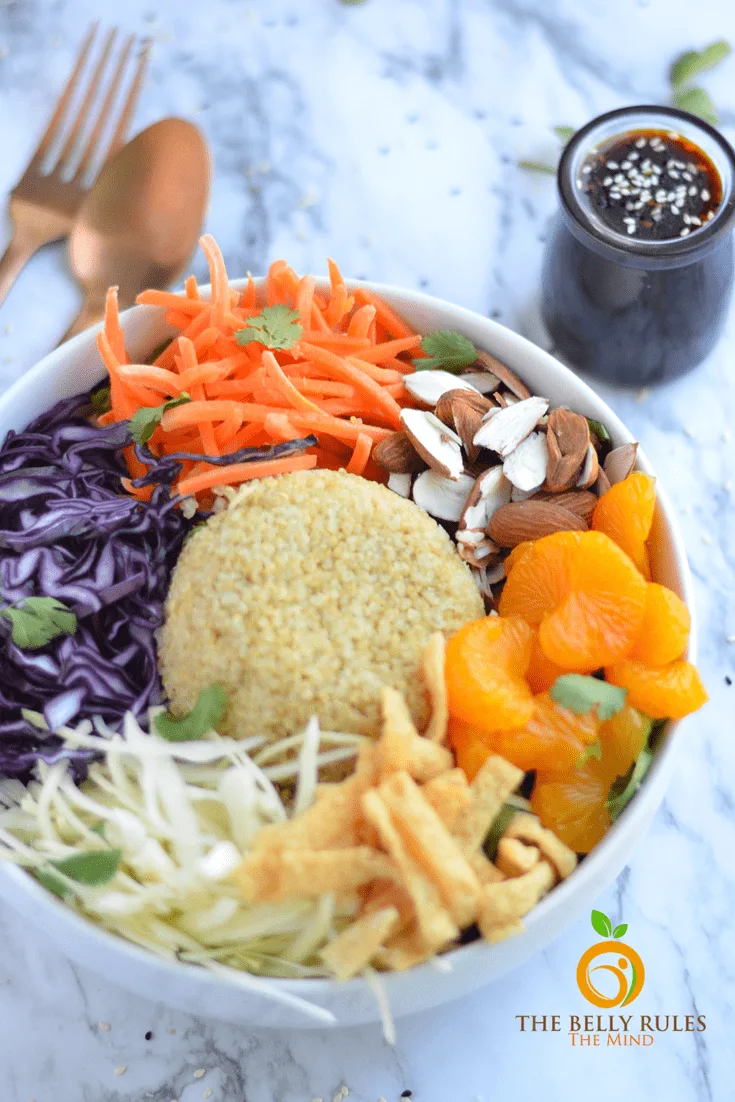 So you may ask what is so special about Dorot Gardens and why we like it?
These awesome individual cubes are pre-portioned and are the perfect amount of herbs for any meal. They grow their own garlic, basil, cilantro, parsley, chili, and ginger. At peak freshness, the products are pulled from the fields, processed and flashed frozen into convenient trays within 90 minutes of harvest. They have a shelf life of about two years so that you can have fresh garlic and herbs at your fingertips throughout the year, never having to worry about freshness. Whenever you're ready to use them, just pull them from the freezer, and POP them out! So it has been a real time saver for us and that is why we prefer to buy Dorot fresh garden.
Dorot is our new Sous Chef in the kitchen. Click here to read about Dorot Gardens. The best part is it is all natural, vegan and gluten-free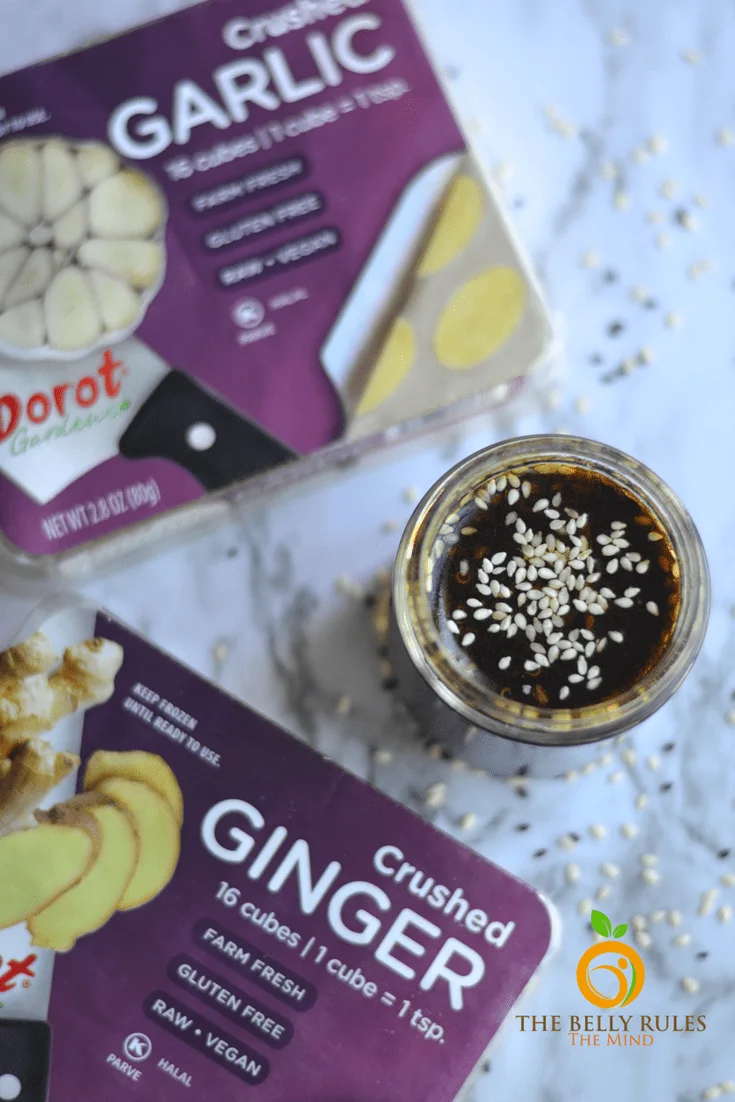 Coming back to our recipe, this vibrant and fresh Asian Quinoa Salad with Sesame Ginger-Garlic Dressing is flavorful, chock-full of protein and veggies and satisfying. We usually make it as a light lunch, but you can also serve it alongside other Asian dishes for dinner or make it a meal in itself by adding any cooked protein.
Sundays are our day for prepping lunches for work throughout the week. Our criteria for meal prep basically comes down to this: easy, quick and nutritious. One of our favorite go-to meals to prep is Asian quinoa salad bursting with colorful veggies and, dressed in a Sesame Ginger-Garlic Dressing. It's refreshing, it's colorful, and it's extremely good for you.
So this Asian Quinoa salad is
1: EASY
2: So quick to throw together
3: HEALTHY
4: delicious
5: Most Important >>>>> kid-friendly (or at least for our kiddo it is)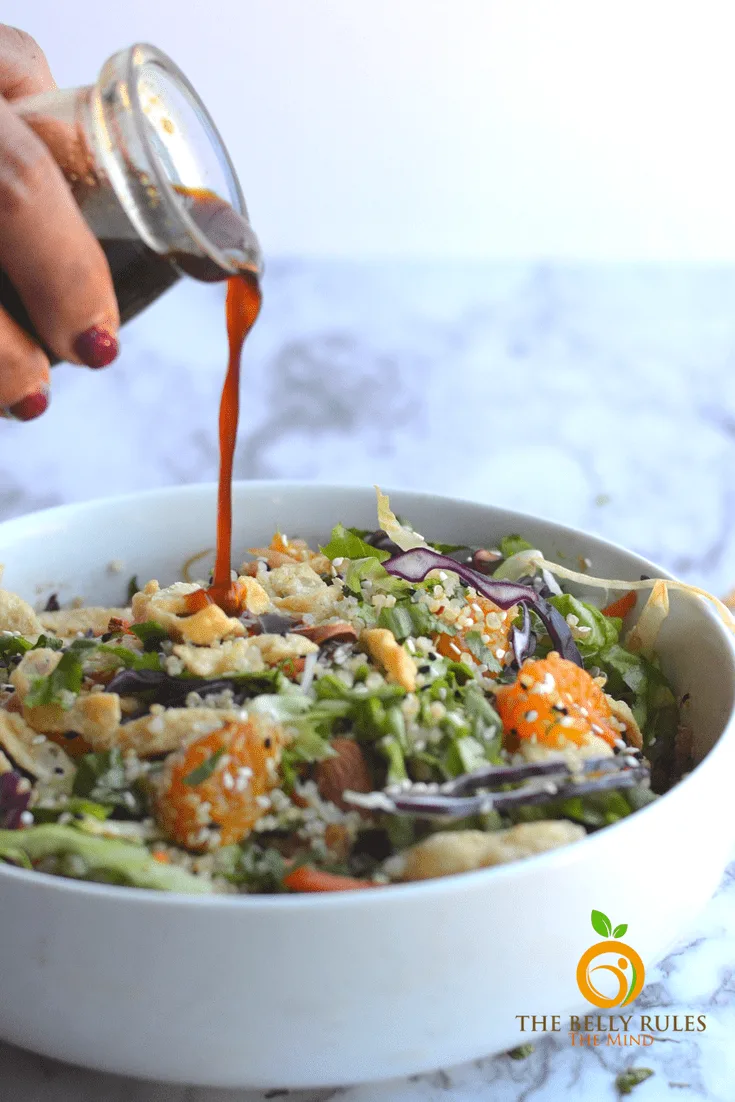 Skip the calorie-laden Asian Salad from your local restaurant and whip up our slimmed-down variety at home, because we use a fantastic kitchen Sous Chef: Dorot Gardens. We got Dorot fresh garden from our local Kroger. It's easily available in the frozen vegetable section. The bright purple packaging is sure to catch your eye. Currently, Dorot is offering 6 different herb cubes &. Click here for $1 off for the next purchase! To learn more about Dorot Gardens, click here.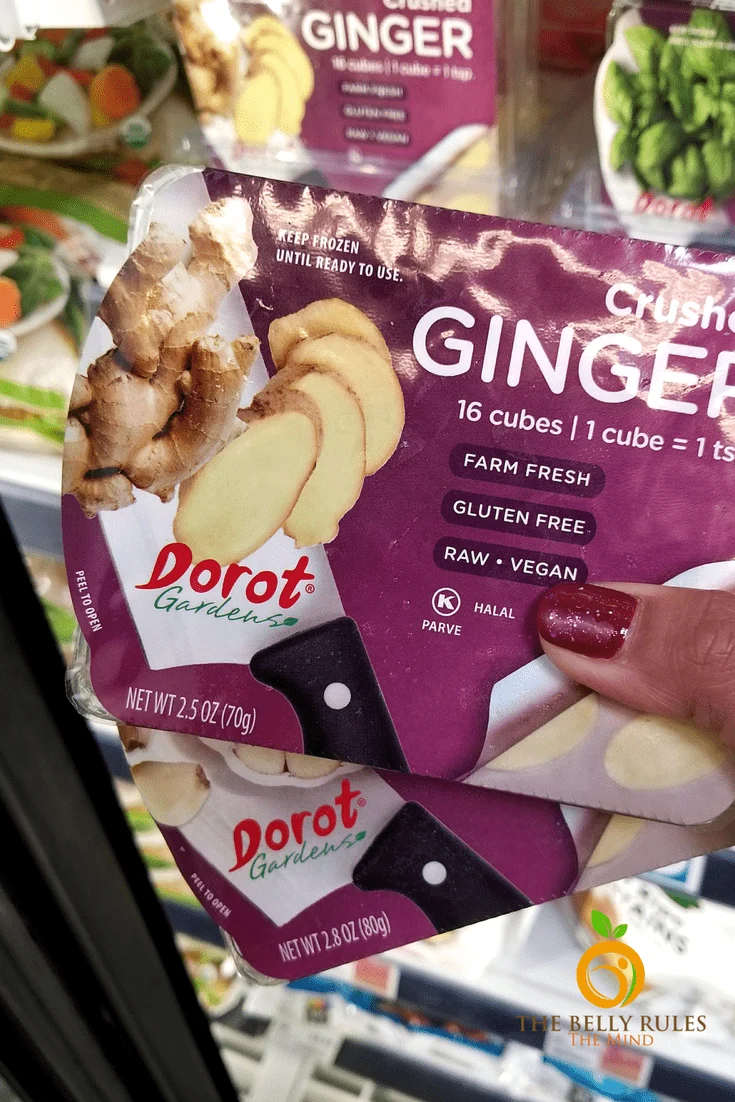 Overall, the salad & dressing comes together in a few minutes, tastes just way better (as you know what is going in it) and costs you far less. Pack it at night for an easy and delicious weekday lunch that will make your coworkers envious. Thanks a ton to Dorot Gardens as we are now able to focus on the joy of cooking rather than becoming exhausted from all the herb prep work and cleanup. Definitely a keeper in the freezer.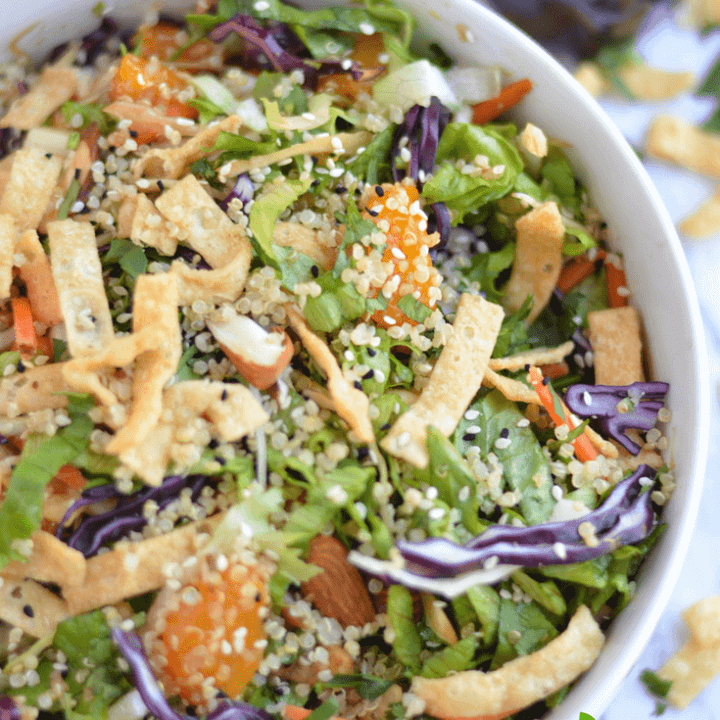 Asian Quinoa Salad with sesame Ginger-Garlic Dressing
Ingredients
2 tablespoon rice vinegar
1 tablespoon maple syrup
2 tablespoon fresh orange juice
2 tablespoon soya sauce/Tamari
1 garlic, smashed(Dorot)
1 ginger,smashed (Dorot)
2 tablespoon toasted sesame oil
1 tablespoon toasted sesame seeds
SALAD:
2 cups cooked Quinoa
1 cup cabbage / thinly sliced
1 cup carrots/ julines
1 cup purple cabbage/ thinly sliced
2 hearts romaine lettuce, chopped (or spring mix)
1 (15 oz can) mandarin oranges, drained
1/3 cup wonton strips
1/3 cup sliced almonds or cashews
1/3 cup chopped cilantro
1Tbsp white and black sesame seed for garnish/ optional
Instructions
FOR THE DRESSING:
Place the rice vinegar in a mason jar and add the sesame oil,fresh orange juice ,maple syrup,soy sauce,ginger and garlic pods and toasted sesame seeds.
Screw on the lid and give it a good shake until the dressing mixes together.
Please note, homemade salad dressing will separate as it sits, just give it a good shake before pouring onto the salad.
ASSEMBLE THE SALAD: In a large bowl, combine all the ingredients for the salad and top with the sesame ginger garlic dressing. Serve immediately
Notes
While the quinoa is cooking, you'll definitely want to lightly toast the almonds and sesame seeds. It adds SO much flavor so don't skip this step! Plus it only takes a couple of minutes to do. Just make sure to watch carefully as the nuts can go from perfectly toasted to burned really quick.