Let's get creative for breakfast with these Avocado Toasts with Veggies. Delicious, filling & loaded with the good fats & 21 whole grains and seeds, these are quick and easy.
Have you tried an Avocado Toast yet or no? If not, you are missing the boast as it's the new trend these days. It's a great way to add some nourishment to your classic toast and it's super easy to make these. If you haven't tried them yet, here is our super easy and very delicious Avocado Toast loaded with veggies, twenty-one grains and seeds.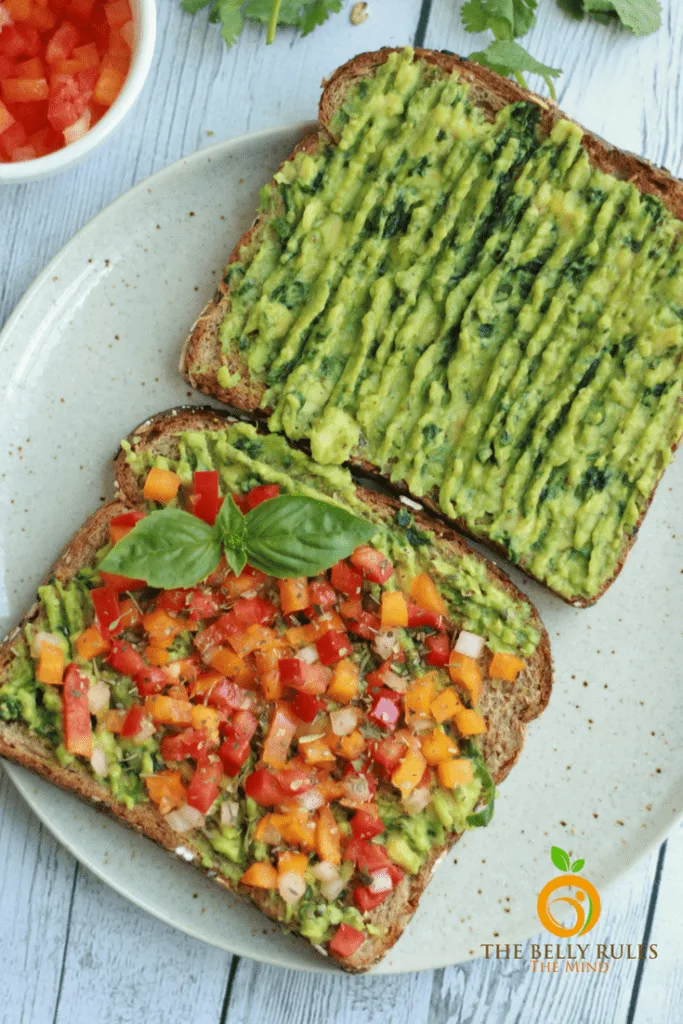 I am all for quick and easy breakfasts as long as they are healthy. I keep the weekends for more elaborate breakfasts but weekday mornings are crazy busy, so breakfast needs to be ready in a jiffy. Open toasts make an awesome option for breakfast as they are so versatile, slather your favorite spread, throw in some veggies or protein of your choice. Garnish it with herbs or cheese and a delicious healthy breakfast is ready. Take these open toasts to the next level and make them on Dave's Killer Bread.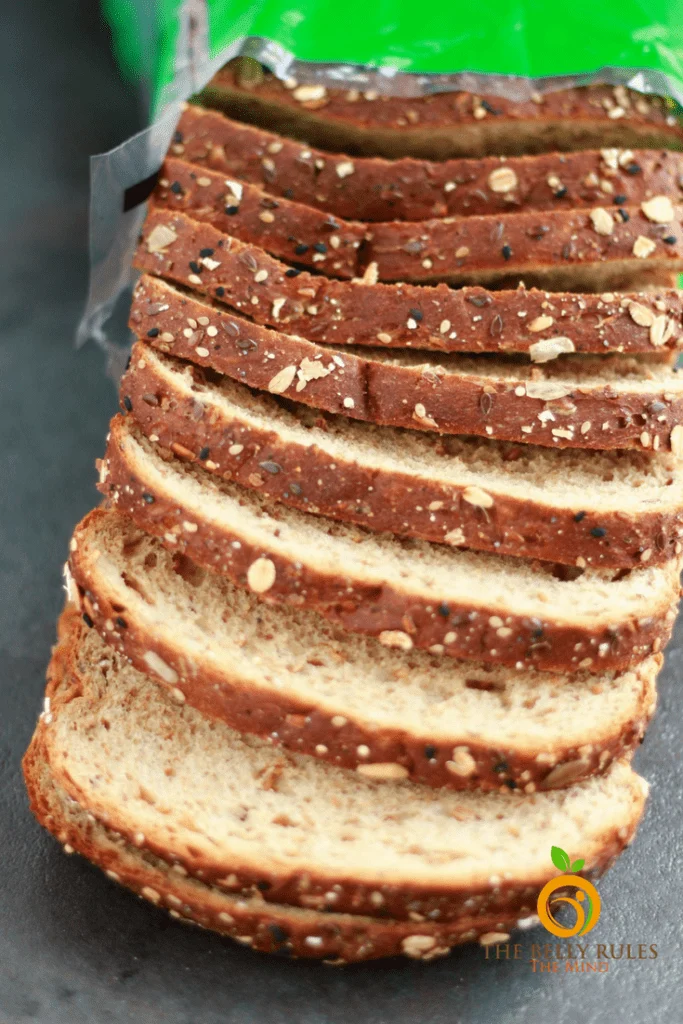 Have you tried Dave's Killer Bread before? I recently purchased Dave's Killer Bread from my local Walmart as I was intrigued by it's 21 Whole Grains and Seeds variety. Did you know it's the #1 selling organic bread brand in the country? It is USDA organic, Non-GMO project verified, and contains 5g protein, 5g fiber, 250mg Omega-3, and 22g whole grains per slice. I was compelled to purchase it as this bread is powerfully different. Packed with protein, fiber, and whole grains with no artificial anything, I couldn't stop myself from keeping it in my cart.
The next morning, I decided to make an Avocado Toast with some of my favorite ingredients. Toasted a couple slices. Meanwhile, I gave the 5-minute Avocado Cilantro Dressing a twist and used it as a spread. Threw in some crunchy colorful bell peppers, some Italian herbs and breakfast was ready. Initially, I was a little skeptical about the texture as I don't fall in love with breads easily but Dave's Killer Bread has a hearty texture, subtle sweetness, and a seed-coated crust, "21" is great for toast, sandwiches, or even by itself.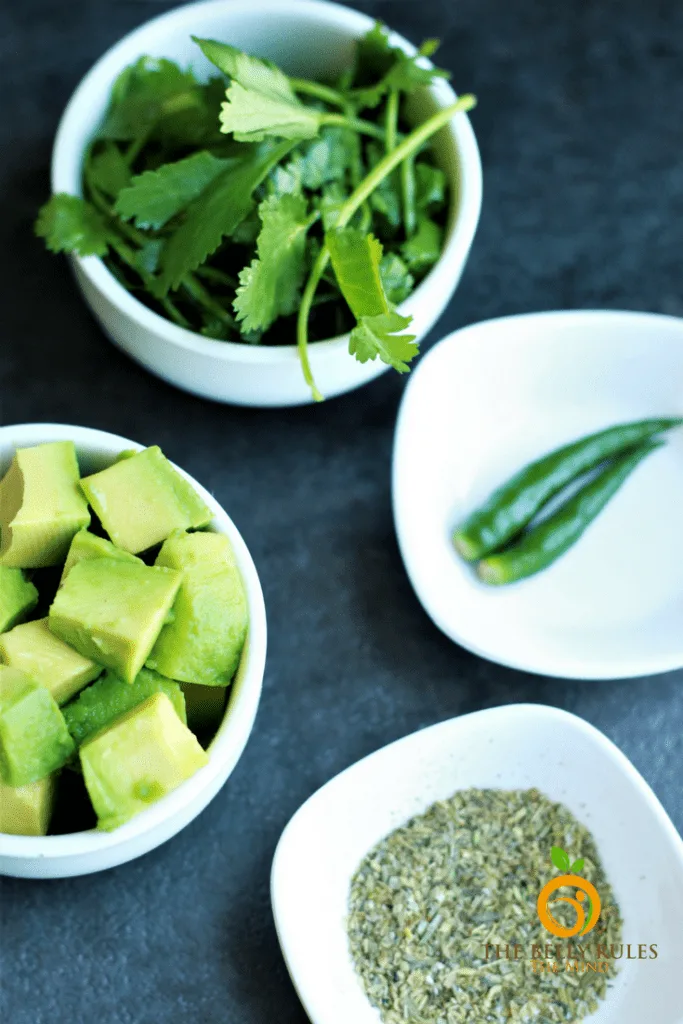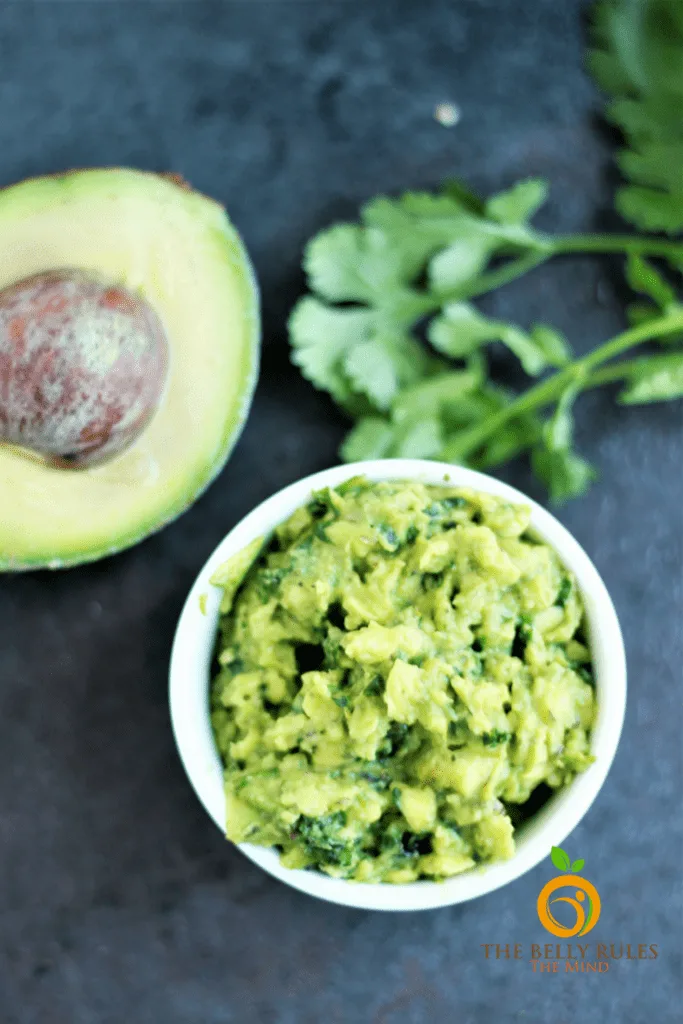 Most recipes that I have seen online just smash the Avocado on the toast, however, I like to add some flavors to my Avocado Smash. Toss in some cilantro, green chilies (optional), Italian herbs and basil and this makes a super refreshing spread. I always have some variation of this spread or dressing in my refrigerator. I never get bored of it and keep trying different permutations and combinations.
Tip: I add lemon juice or yogurt to this spread and store it in an airtight container so the avocado doesn't cause the spread to oxidize. I have stored it for upto a week without it going bad.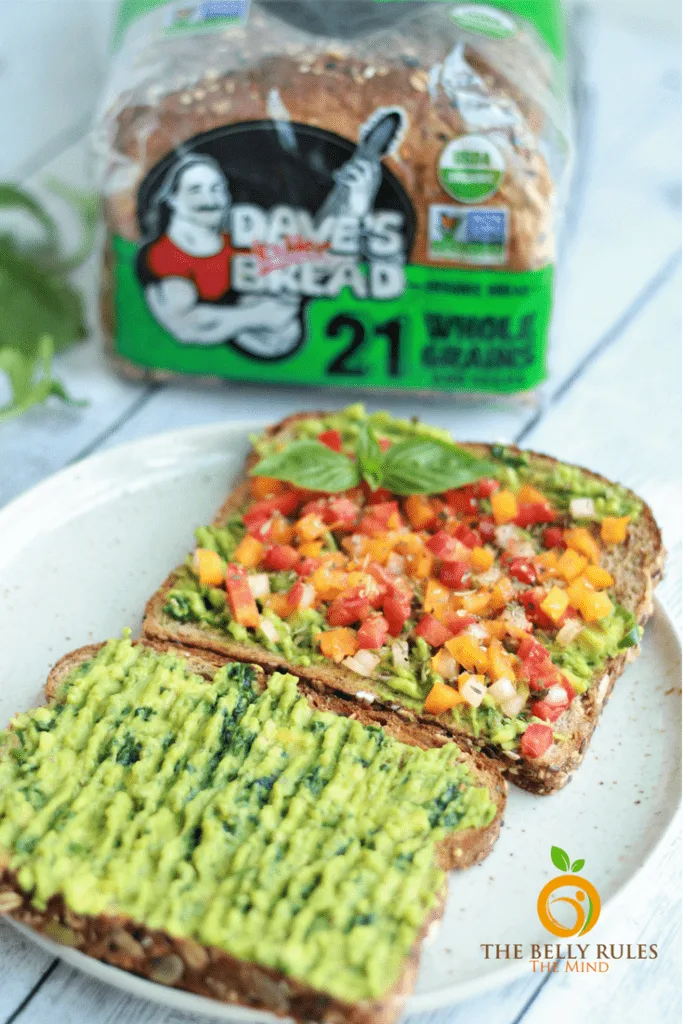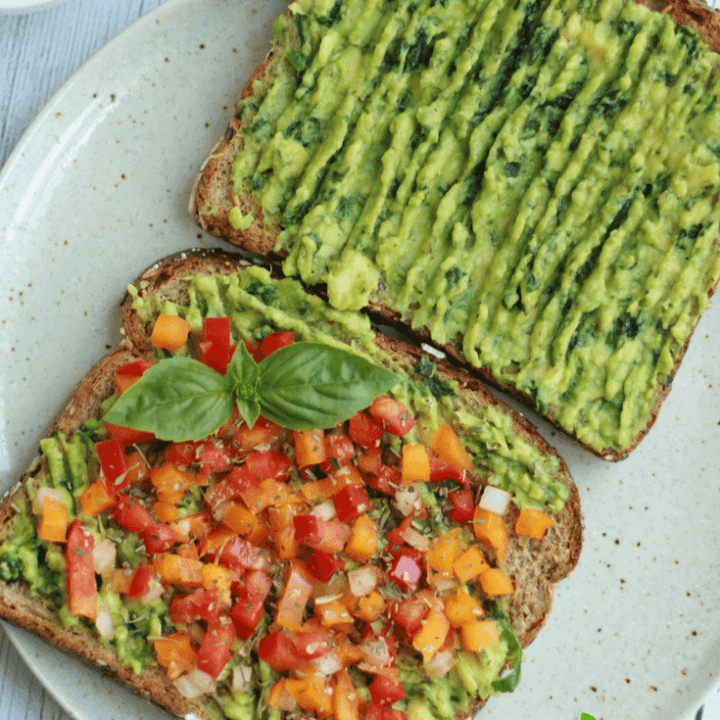 Avocado Toast with Veggies
Let's get creative for breakfast with these Avocado Toasts with Veggies. Delicious, filling & loaded with the good fats & 21 whole grains and seeds, these are quick and easy.
Ingredients
2 slices of Bread
1 avocado
2 tablespoon cilantro chopped
1/2 teaspoon Italian herb mix
2 tablespoon chopped bell peppers.
salt to taste
1/2 teaspoon lemon juice
1/2 green chilies (optional)
2 basil leaves, chopped (optional)
Instructions
Toast 2 slices of Dave's Killer Bread
In the meantime prepares the Avocado Smash
In a bowl, toss in the avocado, cilantro, italian herb mix, lemon juice,basil leaves, green chillies & salt. Smash and mix well. Lemon juice will prevent the oxidation of the avocados.
Once the toast is ready, spread it evenly on the slice of toast, throw in the bell peppers. Garnish with extra Italian herb mix and basil.