Instant Pot Matar Paneer is a creamy, flavor packed way to serve peas and soft Indian cheese. Using the pressure cooker ensures you get consistently delicious results in a fraction of the time. Your family will love this yummy, wholesome recipe.
[avatar user="soniyasaluja" size="thumbnail" align="right" link="https://thebellyrulesthemind.net/about-us/" target="_blank"]Soniya Saluja[/avatar]
LET'S BE FRIENDS ON PINTEREST! WE'RE ALWAYS PINNING TASTY RECIPES!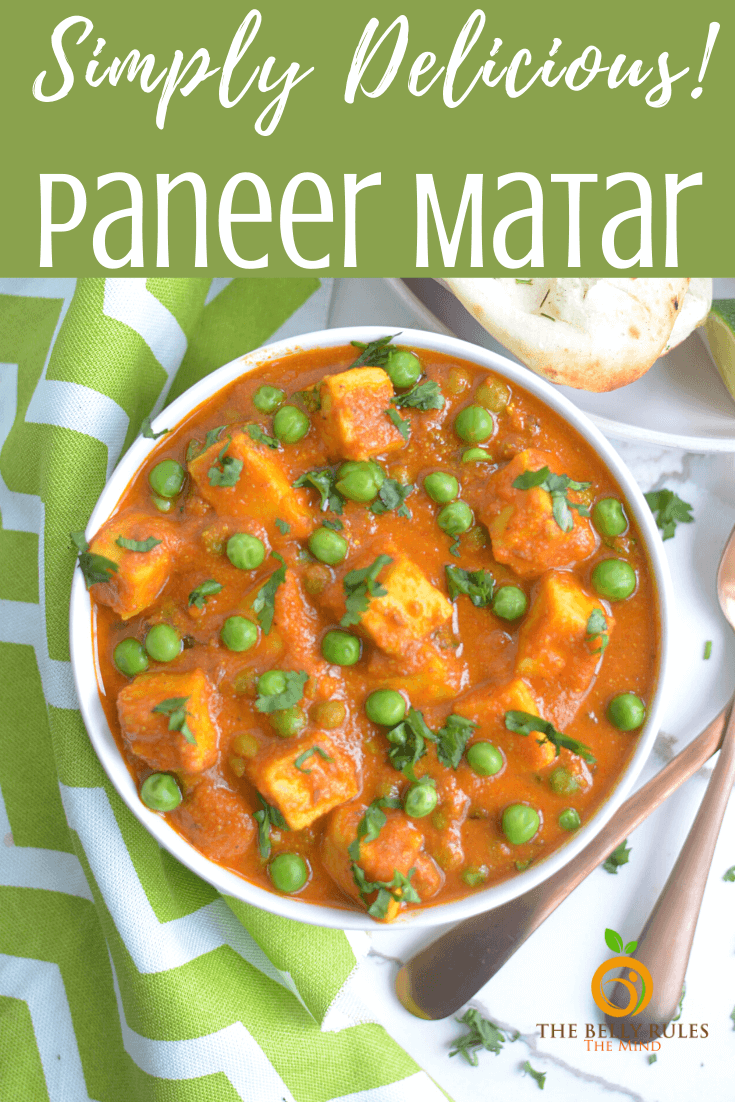 What is Matar Paneer?
Matar Paneer, also known as Mutter Paneer or Mattar Paneer, is a delicious way to serve peas and paneer in a tomato based sauce to your hungry family. Matar Paneer is a very popular Paneer recipe in India and often served in the winter months when peas are in season.
If you are looking for other easy Instant Pot recipes to try, check out our 15+ Quick and Easy Instant Pot Recipes for Beginners. You can also check out our 135+ Instant Pot Vegetarian Recipes for all your Instant Pot recipe needs.
If you love Indian Food, but are afraid of where to start? Checkout out our Essential Indian Spices guide to get you a quick overview of the most common spices used.
Finally if you dread the BURN message, here is everything you need to know about Instant Pot says Burn Message. What is it, what it means, why you get it and how to avoid it?
How to make Creamy Instant Pot Matar Paneer without the cream?
Many times, you will see Matar Paneer recipes call for cream, however my recipe for Matar Paneer uses pureed cashews to add creaminess without heavy cream. You can totally skip the cream and still have a creamy texture and taste using my recipe. To use cashews, I recommend running them through a good quality blender or food processor. Using a blender helps make sure the cashews form a creamy paste that will help thicken the sauce.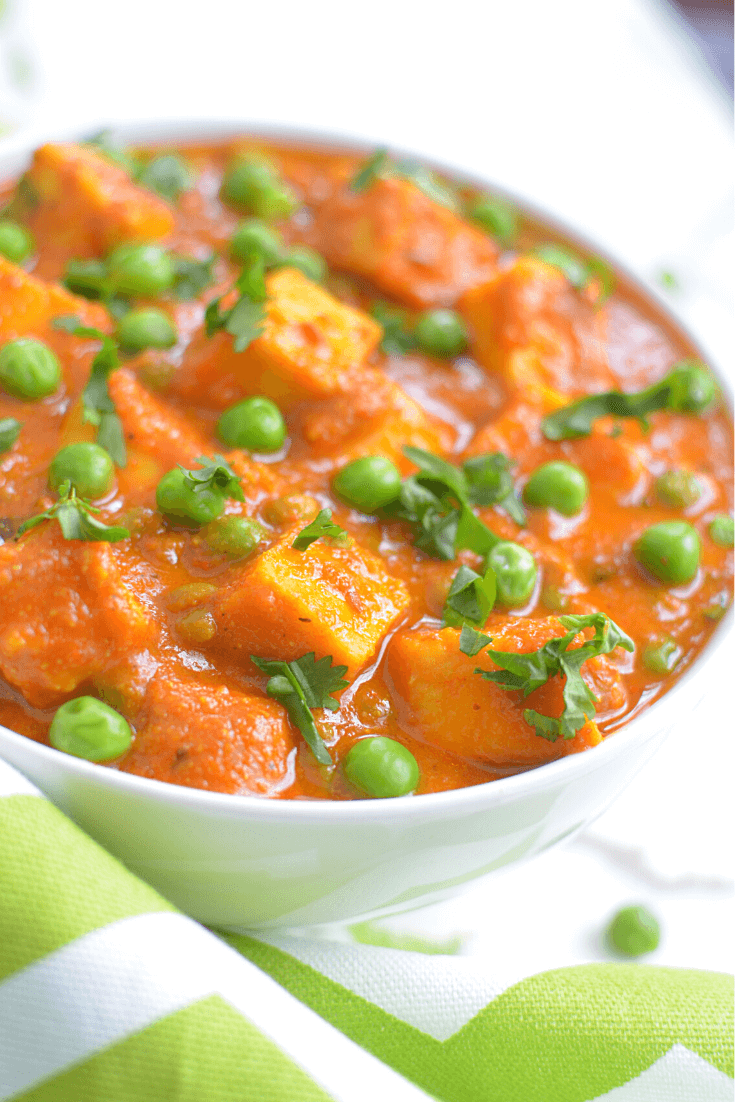 How to make Instant Pot Mattar Paneer recipe
Matar Paneer is pretty easy to make, especially in the Instant Pot.
To start, add the chopped tomatoes, onions, and cashews into a high speed blender or food processor. You then need to puree the ingredients until they are smooth and form a paste. When the paste is smooth, stop pureeing it and set it aside.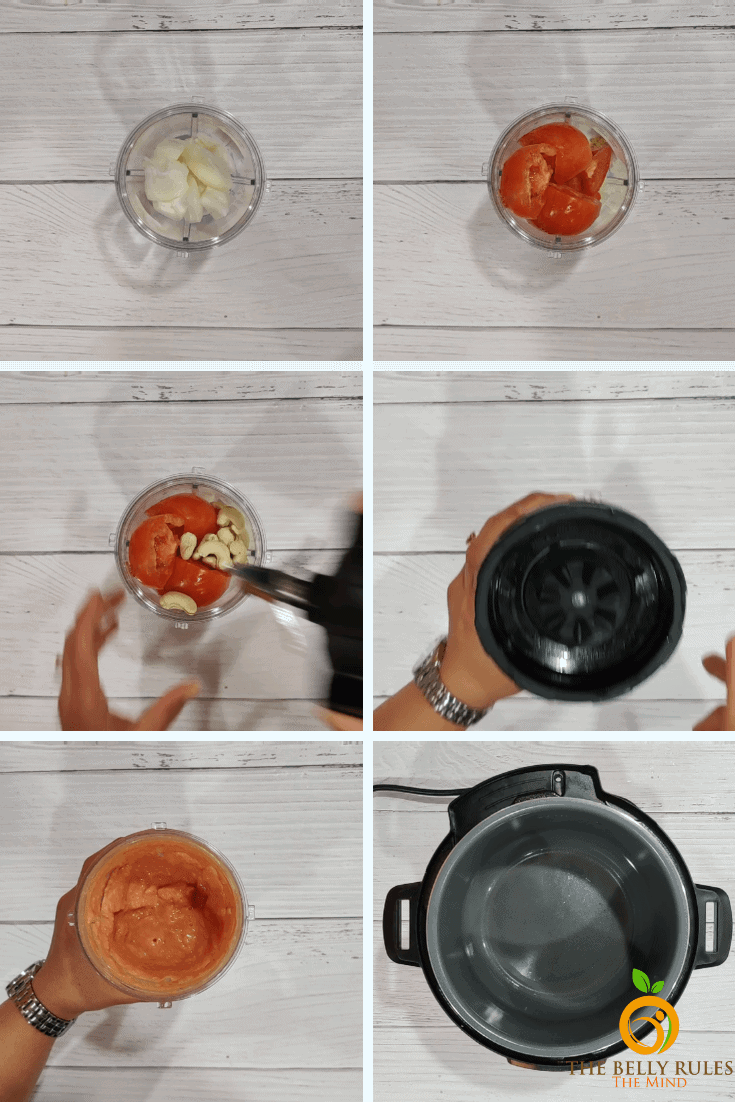 When the paste is made, set your Instant Pot on sauté mode. Wait for a minute or until the inner pot is hot. When the inner pot is hot, add the cumin seeds, bay leaf ,onion tomato cashew paste you just made, and the ginger garlic paste to the pot. Stir fry the ingredients for about 2 to 3 minutes.

After the mixture has cooked for about 2 to 3 minutes, add in the tomato paste(optional) , salt, turmeric powder, red chilli powder, and garam masala. Mix all the ingredients well. Finally, add the peas, water, and paneer (check out our homemade paneer recipe, here) to the inner pot and stir it together.

Cancel saute mode, place the lid on the Instant Pot, and set it to cook for 3 minutes on high pressure. Make sure the vent is set to sealing.

When the Instant Pot beeps indicating it is done, do a quick release of pressure using the valve.

Once the pressure is released, remove the lid.

add the cilantro and crushed Dried fenugreek leaves and stir it in.

You can serve it with rice, roti, or Naan. If you need a great rice recipe, check out our

Instant Pot Basmati Rice

recipe.
HOW CAN I MAKE MATAR PANEER ON THE STOVETOP ?
Don't have an Instant Pot? You can still make this matar paneer on the stove top. To do so, Take a large sauce pan and follow the instructions till you add the peas and water . Now cover it with a lid and let it simmer on medium low heat for 15-20 minutes ( stir occasionally) add the the paneer , cilantro and fenugreek leaves and serve hot.
Can I make Instant Pot Matar Paneer with more gravy?
Yes! You can easily make Matar Paneer with more gravy. Just add 1 cup additional water to what I have recommended. This will make a lot of extra gravy for the paneer and peas which goes well when eaten with rice.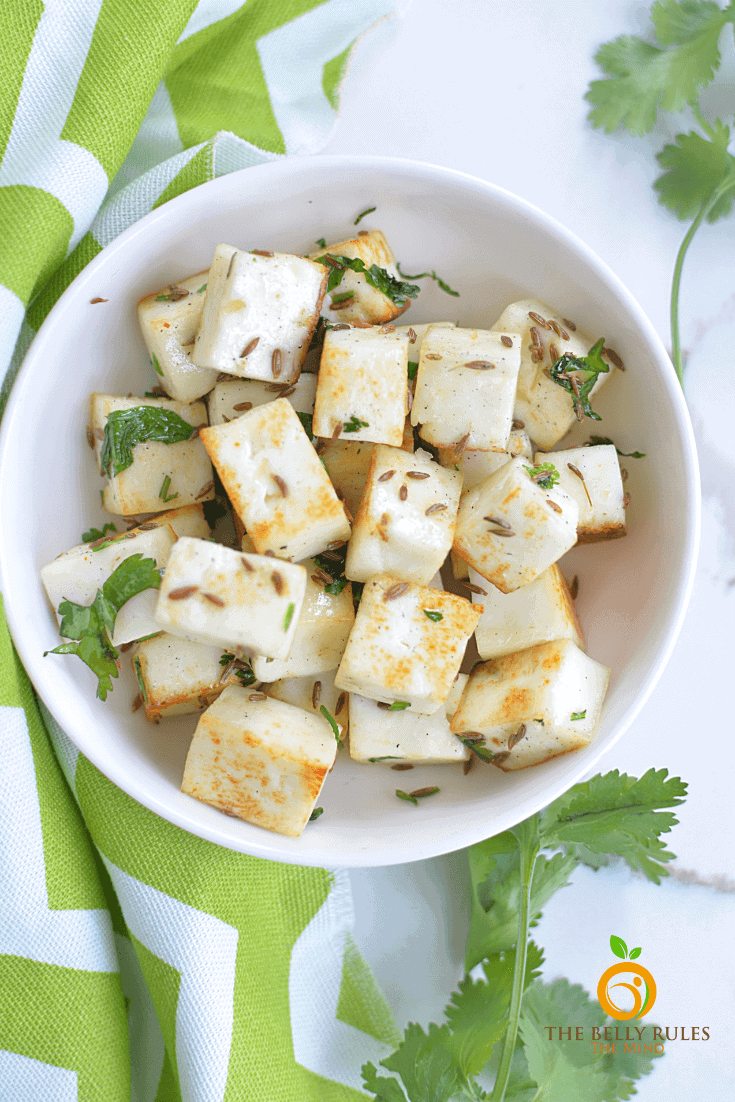 Can I add fried Paneer instead of adding it to Instant Pot?
Yes, you can definitely add fried Paneer to this Matar Paneer recipe. To do this, all you need to do is not add the paneer prior to pressure cooking it.
Instead, while the Instant Pot is cooking the peas and gravy, heat a small amount of oil on a skillet over medium high heat. Add the paneer to the hot oil and cook each side for 2 to 3 minutes or until the sides turn golden-brown.
When you are ready to add the cilantro and dried fenugreek leaves at the end, add the fried paneer to the inner pot and give it a good stir. Serve it hot like you normally would and enjoy!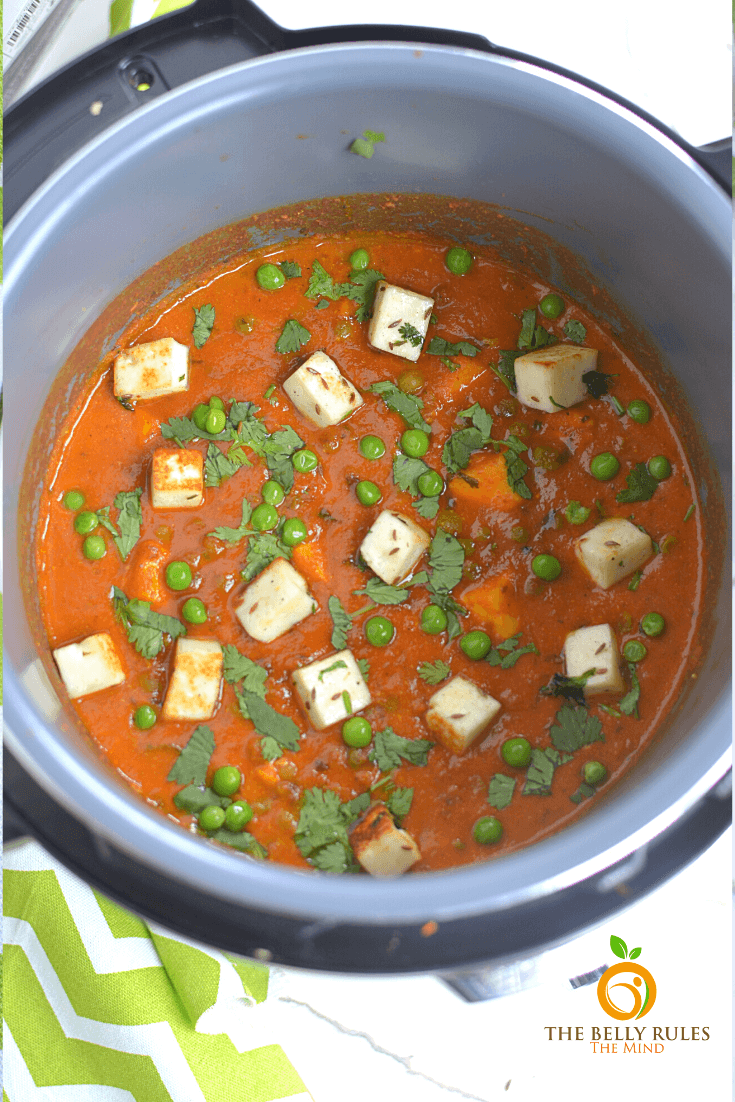 Is Matar Paneer spicy?
Matar Paneer is very flavorful and one of my favorite ways to enjoy paneer but it is not overly spicy. You should be able to serve it to family members and friends that do not like overly spicy foods.
If you want to make it spicier, you can add extra chilli powder. I recommend adding only small amounts at a time so you don't make the Matar Paneer unbearably spicy. Try to add it in ⅛ or ¼ teaspoons until you get a spiciness level that works for you.
Or if you prefer spicy paneer recipes, you can check out my Instant Pot Kadai Paneer recipe which has a bit more spice to it.
What do you serve Matar Paneer with?
Matar Paneer has a rich, creamy gravy. That makes it perfect for serving with Roti and Naan so you can soak up all the flavorful gravy.
Mattar Paneer also goes great with rice. Rice is a great way to soak in the extra gravy and helps make Mattar Paneer even more filling.
Matar Paneer and Rice?
Yes! Matar Paneer goes great with rice. If you need help making perfect rice, check out my No Burn Instant Pot Jasmine Rice recipe.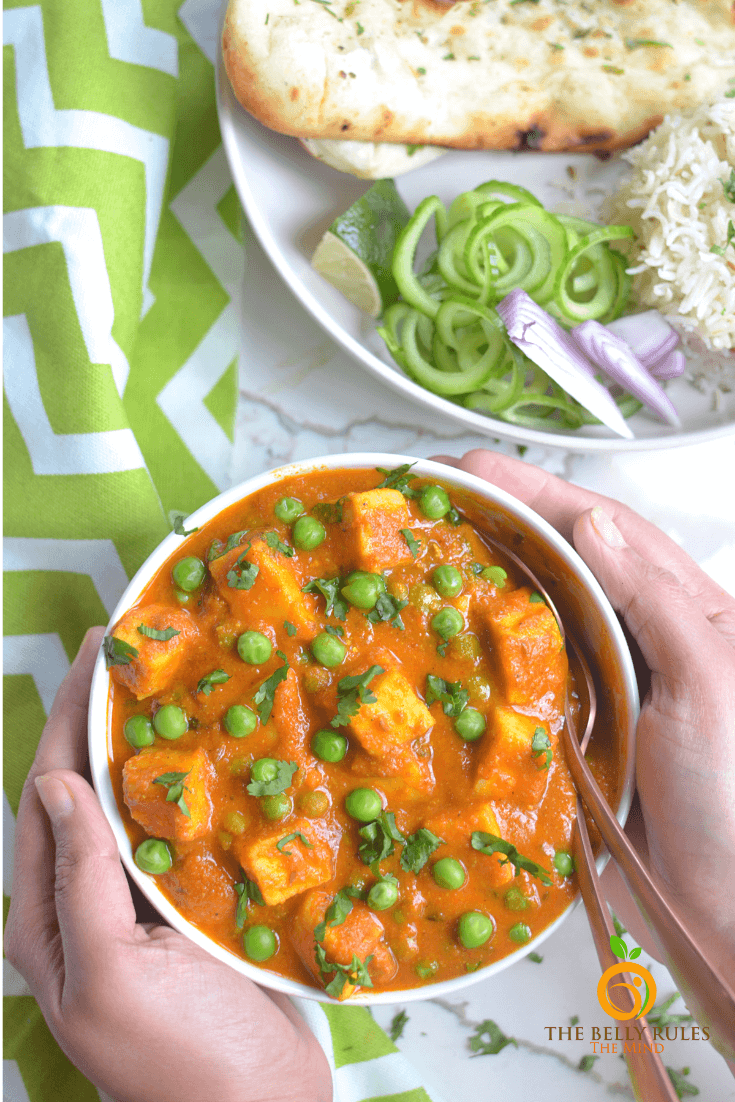 Can you freeze Matar Paneer?
You can freeze Matar Paneer if you want to in an airtight container for several months. But like most recipes, I recommend serving it fresh since it keeps the paneer a better texture.
If you want, you can make it ahead of time or store it in the refrigerator for about 2 to 3 days. Again, you should store it in an airtight container and reheat it when you are ready to eat it.
More Delicious recipes with Paneer
Instant Pot Mattar Paneer Recipe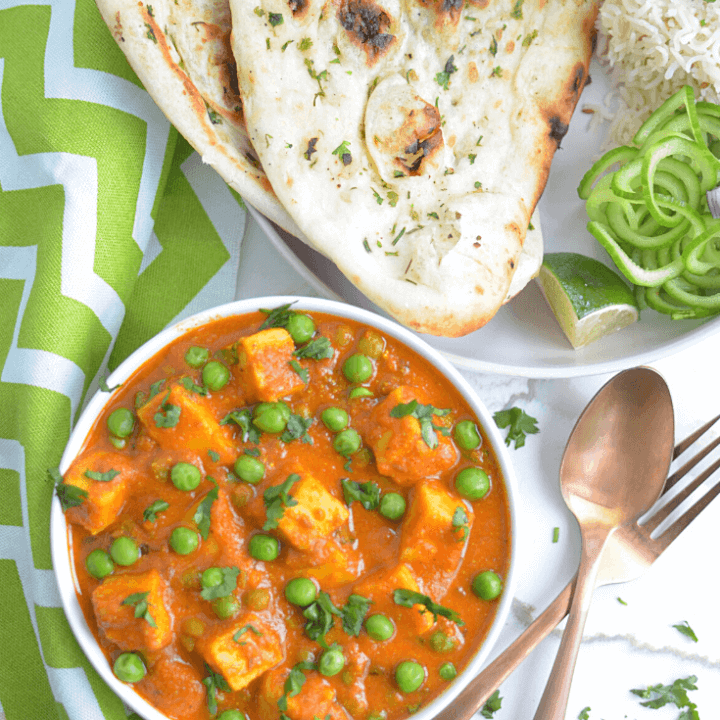 Instant pot Matar Paneer
Additional Time:
5 minutes
Instant Pot Matar Paneer is a creamy, flavor packed way to serve peas and soft Indian cheese. Using the pressure cooker ensures you get consistently delicious results in a fraction of the time. Your family will love this yummy, wholesome recipe.