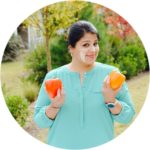 This is one snack that I and R1, my hubby love to the core. We both grew up eating No Fry Bread Rolls for an evening snack or breakfast. I still remember how I always relished these rolls, everytime my mom made them. So here I am yet again, sharing this recipe for No Fry Bread Rolls straight out of mom's kitchen.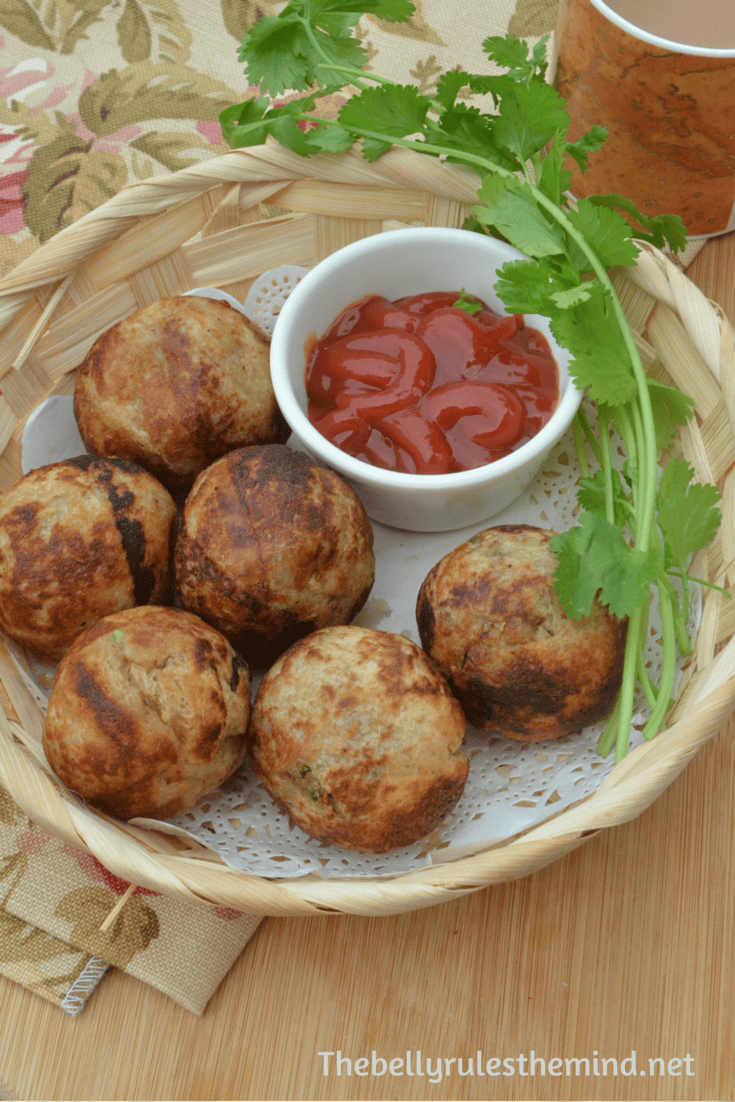 Ingredients
2 potatoes, boiled
1/4 cup indian cottage cheese / paneer, grated /optional
1 tbsp, cheese /optional
1/3 cup peas/optional
1/4 cup onion, chopped
1 to 2 green chilies,
1/2 tsp, black pepper
1 tsp ginger, chopped
1/2 tsp coriander powder
2 tbsp oil
8 whole wheat slices of bread
Salt as per taste
Instructions
Mix the potatoes,peas, onions, paneer, cheese, chilies, ginger, black pepper, coriander powder and salt.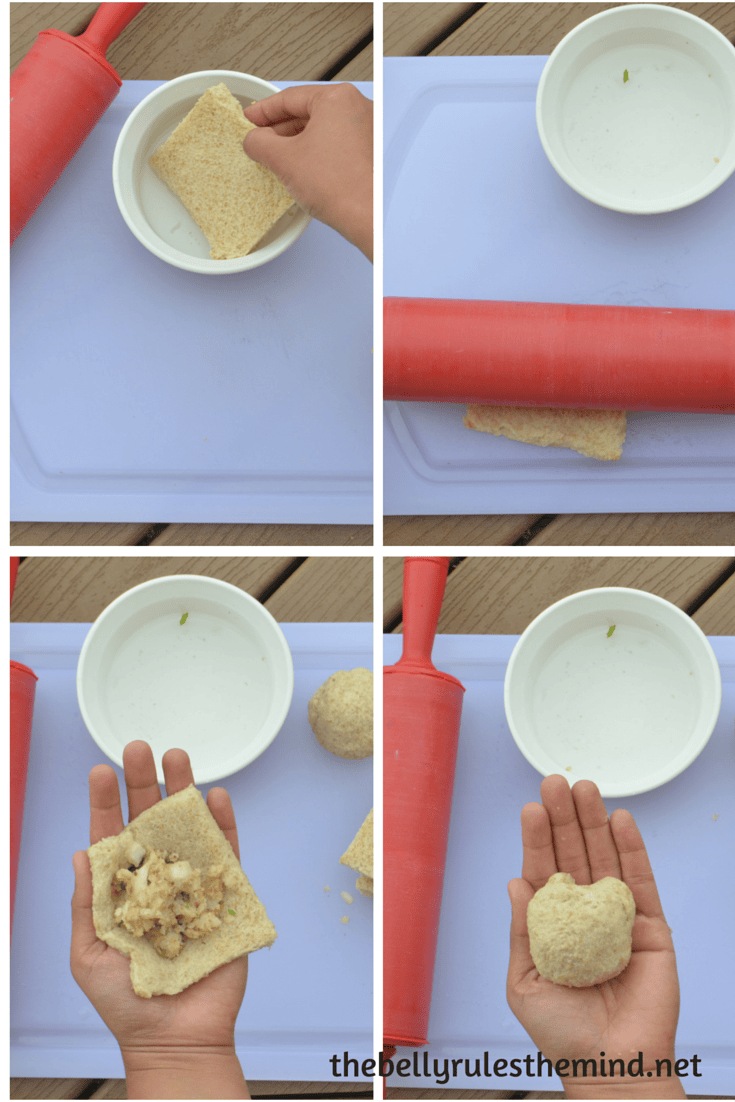 Trim the edges of the bread slices & roll it with a rolling pin.
In a bowl full of water, dip the slice of bread and quickly squeeze out the excess water.
Take equal portions of the mixture and make small balls out of it.Place the above mixture in the bread and bring the edges together to close it in a shape of a ball.
Add a few drop of oil into each cavity of the appe pan and heat them. Cook the balls for approx. 5 minutes on each side on medium heat, until they are golden brown.
the trick to get a nice color to the bread rolls are to keep one or two cavities empty , so you just have to turn them into to the empty cavity
Serve the No Fry Bread rolls with ketchup or spicy sauce.
Airfryer method: Pre heat the Airfryer at 200oC. Brush the rolls with oil and air fry at 200oC for 10 minutes or till slightly golden brown. Bread roll is ready. serve the bread rolls with tomato sauce or green chutney.
Bread rolls made in appe pan

Ingredients

2 potatoes, boiled
1/4 cup indian cottage cheese / paneer, grated (optional)
1 tbsp, cheese (optional)
1/3 cup peas
1/4 cup onion, chopped
1 to 2 green chilies,
1/2 tsp, black pepper
1 tsp ginger, chopped
1/2 tsp coriander powder
2 tbsp oil
5 whole wheat slices of bread
Salt as per taste

Instructions

Trim the edges of the bread slices & roll it with a rolling pin.
In a bowl full of water, dip the slice of bread and quickly squeeze out the excess water.
Mix the potatoes,peas, onions, paneer, cheese, chilies, ginger, black pepper, coriander powder and salt.
Take equal portions of the mixture and make small balls out of it.
Add a few drop of oil into each cavity of the appe pan and heat them. Cook the balls for approx. 5 minutes on each side on medium heat, until they are golden brown.
Serve it with ketchup or spicy sauce.

https://thebellyrulesthemind.net/bread-rolls-appe-pan/