How fun are these Vegetarian Quesadilla with Broccoli and Corn? Broccoli, Corn and Cheese are a match made in heaven and putting them in a quesadilla makes it an enticing option for the kids. My kids love the flavor and always ask for more when they are presented with this option.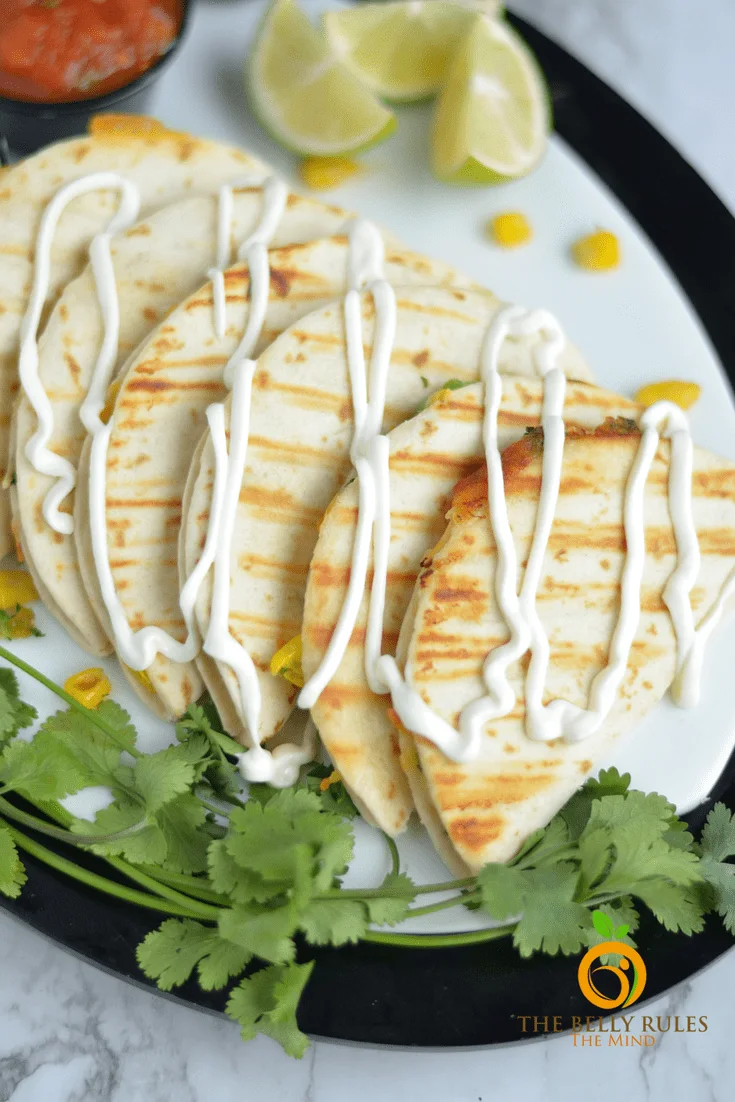 So Friday nights at my home is usually a "Mommy experiment day". It's a time of the week when I can take calculated risks while preparing food and ensure that nobody gets hurt :-). While R1 & R2 are super scared of what I am gonna make for them, R3 is super cool with whatever I serve him. Yes, this used to be the norm, however, R1 and R2 have warmed up to my experiments as they have not been hurt yet. Now they look forward to and try to guess what twists I may have given to traditional recipes. Its fun as I sometimes don't make any changes to the recipe and they still keep on guessing what is different. Its a fun game that we play at home keeping us busy.
Vegetarian Quesadilla with Broccoli and Corn are absolutely a go-to recipe in our household for a quick meal; some minor changes in this Tex -mex favorite dish and we have a healthy & yummy Appetizer or an entrée ready in a jiffy...you can add protein of your choice like grilled chicken, tofu, mushrooms. The stuffing options can be endless based on your family favorites:) We really enjoyed this Vegetarian Quesadilla with Broccoli and Corn. It paired perfectly with the crispy quesadilla ... a surefire way to get kids to eat broccoli and corn :)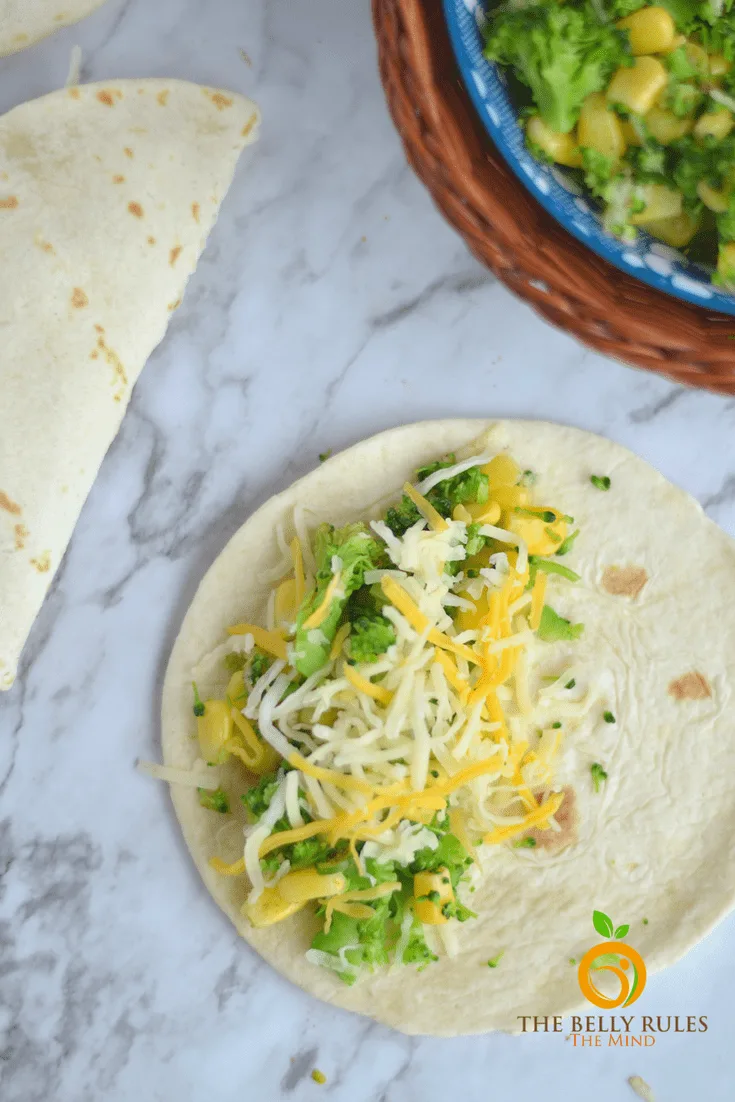 This Vegetarian Quesadilla with Broccoli and corn is a really simple recipe and the result is always delicious. Quesadilla is a tortilla (Corn Tortilla, Wheat Tortilla or Flour Tortilla or even gluten free tortillas) which is filled these stuffings along with cheese and then grilled. Vegetables, chicken or meat are stirred in to provide a delicious blend.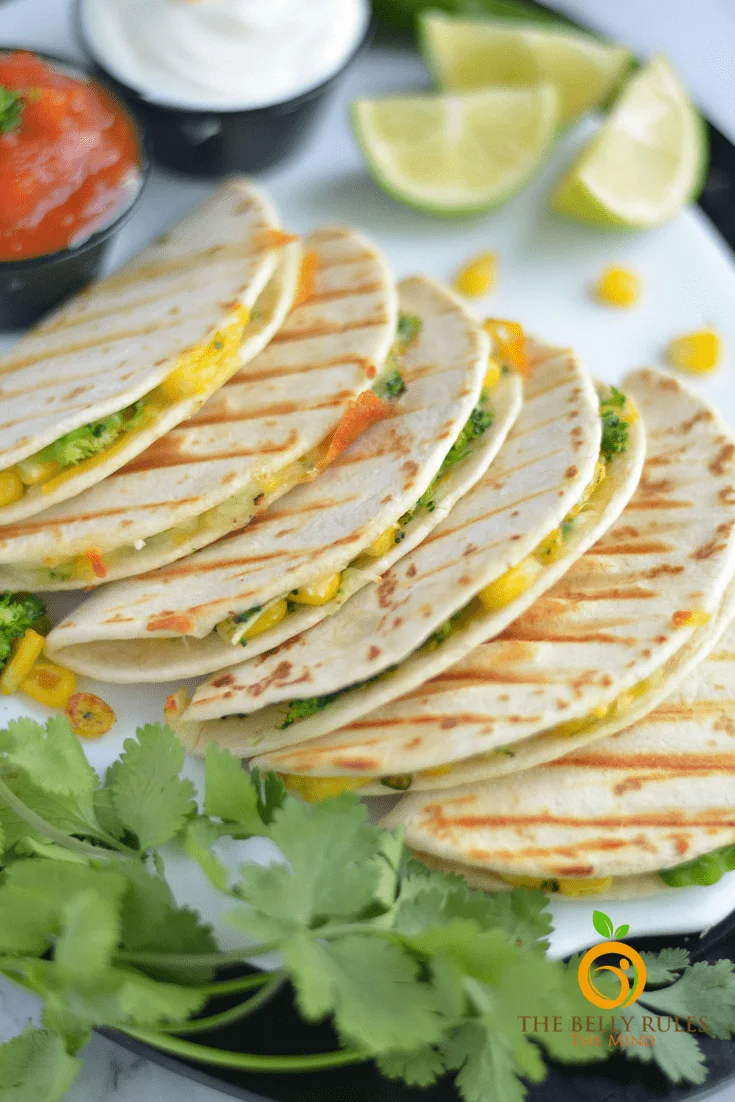 The mixture is stuffed between two tortillas along with cheese. Single quesadilla is prepared with one tortilla and folded like a half moon. Quesadilla is a kid's friendly recipe with loads of gooey cheese. The addition of broccoli and corn in this Vegetarian Quesadilla Recipe makes it more nutritious and gives a vibrancy to the dish with its color. Serve this Vegetarian Quesadilla with Homemade Roasted Salsa Recipe, Tomatillo Salsa Verde on the sides or along with our refreshing Pineapple guacamole Recipe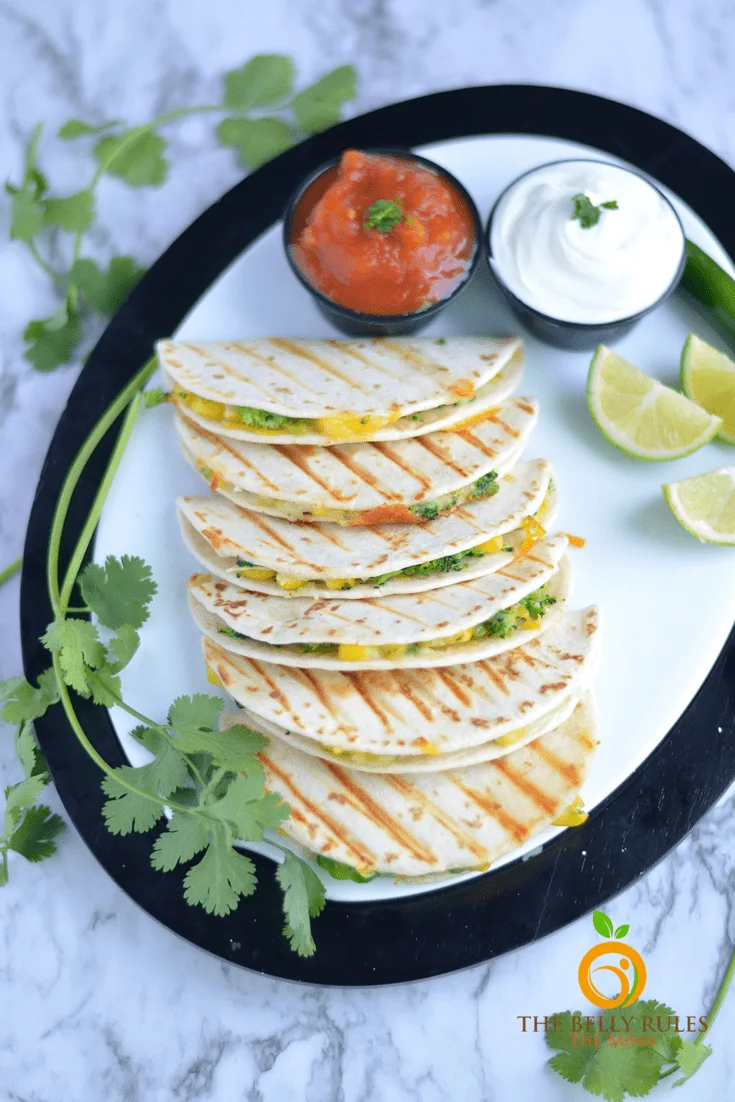 It can serve as an excellent finger food for get-togethers, keeping in mind that the football world cup fever is ON. Broccoli Quesadillas made with tortillas takes only a few minutes to prepare and the final dish is healthy and delicious, perfect for quick snack, lunch or dinner. You can use any leftover cooked broccoli or you can just cook the broccoli especially for this recipe.
Did u know:
Broccoli is high in vitamin C and dietary fiber.
It also contains multiple nutrients with potent anti-cancer properties.
A single serving provides more than 30 mg of vitamin C and a half-cup provides 52 mg of vitamin C
Do try our other Tex-Mex recipes
Southwestern Spicy Chipotle pizza
Burrito Bowl
Pineapple Guacamole
Pina colada
Tex Mex lasagna
Southwest chipotle salad
Ceviche
Vegetarian Quesadilla with Broccoli and Corn
Ingredients
Ingredients
1 cup broccoli, steamed and chopped
1 cup cheese, shredded ( for vegan version used vegan shredded cheese of your choice )
1/4 cup corn kernels
2 garlic clove (minced)
1/2 teaspoon coriander and cumin powder
6-8 gluten free tortillas (small) You can even use left over chapati (Indian flatbread) to make them
Salt and freshly ground black pepper, to taste
2 tablespoon olive oil
Instructions
Mix the chopped broccoli, corn and cheese add in the salt ,coriander and cumin powder & garlic . .
Fill the tortilla with the filling .
Heat a cast iron pan . Spray some olive oil.Place the tortillas in the pan.
It will take few minutes on each side.Till all crispy and golden brown,cut and serve with lite sour cream & lettuce.