Complete Indian Spices Guide -Indian spices have lovely, distinct flavors and aromas. If you are new to Indian cooking, then you should become familiar with the different spices used in Indian cooking. Our complete Indian spice guide will help you prepare tasty, authentic Indian recipes at home. The Spice Box....Indian Kitchen Essentials
LET'S BE FRIENDS ON PINTEREST! WE'RE ALWAYS PINNING TASTY RECIPES!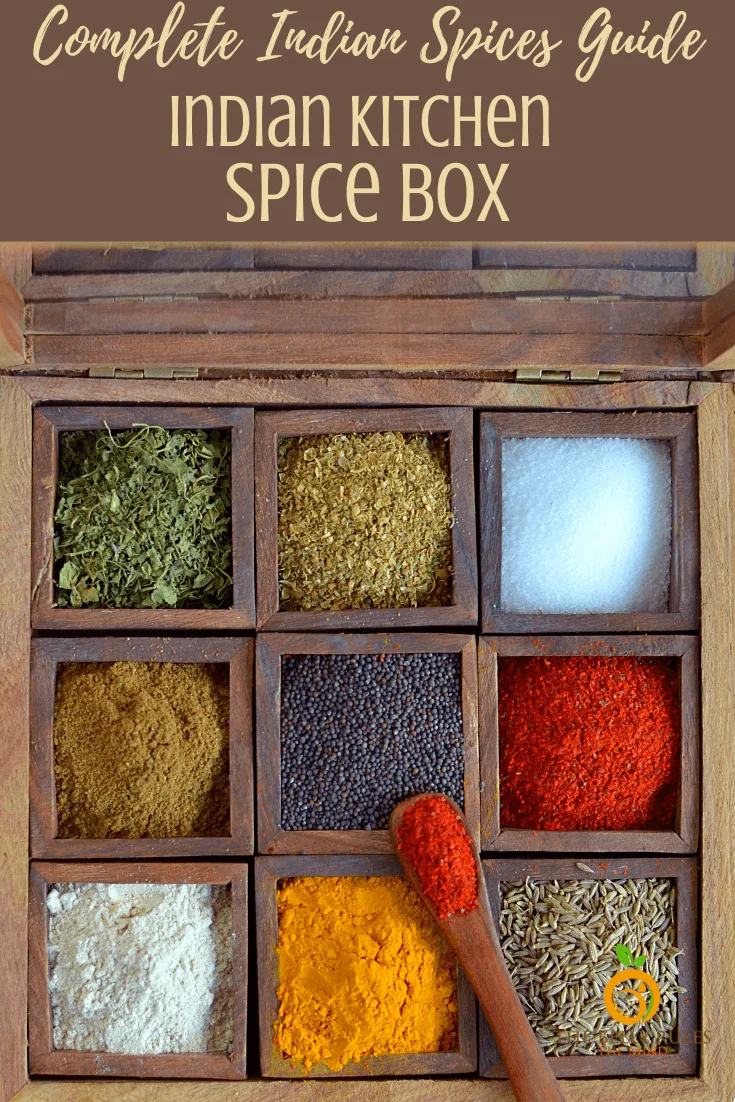 What are Indian spices?
Indian spices natively grow in India or in nearby regions of Asia. Indian spices often contain bold flavors and aromas. You will normally find them either ground or whole. Both have their uses in Indian cooking.
With the popularity of Indian food increasing in the United States, you can find many spices in your local grocery store. Spices you can't get at a grocery store, you can often buy online without issue.
Ground Indian Spices
Ground Indian spices are powdered or dried, crushed versions of whole spices. They are convenient to add to dishes and add a lot of flavor and color. These are some of the most common ground spices you will see in Indian recipes.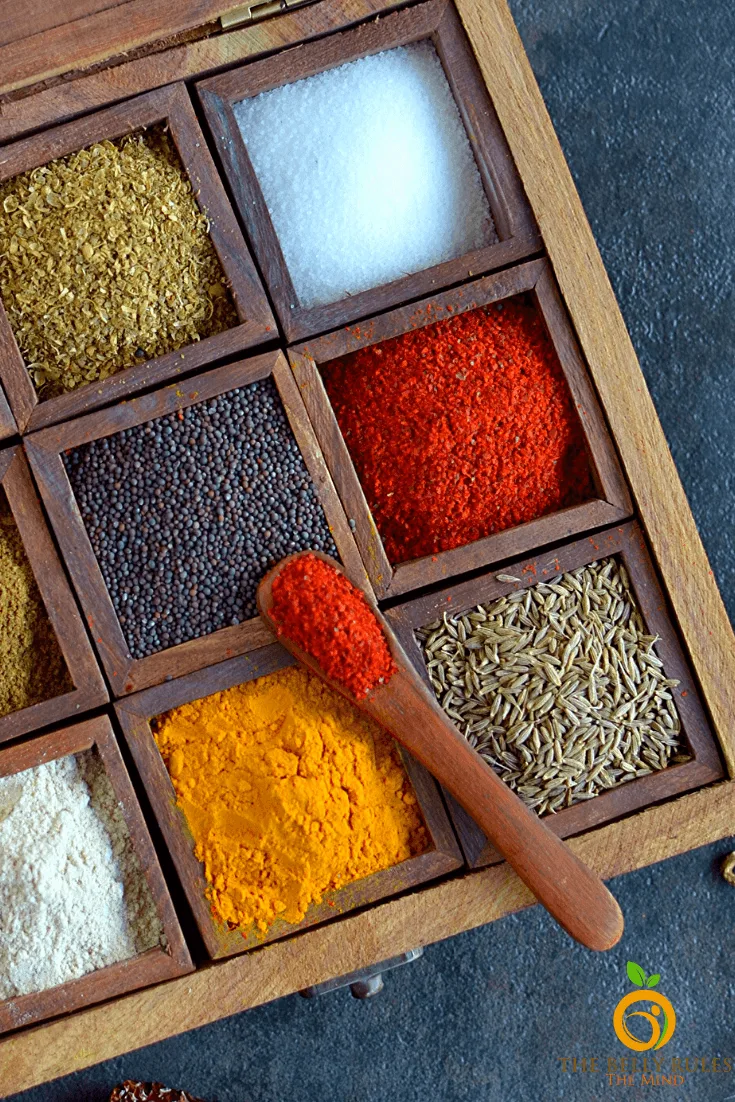 Turmeric powder / Haldi
Turmeric powder or Haldi comes from the turmeric plant. It is a common ingredient found in many Indian and Asian foods.
How does it taste?
Turmeric has a slightly bitter, warm flavor. It is used to provide both color and flavor to curry powders, cheeses, mustard and butter. Turmeric is also mildly aromatic and smells similar to ginger and orange.
What recipes use Turmeric?
Turmeric provides great flavor to several recipes. If you are looking for a healthy drink, you can try Turmeric Golden Milk. Or if you are looking to feed your hungry family, you can try Instant Pot Yellow Turmeric Rice.
Red chile powder / Laal Mirchi
Red chile and powder are two different spices, Red chile is an Indian spice made from red chile peppers and Red chili powder is a blend of spices also used in Tex-Mex cooking. It usually contains varying amounts of cayenne and other spices. In Indian cooking, a recipe that calls for red chile powder refers to the ground chile peppers NOT the Tex-Mex blend.
How does it taste?
Red chile powder adds heat to a dish. It can also cause the food or sauce to have a slightly red color. Often you can adjust the amount of red chile used in a recipe based on how hot and spicy you want the food to taste.
What recipes use red chile powder?
Red chile powder is used to add heat and spice to a dish. One of my favorite bean curries uses red chile powder. You can find the recipe for Instant Pot Rajma Chawal Recipe-(Kidney Beans Curry) here. Another of our favorite recipes, Instant Pot Dal Palak, also uses chile powder to add a bit of extra spice.
Garam masala
Garam masala is a popular blend of spices used throughout India. The spices are often toasted before being ground to help bring out the flavor and aroma. Though "garam" means "hot," the spice blend is not necessarily spicy. The spices often found in garam masala include:
cumin

clove

black pepper

cinnamon

cardamom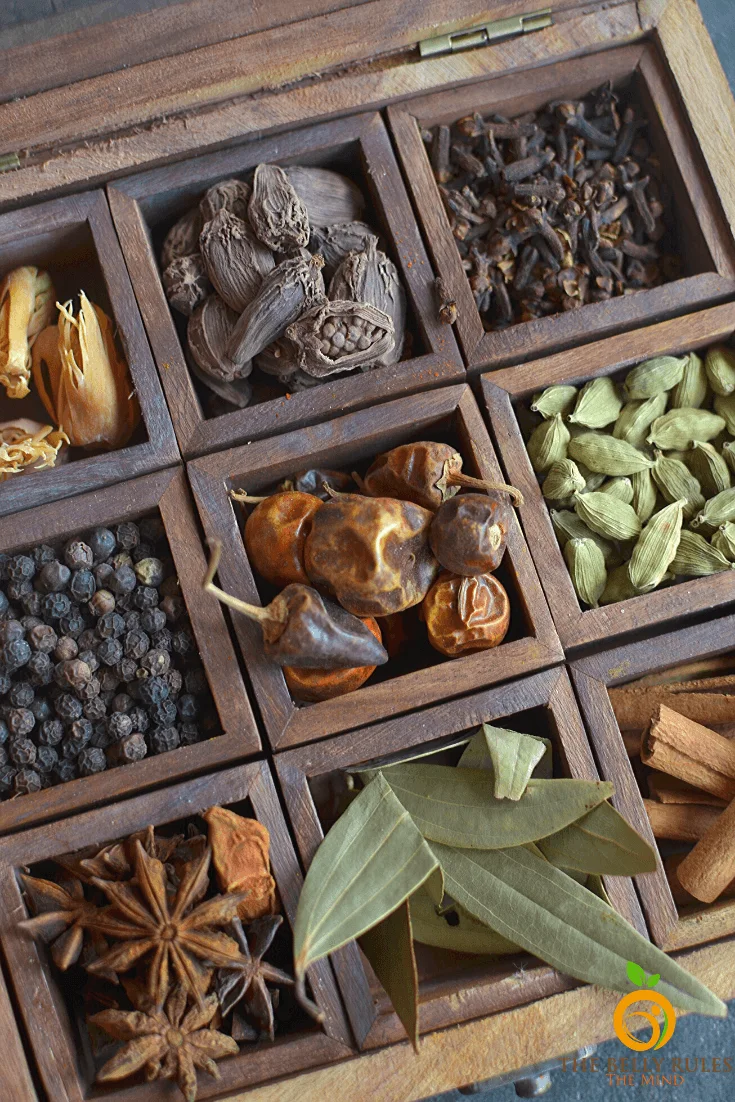 How does it taste?
The taste and heat level of garam masala varies by region in India. In the northern regions, the spice mix only uses black pepper for heat. This gives the garam masala a milder, often sweeter flavor. Towards southern regions, people tend to add more heat to the spice mix, making it a hotter spice blend. Before using the blend in a recipe, you should test how spicy it is if you are not sure.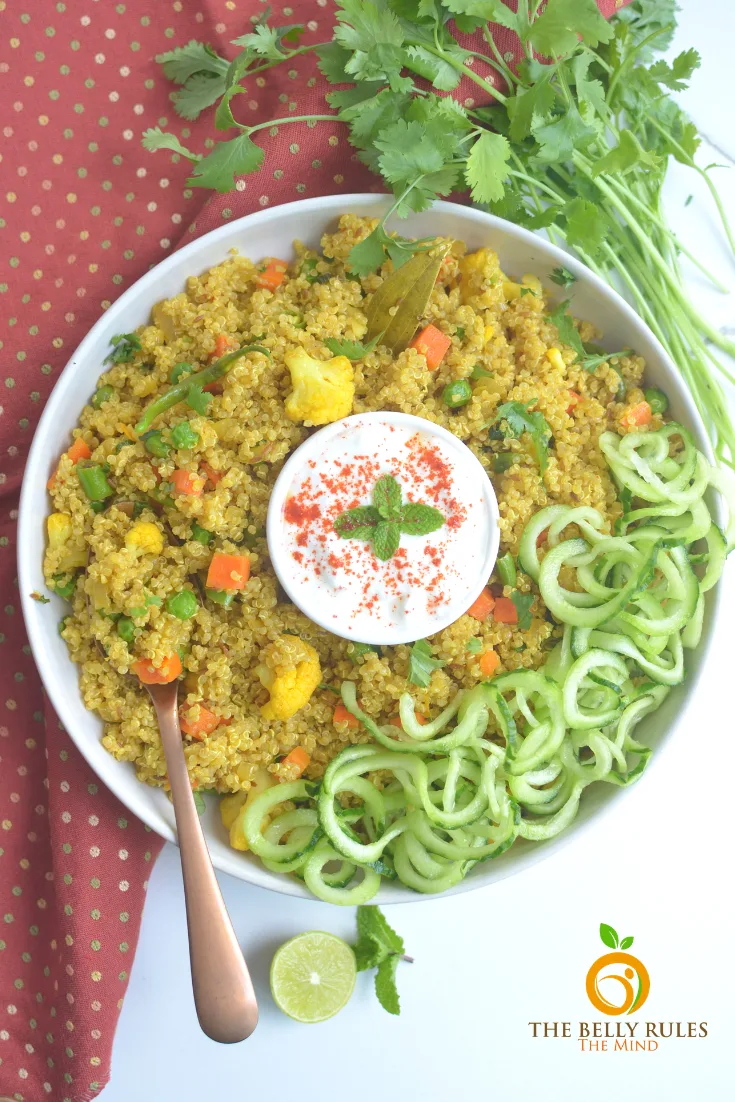 What recipes use garam masala?
You can use garam masala as a topping or towards the end of cooking. You can add it to curry dishes, soups, lentils, or eggs. One of our favorite recipes that uses garam masala is Instant-Pot Kale Saag Paneer. Another of our favorites is Instant Pot Vegetable Quinoa Pilaf.
Cumin seeds / Jeera / Zeera
Cumin seeds or ground cumin is a popular spice in Indian, Middle Eastern, North African and Latin American cooking. There are several varieties of cumin. The most common is yellowish-brown in color.
How does it taste?
Cumin has a distinct earthy, warm flavor and distinctive aroma. Cumin also adds a bit of a tang to curries or adobo spice blends.
What recipes use cumin seeds?
Lots of Indian recipes use cumin seeds for added flavor and aroma. You could try our Restaurant style dal Tadka , which uses cumin seeds and a lot of other spices. If you want to try a delicious rice dish, then Perfect Jeera Rice (or Cumin Rice) is a great recipe to try.
Mustard Seeds / Rai
Mustard seeds are a tiny round spice from the mustard plant. These come in three varieties: black, yellow and brown.
How does it taste?
The different mustard types taste slightly different. Yellow mustard is slightly sweet and spicy. Brown mustard seeds have a bitter taste and are hotter than yellow mustard. Black mustard seeds are also hot but have a sharper bite to them than brown seeds.
What recipes use mustard seeds?
Mustard seeds are a popular spice in Indian cooking. If you are looking for a healthy snack to serve the family, you can try Homemade Instant Khatta Dhokla, which uses mustard seeds as part of the tempering. You also use mustard seeds on Khaman Dhokla or Kandvi as part of its topping.
Cumin & Coriander powder / Dhana Jeera Powder
Cumin and coriander powder is a mixed blend of the two spices. It is a popular Indian spice blend used on vegetables, curries, and soups. The two spices in the blend provide a good balance of flavor.
How does it taste?
Cumin and coriander powder has a bit of a lemon flavor. It is also warm and tangy. The cumin offers a strong, slightly bitter taste while the coriander offers a lighter, sweet flavor.
What recipes use cumin and coriander powder?
Cumin and coriander powder add flavor to several recipes. A favorite of ours is Instant Pot Punjabi Kadhi Pakoda. Or you can try Punjabi Pindi Chole, which offers a great take on chickpeas.
Dried Fenugreek Leaves / Kasoori Methi
Dried fenugreek leaves, known as kasoori methi, is an Indian spice that people have used for centuries. By itself, it has a bitter taste. But when added to curries and other dishes, fenugreek leaves add a pop of flavor.
How does it taste?
Fenugreek leaves have a bitter taste. Raw leaves are often added to salads. Dried leaves are added to cooked foods such as curries.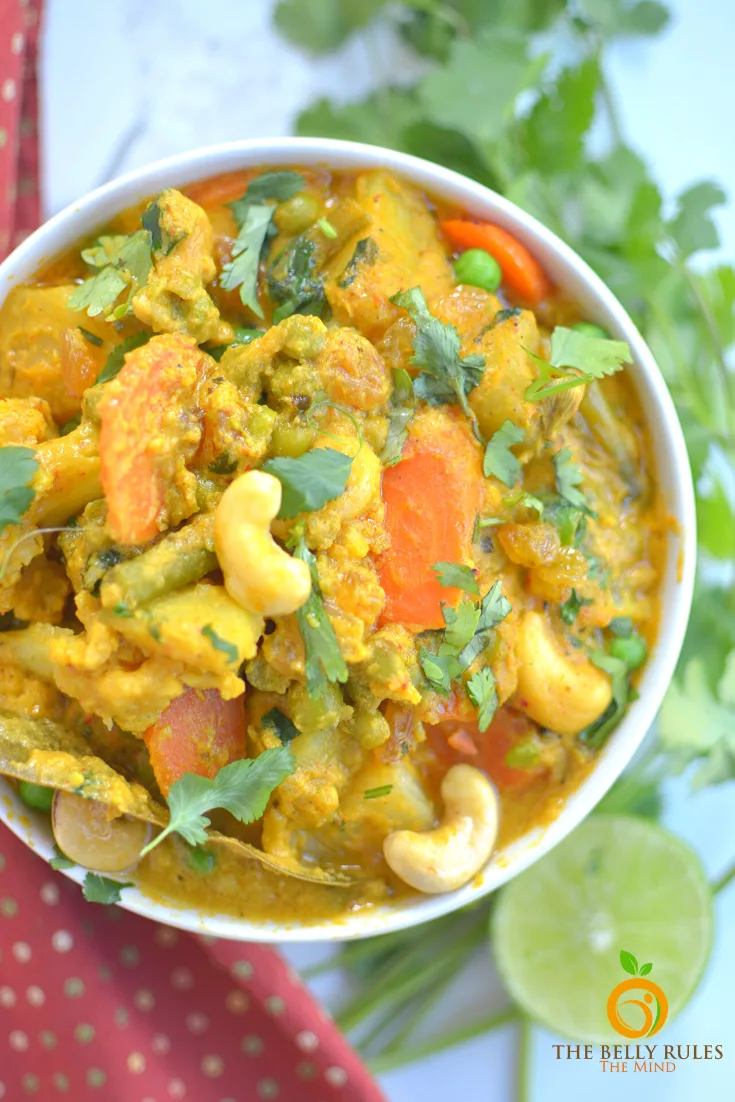 What recipes use dried fenugreek leaves?
Dried fenugreek leaves are found in many Indian recipes. One of my favorites is Instant-Pot Kale Saag Paneer. If you want to try a recipe with fresh fenugreek leaves, you can try our Navratan vegetable korma
Asafetida / Hing
Asafetida is a pungent spice used to bring out the flavors of other spices. Despite its strong, slightly unpleasant smell, asafetida really helps bring out the flavors in different recipes.
How does it taste?
Asafetida is similar to salt. You use it to help bring out the flavors of other spices. Used incorrectly, it produces a strong, somewhat unpleasant flavor. It needs to be added during the cooking process to prevent its flavor from overpowering the other flavors. It is often best to cook the asafetida directly in a fat like ghee or oil.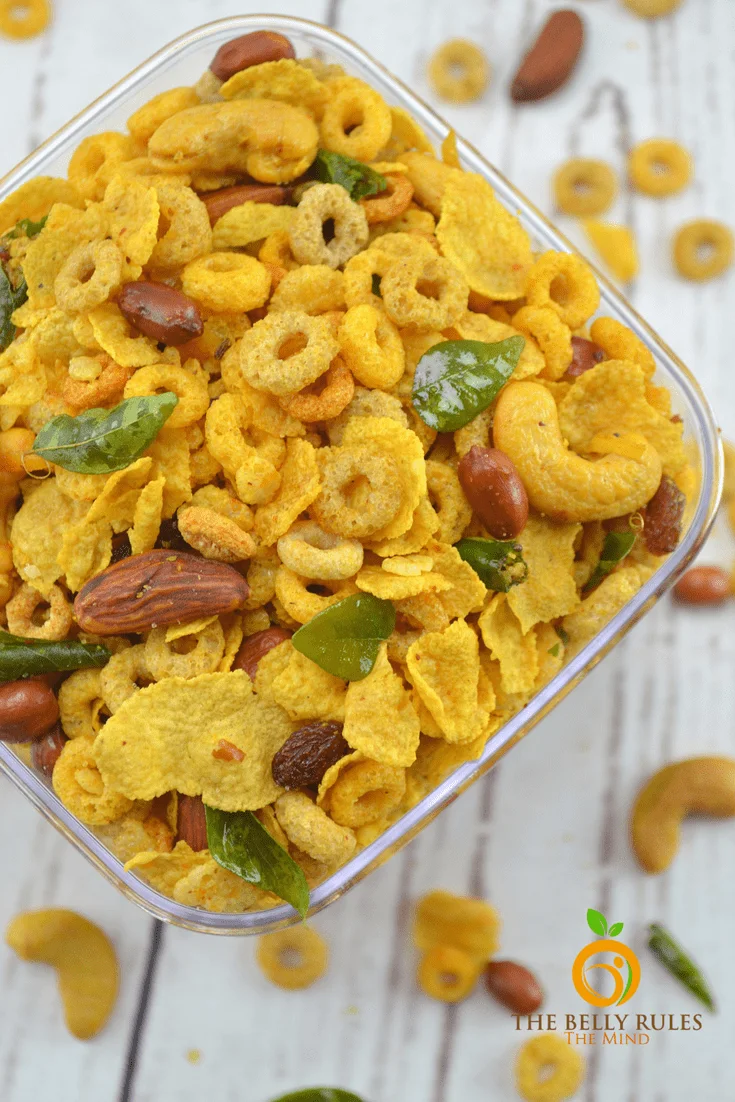 What recipes use asafetida?
You can add asafetida to a number of Indian dishes to bring out the flavors of the other spices. If you are hungry for a snack, you could try Cereal Chivda (Savory Trail Mix) Vegan, which uses asafetida to bring out the flavors. Another of my family's favorite snacks that uses asafetida is our Masala Puffed Rice.
Namak / Salt
Namak is a white salt used in many recipes to enhance flavor.
How does it taste?
Namak has a bit of a sharp taste. It also enhances the flavor of spices when added to a recipe.
What recipes use namak?
Lots of recipes contain salt to help enhance the flavor. It is an important ingredient in Pizza Flavored Namak Pare / Crackers, which are great for a snack. Or you can make homemade Goldfish crackers following this recipe that greatly reduces the salt content.
Whole Indian Spices
Whole Indian spices give recipes incredible flavor. They are a very important part in many Indian recipes. Often, you need to cook them for a few minutes in an oil or ghee until they pop or crackle. The heating process releases their flavor.
Bay Leaf / Tej Patta
Tej Patta are Indian bay leaves. Most people are familiar with European bay leaves, which you use a lot in Mediterranean recipes. Indian bay leaves are a stronger variety. You should not use European bay leaves in Indian recipes because of the major difference in flavor.
How does it taste?
Indian bay leaves taste a bit like cloves, cassia, and cinnamon combined. You should crush the leaves before adding them to a recipe to bring out the best flavor.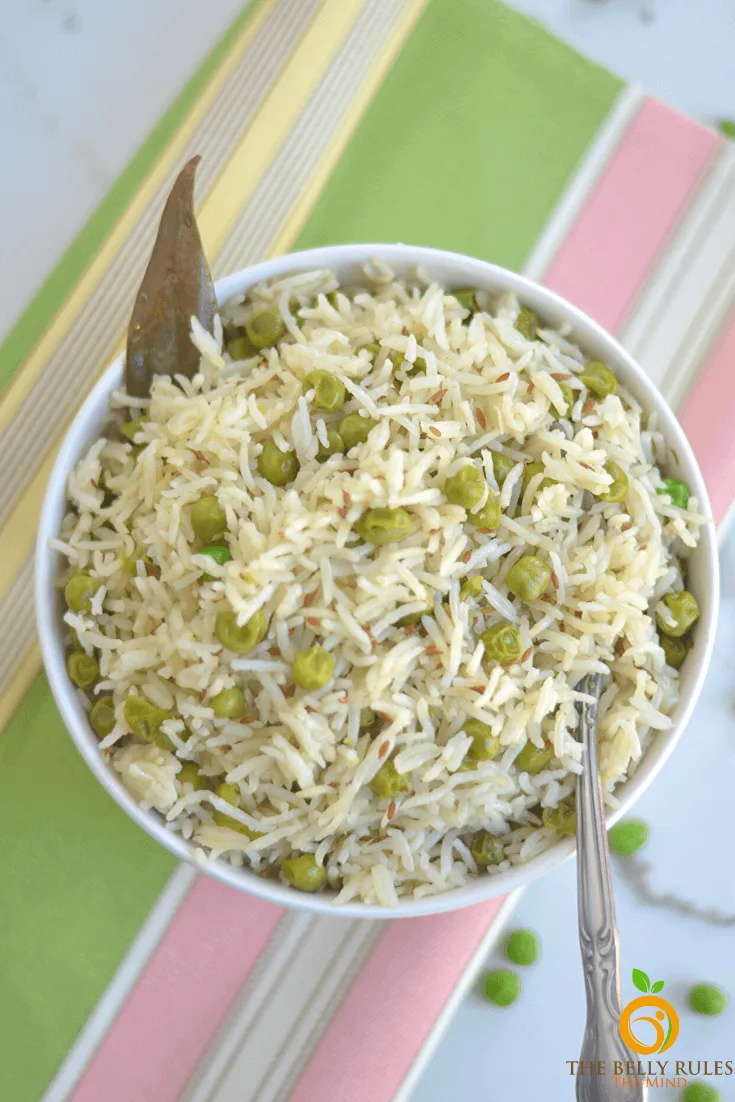 What recipes use bay leaves?
You can add bay leaves to several different Indian recipes. One tasty recipe you can try is Instant pot peas pulao or our Black bean soup
Cloves / Laung
Cloves are an important spice in Indian recipes. Whole cloves are often cooked with other spices. Ground cloves are often added to other spice blends and masalas.
How does it taste?
Cloves have a strong, sweet and hot flavor. They are often used with other spices to add flavors that are distinct to Indian dishes.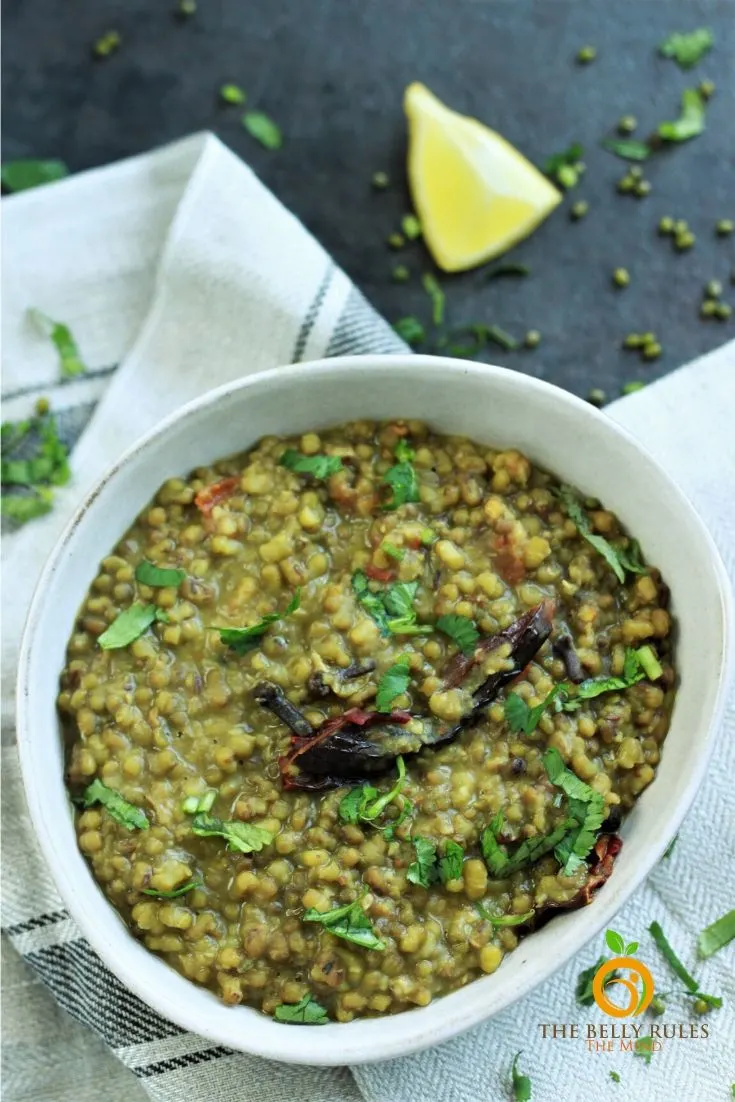 What recipes use cloves?
You can use cloves in several recipes like our Green Moong Dal Instant Pot & Stove Top recipe. Cloves also enhance the flavor of Lapsi, a traditional Indian sweet.
Cardamom Pods / Elaichi
Cardamom pods are a fragrant spice. They are used to add more complex flavors to a dish.
How does it taste?
Cardamom pods are bursting with minty, spicey, citrusy and herbal flavors all at once. Using cardamom pods in a recipe adds a lot of flavor to the foods they are in.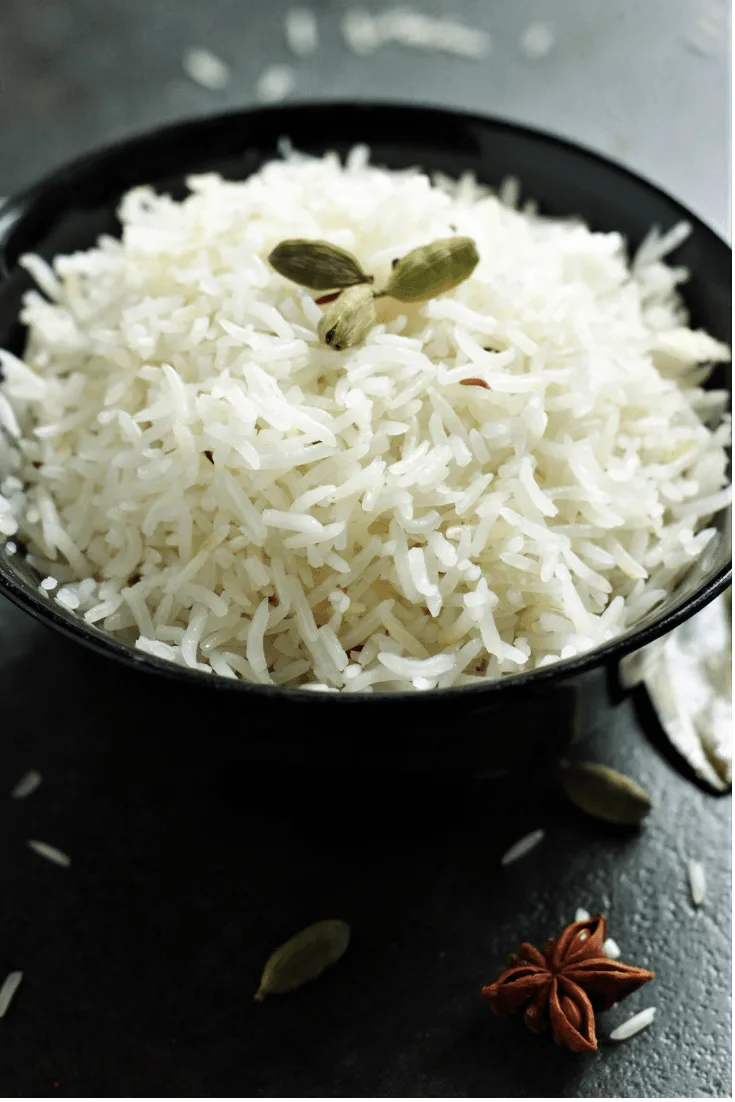 What recipes use cardamom pods?
Cardamom pods add great flavor to rice dishes. You can add it to Instant Pot Basmati Rice / Brown Basmati Rice for an amazing flavor your whole family will love. Cardamom is also used in Indian desserts like Rice pudding Kheer
Mace / Javitri
Mace is a traditional Indian spice. It is used in both baked dishes and more savory dishes, so it is very versatile.
How does it taste?
Mace tastes like a combination of black pepper and cinnamon. If you are familiar with nutmeg, it is similar to nutmeg. But it has a stronger aroma than nutmeg.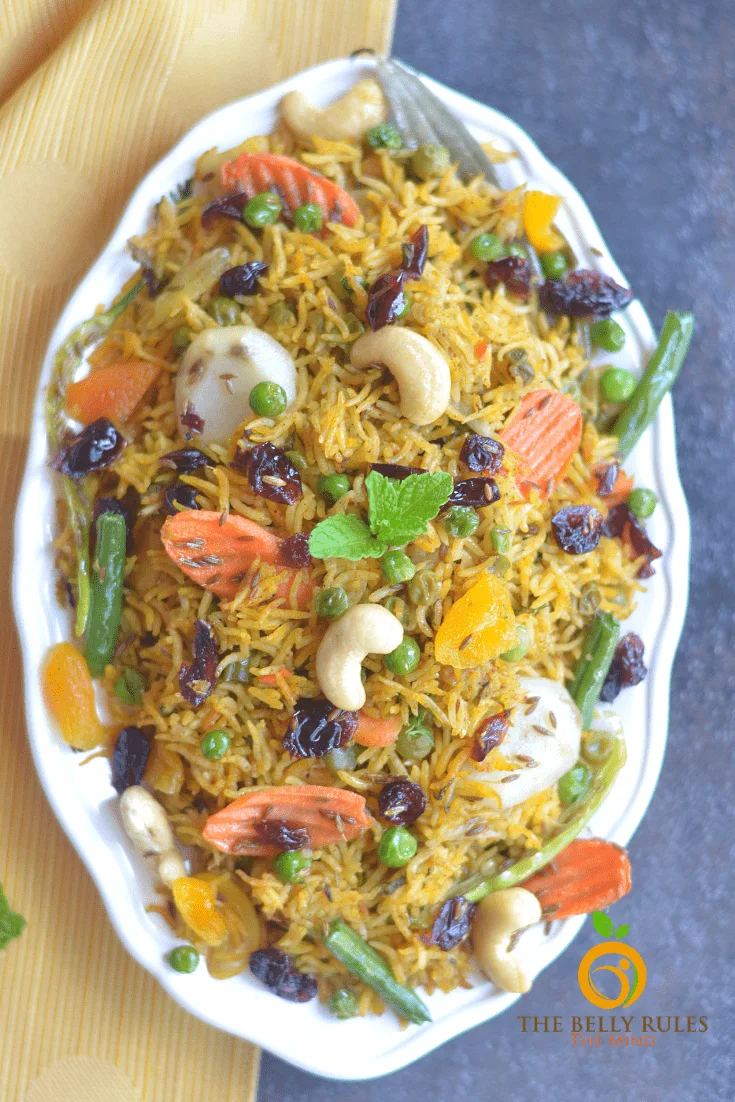 What recipes use mace?
Mace is found in a variety of foods. It adds flavor to my No Fry Shaam Savera Appe recipe. Or if you are looking for a main course, you can try Instant-Pot Vegan Vegetable Biryani.
Cinnamon Stick / Dal Chini
Cinnamon sticks are often used as a whole Indian spice in many recipes. It adds a bit of sweet heat to foods. It is also a key ingredient in Garam Masala.
How does it taste?
Cinnamon adds a spicy, somewhat sweet flavor to different recipes. It is used in savory recipes, like curry, but it is also used in baked goods such as cakes.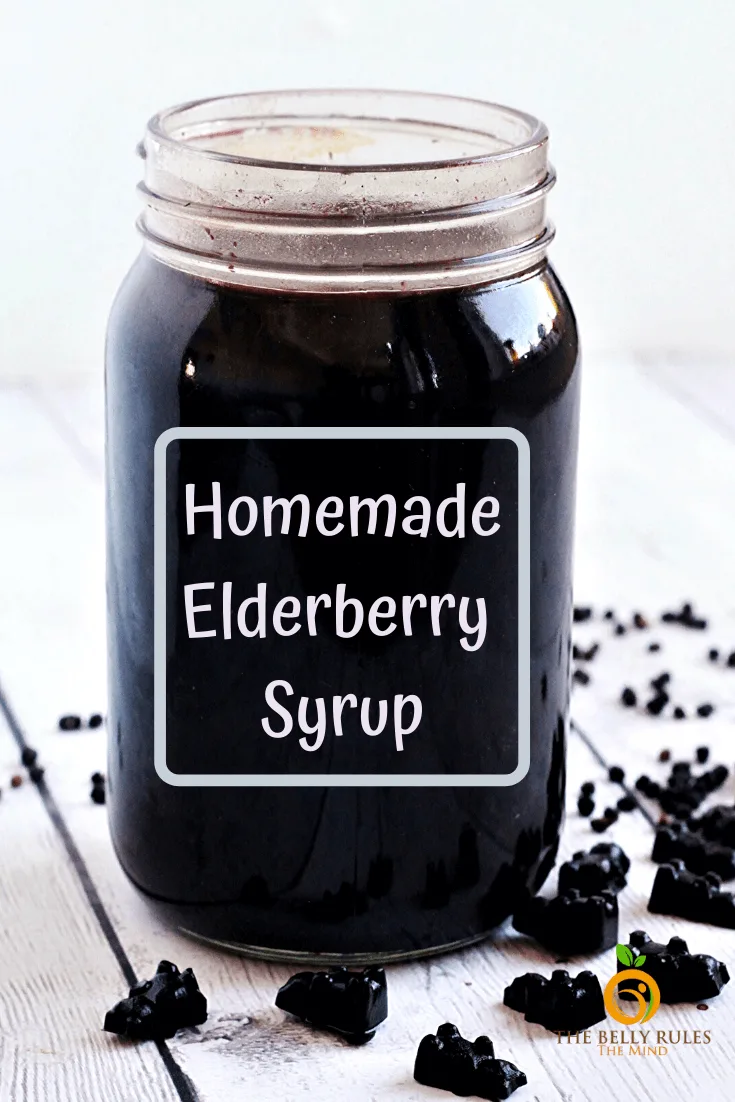 What recipes use cinnamon sticks?
Several Indian dishes use cinnamon sticks. You use cinnamon sticks in recipes like Instant-Pot Vegan Vegetable Biryani. You can also find cinnamon sticks in homemade Elderberry syrup
Dried Red Chili / Sukhi Lal Mirchi
Dried red chili is a dried, whole chile pepper. When added to Indian recipes, dried red chile adds additional spice to the recipe.
How does it taste?
Dried peppers are generally hotter than fresh versions. They add spice and heat to soups, curries, and other Indian foods.
What recipes use dried red chili?
You can add whole, dried red chiles to several recipes. You can add dried chile peppers to soups or curries like this Instant Pot Kadai Paneer Or our Popular street food Pav Bhaji
Star anise / Chakr phool
Star anise has a strong flavor similar to licorice. It is generally a sweet flavor that is used in savory recipes. Due to its strong flavor, you should use only a small amount in each recipe.
How does it taste?
Star anise tastes similar to licorice. It is a strong flavor, so you only need a small amount per recipe. It offers a generally sweet flavor that can complement other flavors like citrus and cinnamon. You might know it from chai tea.
What recipes use star anise?
You can find star anise in many Indian recipes including our 30 minute Indian masala curry and our Instant Pot vegetable paneer biryani. The star anise gives lends distinct flavor to both of these recipes.
Black Cardamom / Kali Elaichi
Black cardamom offers a different taste than green cardamom. Green cardamom is often added to sweet recipes. Black cardamom is usually added to savory dishes to counterbalance other strong flavors.
How does it taste?
Black cardamom is slightly minty in flavor. It also provides some heat to recipes, similar to black pepper.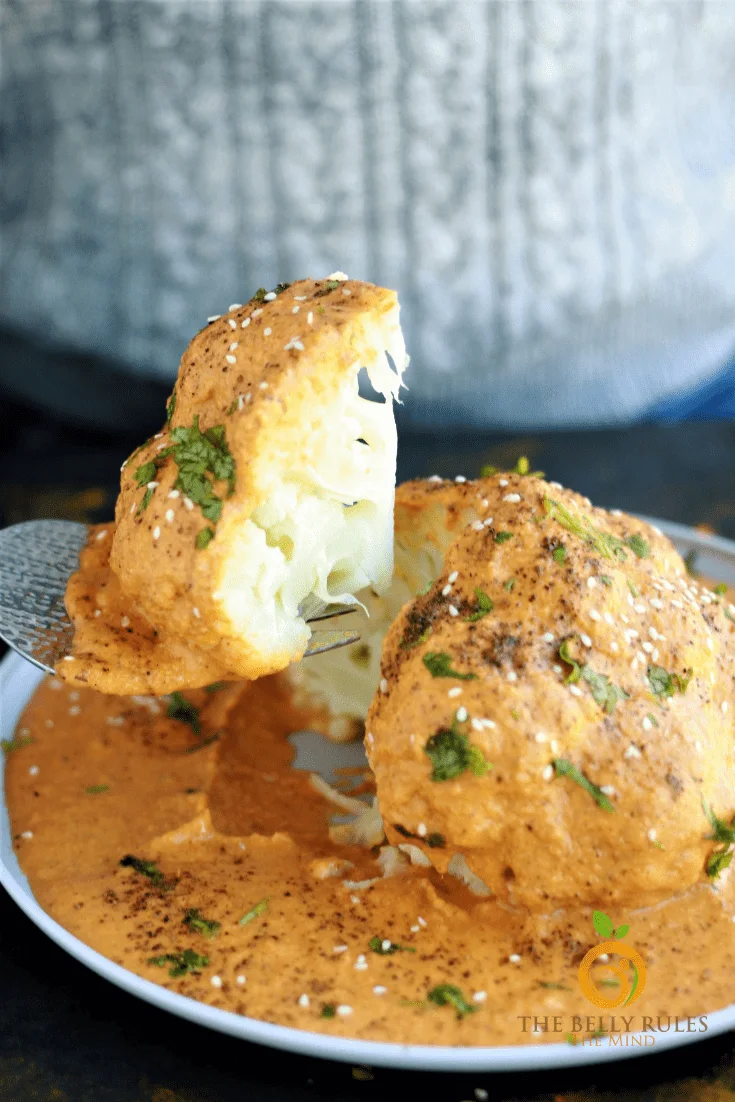 What recipes use black cardamom?
You can find black cardamom in this Instant Pot whole roasted cauliflower in Indian Masala.
PepperCorn / Akhi Kali mirchi
Peppercorns are whole versions of black pepper. Peppercorns add a strong, spicy flavor to foods like curries and soups.They can also help in making homemade tonics that may help you feel better when you have a cold.
How does it taste?
Peppercorns have a slightly earthy flavor. They offer spicy bite to recipes and are slightly aromatic.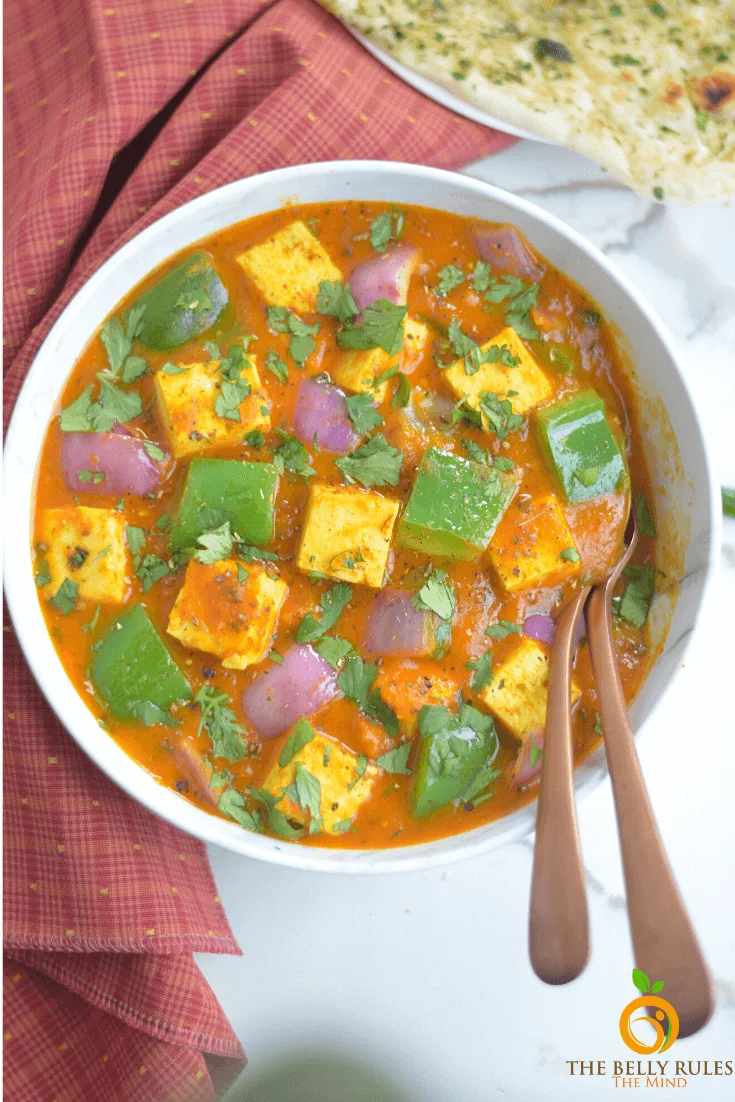 What recipes use peppercorn?
Peppercorns can add spice to foods. They can also be used in herbal cold and flu remedies, like this Homemade Remedy for Cold & Cough. You can also grind up fresh peppercorns to make Kadai Paneer.
Should I buy big packs of Indian spices?
Try not to buy large packs of spices , they'll probably go stale before you can use them all up.They don't spoil, but spices and herbs do lose their strength.
How should I store my Indian spices?
Most Indians keep the commonly used Indian spices in a SpiceBox. Traditionally its a stainless steel spice box, but you can also find plastic and wooden Spicebox. Spices can be also stored in amber jars with airtight lids or even mason jars with airtight lids . These can be easily tucked away in a drawer or cupboard away from heat and direct sunlight.
If you like our recipes, don't forget to come back and leave your feedback and star rating. We would be THRILLED if you would take a pic and tag us on Instagram @dbellyrulesdmind or Facebook @thebellyrulesthemind