This crostini bread recipe pairs perfectly with your favorite toppings. You can serve this to your hungry family as a fun weekend lunch, or you could make a large batch for your next party or get together. Either way, you'll love this simple, Italian appetizer.
LET'S BE FRIENDS ON PINTEREST! WE'RE ALWAYS PINNING TASTY RECIPES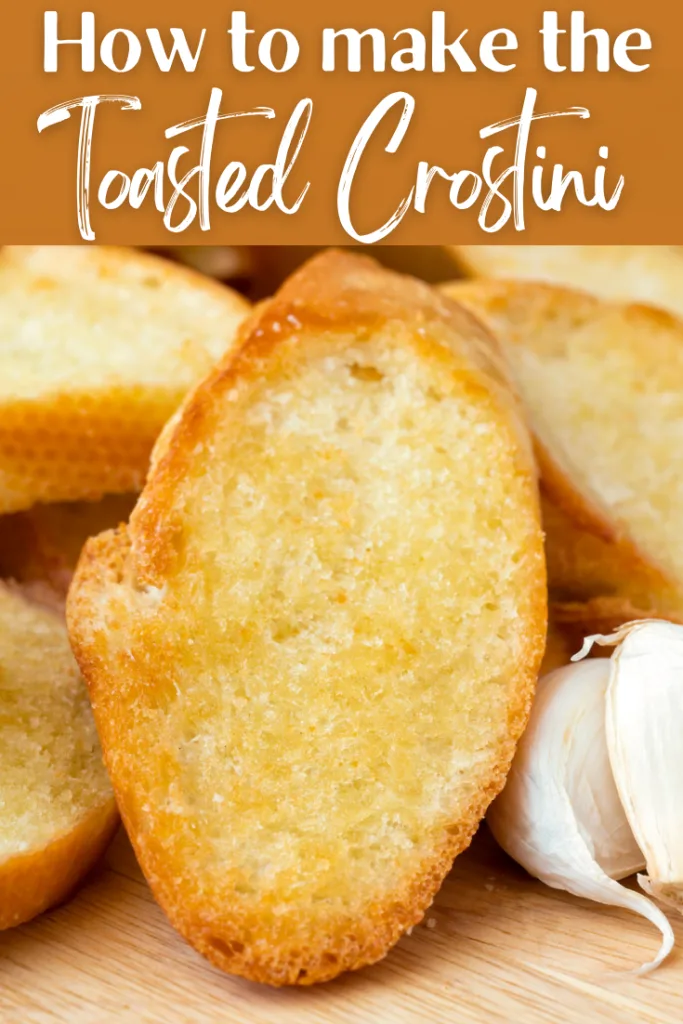 Jump to:
What is Crostini?
Crostini is an appetizer that comes from Italy. In Italian, it means "small toasts".
Crostini are slices of thin toasted bread that you typically brush with a little bit of olive oil. Traditionally, people serve them with savory toppings like cheese, anchovies, olives, and other options. Sometimes people serve them simply with olive oil or a dipping sauce.
Crostini vs Bruschetta
These bread appetizers are similar, but they have some distinct differences.
What is Bruschetta?
In Italian, bruschetta comes from the word "bruscare," which means "to roast over coals." When you make bruschetta, you typically use rustic Italian bread or sourdough.
The Difference Between Crostini and Bruschetta
When you make crostini, you typically use a smaller, rounder white bread, like a baguette.
Both can include any toppings you'd like, though most people top bruschetta with a combination of olive oil, tomatoes, vinaigrette, and garlic.
Crostini Recipe
Our crostini recipe is super easy to make, and we give you instructions on how to do it in both the oven and the air fryer.
By making the toast in the air fryer, you can free up your oven to cook bake other treats. It also makes a lot less heat, which means you can make the crostinis anytime of year, even when it is really hot.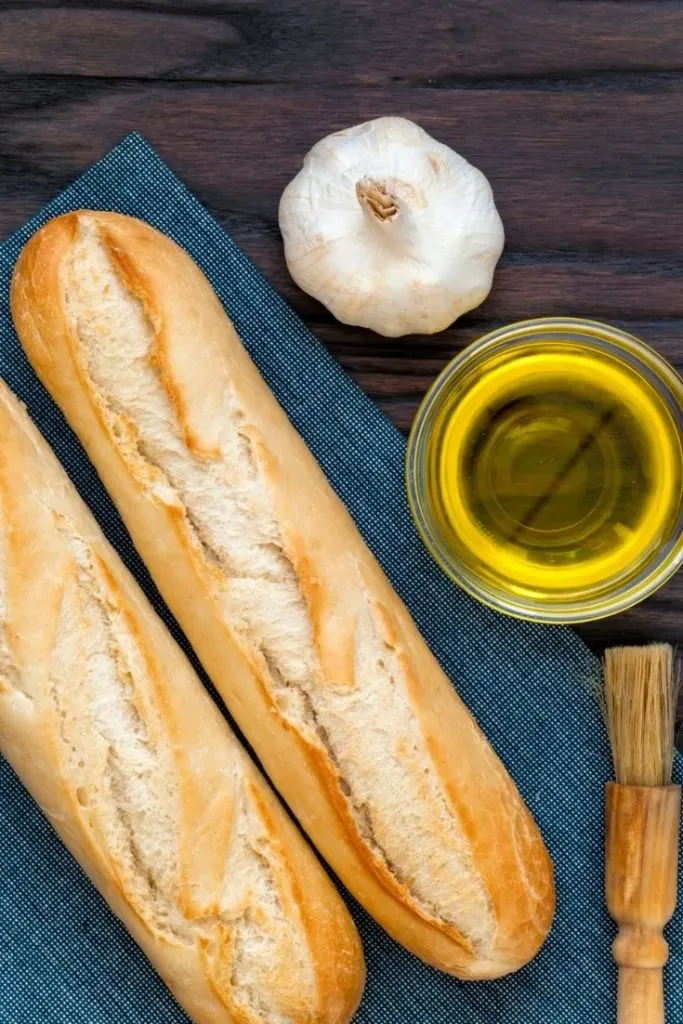 Crostini Bread Ingredients
You only need a few ingredients to get started. Of course, if you want to make homemade toppings, spreads, or dips, you'll need ingredients for those too. Here's what you need for the basic recipe:
Baguette - You want to use an elongated, crusty bread and cut it into about ¼ inch slices.

Extra-virgin olive oil - You could also use another light tasting oil, but olive oil is more traditional.

Garlic cloves - You can use the garlic to rub some flavor on each piece, but you can skip the garlic entirely.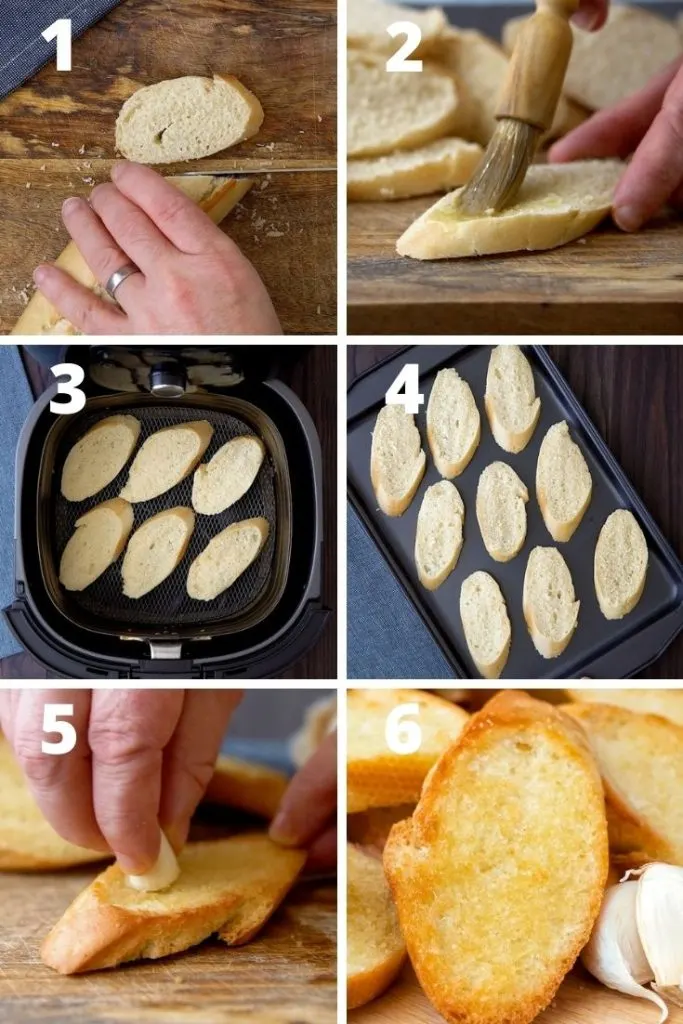 How To Make Crostini
First, preheat your air fryer to 360 F or your oven to 400F.

Next, cut the baguette into diagonal slices so you get as much surface space as possible.

Once they are all sliced, use a pastry brush to lightly coat one side with the olive oil.

Next arrange them in the air fryer basket or on a baking sheet with the oil side down.

Place the basket in the air fryer for 3 to 4 minutes or place the pan in the oven and then bake for 12 to 15 minutes or until golden brown.

Finally, remove the toast from the oven and allow them to cool before rubbing them with halved garlic cloves.
Best Bread to Use for Crostini
Traditionally, crostinis use thin French baguettes to create small round shapes. Though traditional recipes use bread with a white flour, you could use sour dough, whole wheat, or whole grain bread varieties if you prefer so long as they are shaped into a baguette.
And yes, you can use other varieties of bread if you like, but you will technically no longer be making crostini.
Fresh or Stale Bread for Crostini?
We use bakery fresh, crusty bread when we make crostini. However, you can use day or two old bread that is a bit stale. When you toast the bread slices in the oven or air fryer, you won't be able to tell the bread was not fresh.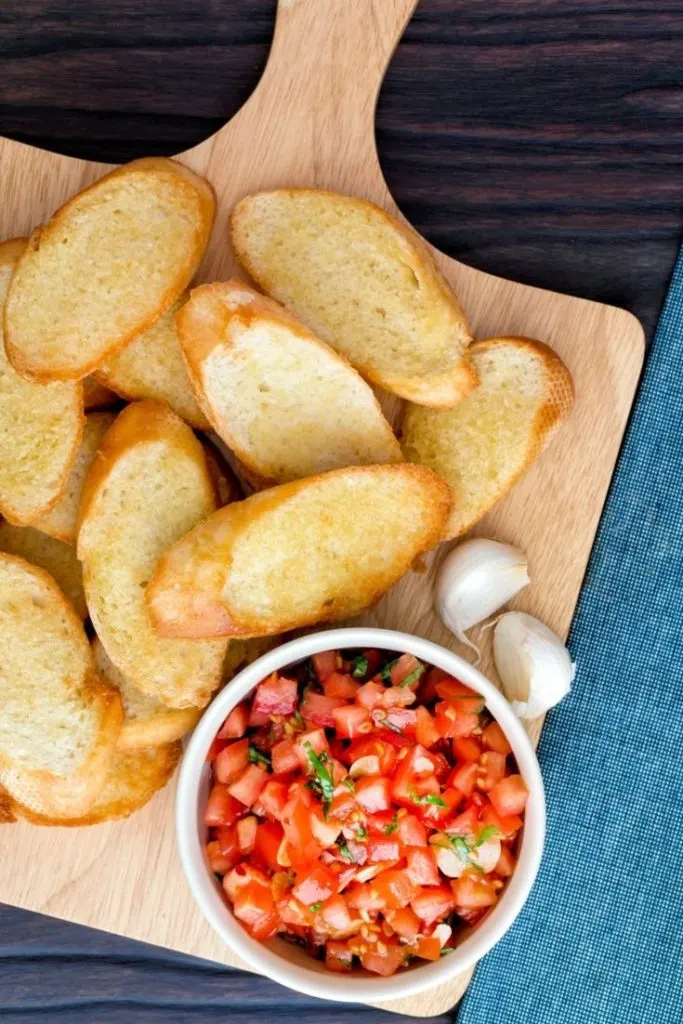 Ideas for Crostini Toppings
When you make crostini, here are a few topping suggestions to get you started:
Cream cheese and scallions

Sliced or shredded cheese

Roasted asparagus

Roasted red pepper

Olives

Tapenade

Seafood

Butter

Salt and pepper

Other roasted veggies

Fresh tomatoes
How Do You Eat Crostini?
Crostini is typically served as an appetizer. It goes great with other finger food appetizers, which makes it a great dish to serve at a party or other get together. Here are some other recipes you can serve when you are ready to make crostini:
Are Crostini Served Hot or Cold?
In most cases, you allow the bread to cool before placing toppings on top and serving. Beyond that, you can serve both hot or cold food on top of the toast slices. It really comes down to a matter of taste and what you are in the mood for.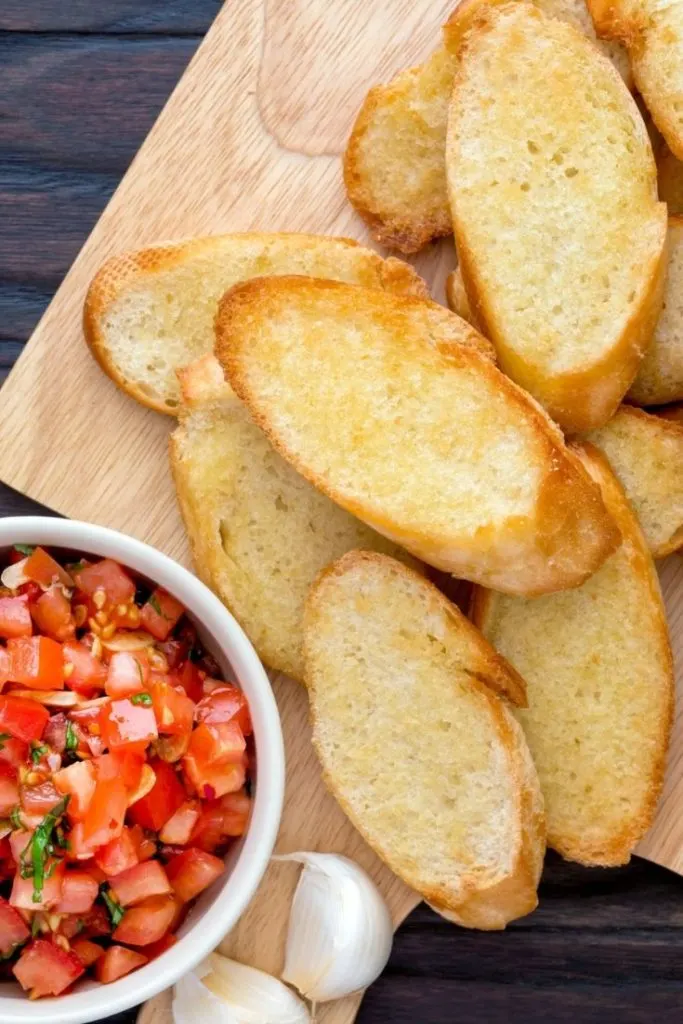 Can this Crostini Recipe be Made Ahead?
While you can toast the bread a day or two ahead, we recommend making them relatively soon before you are ready to serve them. They generally taste better and won't have a chance to go stale.
If you make them ahead, make sure you store them properly in an air tight container.
Storing and Freezing Crostini Bread
You can store them in an airtight container. To store, allow the toast to cool completely and then place the toast slices into the container and seal it tightly. You may want to place them back in the oven for a few minutes to give them a bit more crispiness.
To freeze, follow similar steps and then place in your freezer for up to 6 months. You can reheat them by placing them in the oven and heating until they are thawed and crisp again.
Crostini FAQ
Here are the answers to some frequently asked questions that you might find helpful when making this recipe.
Is crostini French or Italian?
Crostini is an Italian appetizer that uses a baguette. You slice and then toast the baguette before topping it with savory or sweet toppings.
What bread is crostini made from?
Crostini normally features a baguette that uses white flour. You could use other types of baguettes, but if you use a different style of bread, you are technically going to be making bruschetta.
Is crostini supposed to be hard?
The outside of the toasted slices should be a golden brown. Depending on how thick and fresh your bread is when you start, the inside of the bread may have a bit of softness to it. Thinner slices and staler slices will be a bit harder.
Can you grill crostini?
Yes, you can grill crostini by placing them on your grill set to medium heat. You'll need to toast each side for about 1 to 2 minutes or until charred lines appear and the bread starts to turn golden brown. Once ready, you'll need to flip the bread and cook the other side the same way.
Let us know what you think
If you make this delicious recipe, let us know how it went! When you make this, be sure to take a pic and tag us on Instagram @dbellyrulesdmind or Facebook @thebellyrulesthemind!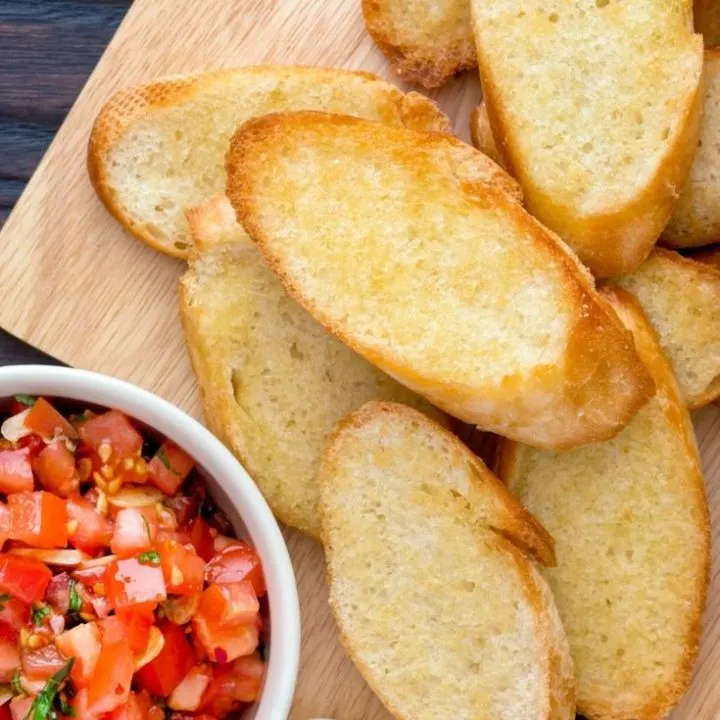 Crostini Bread Recipe
This crostini bread recipe pairs perfectly with your favorite toppings. You can serve this to your hungry family as a fun weekend lunch, or you could make a large batch for your next party or get together.
Ingredients
1 large baguette, sliced ¼" thick on the bias
Extra-virgin olive oil, for brushing
2 cloves garlic, halved
Instructions
Preheat your air fryer to 360F or Preheat oven to 400°.
Cut the baguette into diagonal slices to allow for the most surface area possible.
With a pastry brush, brush one side with the olive oil
Place them in the air fryer or baking sheet, the oil side down
Air fry for 3-4 minutes or bake for 12-15 minutes until golden and remove to cool
Once all the slices have been toasted, then rub top of bread with halved garlic cloves.

Recommended Products
As an Amazon Associate and member of other affiliate programs, I earn from qualifying purchases.
Nutrition Information
Yield

8
Serving Size

3
Amount Per Serving
Calories

126
Total Fat

3g
Saturated Fat

0g
Trans Fat

0g
Unsaturated Fat

2g
Cholesterol

0mg
Sodium

125mg
Carbohydrates

21g
Fiber

1g
Sugar

2g
Protein

4g
All information and tools presented and written within this site are intended for informational purposes only. We are not a certified nutritionist and any nutritional information on TheBellyRulesTheMind.net should only be used as a general guideline. This information is provided as a courtesy and there is no guarantee that the information will be completely accurate. Even though we try to provide accurate nutritional information to the best of our ability, these figures should still be considered estimates.