Easy Mac and Cheese recipe – a quick, healthier and homemade meal packed with nutrition minus the ton loads of butter, flour & evaporated milk. Find out our secret to make healthy mac and cheese. Creamy, delicious and soon to become your go-to mac and cheese recipe. Instant Pot Recipe.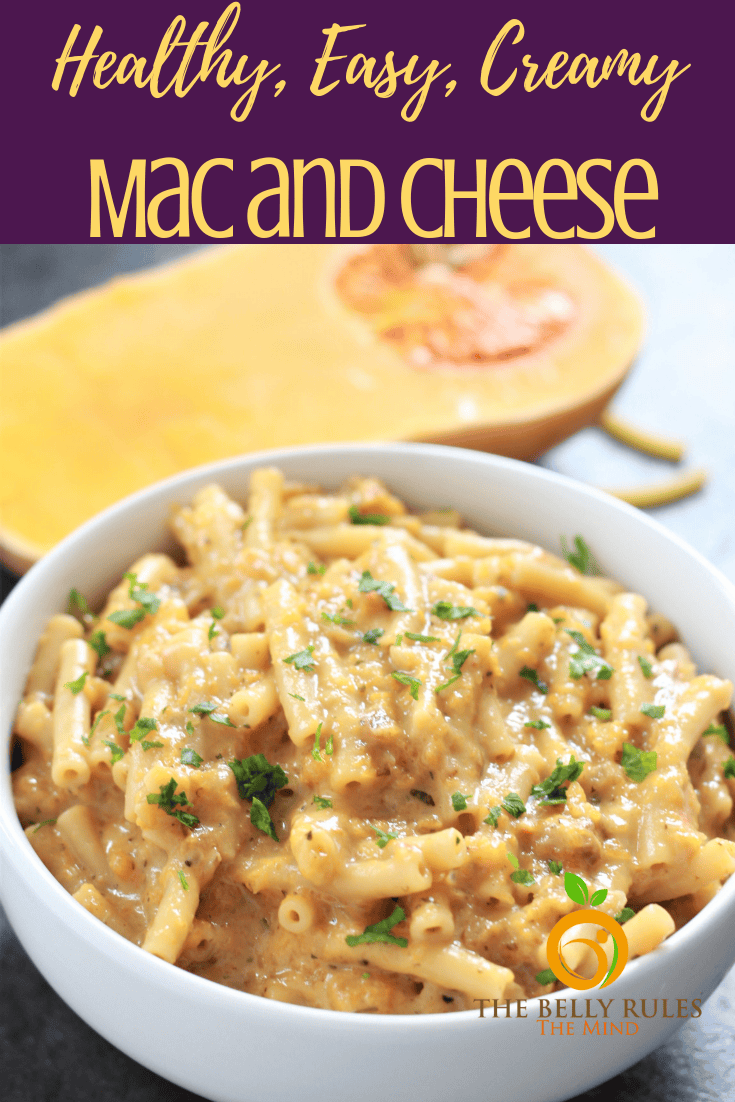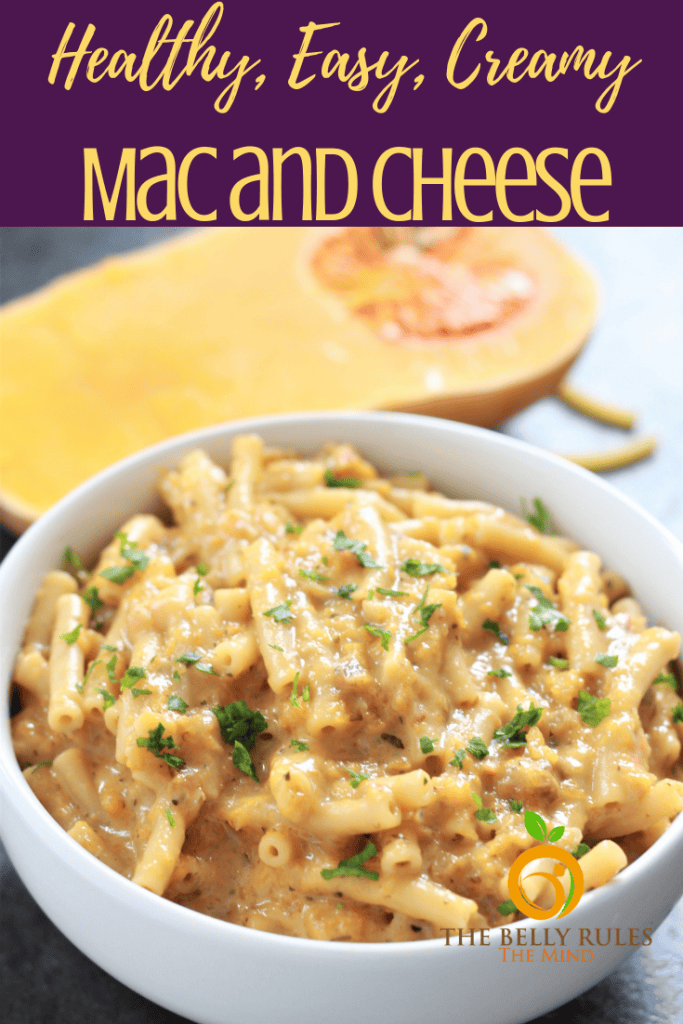 Healthy Mac and Cheese
Yes please!!! Treat yourself to our healthy and easy to make mac and cheese. 'How can mac and cheese be healthy?' you ask. Typically it's loaded with ton loads of butter, flour and evaporated milk and cheese and what not. Infact the boxed one is loaded with way too many artificial ingredients that it's not even worth it.
So what do you do if you are sick or craving for a bowl of comfort food or your kids loves his mac and cheese so much that he can have it all the time and never get bored of it. Well, you make it healthy, minimize the fat, pack some nutrition in it by throwing in our secret ingredient and soon this will become your go-to mac and cheese recipe.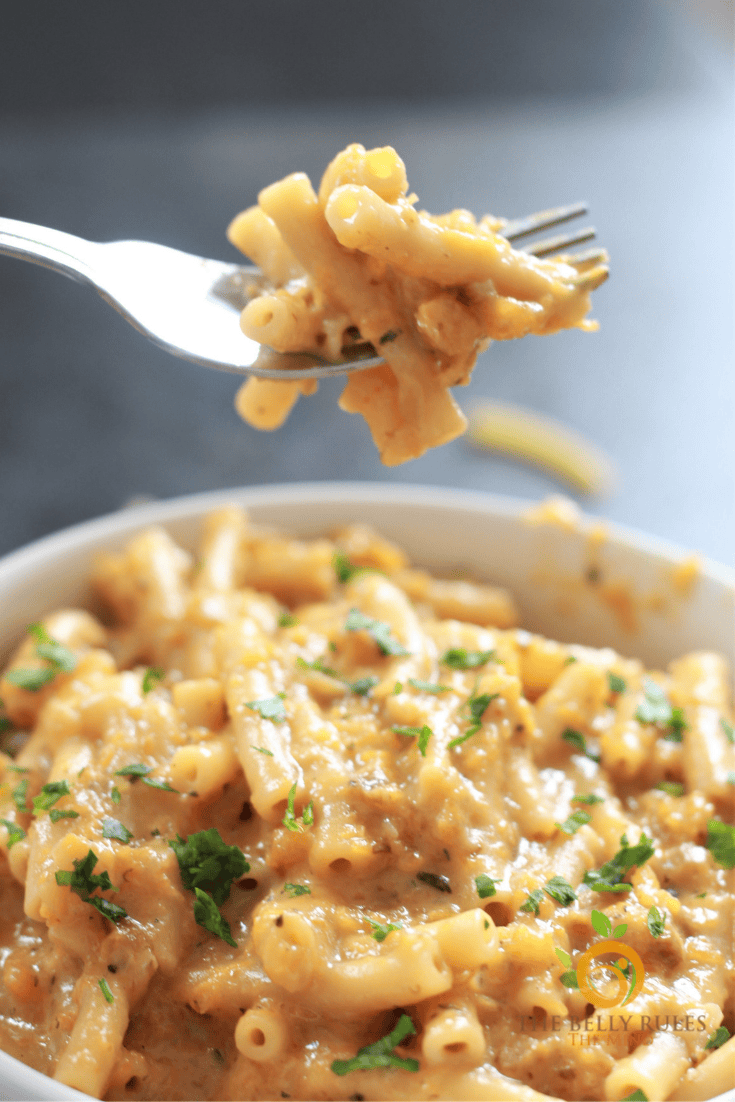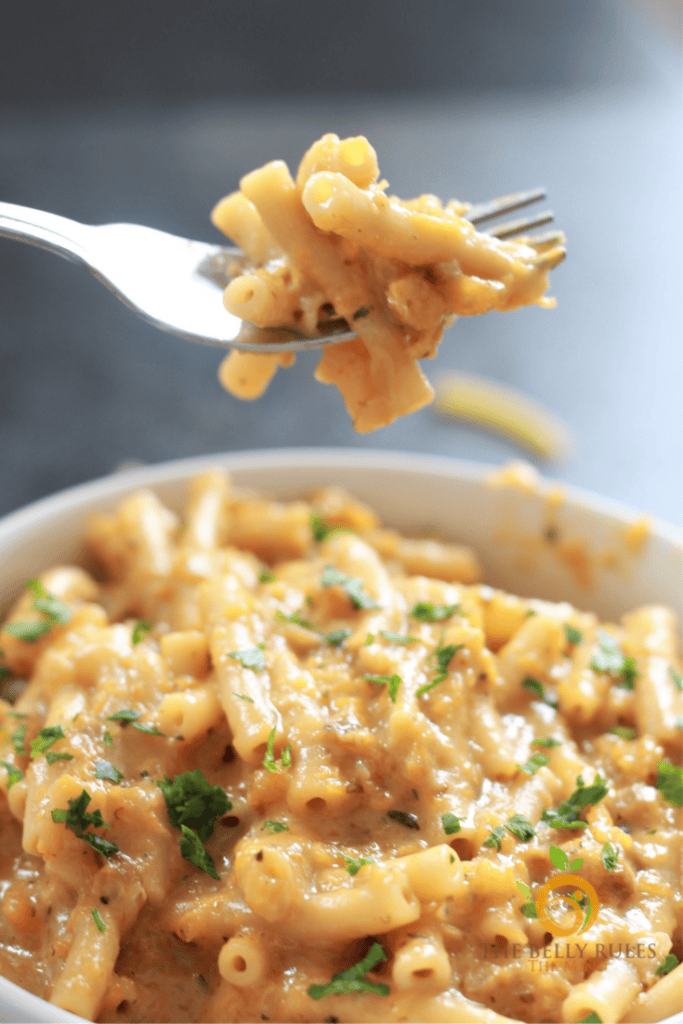 Secret Ingredient : Butternut Squash Mac and Cheese
Believe it or not, adding butternut squash to you mac and cheese is not only a great way to pack some nutrition into your meal but it also enhances the color, texture and flavor of your mac and cheese. A perfect golden hue, silky sauce and the earthy flavors. Yum yum!!!
Do not under estimate the goodness of butternut squash, it's a nutritional powerhouse. Did you know that Butternut Squash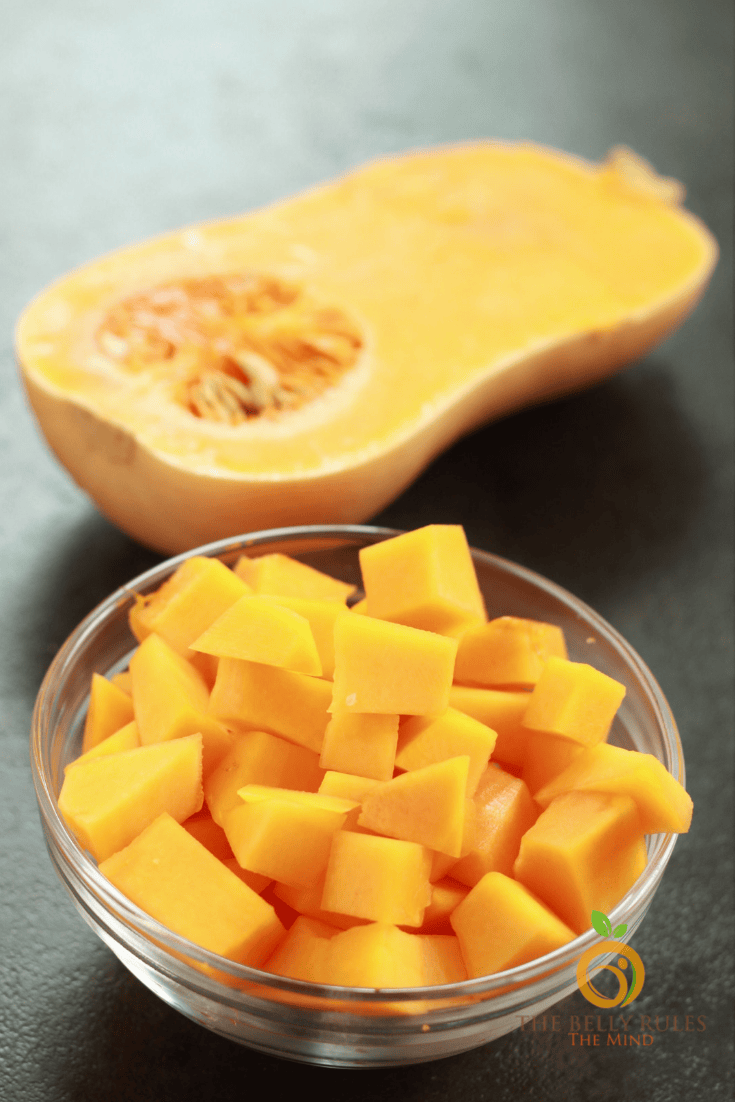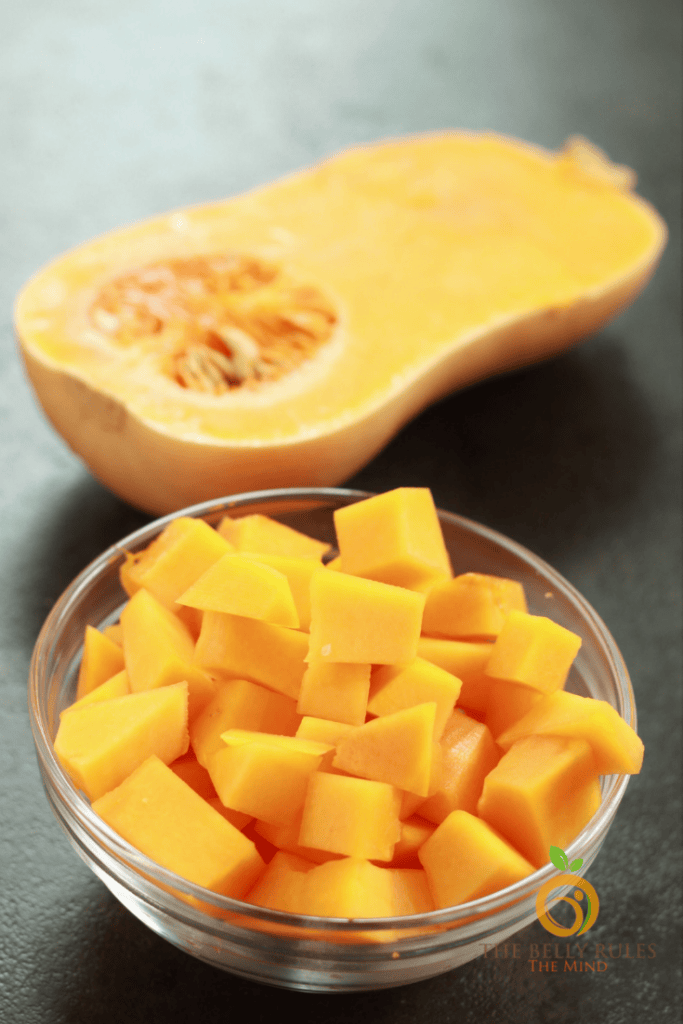 has enough vitamin A in just one serving to cover your entire day?
it can help prevent common cold and reduces inflammation
high potassium content helps keep bones healthy
aids digestion and weight loss
is loaded with fiber
has a low glycemic index so helps maintain blood sugar levels
In short it's got a lot of health benefits and I like to sneak it into Little A's diet. Guess what he didn't even realize there was butternut squash in his mac and cheese. Infact wanted me to pack him the same lunch for the next day. For more butternut squash recipes check out,our Lemonade with Tropical Fruits and Butternut Squash and Tropical Butternut Squash Smoothie.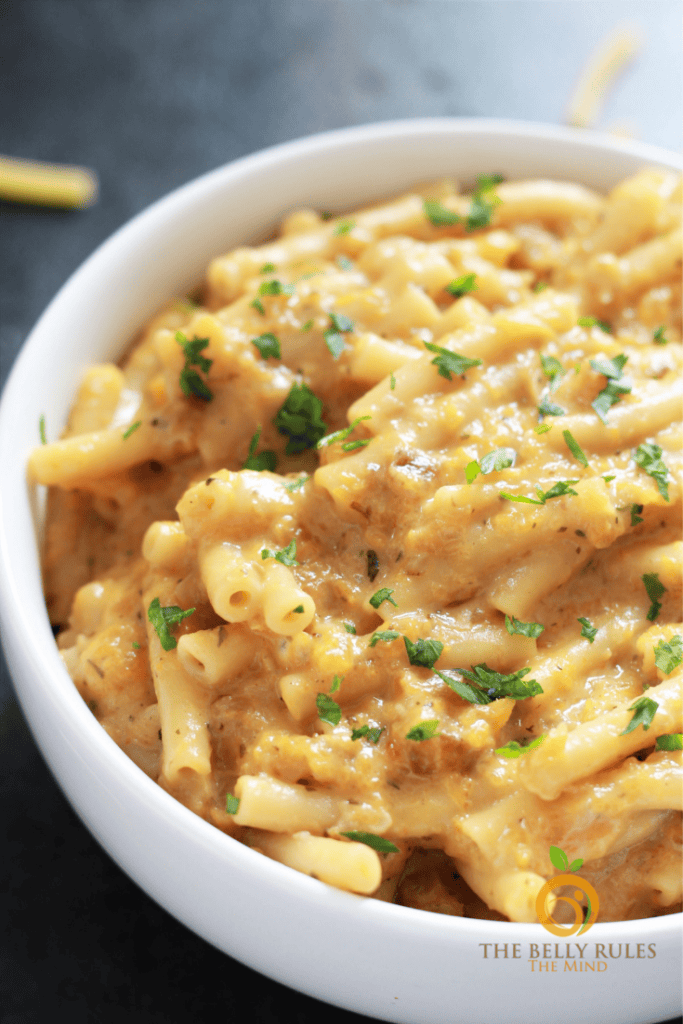 Easy Mac and Cheese Ingredients
Believe me you, once you try this easy and healthy mac and cheese, you are never going back to the traditional mac and cheese.It's a very simple recipe with no fancy ingredients or steps involved. I made it in my Instant Pot which eliminates all the baby sitting and multiple pots. It literally look like less than 10 minutes from start to end. Here is what you need to make this easy mac and cheese no fancy ingredients required. Just keeping it simple. I have intentionally not added flour, velveeta or evaporated milk in this recipe. The mach and cheese still tastes yummier than any I have tried.
macaroni
butternut squash
vegetable broth
onions
garlic
milk
fresh grated cheese
olive oil
Instant Pot Mac and Cheese Recipe. Why cook Mac and Cheese in Instant Pot? How make make healthy mac and cheese in Instant Pot?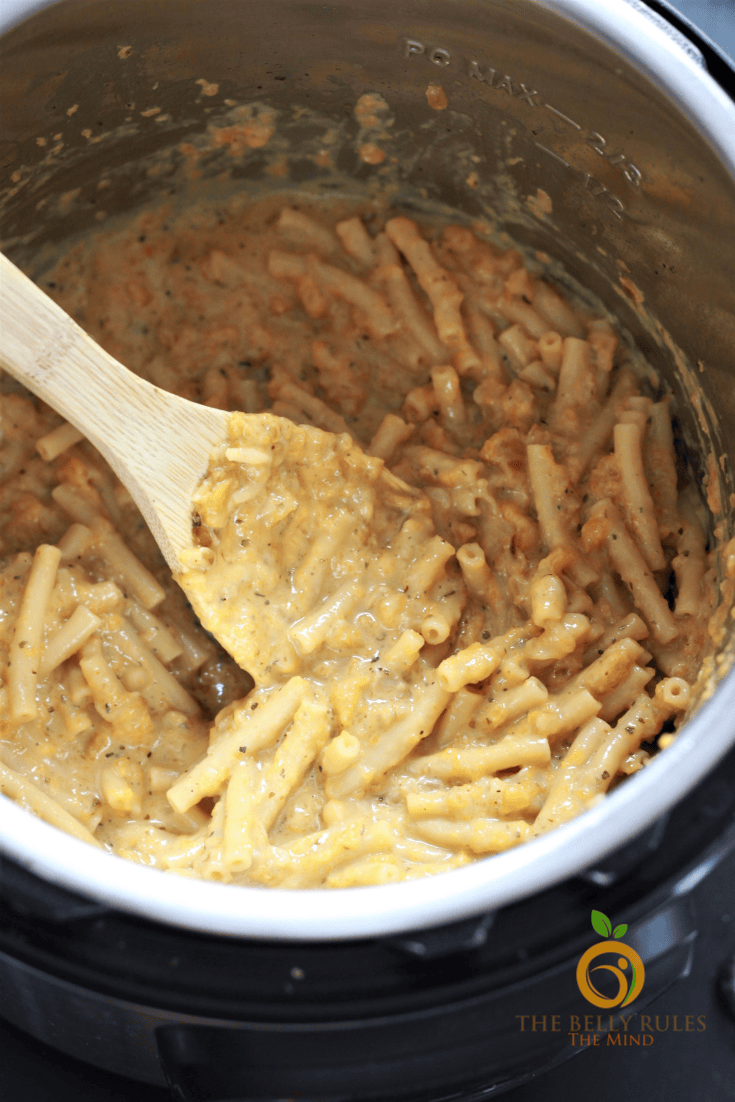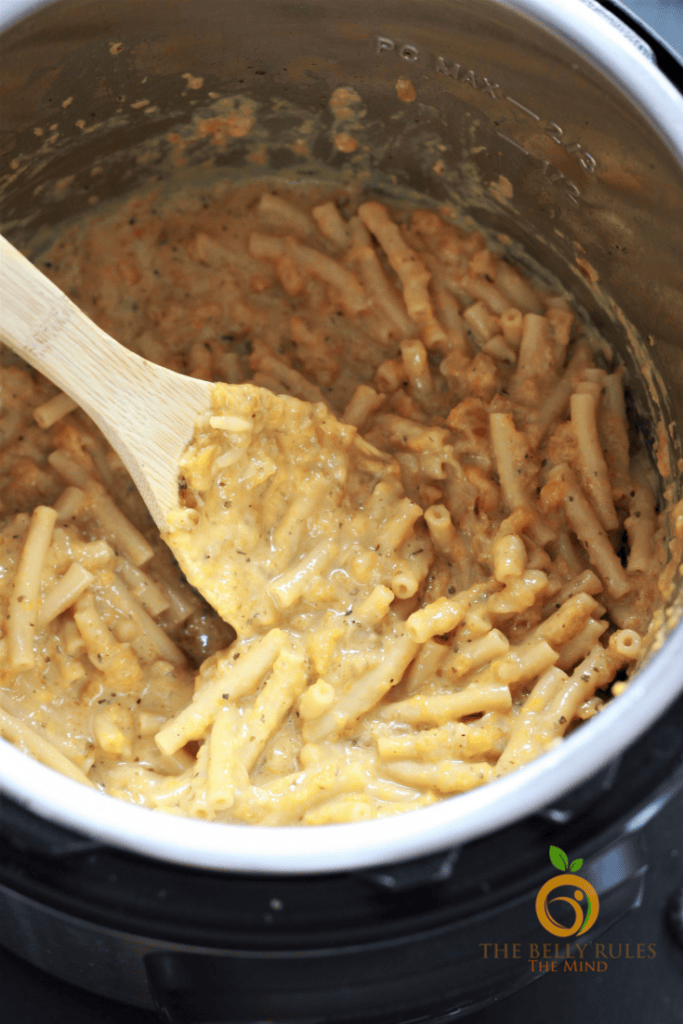 Well, you have to try it to believe it. There is a reason you will see lots and lots of pasta recipes online that are pressure cooked.
First it doesn't involve multiple pots.
Second there is no babysitting or overcooked pasta if the recipe has the time and liquid right.
Third, if you don't want to make a big batch for a crowd the pressure cooker cooks perfectly for a size of a family.
Lastly you can use the keep warm setting without worrying about the pasta from drying out and getting lumpy.
Try it yourself and you will know exactly what I am talking about.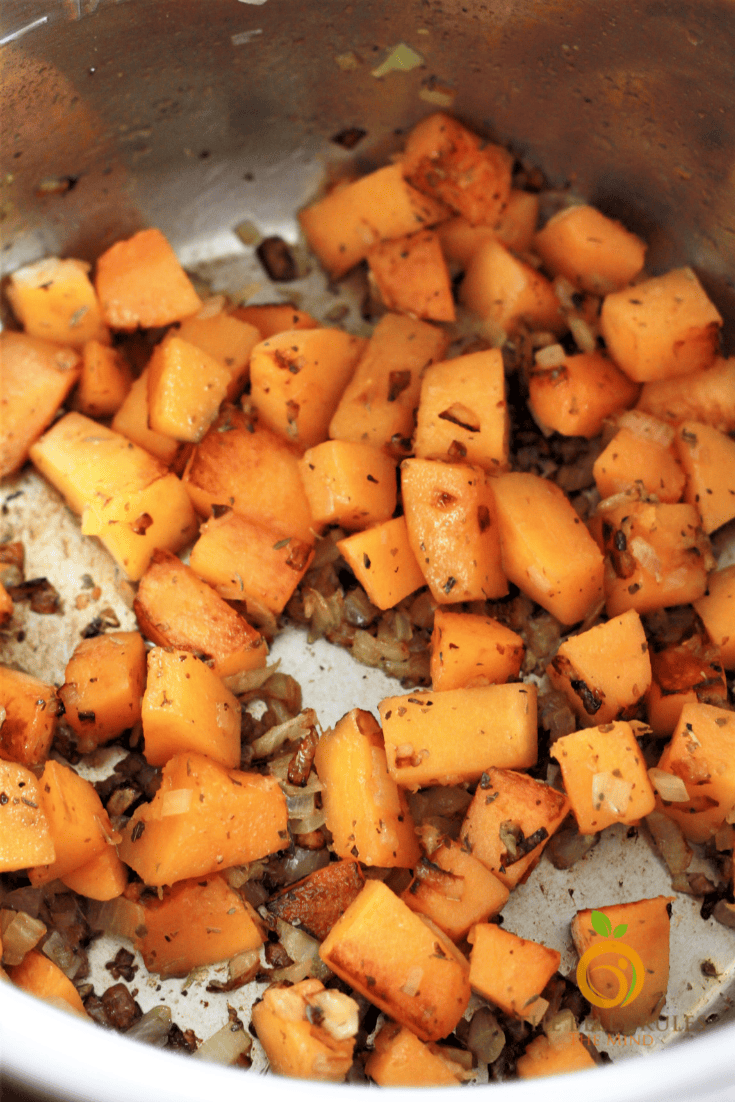 *This is just an overview of the recipe you can find the detailed recipe in the recipe card below
So to cook the mac and cheese in your pressure cooker, you start with seasoning the onions and butternut squash with herbs and garlic and cook them.
Once the butternut squash is cooked you can either make a sauce using an immersion blender or simply just mash up the squash using a potato masher. I used a potato masher but if you like a silky smooth texture blend the squash with just a little milk or broth and make a silky sauce.
Then add the broth and pasta and pressure cook it.
Release the pressure once the timer beeps, stir in the cheese and milk and your done. That's it!!! Simple isn't it? Garnish with fresh parsley and indulge without any guilt.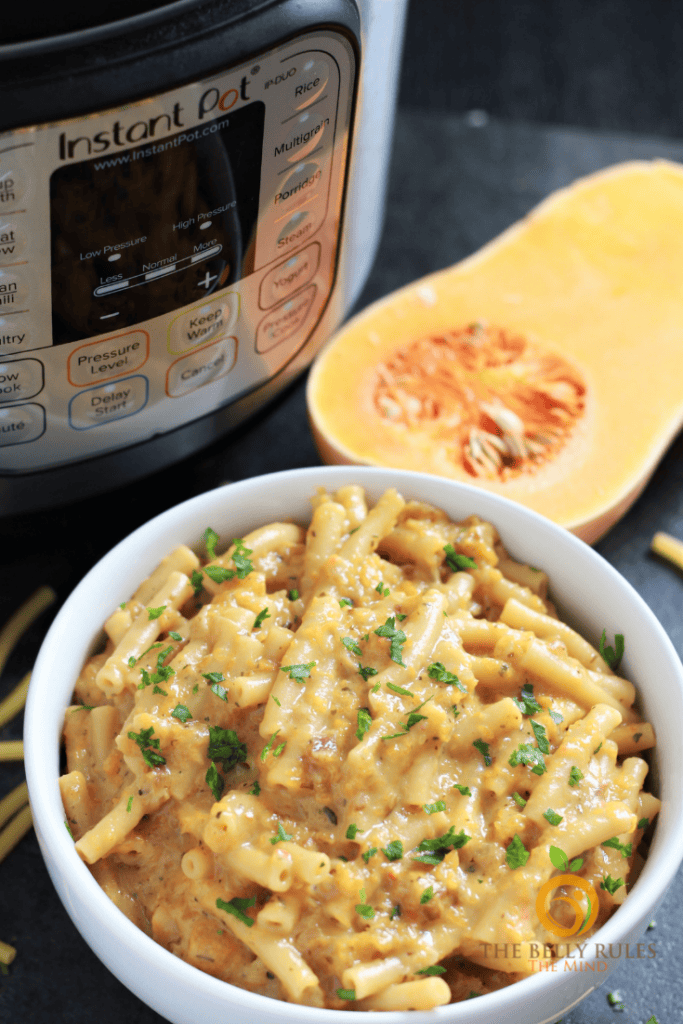 What type of Pasta should I use for Mac and Cheese?
Although you can use several varities like conch shells, elbows, fusili etc in your mac and cheese. For best results,I like to stick to a hollow curvy or straight macaroni pasta. Hollow shapes cook quickly and retain the sauce beautifully too. I used straight macaroni as it's easier and convenient to hold in the fork when I pack it for Little A's lunch thermos.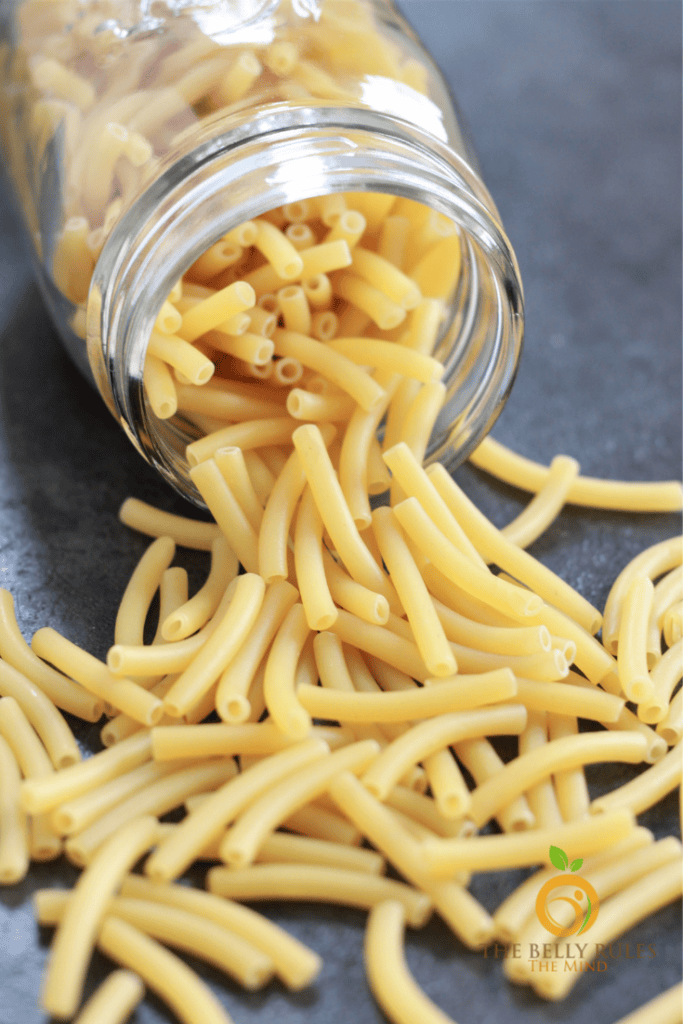 What type of cheese should I use?
Make sure you pick a young, high moisture cheese like Monterey Jack and Gruyere which are consistently good melters, while cheeses like aged cheddar that have more-complex, well-developed flavor are less-reliable melters. For the best results, combine cheeses of both types.
How to store Mac and Cheese?
If you pack it in an air tight container it should be good for 48 to 72 hours.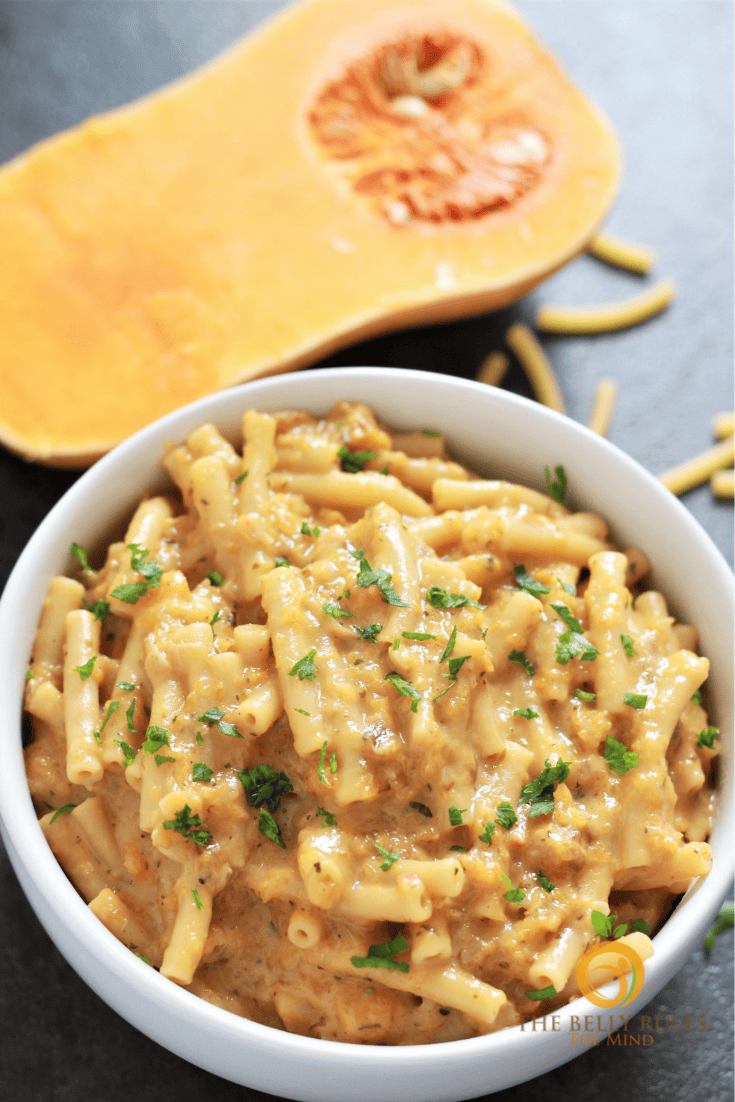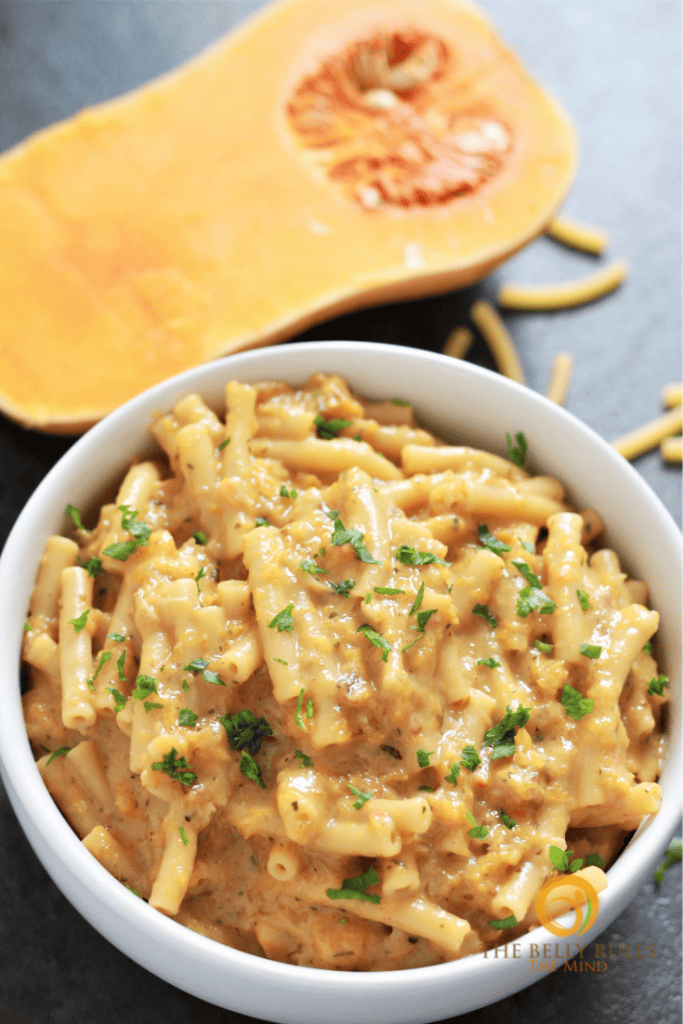 How to reheat mac and cheese?
I typically use the 'Keep Warm' setting if the mac and cheese is not being consumed immediately. If you need to reheat cold pasta, just add in a little milk or broth and stir until it's warm.
Have you made this recipe?
If you've tried this recipe and liked it, don't forget to drop us a comment below sharing your thoughts. Share your picture with us tagging us on Facebook or Instragram @dbellyrulesdmind. If you haven't tried it yet, you need to try to recipe now to believe how yummy and comforting this bowl is.
Yield: 4 servings
Easy Mac and Cheese Recipe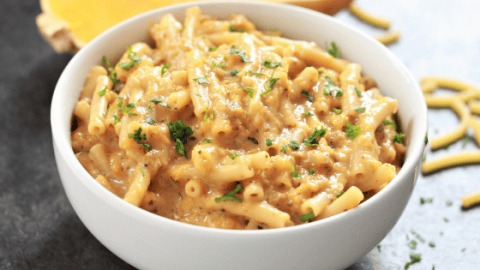 Easy Mac and Cheese recipe - a quick, healthier and homemade meal packed with nutrition minus the ton loads of butter, flour & evaporated milk.  Find out our secret to make healthy mac and cheese. Creamy, delicious and soon to become your go-to mac and cheese recipe. Instant Pot Recipe.
Additional Time
4 minutes
Ingredients
2 tbsp parsley chopped
2/3 cup shredded cheese (cheddar, monetrey jack)
1/4 cup milk of your choice
3 garlic cloves
1 cups butternut squash cubes
salt to taste
1.5 cups vegetable broth
1/4 cup onions, chopped
Instructions
Prepare the ingredients.
Press 'Saute' on the Instant Pot. Heat oil in the pot.
When the oil is hot add the garlic, onions and Italian herbs and saute for a minute.
Throw in the butternut squash and saute for a couple minutes until they become tender.
You can make the sauce in two ways. If using an immersion blender, add in some milk and broth and blend the butternut squash into a puree. If using a potato masher, mash up the butternut squash completely.
Add the remaining broth and top it with dry pasta salt.
Cover and seal the lip and pressure on high for 5 minutes.
Once the timer beeps, turn the vent to quick release.
Open the lid and gently stir in the grated cheese and milk.
Serve immediately and garnish with fresh parsley or crushed black pepper.