If you are looking to cool down with a refreshing cold pasta salad recipe then this Easy Summer Orzo Salad is your recipe. Made with easily available ingredients and comes together quickly, this is great for summer parties and potlucks because it's a guaranteed crowd pleaser. 5 Minutes. Vegan.
[avatar user="Anvita" size="thumbnail" align="right" link="https://thebellyrulesthemind.net/about-us/" target="_blank"]Anvita[/avatar]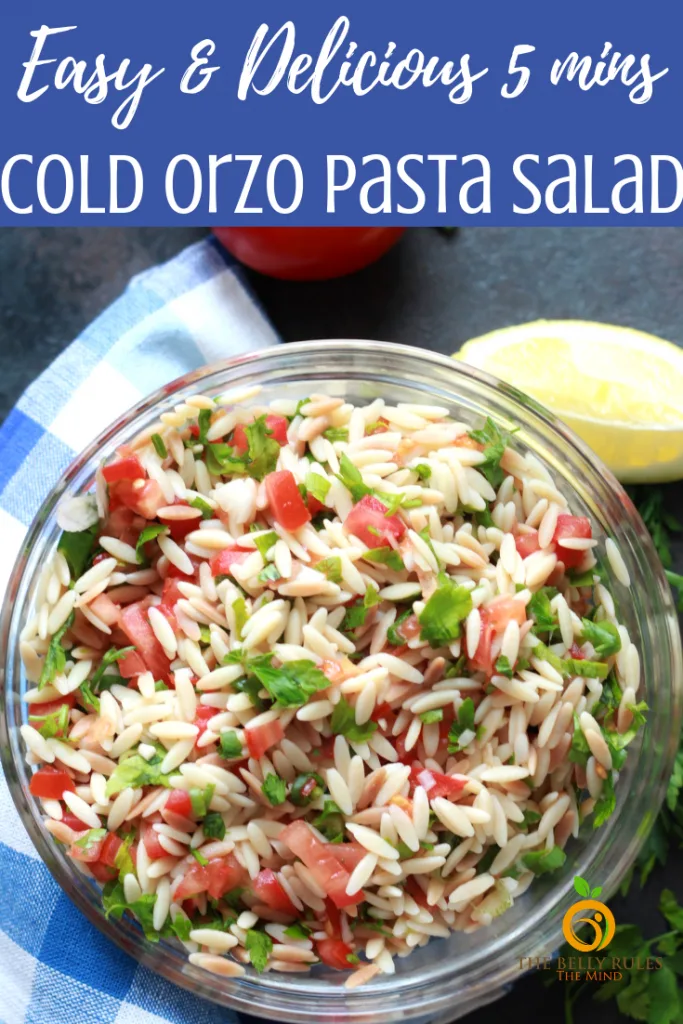 Our first German summer and oh boy, it's hot!!! Apparently air conditioning it's not considered healthy here in Germany. So it's very rare to have homes with air conditioners. The idea is to air the house several times a day and let the fresh air come in. I see the upside of it but you see we have been spoiled with centrally air conditioned homes last few years.
The fans don't help much to beat the heat so our recent attempt is to keep it cool with cold drinks and foods. Thus today's recipe the cold Orzo Pasta Salad. When the weather warms up cold pasta salads come handy.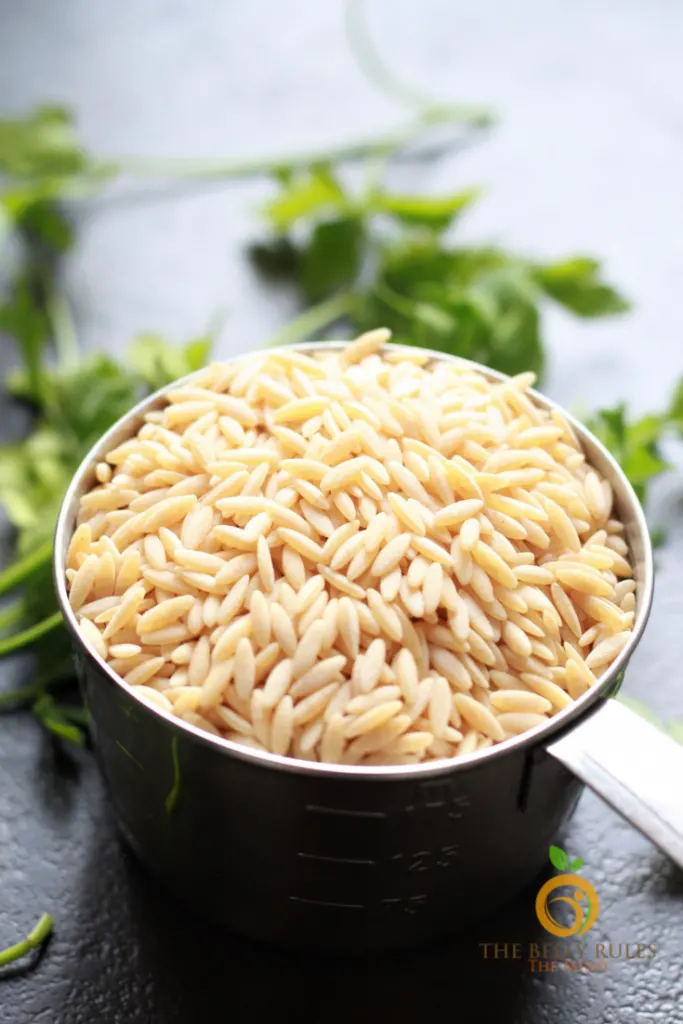 What is Orzo?
Orzo is a type of pasta made from wheat, semolina to be precise which looks like rice grains. Although it is categorized in the grain food group, it is not a whole grain. It's also not gluten-free unlike rice. Orzo is perfect for making light spring summer salads, soups or risottos. Traditionally it is cooked like pasta but you can also pressure cook it like I have in this recipe.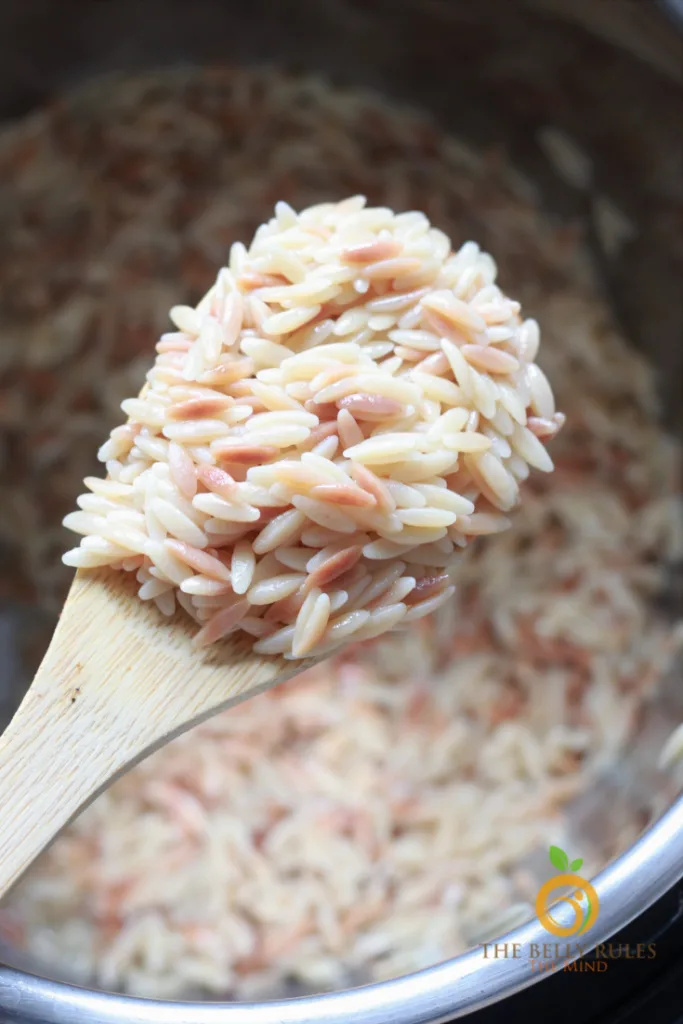 Orzo Salad
Orzo Pasta Salad
This Orzo Pasta Salad is a perfect way to cool down with refreshing flavors. Inspired by the Middle Eastern flavors this cold pasta salad is super easy to make with easily available ingredients. No fancy ingredients or steps. It's simple yet delicious.
It's quick to assemble and is almost ready in 5 minutes. It's light and is perfect for summer parties, potlucks or picnics. I know for sure that this Orzo Pasta Salad will be rotating on my summer menu very frequently. All you need for this orzo salad is
Orzo
Parsley
Basil
Green Onion
Tomatoes
Garlic
Lemon Juice
Olive Oil
Water
Salt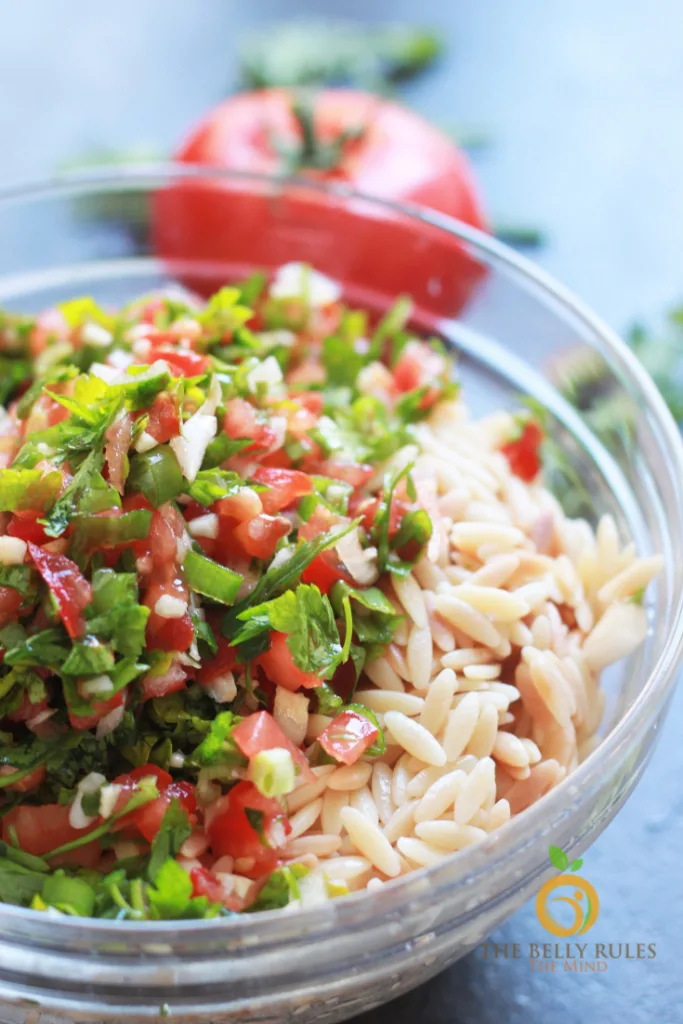 Perfectly cooked Instant Pot Orzo / How to cook Orzo in Pressure Cooker?
Why pressure cook Orzo when it can be easily cooked in stove top? Well if you haven't tried making pasta in your pressure cooker yet, I would highly recommend. First you don't have to baby sit and second you get consistent results every single time without any baby sitting. The catch is you need to master the pasta to liquid ratio which is different for the type of pasta you use and you also need to master the cooking time.
So here is where we come in the picture. Our recipes, have been tried and tested multiple times by us for consistent results before we share the recipe on the blog. We share our pasta to liquid ratio and cooking times so you can get consistent results too. Our video recipes have been tried and tested by many so, you can sit back and relax without worrying about the burn notice or overcooked pasta. What I love is that while the Orzo is pressure cooking, I chop my ingredients and keep them ready.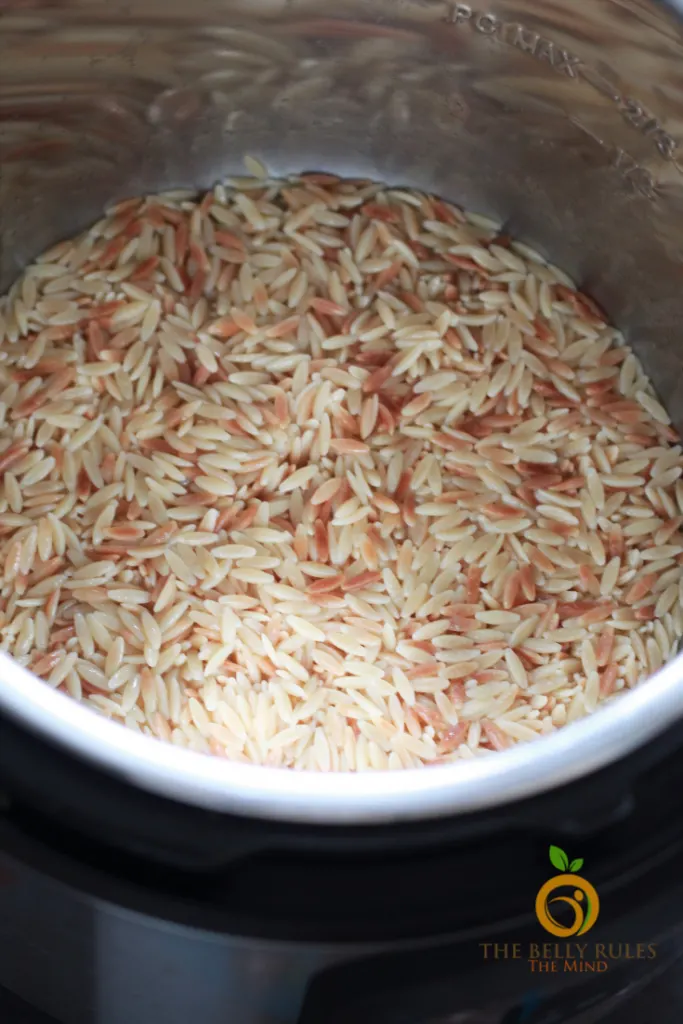 For getting perfectly cooked Orzo in pressure cooker, here is what you do
Using the Saute function toast the orzo in oil. This step will make sure you don't get sticky lumpy orzo when pressure cooked. Each grain will be separate. Next you add the water or broth and pressure cook it. For every 1 cup of orzo you will use 2 cups of liquid.
1: 2 orzo to liquid ratio
5 minutes high pressure
quick release
Drain any excess liquid and rinse the orzo in cold running water for best results. It's better to get a couple tables spoons excess liquid than using less liquid.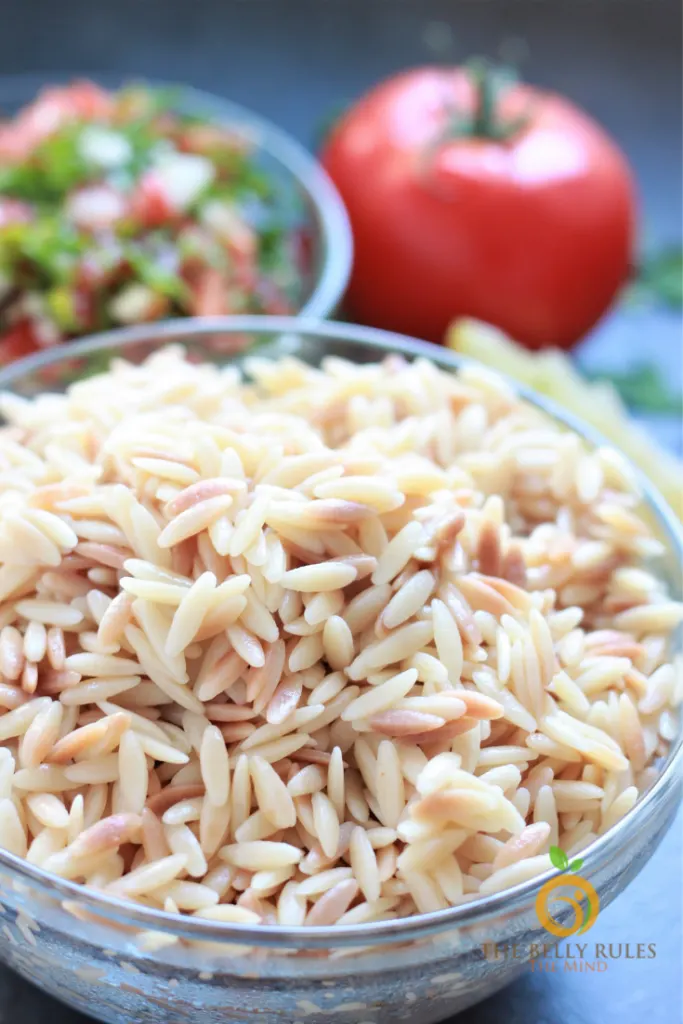 How long does Orzo last in the fridge?
If you make a large batch of Orzo and plan to keep some aside for later, it's best to refrigerate it. It should be consumed within 3 days though.
Orzo Cold Pasta Salad for Parties / Potlucks / Picnics / Lunchboxes.
This salad can be make 4 to 5 hours ahead of time. You can even cook a large batch of orzo and keep your chopped ingredients ready in a different bowl and just mix it well before serving. Serve it chilled.
If you are packing this salad for lunch make sure to use a thermos lunchbox, it keeps the salad cold and fresh.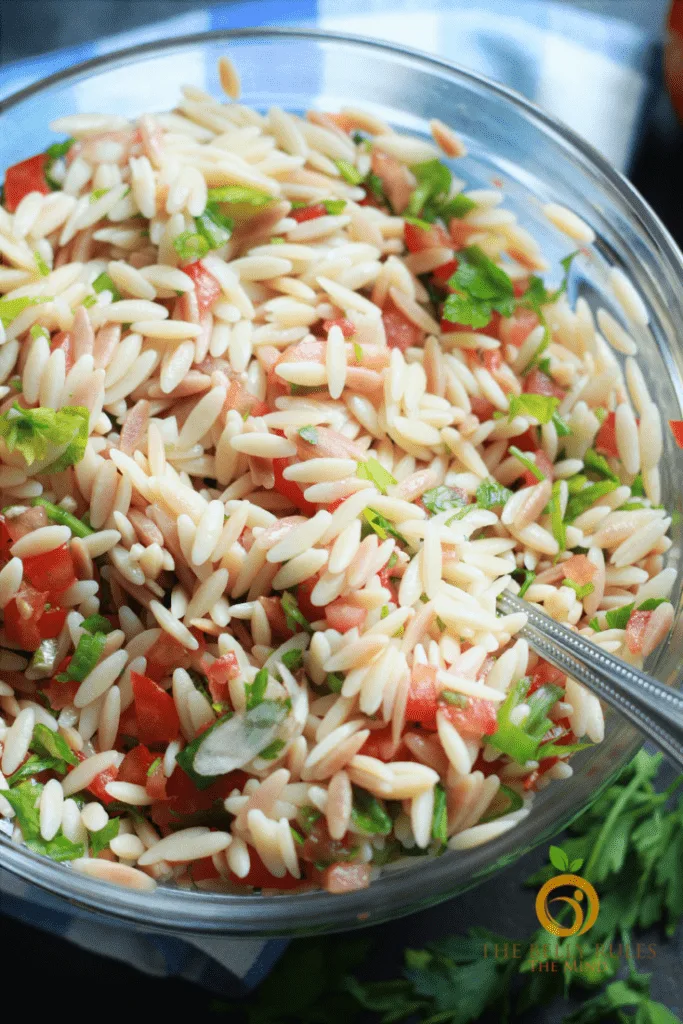 I hope you consider trying this easy Orzo Salad recipe. When you do, don't forget to take a picture and send it our way. Tag us on Facebook or Instagram @dbellyrulesdmind or leave us a comment below with what did you think of this recipe.
More Instant Pot Pasta Recipes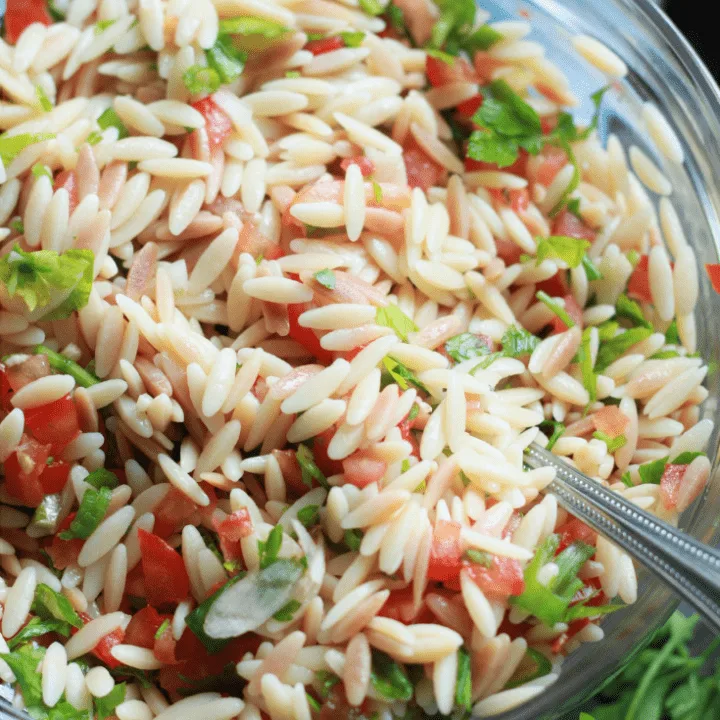 Instant Pot Orzo Salad
If you are looking to cool down with a refreshing cold pasta salad recipe then this Easy Summer Orzo Salad is your recipe. Made with easily available ingredients and comes together quickly, this is great for summer parties and potlucks because it's a guaranteed crowd pleaser. 5 Minutes. Vegan.
Ingredients
2 tablespoon olive oil
2 tablespoon lemon juice
2 cups water
1 cup uncooked Orzo
1/2 green onion, sliced
1 cup tomatoes, chopped
1 cup fresh mint, chopped
1 cup fresh parsley, chopped
Instructions
Cooking Orzo on Stove Top
You could either cook the Orzo on stove stop following the package instructions or cook it on you Pressure Cooker
Cooking Orzo in a Pressure Cooker
If you are cooking Orzo in a pressure cooker like I have in this recipe, make sure you toast the Orzo before pressure cooking it.
Press the Sautee button and add a tablespoon of olive oil. Once the oil if hot throw in the orzo and stir for a minute making sure the oil os coated on the orzo.
1: 2 orzo to water ratio

5 minutes high pressure

quick release.
Drain any excess water and rinse the orzo in cold water to avoid it from getting sticky.
Putting the Salad together
While the Orzo is cooking, chop the parsley, mint, green onions and garlic.
Prepare the dressing by squeezing lemon juice from fresh lemons and mixing it with olive oil and salt.
You could also add in herbs or seasonings to enhance the flavor of the salad.
Combine all the ingredients. Cover, chill thoroughly . Stir and serve it cold.
Recommended Products
As an Amazon Associate and member of other affiliate programs, I earn from qualifying purchases.