This Healthy Creamy Edamame Dip is perfect for parties, potlucks, or every day snacking. It is vegan, gluten-free, dairy-free, and SO delicious! Serve with pita chips, crackers, or cut up vegetables. Everyone loves this easy and healthy dip!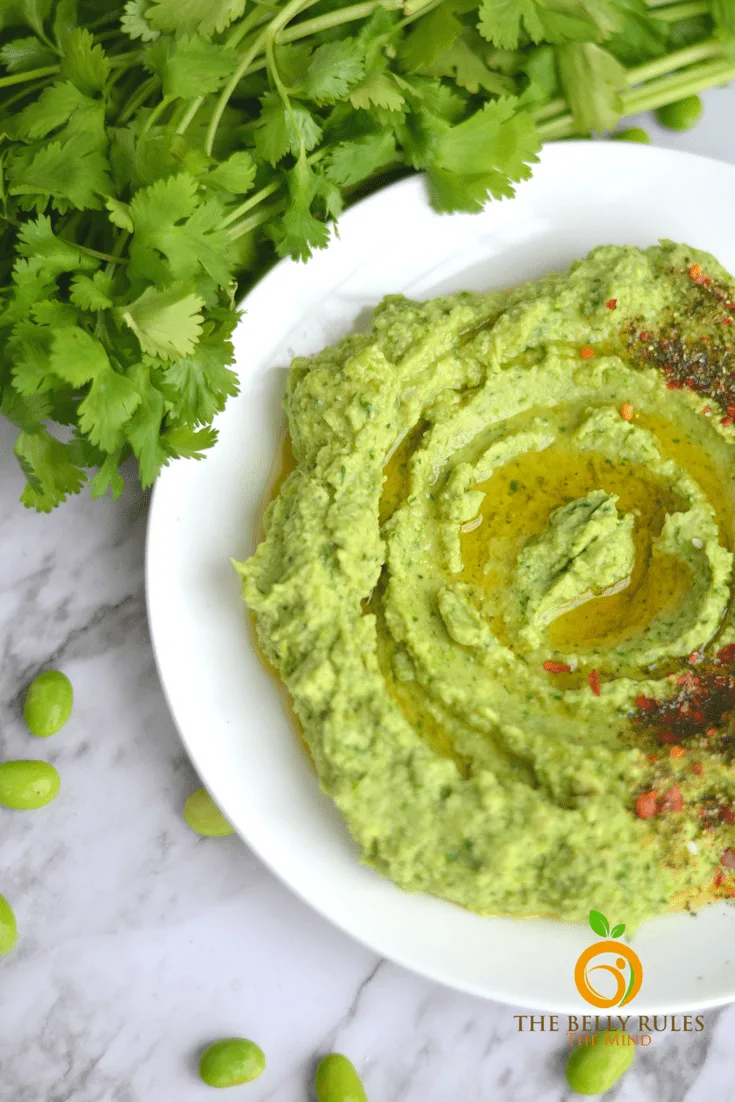 Hi everyone !! My name is Soniya, and I am a DIP addict :P, But you already know that, don't you? We at The Belly Rules The Mind love our Dips/ Chutneys/ Hummus and this weekend, I just couldn't help myself. My DIP cravings kicked in and I made this healthy Creamy Edamame dip and it couldn't be easier to make. From start to finish, you can have a healthy appetizer or snack ready in five minutes.
I use these ingredients so often that I usually have all of them in my kitchen. Having a fridge, pantry, and freezer stocked with healthy ingredients is really important when trying to eat better and lead a healthy lifestyle. I love easy recipes, especially recipes that can be used in multiple ways and this is one of those kinds of recipe!
The use of soybeans is common in the preparation of food for vegetarians. Apart from the beans, there are different products that can be generated from them. Edamame is prepared by boiling immature soybeans with their pods and is commonly served as a side dish. Available fresh or frozen, edamame can be boiled whole, then shelled and eaten as a snack or added to stir-fries, soups or salads. Edamame has much of the same nutritional benefits as other soy products such as tofu or soy milk.
You can buy shelled edamame beans at Whole foods or your grocery store. Our store sells it in the frozen section by the frozen vegetables.
This Healthy Creamy Edamame dip makes a great sandwich spread.This dip is naturally zesty, savory, and packed with fiber and protein.It's also naturally vegan, gloriously gluten-free, and sure to be a hit at any party since even your pickiest of guests can eat it! Unless they are paleo.
Healthy Creamy Edamame Dip
Ingredients
1 cup Edamame/boiled
1/2 can cannellini beans
1/2 avocado/ RIpe
2 cloves garlic
a handful of fresh Cilantro
1/2 fresh lime juice
2 tablespoon olive oil, plus extra to garnish
salt to taste
Some Chill flakes for garnish/ optional
Instructions
Drain and rinse your beans and combine in a food processor with all of the above ingredients.
Give it a nice whirl until creamy.
Serve a room temperature with chopped veggies, pita bread, lavash, crackers and a drizzle of olive oil!