Crispy homemade Healthy Air Fried Plantain chips / Healthy Banana chips are awesome in taste and way better than store bought. Cooked with coconut oil for an all-natural treat and Air- fried for a healthier experience. Enjoy these crispy and crunchy banana chips as a snack right out of the bag. It's an inexpensive and gluten-free snack!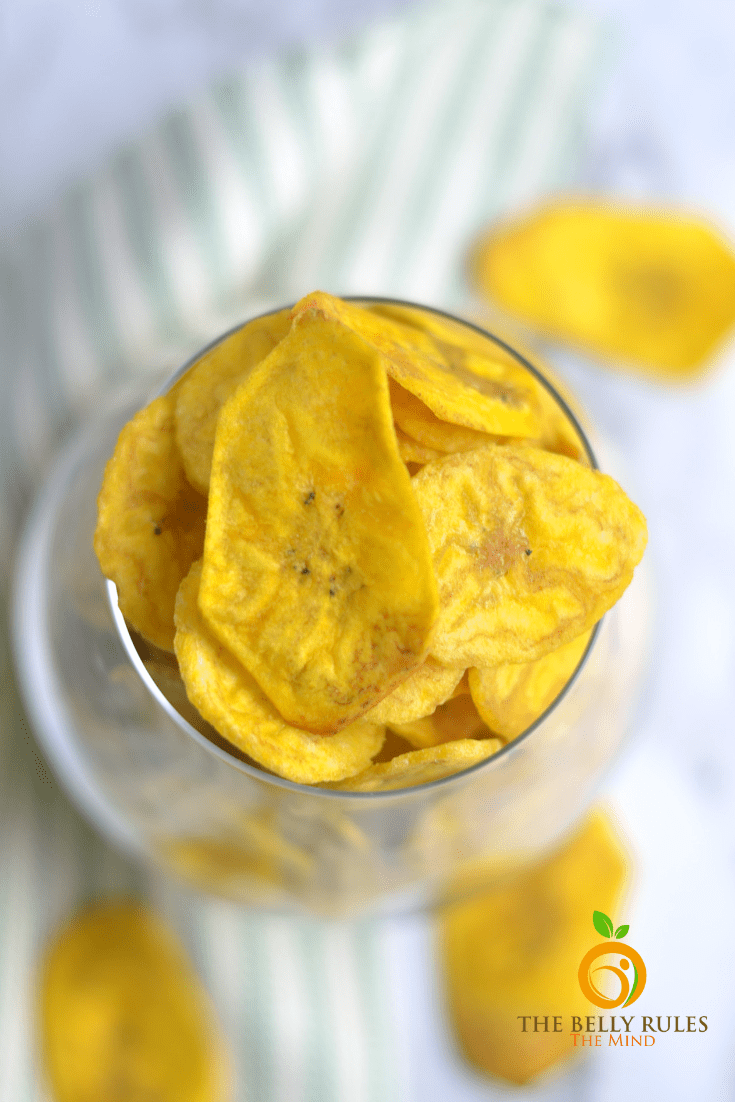 How to make air fried plantain chips / Green Banana chips at home?
I'm very excited to share this recipe with you. It is not too difficult or time consuming to make plantain chips at home. These plantain chips are very delicious and very addictive and I can promise you that won't stop eating it. Crispy, salty, spicy, just the way you want them and just plain delicious! Plantain chips are an absolute favorite snack of mine. We get a lot of different flavors in India black pepper, tangy, spicy. I enjoy all the different varieties – especially the ones with chili and lime is my favorite! You can use your favorite spice to take this to the next level. These Air-Fried Plantain chips are packed with potassium and are sure to be a new favorite snack!
Easy Homemade Air Fried Plantain Chips / Green Banana Chips
Who doesn't love Plantain – Banana chips? My boys go crazy over them !! Many of us are guilty of packing store-bought chips in our kids' lunches. Sure, it's nice and convenient to grab a bag for lunch. But have you ever wondered what kind of additives may be in that bag of chips? Some of those ingredients can scare anyone away from ever eating them again. Instead, why not make your own chips? That's why I prefer to make most snacks at home rather than buying store bought ones. My kids love snacking on them while they are at their swim meets or just watching movies. Banana chips can occasionally be a part of your healthy eating plan.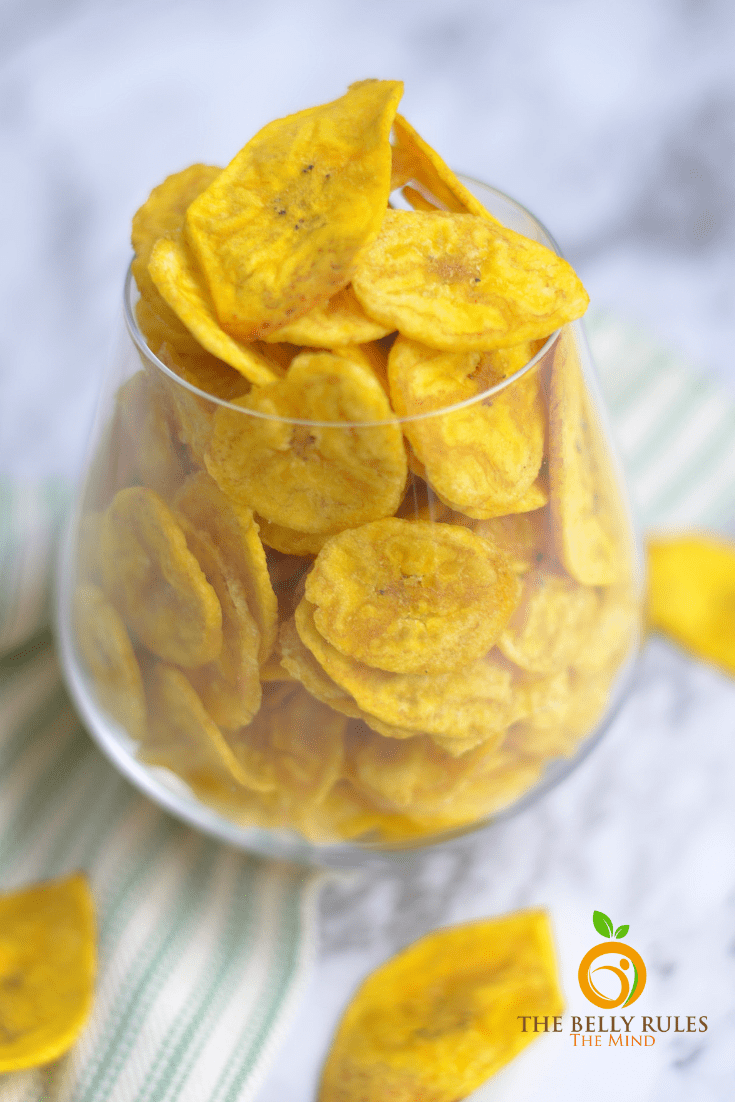 No Fry / Air Fried Banana Chips / Plantain Chips- How are dried banana chips made?
These Healthy Plantain chips – Banana chips are so simple to make. I have been baking them for years, but having this new piece of gadget does simplify my effort of making them at home. This can help me prepare the banana chips in limited quantity and enjoy it whenever you want! No frying required, no preservatives necessary. Just 4 Ingredients and 1 Air-fryer and the outcome will be so fabulous that your Healthy Plantain chips – Banana chips will earn you many compliments!
Are banana chips and plantain chips the same?

Plantain chips and banana chips are the same and are called differently in various countries. In India, they are popularly known as Banana chips. In Kerala, one of the southern states in India, they are more commonly known as nenthra-kaaya oopperi or upperi and deep fried in coconut oil. The coconut oil gives an interesting flavor to the banana chips.
In Indonesia they are commonly known as Kripik Pisang. Raw green bananas are thinly sliced, soaked in lime and salt water solution for some time and then deep fried as chips.
North America- These chips are commonly known as plantain chips. They are deep fried and come in various flavors, specially Chile- lime. I love the tanginess and spice of Chile-lime.
In almost all places the banana chips / plantain chips are made using raw banana and are very crispy and delicious. These are usually made by deep frying in local specialty oils. So there I solved the confusion for you. You can certainly thank me after you have made them at home. Do let me know how it went in the comments section. You can certainly make baked plantain chips at home as well if you don't have an air-fryer at home.
So what kind of banana is required? How ripe should the banana be before dehydrating?

As you must have guessed it by now, the plantain or banana is the key ingredient of this recipe. You need to ensure you pick up the right kind of banana to ensure you do justice to the recipe. Hard and raw yellow bananas or yellow plantains are best to make these wafers or get a different variety of green plantain. The color of the banana may vary based on where you live, however it is critical to check that they are hard. The hardness primarily gives you an indication whether the banana is ripe or raw. Some people like to make it out of bananas that have just begun to ripen. This gives a naturally sweet flavor to the banana chips. This recipe considers that you are using raw bananas. The thinner the slices are, the more crisper they will tun out and the lesser time required for air frying! You can slice the plantains lengthwise to make them longer. You can vary the width of your banana slices depending upon your preference. Don't forget the peel the plantains before you slice them.
How to store them how long do they last?
They are best stored in an airtight container. I say airtight as the chips lose their crispiness if they are not kept in an air-tight container. I am sure no one likes non-crispy chips. These can easily last for 3 weeks unless they are eaten away before that.
Indulge in your love for Indian food with Semiya Upma, Instant Pot Pav Bhaji ,Vegetable Biryani in Instant Pot . Want to save money by making things at home? Try our Instant Pot Beans or Homemade Yogurt and save money.
Do you have a sweet tooth? You should check out our Healthy Sweet snacks & No Sugar Vegan CornBread Muffins to reduce the sugar intake and not feel guilty about eating sweets.
Our other Awesome Air Fryer Recipes, try our Apple Chips, Air Fryer Southwest Egg Roll, Crispy Air fryer Potato Wedges, Air Fryer Crispy Tofu Buffalo Bites, Korean Air Fryer Cauliflower Wings, Air Fryer Roasted Chickpeas,etc.
If you are a fan of healthy eating and have just purchased an instant pot, Try out our 100+Instant Pot Vegetarian Recipes. From Soups to Pasta and from Appetizers to Desserts and everything in between.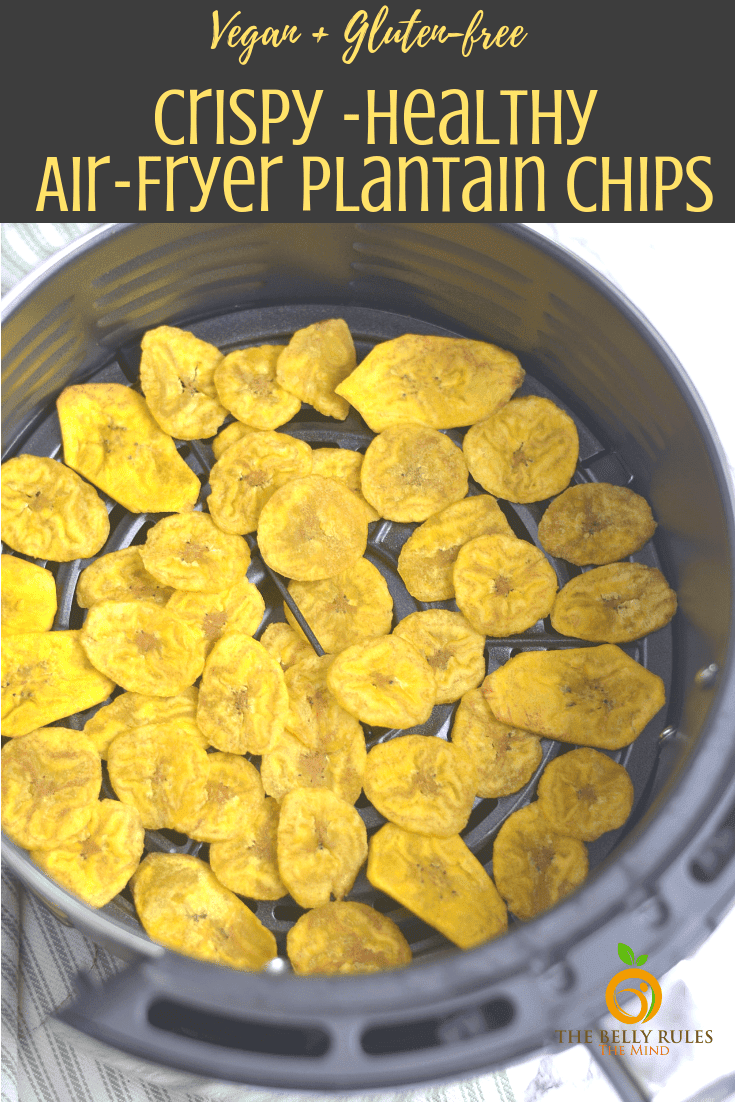 Healthy Plantain Chips / Healthy Banana Chips Video Recipe
Healthy Plantain Chips / Healthy Banana Chips Recipe
Healthy Plantain chips – Banana chips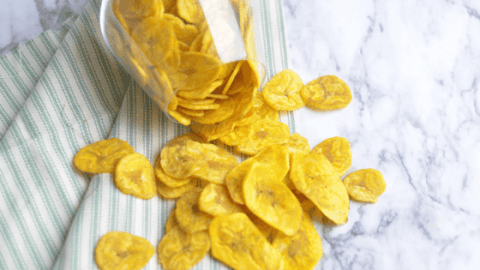 Crispy homemade Healthy Plantain chips / Healthy Banana chips made out of raw bananas are awesome in taste and way better than store bought. Cooked in coconut oil for an all natural treat and Air- fried for a healthier experience. Enjoy these crispy and crunchy banana chips as a snack right out of the bag. It's an inexpensive and gluten-free snack!
Prep & Soak Time
10 minutes
Ingredients
3 large Plantains / Raw banana
3 Tbsp Coconut oil
1 Tsp Turmeric powder
For Soaking the peeled Banana for 10 mins
2 Tsp Salt
2 Tsp Turmeric powder
Medium bowl full of water/ to soak the peeled banana
Gadgets you need
Air-fryer
Mandoline / Slicer
Air-tight container
Instructions
Preheat air fryer to 350 degrees.
Cut the ends of the green banana. Peel the banana
Mix turmeric and salt to a bowl of water and add the peeled banana and let it soak for around 5-10 minutes.
Pat the banana dry and slice it on a mandalin
Coat it with a mixture of coconut oil and turmeric
Place the sliced green bananas (in batches) inside the basket of the air fryer.
Cook for about 10 minutes. If they need additional time leave on for another 5 minutes. If you see some of them are done, remove them and continue cooking the rest.
Repeat step until all slices are cooked.
Spinkle some salt if you like!
Notes
You may want to adjust the time for air-frying based on the thickness of the plantain slices
You can use your oven to bake them as well.for 390 degrees for 20-25 minutes in the middle rack. Flip them over after 10 minutes
Recommended Products
As an Amazon Associate and member of other affiliate programs, I earn from qualifying purchases.