An oh-so-simple and delicious recipe of Healthy Vegan Banana Bread. A great way to sneak in those overripe bananas. Made with whole wheat flour and naturally sweetened, no-refined sugar added. Perfectly moist and full of flavor. Vegan.
[avatar user="Anvita" size="thumbnail" align="right" link="https://thebellyrulesthemind.net/about-us/" target="_blank"]Anvita[/avatar]
Hello everyone, hope you are enjoying summer as much as I am. Summer is going well here. Lot of exciting stuff happening behind the scenes of TBRTM. Not ready to disclose it all yet, you will find out in the up coming posts. Apart from TBRTM on the personal front, summer couldn't have been better with Little A at home, Mom visiting and we are going places like crazy. Yeah, don't ask I am somehow managing to publish every week and stay active in my online world. Life is good honestly, I cannot complain. Hope things are going well at your end too. Given that back to school is literally a month away, I am making a list of all my favorite recipes that will come handy. So stay tuned to make sure you don't miss out all these useful recipes. I'd like to begin with my favorite Heaalthy & Vegan Banana Bread.
I got hooked onto Banana Bread when I was in Australia. As they say, Toasted Banana Bread is a stalwart for breakfast down under. Ever cafe, has it in their menu and it's always toasted and buttered. If you haven't even tried toasting your Banana Bread, you totally have to try it next time. So when I moved to the US, I would always request cafes to toast my Banana Bread but sadly they had no clue of what it meant to toast a banana bread. They would microwave it later. So eventually I gave up and acquired the taste of just the Banana Bread. I must admit Banana Bread is my favorite fruit flavored bread. So today I share an insanely easy and delicious recipe of a healthy and vegan Banana Bread.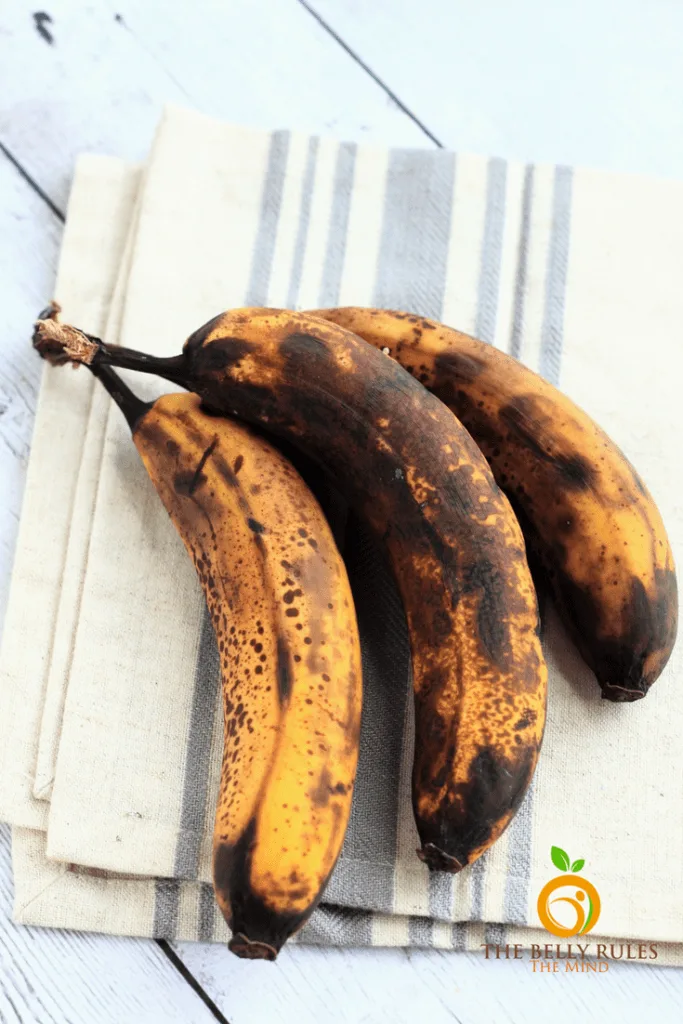 Yes not the most delightful picture you have seen, but raise your hand if you've had overripe bananas and wondered what to do with them. Well the next time you have overripe bananas, bake with them. Make banana bread, muffins, cookies, cake anything. They are perfect as they act as a sweetener and moisten the batter perfectly. If you are not into aking, you can make pancakes, icecreams, smoothies but just don't toss them. Put them to good use. Infact I let these bananas overripe as I wanted to bake some Banana Bread.
I don't bake a lot, not my comfort zone. I am more of a smoothie or make ahead, no-cook breakfast person. Often times I will refer to our post 62 Healthy No-Cook / Make Ahead Vegetarian Breakfast Ideas. Give me fruits, I will be happy. However, time and again I do like to step out of my comfort zone and challenge myself. Especially for a recipe that I love and also in an attempt to get little A to enjoy the goodness of bananas. I don't know what is it with him that he just doesn't like bananas in any form. He is a texture freak but lately, he is fine with the aroma of bananas in his smoothies so I wanted to take a chance with this Banana Bread.
So this is a super simple and yet delicious Vegan Banana Bread that is made healthy. Like you know I am not a fan of all purpose flour, this bread is made healthier using whole wheat flour and is naturally sweetened with Monk Fruit Extract. No refined sugar added. Made with easily available ingredients in the kitchen like overripe bananas, organic whole wheat flour, baking powder, baking soda, nutmeg, cinnamon, salt, coconut oil, and some monk fruit extract. It's literally 10 minutes of prep time and the rest is just baking time. This can be made ahead of time and qualifies for a perfectly healthy breakfast. Let's get started.
For more bread options, check out our Banana & Coconut Bread & Banana Bread with Oats. If you want to check out some no-cook or make ahead ideas, do check out our collection of 62 Healthy No-Cook / Make Ahead Vegetarian Breakfast Ideas.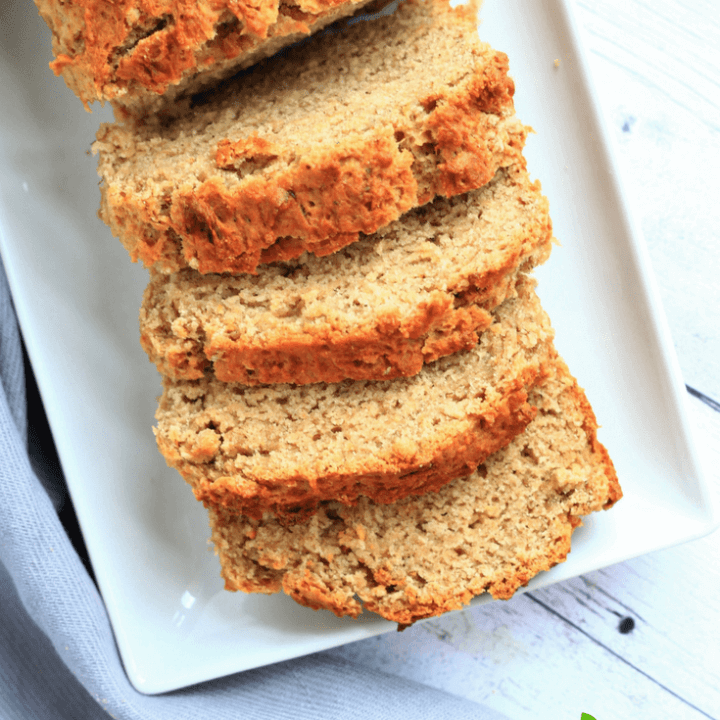 Healthy Vegan Banana Bread
Ingredients
4 ripe organic bananas (about 14-15oz)
1 and 1/2 cups organic whole wheat flour
1 and 1/2 teaspoon baking powder
1/2 teaspoon baking soda
a pinch of nutmeg
a pinch of cinnamon
a pinch of salt
1/3 cup monk fruit extract or a sweetener of your choice
1/4 cup refined coconut oil, melted
Instructions
Start by preheating the oven to 350 degrees F.
Next in a medium bowl swift together all the dry ingredients like whole wheat flour, baking powder, baking soda, nutmeg, cinnamon & salt.
%https://thebellyrulesthemind.net/wp-content/uploads/2018/07/Healthy-Vegan-Banana-Bread-1.png
In a separate bowl, mash the banana into small chunks.
Add monk fruit extract, oil to the bananas and mix evenly until combined.
Gently fold in all the dry ingredients into the mashed bananas.
Grease a pan or line it with parchment paper.
Pour batter into the pan and bake for 350 degrees F for 30-40 minutes.
%https://thebellyrulesthemind.net/wp-content/uploads/2018/07/Healthy-Vegan-Banana-Bread-2.png
Insert a toothpick to check for doneness.
Enjoy the bread toasted and warm.