This Instant Shrikhand with Fresh Mango / Fresh Mango Greek Yogurt dessert is made up of creamy Greek yogurt that is sprinkled with a touch of cardamom & saffron. You can top that with some diced Mangoes that has been dusted with chopped dry fruits You can't get much better than this, and it's all ready to eat in less than 5 minutes! It's a great party pleaser too and can be made ahead of time.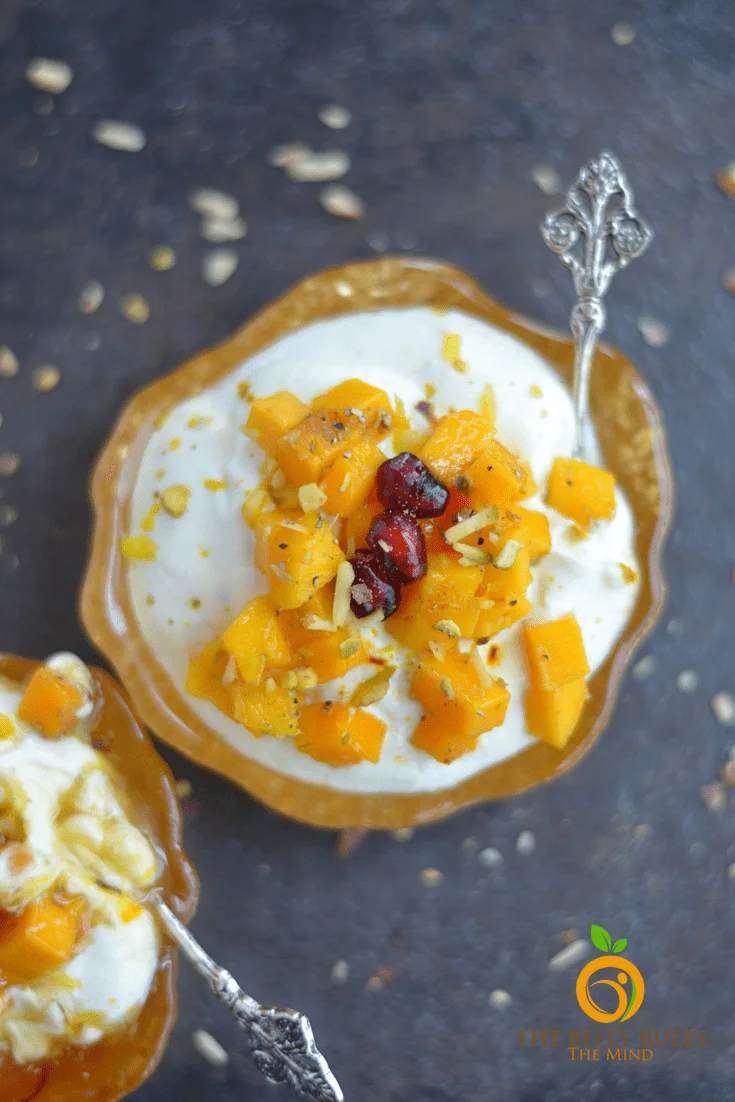 What is Shrikhand?
Shrikhand (sweet Greek Yogurt) is a semi-soft, sweet and flavored dairy based Indian dessert made from Strained Yogurt also called Chakka in various regions of India. This chakka (Strained Yogurt) is then mixed with sugar and various flavoring agents to make a sweet delicacy called Shrikhand. Shrikhand is made with various flavors like Rose Shrikhand, Pista Badam Shrikhand etc.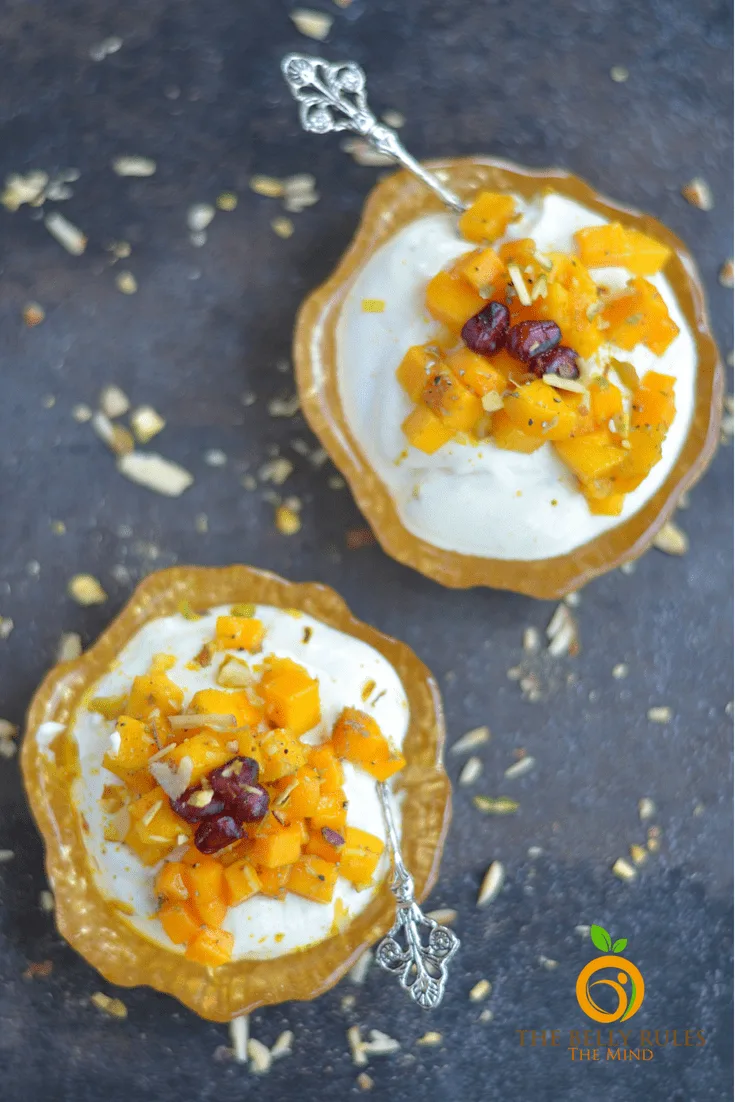 You know we at The Belly Rules The Mind are a huge greek yogurt fan( hung curd)! As Summer approaches we add it to everything and it is consumed every day :D Well that's because we know it's packed with all the vitamins me and my boys R12 & R3 need. If you are wondering how to make it at home, check out this Vegetable Slaw.
Mango season is here and I am getting inspired to use one of my favorite fruits in my favorite recipes. So here is a quick, simple and super delicious Instant Shrikhand with Fresh Mango / Fresh Mango Greek Yogurt with added dry fruits to have a healthy twist and is READY in 10 minutes tops!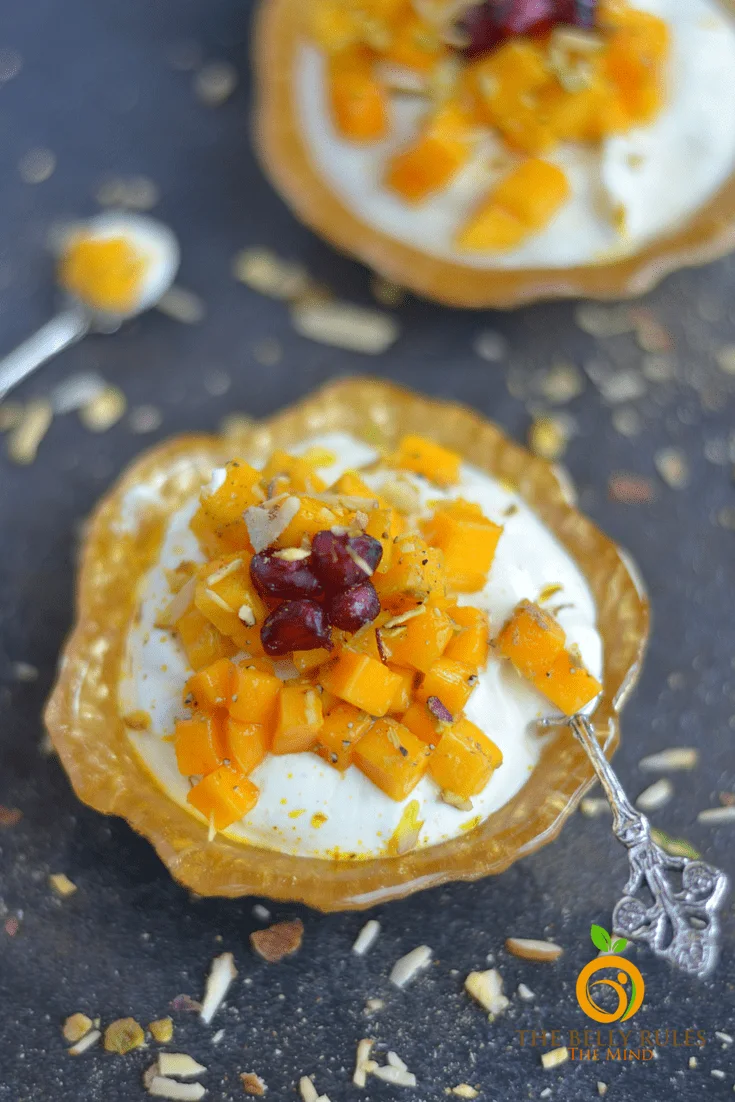 Are there any health benefit of Shrikhand?
This Instant Shrikhand with Fresh Mango / Fresh Mango Greek Yogurt is loaded with calcium, potassium, protein (twice as much as regular yogurt), zinc, B6 and B12 vitamins. The probiotic cultures help my family stay healthy during long winter months or during the busy summers.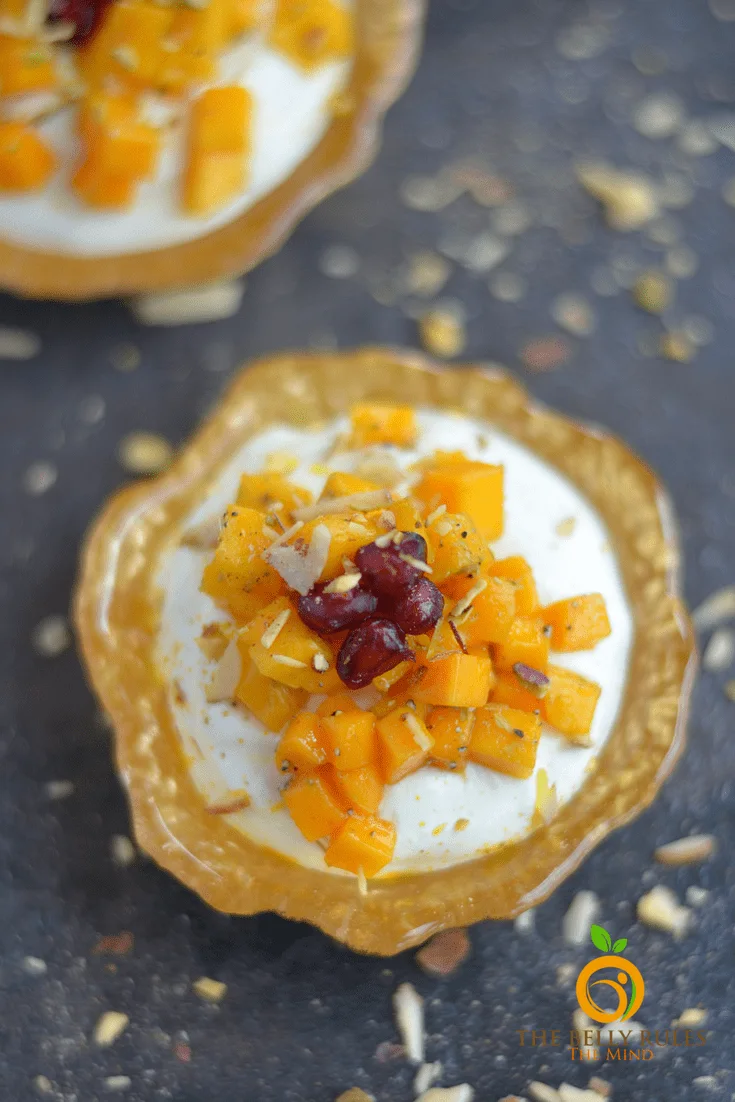 For a sweet, fruity treat that won't cost you a days-worth of calories, this simple Instant Shrikhand with Fresh Mango / Fresh Mango Greek Yogurt is the perfect solution. We enjoy this Greek Yogurt with Mango & Pomegranate in the summer, you can even substitute fresh berries for frozen. It is so tasty and still healthy!
Making Shrikhand is actually very simple, the only time consuming and a tough task is to get the perfect Strained Yogurt.
Do check out our other recipes that use Greek yogurt/hung curd.
1 Vegetable coleslaw
2 Skinny Baked Jalapeno
3 Veggie coleslaw sandwich
4 Skinny mutter methi mushroom
5 Veggie Chip & Dip
Enjoy & Thanks for stopping by!!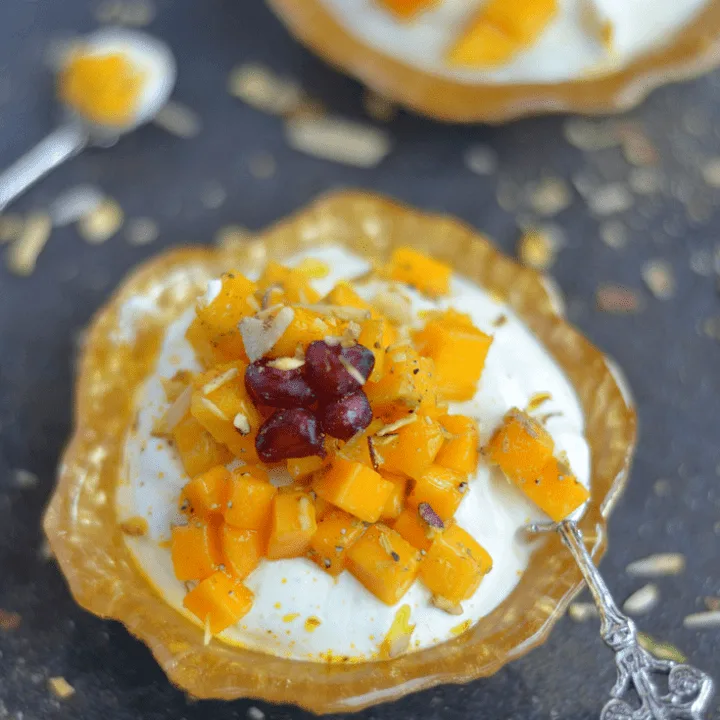 Instant Honey Shrikhand with Mango
Ingredients
1 lb greek yogurt / or make you own click here
1/3 cup Maple syrup/ Raw Honey/while observing fast you can use sugar
1 tablespoon of your favourite nuts /I used pistachios and almonds
few saffron strands
1 teaspoon cardamom powder
few tablespoon pomegranate for garnish
1 cup Mongo cubes
Instructions
In a medium bowl add greek yogurt
Add maple syrup .
Add nuts , cardamom powder and few saffron strands ,mix well .
Add few saffron strands and little cardamon powder in mango cubes ,Stir gently .
Arranging the shrikhand
Scoop the chilled shrikhand into serving bowls , top with mango cubes.
Cover and chill the shrikhand and mango cubes in the fridge for at least 1 hour before serving.
Arranging the Instant Shrikhand with mangoes
Enjoy & Thanks for stopping by!!