Instant Pot Steel Cut Oats in 4 minutes!!! Yes please. Get the perfect oats in your Instant Pot every time with this easy and fool proof method. A great way to enjoy the goodness of oats with this warm heart bowl. Video Recipe. Vegan. Gluten-Free.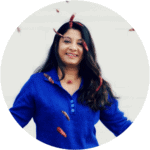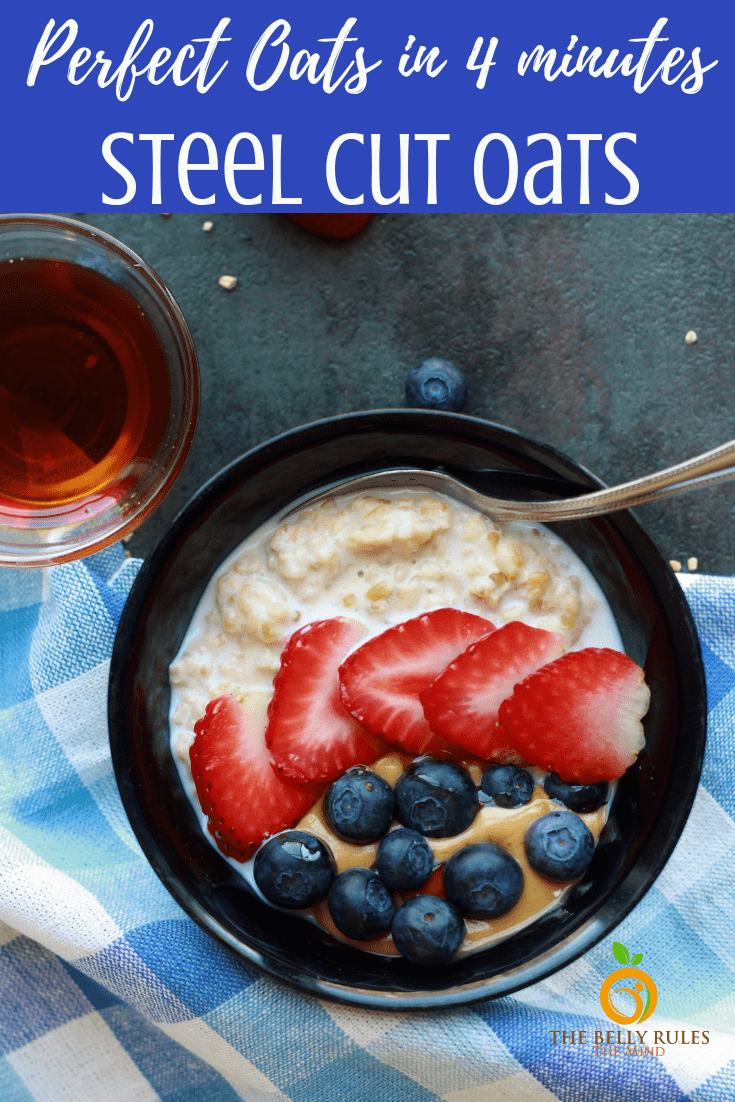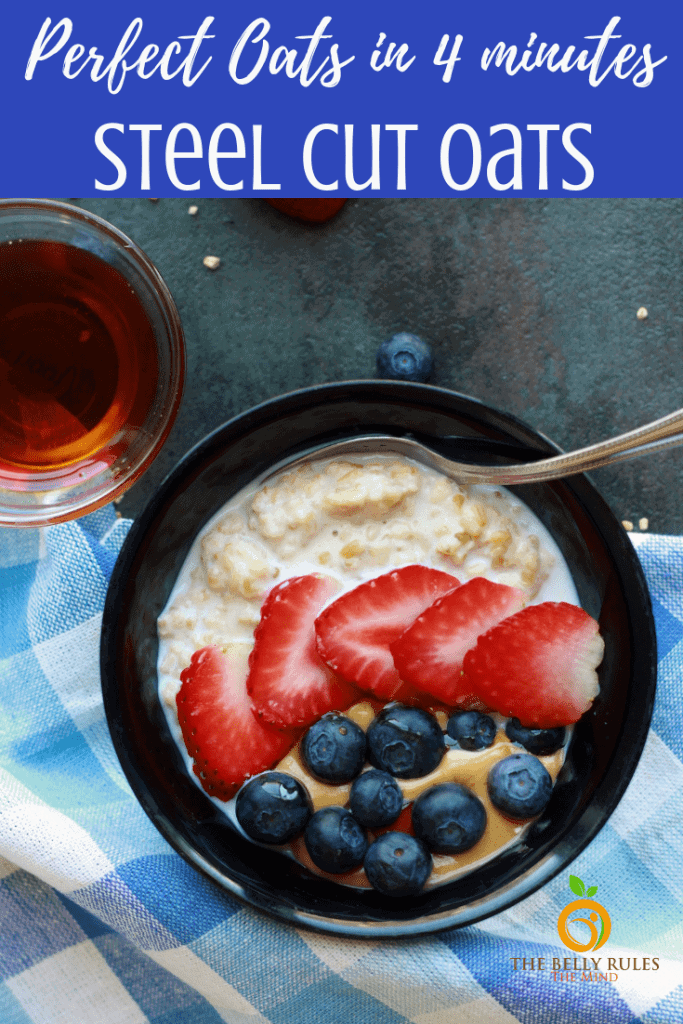 Honestly I have to admit, I was not an 'oatmeal' kind of person initially. Primarily because I didn't like the mushy texture of the rolled oats for the longest time. I guess over a period of time I figured the right consistency for me. Until one day I gave steel cut oats a chance in my Instant Pot and loved the results. Until then I always enjoyed my Overnight Oats but lately I have started making Steel Cut Oats more often.
4 minutes of cooking time and your done. Isn't that amazing!!! Perfect for those busy mornings when I just pour in the ingredients into the Instant Pot get my son ready and by the time we are down again, breakfast is ready. Mind you take into account the time taken to build pressure and the natural pressure release. Total time taken is about 20 mins.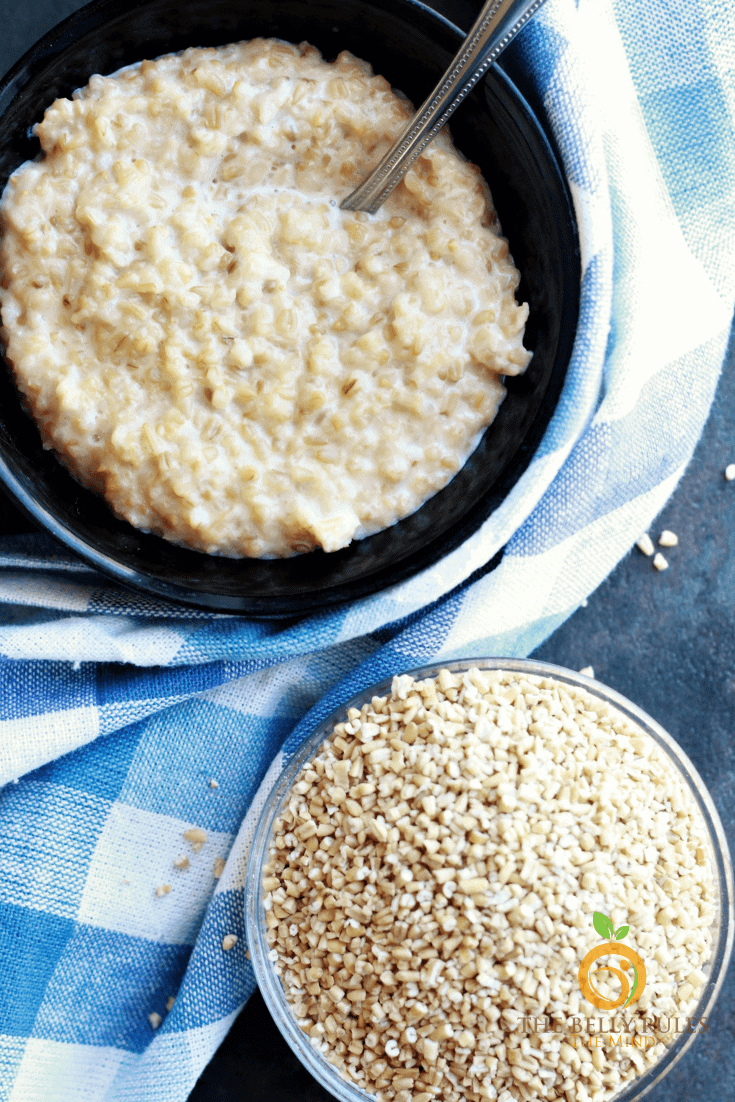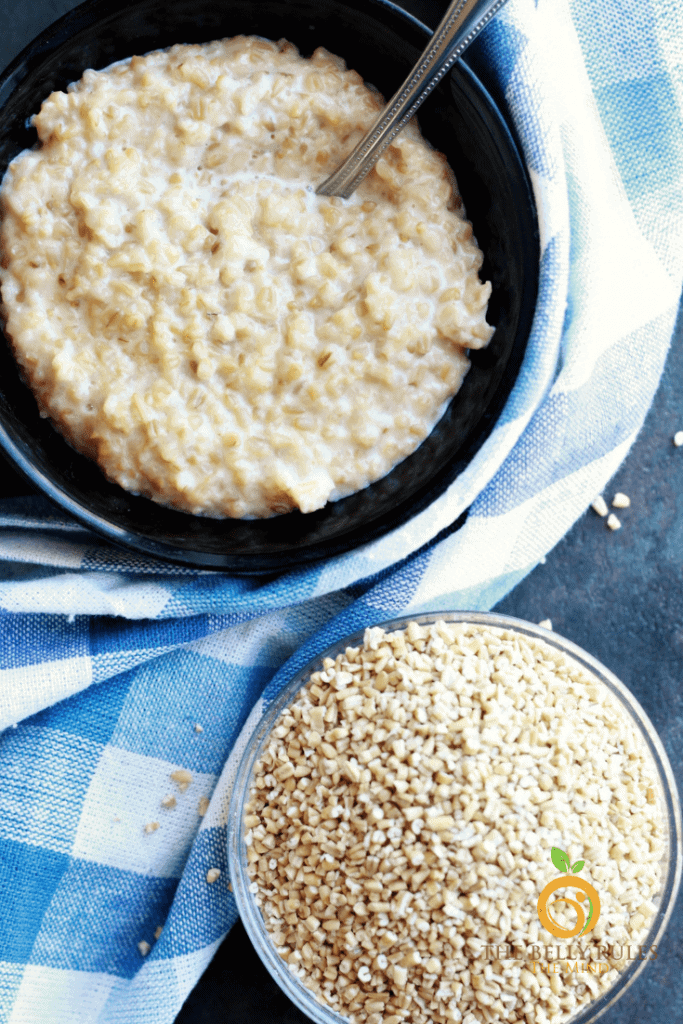 What are Steel Cut Oats?
Steel cuts cuts are whole oats that have been cut into two or three parts using steel blades, thus the name steel cut oats. They are also known as Irish Oats or Pinhead Oats. Mind you they are different from Rolled Oats for sure.
How are Steel Cut Oats different from Rolled Oats
The difference between steel cut oats and rolled is basically just how much they are processed. All oats start from groats. Rolled oats are made by steaming the groats, flattening them & toasting them resulting in thinner flakes. Though processed, rolled oats are still a whole grain. On the other hand steel cut oats are minimally processed are are literally cut into two to three parts.
They are also both different from eachother in texture and the time taken to cook them is different. Steel cut oats also have a lower GI compared to rolled oats, thus if you are not a big texture freak, steel cut oats are always a better option compared to rolled oats.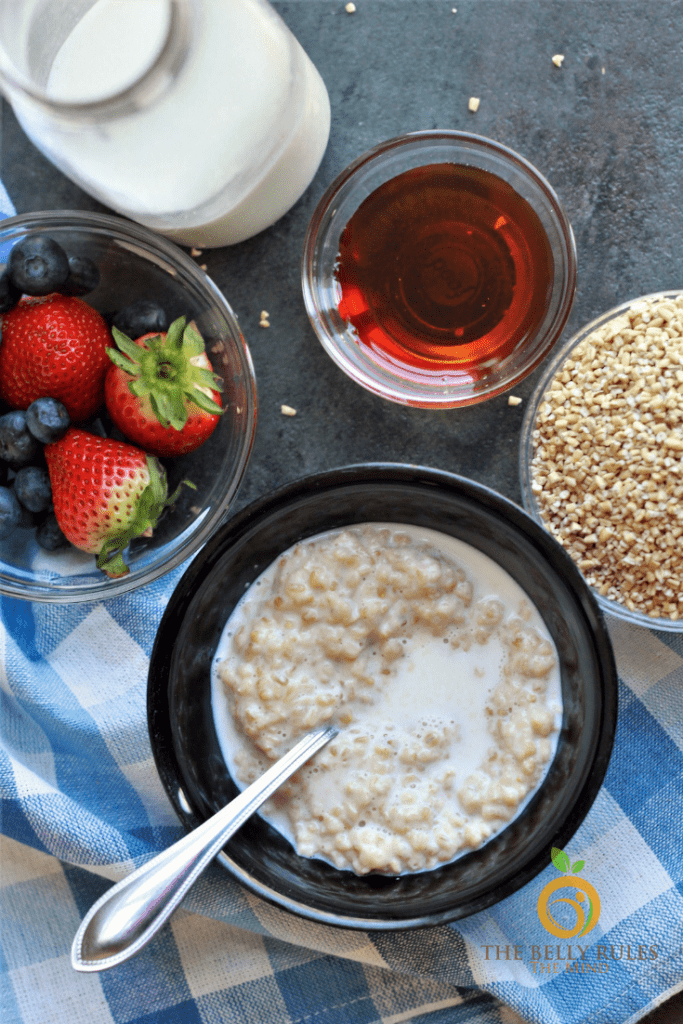 Steel Cut Oats Benefits
Steel cut oats are a great way to consume whole grains.
They have a low glycemic index (GI), which means it takes longer for the digestive enzymes to reach the starch inside the thicker pieces, slowing down their conversion to sugar. This makes oats great for diabetics.
Steel cut oats are high in dietary fiber, protein and iron.
They are naturally gluten-free.
Instant Pot Steel Cut Oats
Cooking steel cut oats in the Instant Pot is super easy. Just throw in the ingredients
2: 3 oats to liquid ratio
4 minutes high pressure
10 minutes natural pressure release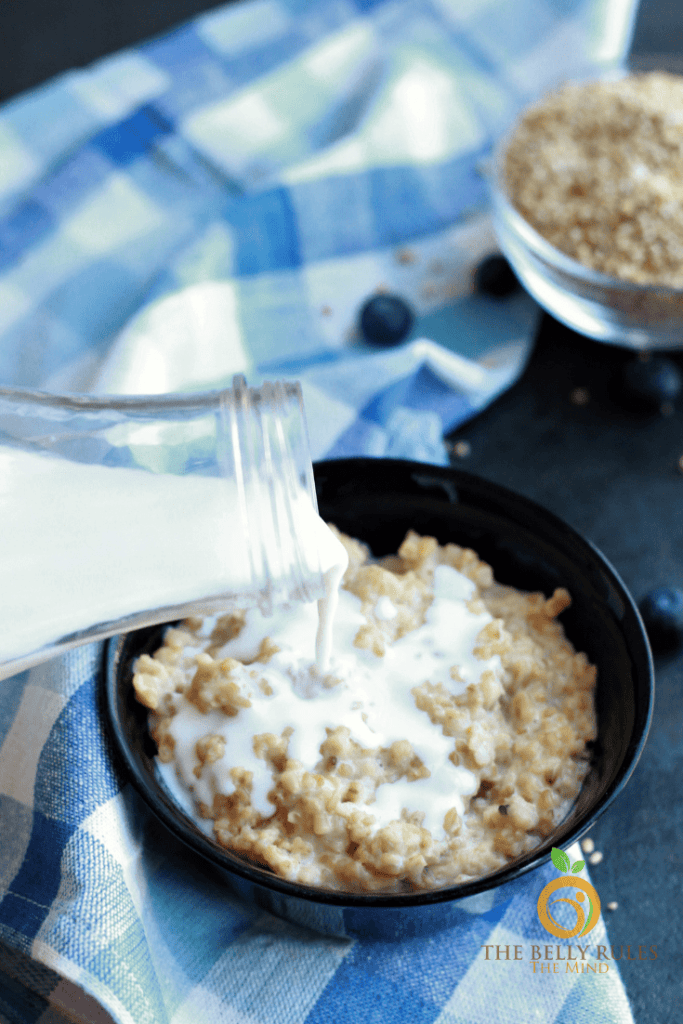 Can I switch between milk / alternate milk / water
I have tried making steel cut oats with water, milk and even almond milk. I got pretty much similar results with the above ratios and settings. There was no burning or sticky bottom.
Do I do a quick release or natural pressure release
When the cooking time has completed and the timer beeps, do not rush for a quick release. Patience is the key here. When the pressure naturally releases the time allows the oats absorb the liquid and become perfectly tender. Just the right consistency. You also don't want to clog the valve with the oatmeal liquid.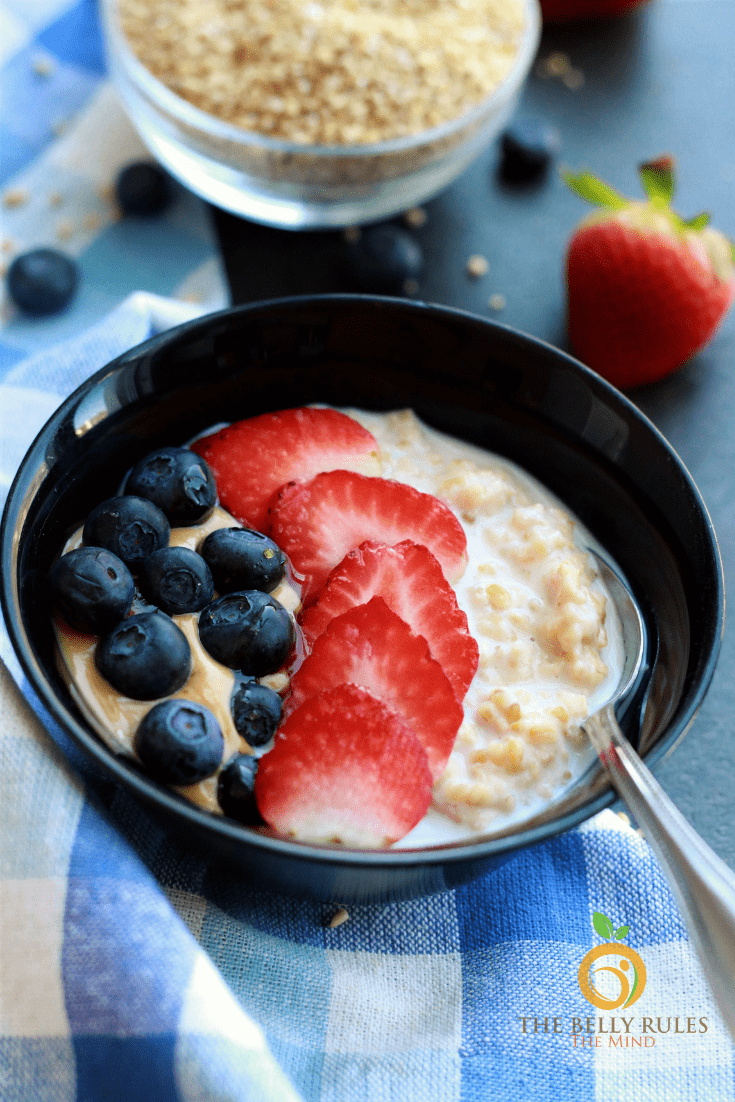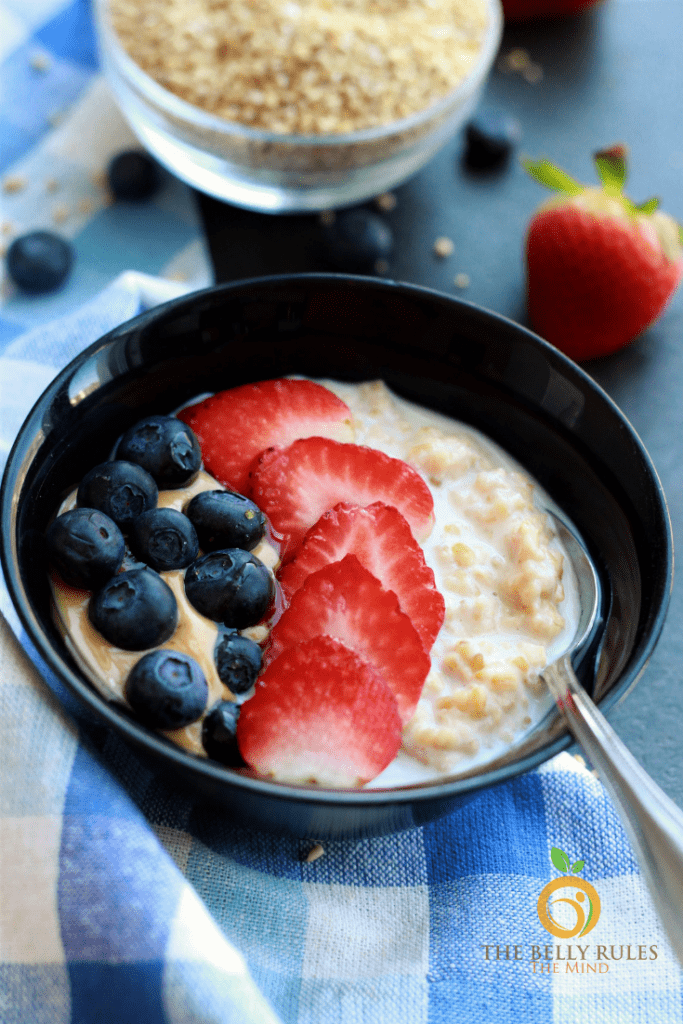 How long to they last, can I meal prep a batch
Steel cut oats last for upto a week in the refrigerator. So an easy meal prep idea is to make a large batch for a week and store it in meal prep containers or freezer safe bags. If you freeze them, make sure to thaw them overnight before reheating them. Just throw in your toppings and sweeteners everyday.
How to add flavor to my Steel Cut Oats
Steel cut oats are so versatile, there are so many ways to add flavors to your oats.
Change up your fruits.
Throw in some seeds.
Add a scoop of your favorite nut butter.
Sweeten it with dates, maple syrup or monk fruit extract.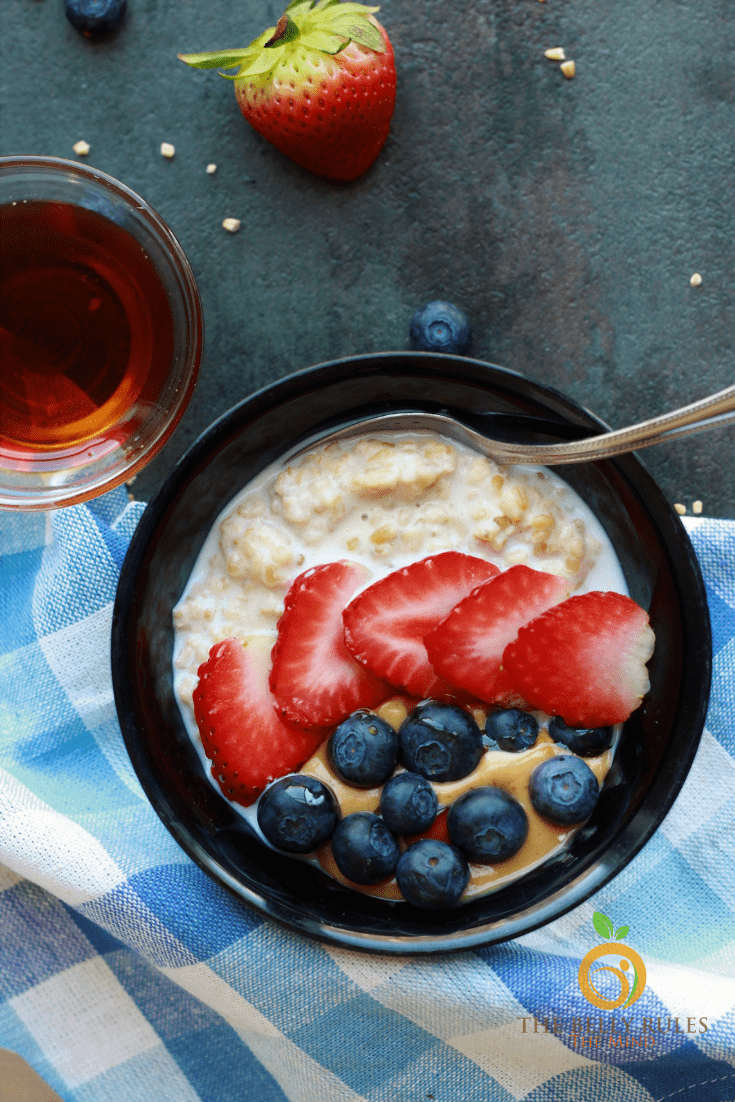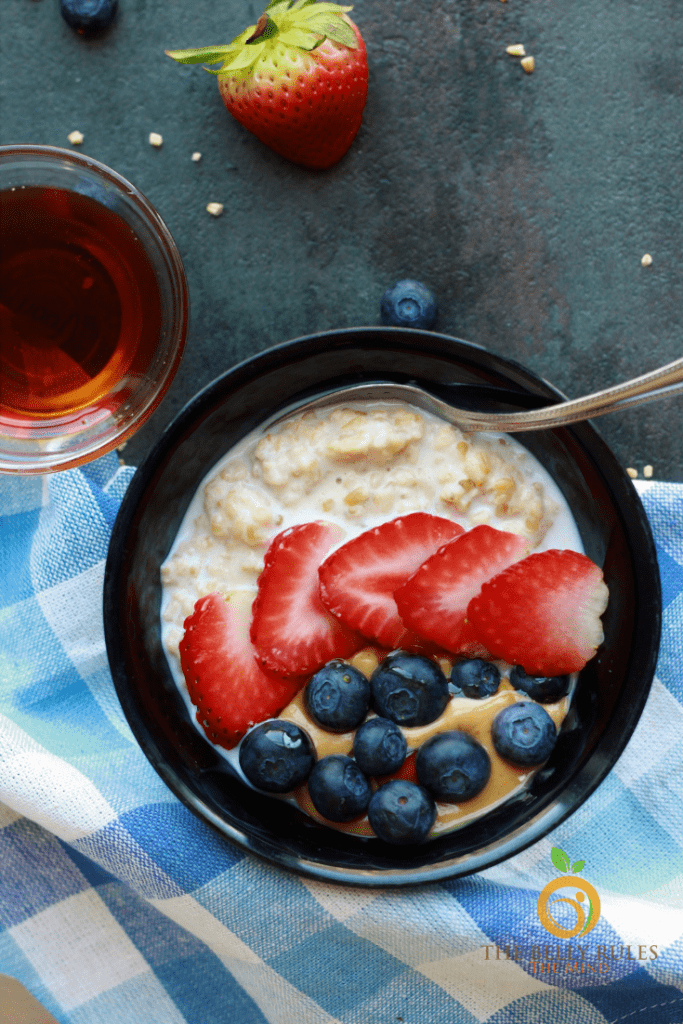 How to cook Steel Cut Oats in Instant Pot Video
Steel Cut Oats Recipe
If you like to enjoy a warm heart oatmeal breakfast, then try this recipe now. You won't be disappointed. Come back and do let us know whether or not you got your perfect oats or no. BTBW, don't forget to take a picture and tag us on Instagram @dbellyrulesdmind, we love seeing pictures of your creations.
Yield: 4 servings
Instant Pot Steel Cut Oats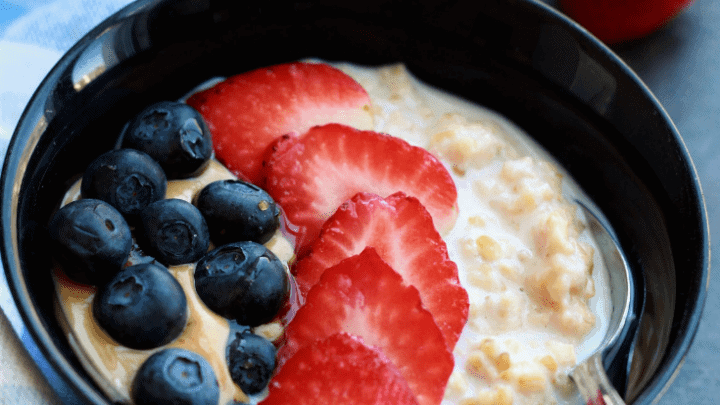 Instant Pot Steel Cut Oats in 4 minutes!!! Yes please. Get the perfect oats in your Instant Pot every time with this easy and fool proof method. A great way to enjoy the goodness of oats with this warm heart bowl. Video Recipe. Vegan. Gluten-Free.
Additional Time
10 minutes
Ingredients
3 cups water / milk / alternate milk
Instructions
2: 3 oats to liquid ratio
4 minutes high pressure
10 minutes natural pressure release
Spray oil on the inner pot to avoid a sticky bottom.
Toss in the oats and liquid in the Instant Pot and lock the lid. Vent on Seal.
Pressure on high for 4 minutes. When the timer beeps, allow pressure to naturally release for about 10 minutes and then unlock the lid.
Stir and then spoon the oats into a serving bowl.
Dress up your bowl with your favorite ingredients and enjoy it warm.
Notes
Coating the innner pot is always a good idea to avoid a sticky bottom specially if you are using milk to cook the steel cut oats.
Natural pressure release is the key here, allowing the oats to absorb more liquid for the perfect texture and avoid clogging the vent.
If you plan to refrigerate or freeze the oats, make sure the oats cool down before placing them in the refrigerator.
Recommended Products
As an Amazon Associate and member of other affiliate programs, I earn from qualifying purchases.
Nutrition Information:
Yield:
4
Serving Size:
1
Amount Per Serving:
Calories:

397
Total Fat:

11g
Saturated Fat:

3g
Trans Fat:

0g
Unsaturated Fat:

7g
Cholesterol:

10mg
Sodium:

76mg
Carbohydrates:

60g
Fiber:

8g
Sugar:

1g
Protein:

15g
All information and tools presented and written within this site are intended for informational purposes only. We are not a certified nutritionist and any nutritional information on TheBellyRulesTheMind.net should only be used as a general guideline. This information is provided as a courtesy and there is no guarantee that the information will be completely accurate. Even though we try to provide accurate nutritional information to the best of our ability, these figures should still be considered estimates.