Instant Pot Vegan Pad Thai Noodles in just 20 minutes. Yes please!!! Noodles, sweet and sour Pad Thai Sauce, some veggies and tofu is all you need to whip up your next weeknight meal. Save this one because it's yum. Gluten-Free.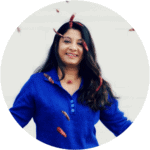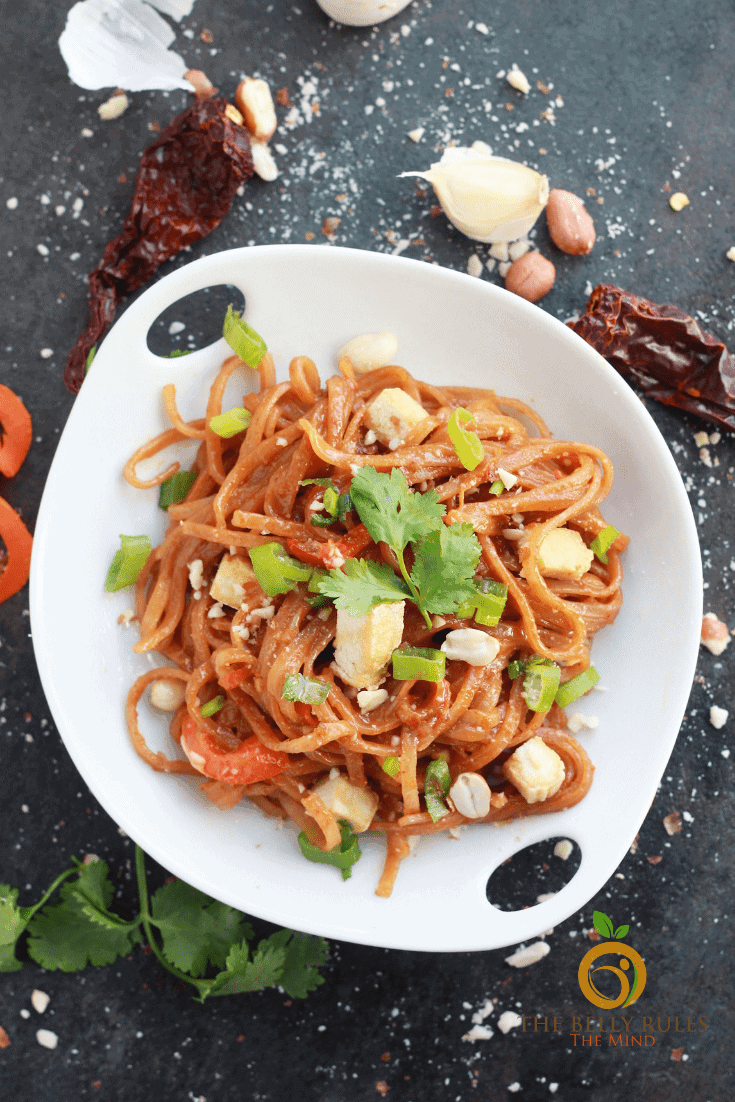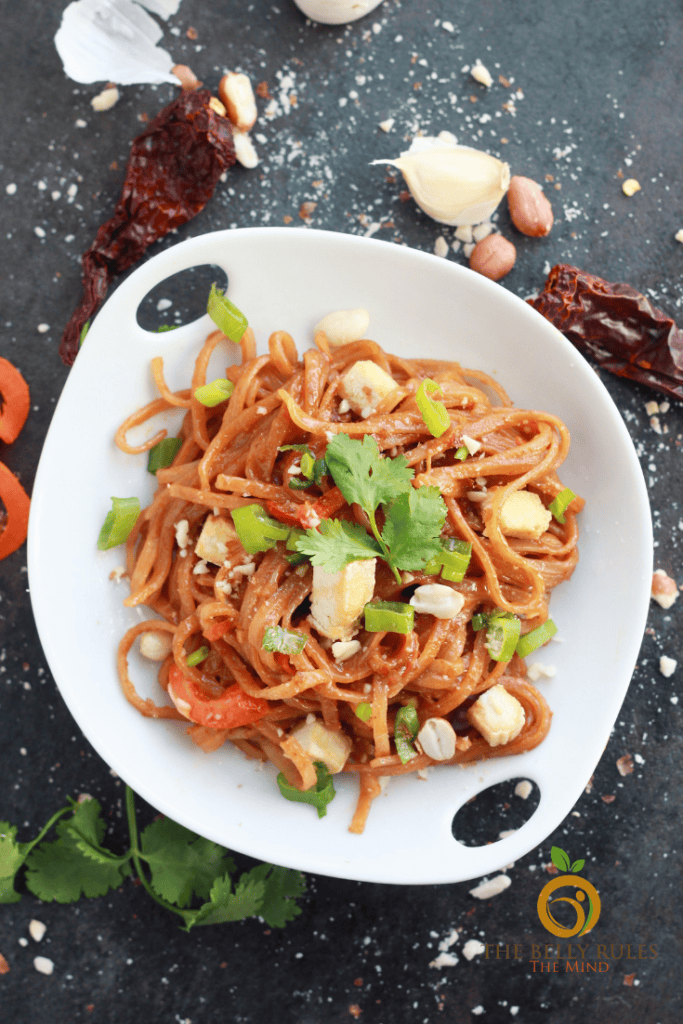 What is Pad Thai?
Pad Thai is a very popular Thai dish that is made from stir fried noodles, veggies, protein and the sweet and sour Pad Thai sauce. it's typically stir fried with scrambled egg, fish or shrimps. It's the sauce that sets it's taste apart. The authentic sauce is made with anchovies, however I have a vegan fix for it :)
Vegan Pad Thai
If you are a Thai food lover and love noodles, then Pad Thai is a must try. However if you don't consume meat, fish or eggs like me then this(Vegan) is what Pad Thai you need to order or make it yourself at home.
It's hard to not fall in love with Pad Thai because it's so full of flavors, spicy, sweet, tangy, salty and a perfect medley of soft noodles with crunchy peanuts.
It's super easy to make this Vegan Pad Thai at home. No fancy ingredients required. Rice noodles, 5 ingredient Pad Thai Sauce, carrots, peppers, green onions , tofu and some garlic.  It's getting the veggies and tofu ready that takes about 10 minutes but apart from that the rest dump and stir, super easy.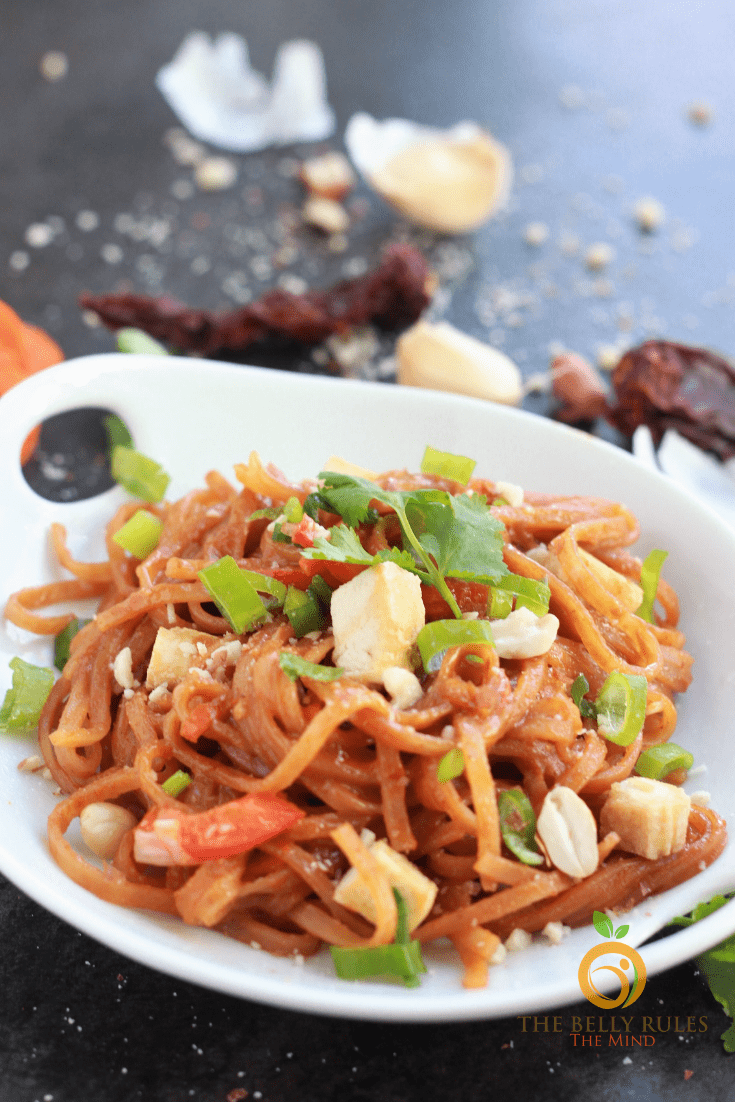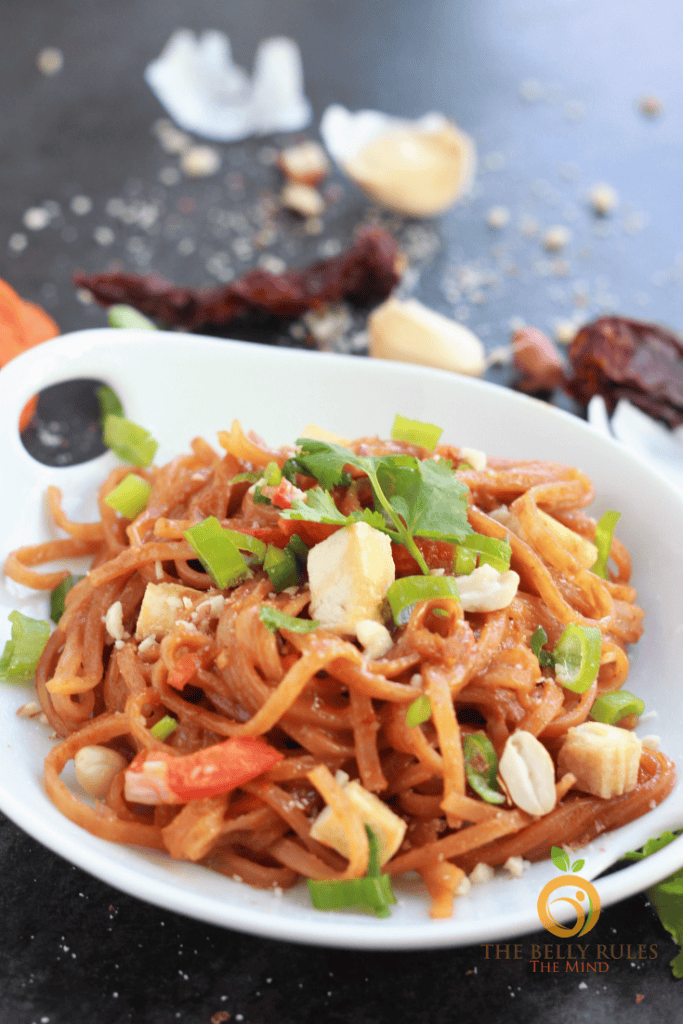 Vegan Pad Thai Sauce
Among all the Asian sauces, Pad Thai Sauce tops my list. 5 simple ingredients and the sauce is ready.
Apart from the peanut butter, tamari or soy sauce, maple syrup, chilli garlic sauce, there is a secret ingredient to this sauce. Tamarind paste or concentrate, this gives the perfectly tangy flavors. It's easily available in Asian grocery stores or Amazon
Not only is it great for stir fries but it goes very well with salads or dips.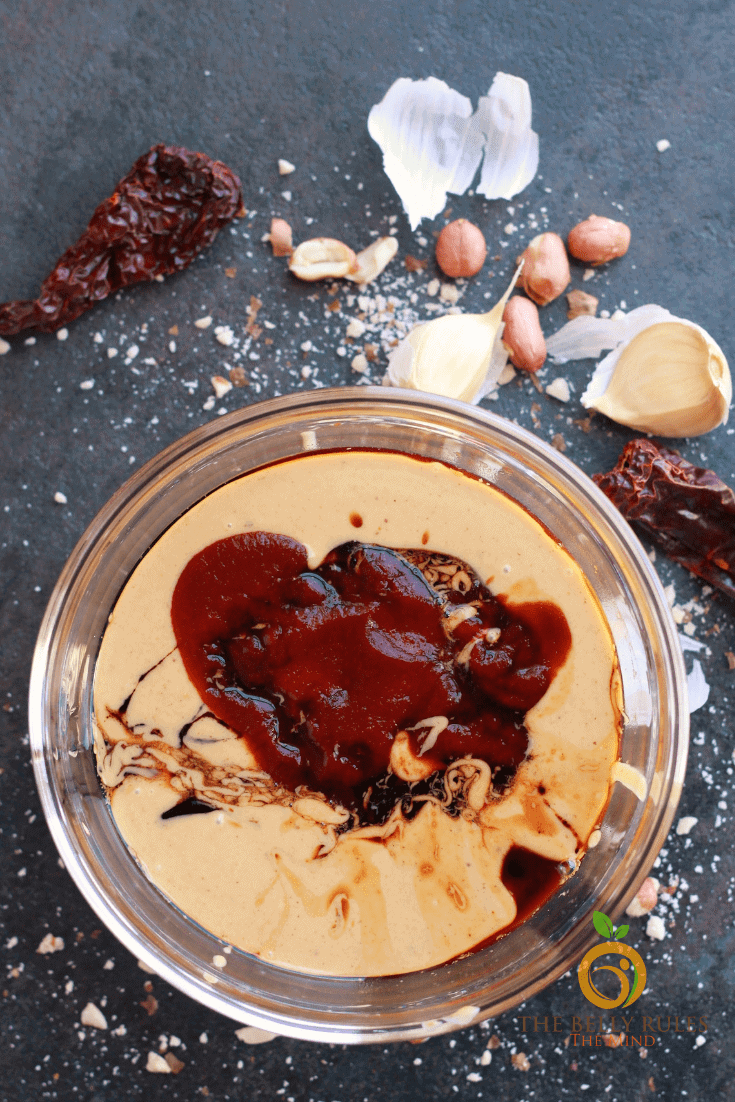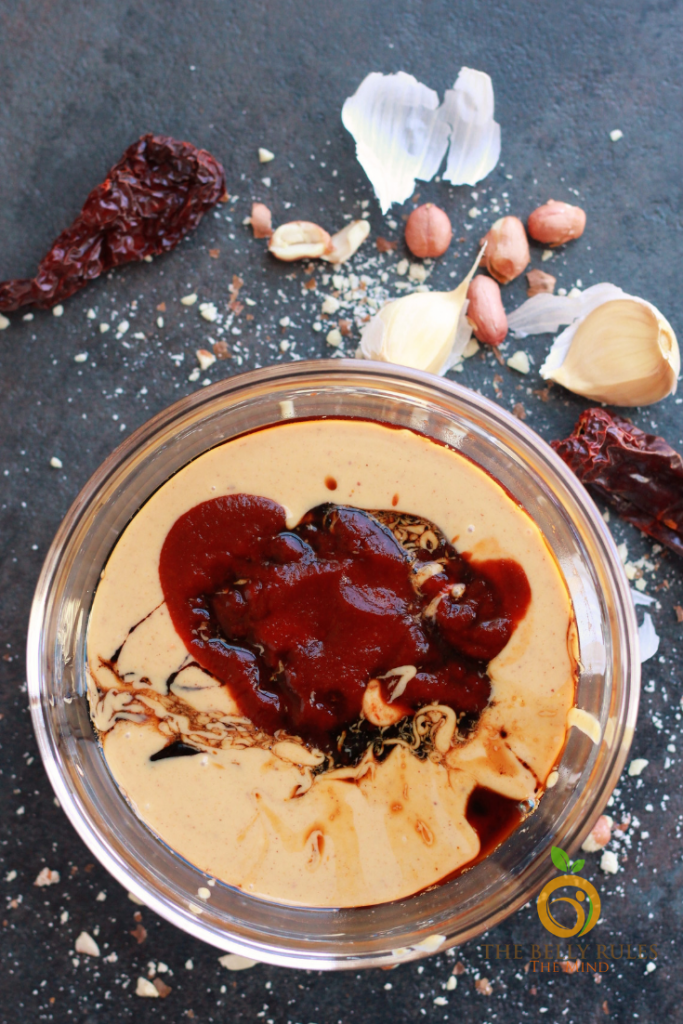 Pad Thai Noodles
Stir frying noodles can be tricky sometimes and you can end up with broken noodles if not using the right noodles.
Confession – happened to a lot of times until I realized that the best noodles for Pad Thai are Thai Kitchen's rice noodles. These noodles are thick & flat and don't turn out to be mushy or broken when cooked.
There are two varieties that are available, brown rice (the darker color) and the regular rice noodles. I have used brown rice noodles for this preparation.
They are also Gluten-Free.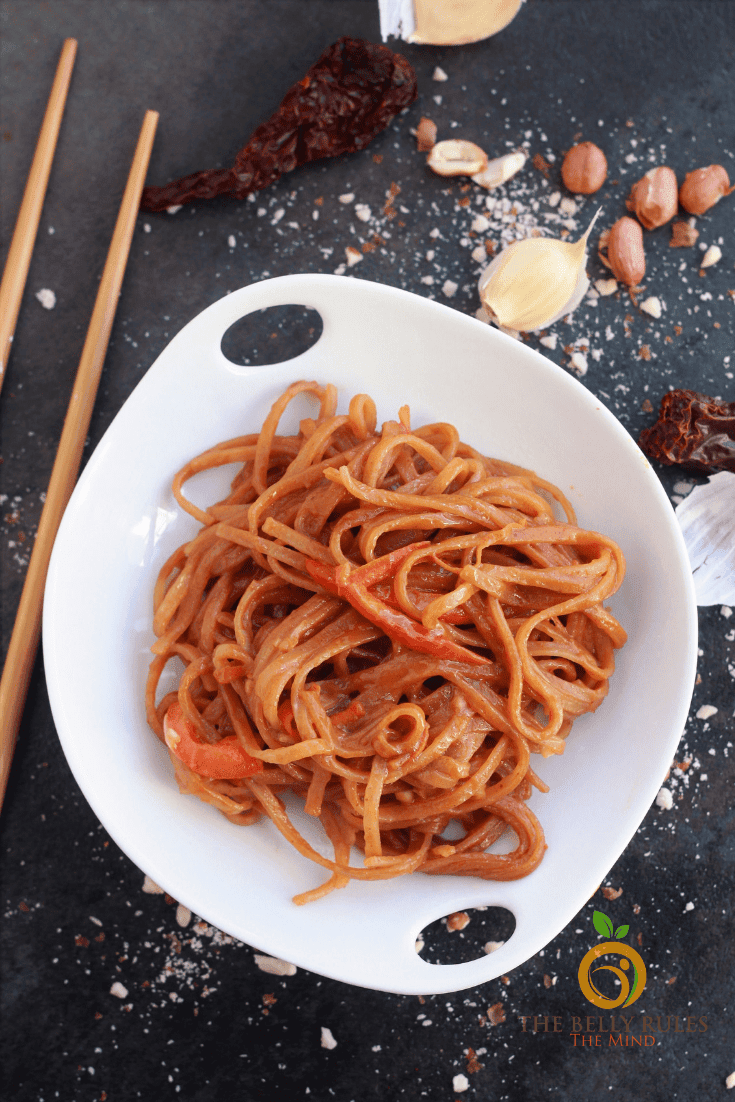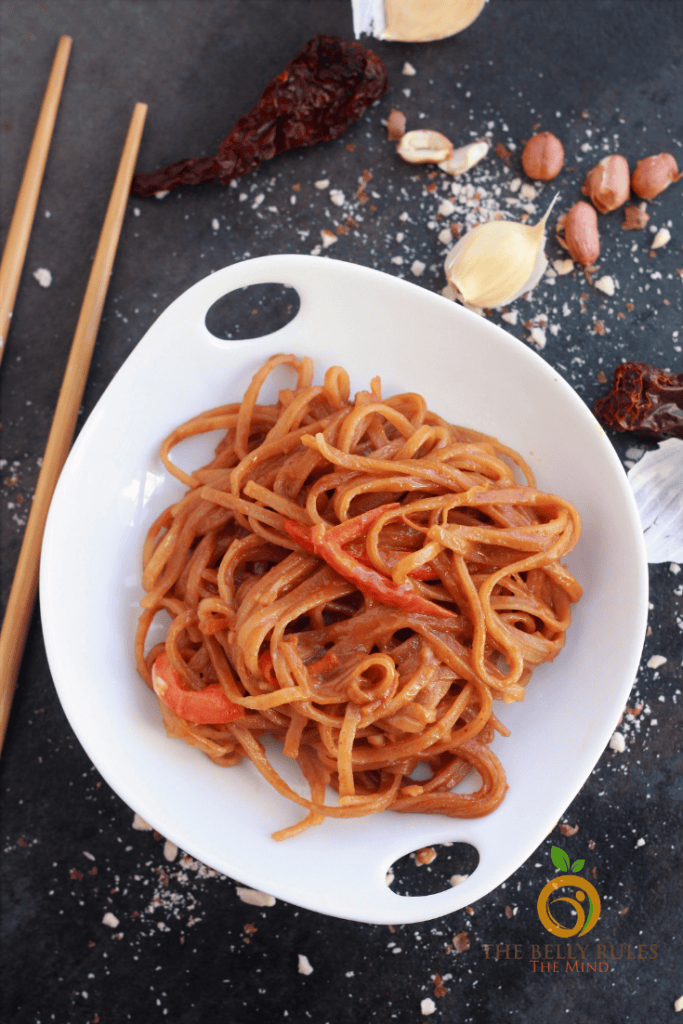 Instant Pot Vegan Pad Thai Recipe
Typically Pad Thai is a stir fry, however this is a one pot recipe where you don't cook the noodles separately and then add it to the stir fry. It's literally throwing in all the ingredients into this one pot and your meal is ready. I already had some leftover baked tofu from before that I used but you can toss that in the Instant Pot too.
First you prepare the veggies you need for this recipe. I have used green onions, carrots and bell peppers. Feel free to throw in some snap peas, bean sprouts or zucchini, whatever you like.  Keep the garlic and cilantro ready too.
Next you prepare the tofu, by wrapping it into a clean absorbent towel ans set something heavy on top to aid draining the moisture. Then cut it into small 1 inch cubes
In the mean time make the sauce. Add in the peanut butter, tamarind concentrate, tamari or soy sauce. maple syrup and some chilli garlic sauce. Feel free to adjust the taste of the sauce depending on the spice level, sweetness and how tangy you like it.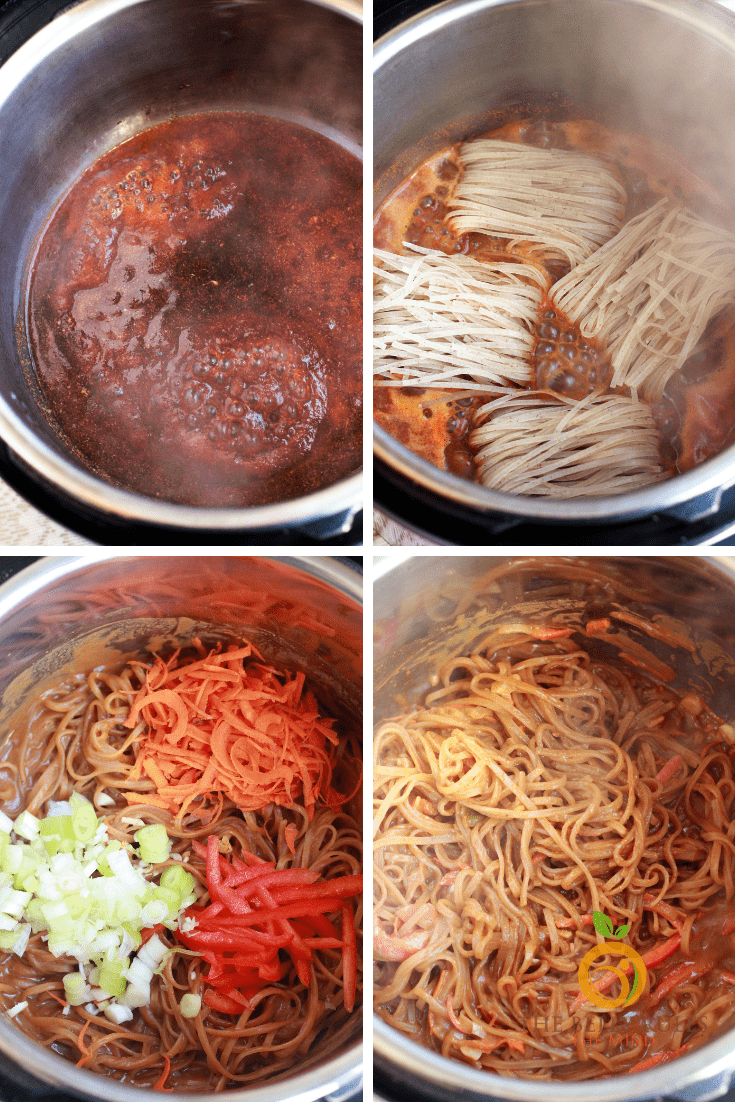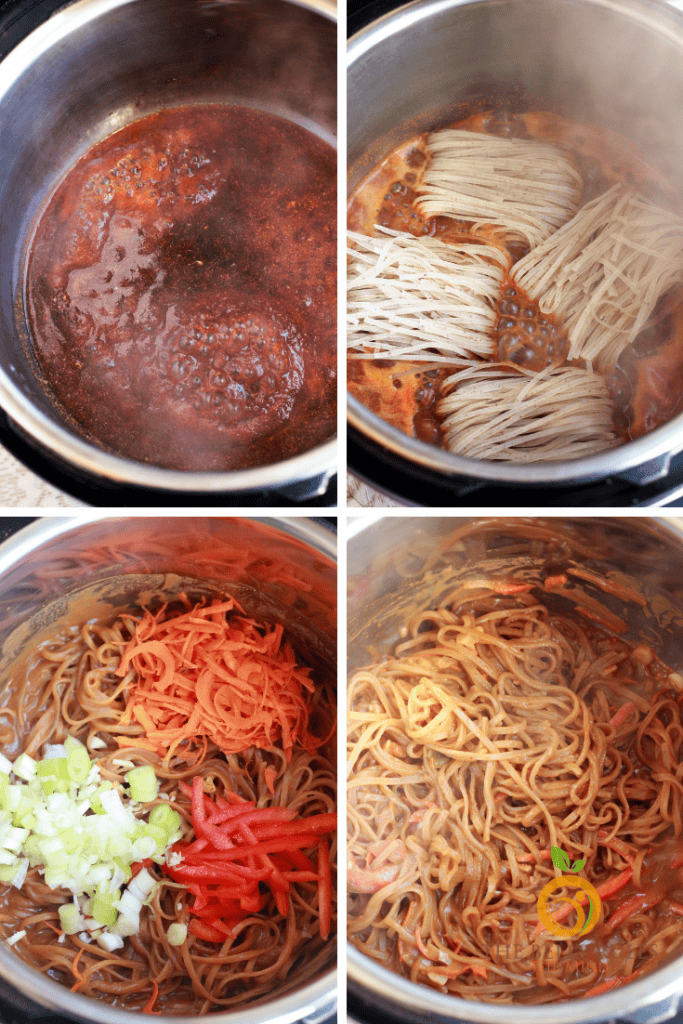 Once the Instant Pot is hot you add the Pad Thai sauce, made above along with the garlic.
Once it comes to boil, add the noodles and some vegetable broth. I figured some extra flavor and nutrition won't hurt at all. However you can use water too.
Stir gently making sure the noodles don't break apart. Once the noodles start turning soft, throw in the veggies and tofu. Since I used left over tofu that was already baked, I added tofu in the end when I garnished my bowl.
Close the lid, seal the vent and pressure on high for 2 minutes.
Lastly release pressure, serve in a noodle bowl, garnish it cilantro, crushed peanuts, green onions and a lime wedge.
Instant Pot Vegan Pad Thai Noodles Recipe
These Instant Pot Vegan Pad Thai Noodles are sure to tantalize your tastebuds so lets get started. When you make this recipe, don't forget rate this recipe and take a picture and share it on Instagram by using the hashtag #tbrtm.
Yield: 2 as entree / 4 as appetizer
Instant Pot Vegan Pad Thai Noodles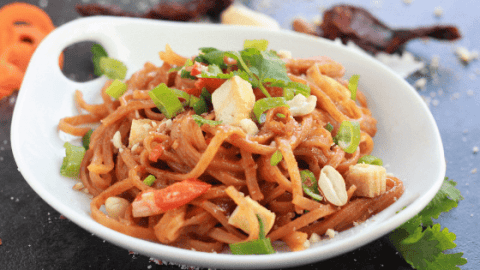 Stir fired rice noodles, veggies, tofu combined with spicy, sweet and tangy sauce and a creamy savory finish from the peanut butter. A quick balanced weeknight meal that is ready in just 20 minutes.
Ingredients
12 oz. extra firm tofu
3 garlic cloves, chopped
1 bundle of green onions, chopped
2 whole carrots, shredded
1 bell pepper
1 1/2 cups of vegetable broth or water
Vegan Pad Thai Sauce
2 tbsp. creamy peanut butter
4 1/2 tbsp tamari or soy sauce
3-4 tbsp maple syrup
1 1/2 tsp chilli garlic sauce
Garnishing
2 tbsp crushed peanutes
cilantro
lime wedge
Instructions
Prepare the veggies by washing and chopping them. Chop the garlic really fine. Julienne the bell peppers, shred or ribbon the carrots, chop the green onions.
Prepare the Sauce in a bowl by adding the peanut butter, tamarind concetrate, tamari or soy sauce and maple syrup. Mix well and set aside.Adjust the taste to your liking at this point.
Prepare the tofu by wrapping in an a clean absorbent towel and set something heavy on it to aid in draining the moisture. Then cut into 1 inch cubes.

Heat Instant Pot to "Saute." Add in the prepared sauce and garlic and bring it to boil.

Add in the rice noodles into the pot.

Add the vegetable broth or water and allow the noodles to soften. This will take about 2-3 minutes.

Once the noodles are soft throw in the veggies and tofu. I used left over baked tofu so I directly garnished it in the end. Keep some green onions aside for garnishing.

Set Instant Pot to normal "Pressure" for 2 minutes. Turn valve to Seal. When the timer goes off, turn valve to Vent to Quick release the pressure.
Garnish with green onions, cilantro, crushed peanuts and a lime wedge with each bowl.
Recommended Products
As an Amazon Associate and member of other affiliate programs, I earn from qualifying purchases.
Nutrition Information:
Serving Size:
1/4 of recipe
Amount Per Serving:
Calories:

231
Total Fat:

7.6 g
Saturated Fat:

1.1g
Sodium:

775mg
Carbohydrates:

32.4g
Fiber:

4.2g
Sugar:

12.8g
Protein:

11.2g
More Thai recipes you might like
Save this for later