Aromatic, Fragrant, flavorful, spicy, delicious, and super tasty is how I will define this Instant Pot Vegetable Biryani Recipe. This Vegetable Biryani is perfect to serve as a main course meal or a side dish at get-togethers or potlucks. It's studded with dry fruits, colorful veggies and super fragrant from aromatic whole spices. This Recipe will be a hit all year around and will have everyone clambering for more.
Check out the video for this Instant pot Vegan Vegetable Biryani below!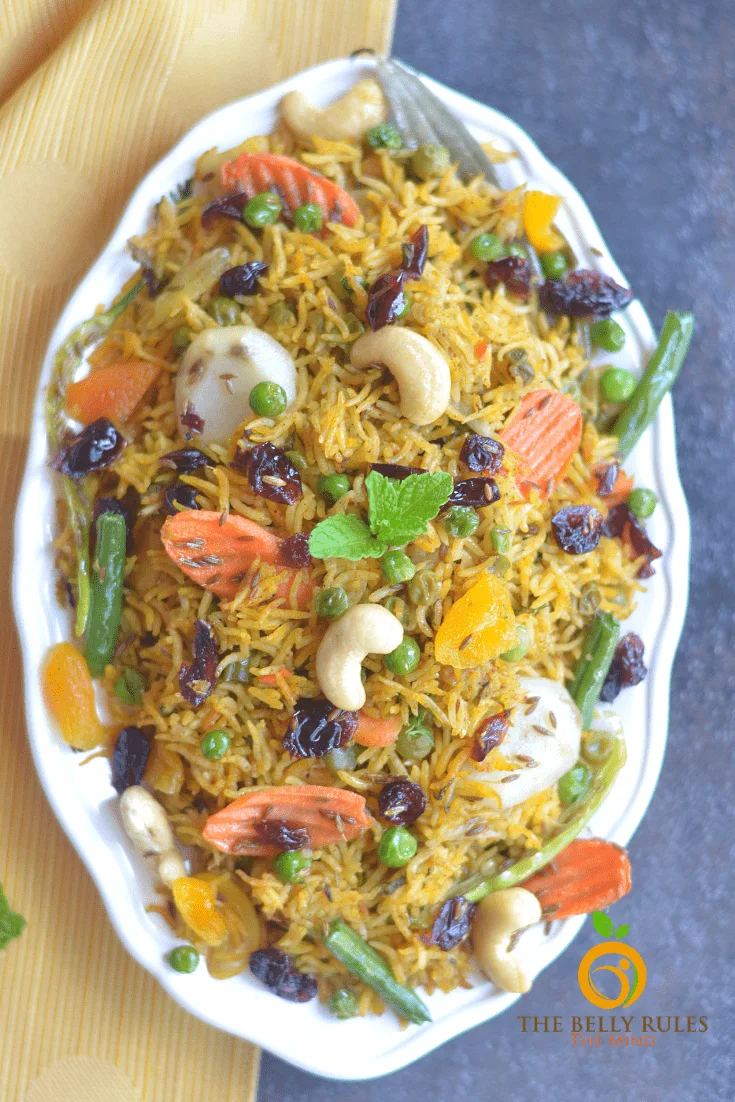 I'm just starting to realize that I may have an obsession of cooking with my Instant- Pot. Not every obsession is a bad thing, right? I feel like this is a very good and very justified obsession. We use this Instant pot for all our instant-pot meals.
What is Biryani?
Biryan is a flavorful rice dish, packed with amazing flavors and other aromatic ingredients. The exact origins of Biryani is still debatable, however it is prepared with meat. There are various ways to cook biryani and I am providing you a North Indian style for preparing Vegetable Biryani.
It's kind of nostalgic for me since I remember my mom making rice quite frequently for lunch & dinners when I was a kid. I was not a picky eater ( these are my MOMs words :P ) and enjoyed all the different veggies.. I still do and I am so happy to say the same for both my boys R2 and R3 but I am not so sure about R1 my hubby ;). If veggies are added to the biryani, my whole family loves it and I love how quick and easy it is to make!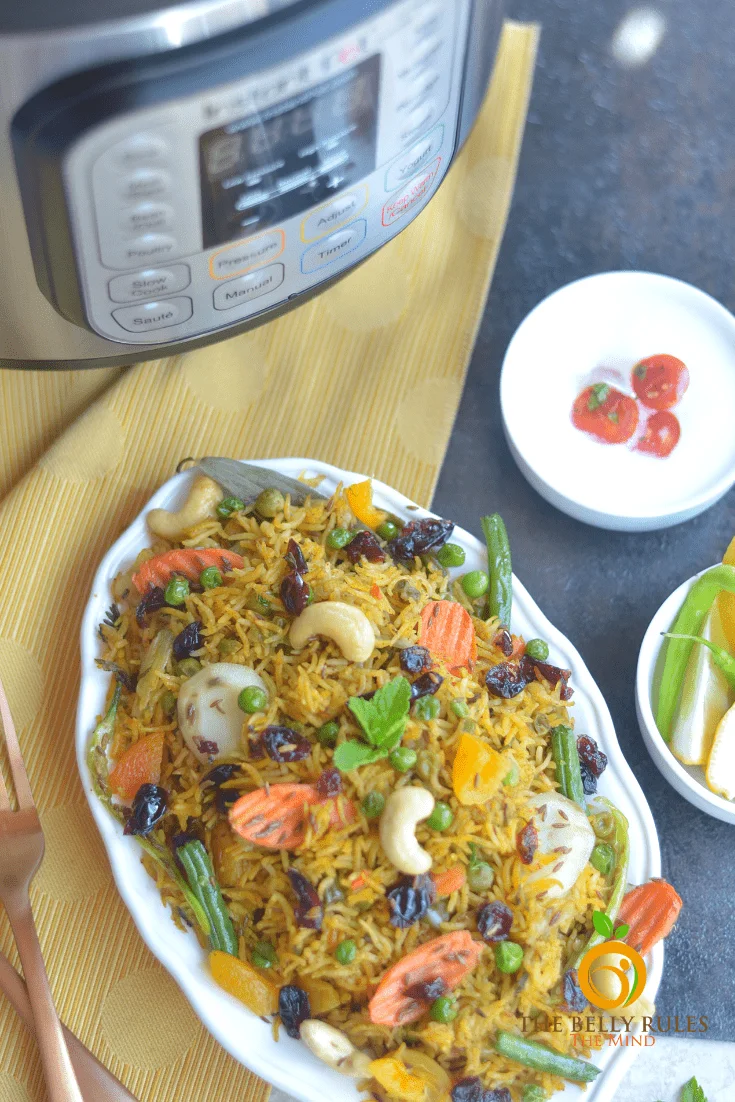 Quick and Easy Vegetable Biryani in under 20 minutes
I love that this Instant- Pot Vegetable Biryani doesn't take long and that it doesn't require me making too much of a mess. It takes under 20 minutes end to end to make this vegetable biryani in instant pot. Sometimes after making lunch /dinner I look around and wonder when this war happened in my kitchen. So definitely its a winner with me. This restaurant-style Vegetable Biryani recipe is the absolute BEST. It's quick and easy to make, customizable with any of your favorite mix-ins, and so irresistibly delicious! This Bejeweled Rice Will steal the show and your friend's & family will be so impressed!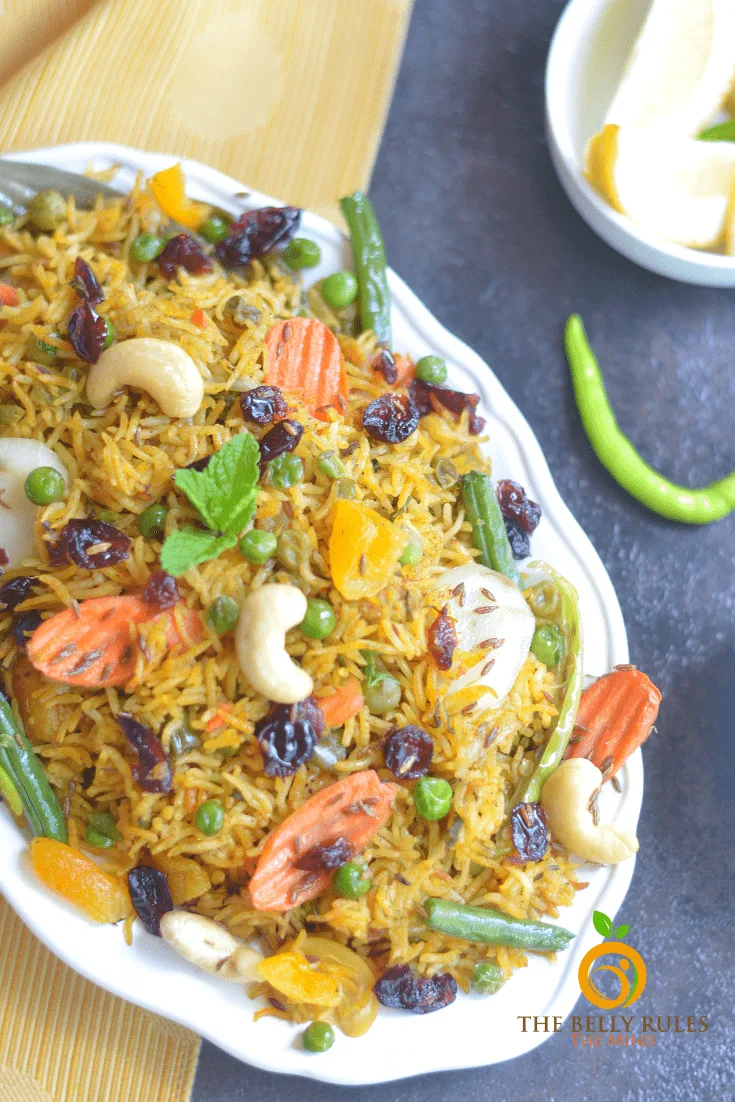 If you're looking for a delicious side dish in a hurry for a party or potluck, this Easy Instant Pot Vegetable Biryani is a definite winner!
Ok, let's get right to it. Here are the important things I have learned over the years about how to make the best Instant pot biryani. The primary ingredient of Vegetable Biryani is Rice and making sure the quality of rice is good is half the battle won. The aroma and taste cannot be achieved with low quality rice. We prefer using high quality Basmati Rice to ensure you get the kudos you deserve for making this biryani.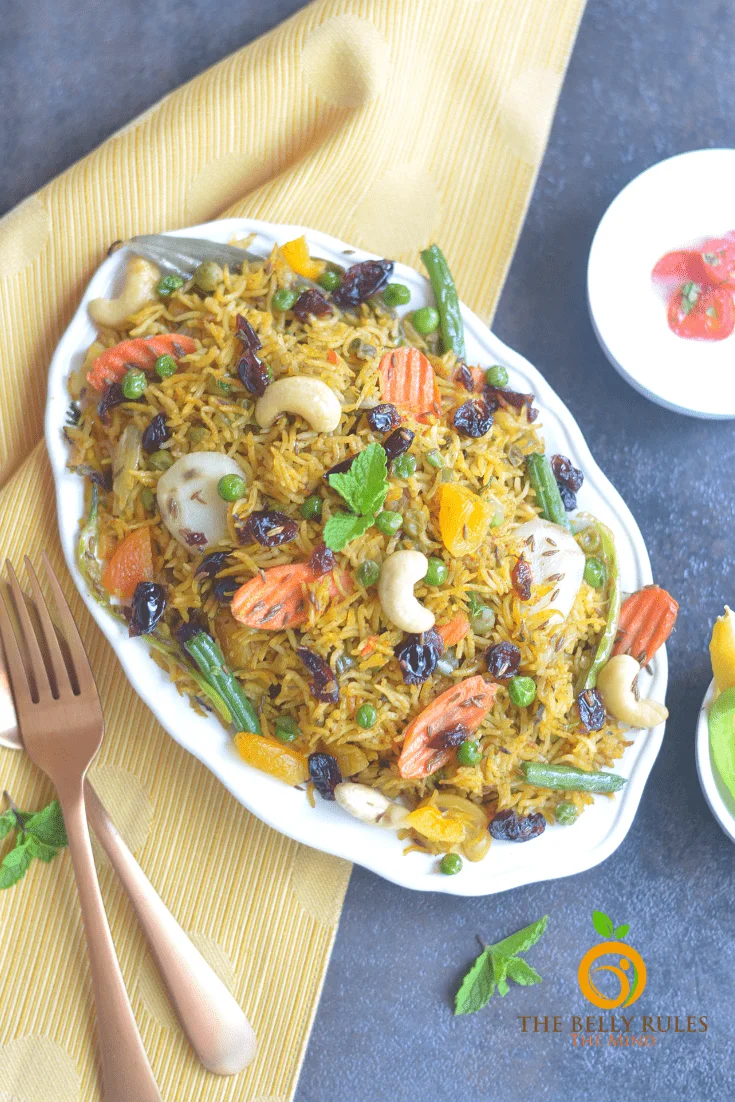 What rice should I use to make Biryani?
Use good quality long grain basmati Rice: Rice is the main and key ingredient in this Instant pot vegetable biryani. I would recommend using good quality long grain basmati rice. We prefer using Royal Basmati Rice over other brands of Basmati rice available in the market.
How do i garnish the Biryani ?
For garnishing the biryani, use Nuts/ Dry- fruits. You can stud this Instant pot vegetable Biryani with your choice of nut. Dry fruits usually has cashews and raisins, but I decided to go with dried cranberries and dried apricots as well. You can also use prunes. Cranberries and apricot really went well in this dish especially if you're serving this at Thanksgiving. Nuts do enhance the flavor, however you can also make it nut free. Feel free to skip them :)
What Vegetables can I add in this Vegetable Biryani?
Use veggies: In addition to adding some nice spots of color, veggies go a long way in adding some flavor and freshness to the Biryani. Like in your local restaurant I have added mostly all the veggies too. But feel free to modernize this recipe with some other delicious Biryani veggies as well! Whatever you love, from fresh to frozen. Mixed vegetables, peas, carrots, cauliflower, broccoli, edamame, zucchini, yellow squash, sweet potatoes. All you have to make sure to do is know how much time your veggies are needed to cook to know when to add them in so they don't overcook. This dish does not discriminate :P
What do I serve with this Vegetable Biryani?
You can serve the biryani with a side of yogurt or Raita. You can make yogurt at home and will save money as well. You can also serve the biryani with a side of Dahi Wada.
Can I make this Instant pot Vegetable biryani recipe Vegan?
Yes, you can use coconut oil or good olive oil instead of the ghee and the biryani will still be as flavorful and yummylicious .
Can I use a Pressure cooker for preparing this Vegetable Biryani recipe?
Yes, you can use a pressure cooker or make it on a stove top too. Check out the recipe card below for details.
Quick tip on maintaining your instant-pot smell free
For those who are wondering how to avoid your silicone ring from bad smell; this is how I always store my pot cover side up. I've cooked chili, curry, soups, and no smell.
lunch/Dinner is done.
Ready to serve. And just about only 1 dish to be washed up!!
Thank me later!!
If you love Rice Recipes, you should try the following recipes
Are you in love with your instant pot? You should try our 80+ Vegetarian Instant Pot Recipes. From Pasta to curry to desserts.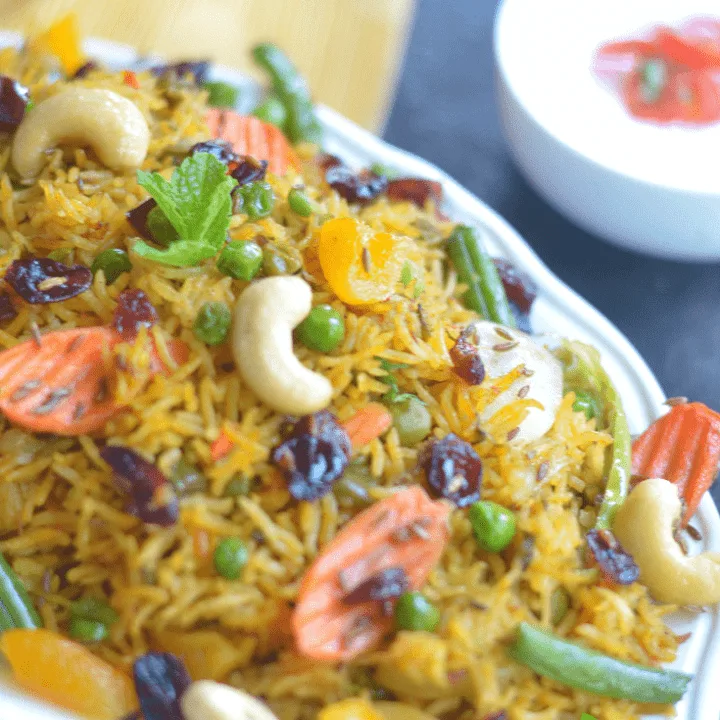 Instant-Pot Vegan Vegetable Biryani
Fragrant, spicy, delicious, and full of flavors is how I will define Instant-Pot Vegetable Biryani. This Instant-Pot Vegetable Biryani is perfect to serve as a main course meal or a side dish at get-togethers or potlucks. It's studded with dry fruits, colorful veggies and super fragrant from aromatic whole spices. This Instant-Pot Vegetable Biryani will be a hit all around will have everyone clambering for more.
Ingredients
1 cup basmati rice , soaked 10 minutes
2 tablespoon Ghee/( Vegan version Olive oil or coconut oil)
3 cardamom pods
3 whole cloves
2 Star Anise
1 mace
2 bay leaf
1 cinnamon stick
1 teaspoon cumin seeds
1 onion/sliced
1 tablespoon ginger & garlic paste
salt to taste
1 teaspoon red chiili powder
1 teaspoon garam masala
1/2 teaspoon ground cumin
1/4 teaspoon turmeric
1 cup carrots/diced
1 cup peas
1/2 cup green beans
1 gold potatoes / diced
1 cup water
Cilantro leaves/chopped
Mint leaves/ chopped
roasted cashews , Dried cranberry and dried apricots, optional( Skip if you want nut free)
Instructions
INSTRUCTIONS
Soak the basmati rice in cold water for 10 minutes. Drain, rinse and set aside.
Press the saute
Add the oil to the pot.
When heated,add the whole spices ans cashews and stir.
Add the onions and all the chopped vegetables .Stir-fry for few mins.
Add the garlic & ginger paste and stir well.
add in the salt, red chilli powder, Turmeric and Garam masala.
Add chopped cilantro, mint .
Add rice, the dried cranberries and dried apricots and water to the pot and stir.
Close the lid, close the pressure valve and cook for 5 minutes at high pressure.
when done , release pressure , open the valve to release remaining pressure.( Do not let the biryani sit in the instant pot after its done , coz you will get mushy rice)
Serve it with coll Yogurt Relish / Raita .
Notes
Pressure cooking instructions :
In a pressure cooker , heat ghee, add all the whole spices and cumin seeds Saute for a few seconds.
Add thinly sliced onions, green chilli and cashews and stir well. Add all the Veggies and stir well. Add in the chopped MInt and cilantro. add in the rice and dry fruits. add the water and bring it to a boil on high flame.cover the cooker and simmer for 20 minutes or till the rice cooks well.