Jeera aloo makes delicious, flavorful potatoes that you can serve on the side of so many Indian dishes. This vegetarian side dish is a delicious dish that will keep your family full and happy. Stove top recipe included.
LET'S BE FRIENDS ON PINTEREST! WE'RE ALWAYS PINNING TASTY RECIPES!
* This recipe uses Mealthy's Non Stick frying Pan & Multipot provided by Mealthy, however this is not a sponsored post and the views provided are mine only.
Jump to:
What is Jeera Aloo?
Jeera aloo is a favorite, easy to make Indian potato dish. Jeera aloo translates to cumin potatoes. It is a popular side dish served at most Indian restaurants because almost everyone enjoys them.
Jeera aloo uses only a few ingredients including potatoes, oil, and cumin seeds, green chilies, red chili powder, and turmeric powder for seasoning.
If you're new to Indian cooking, don't worry! We tell you everything you need to know what spices to use and tell you exactly what all those spices do on our complete beginner's guide to the Indian Spices
If you are looking for easy Indian Instant Pot recipes to try, check out our INSTANT POT INDIAN RECIPES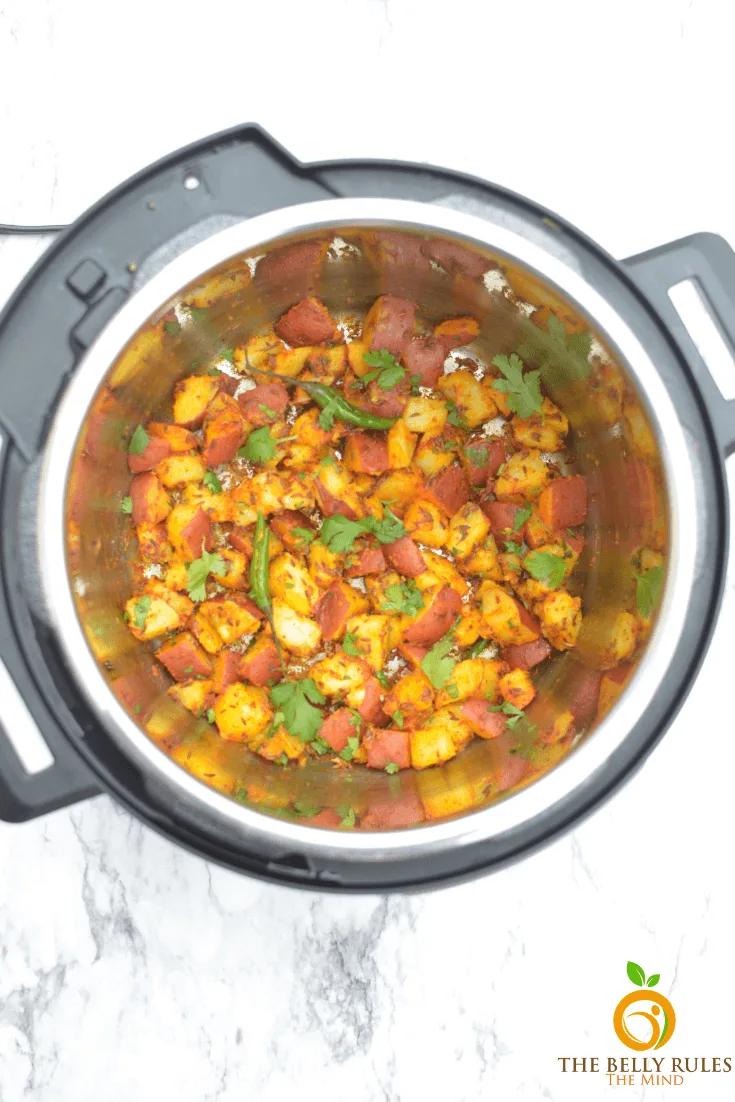 Why use
Electric Pressure Cooker for
Jeera Aloo ?
The Electric Pressure Cooker makes this jeera aloo recipe easy and provides you consistent, yummy results each time you make it. Plus, cooking potatoes in the electric pressure cooker cuts your cook time down significantly so it's perfect for the busiest of nights.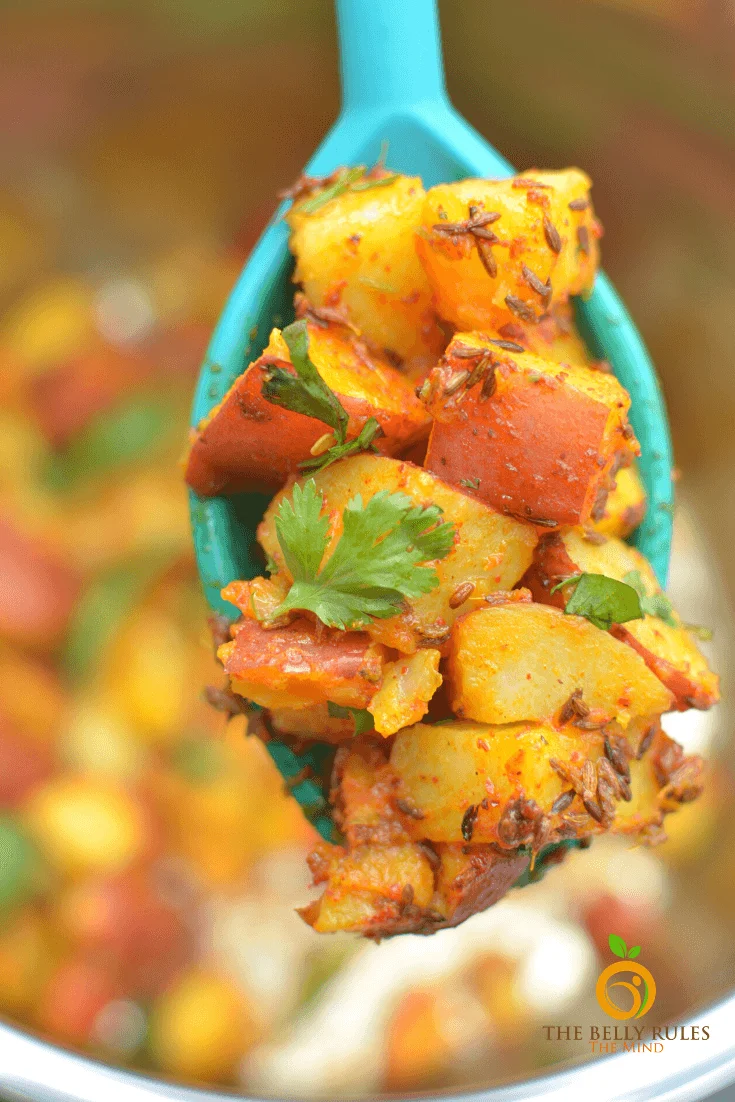 How do I make Jeera Aloo on a Stove top with Mealthy pan?
This recipe turns out awesome on the Stove Top too. We recommend using a non-stick pan like the Mealthy 10 Inch Pan. It is the latest addition to our gadgets and I can say I am loving it. It is gas stove, electric stove, oven, and dishwasher safe. The steps to make it in a Stove Top are as given below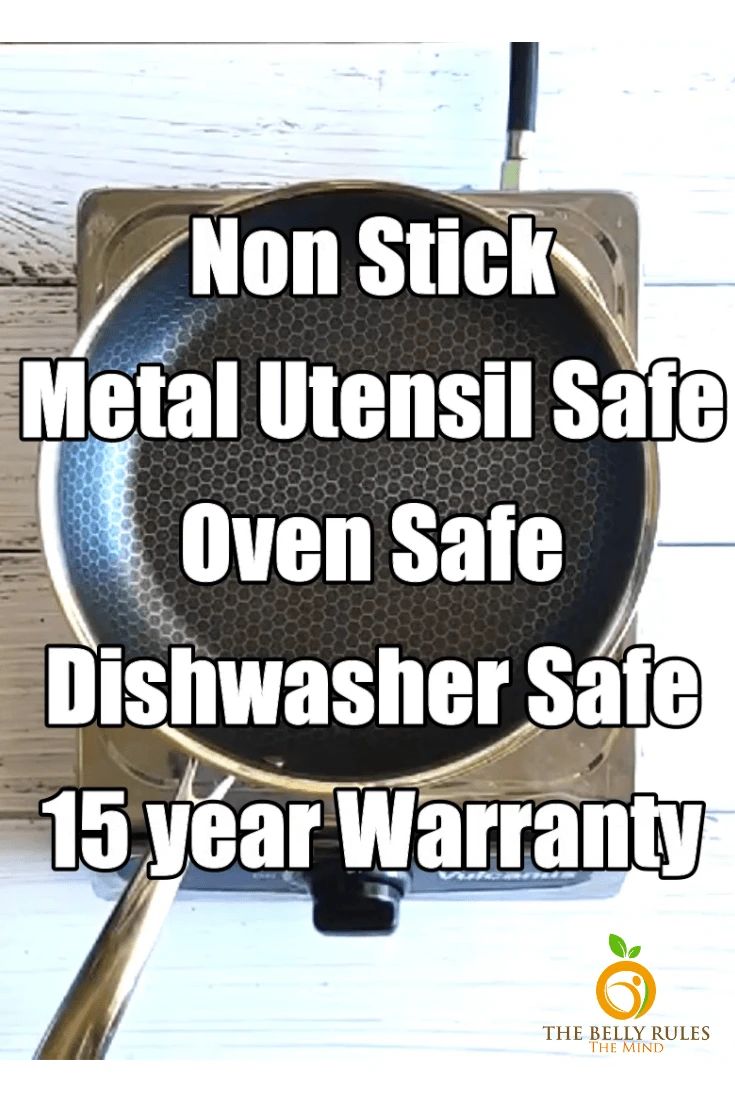 Boil the potato in an electric pressure cooker.
Heat the pan and when its HOT pour the oil. Add

asafetida

, cumin seeds and let it splutter .

Now add Thai green chili ,turmeric powder followed by chilli powder and salt.

Add the boiled potato cubes and stir it gently until potatoes are coated well with spices and cumin.

Add juice of half lemon and garnish with chopped cilantro leaves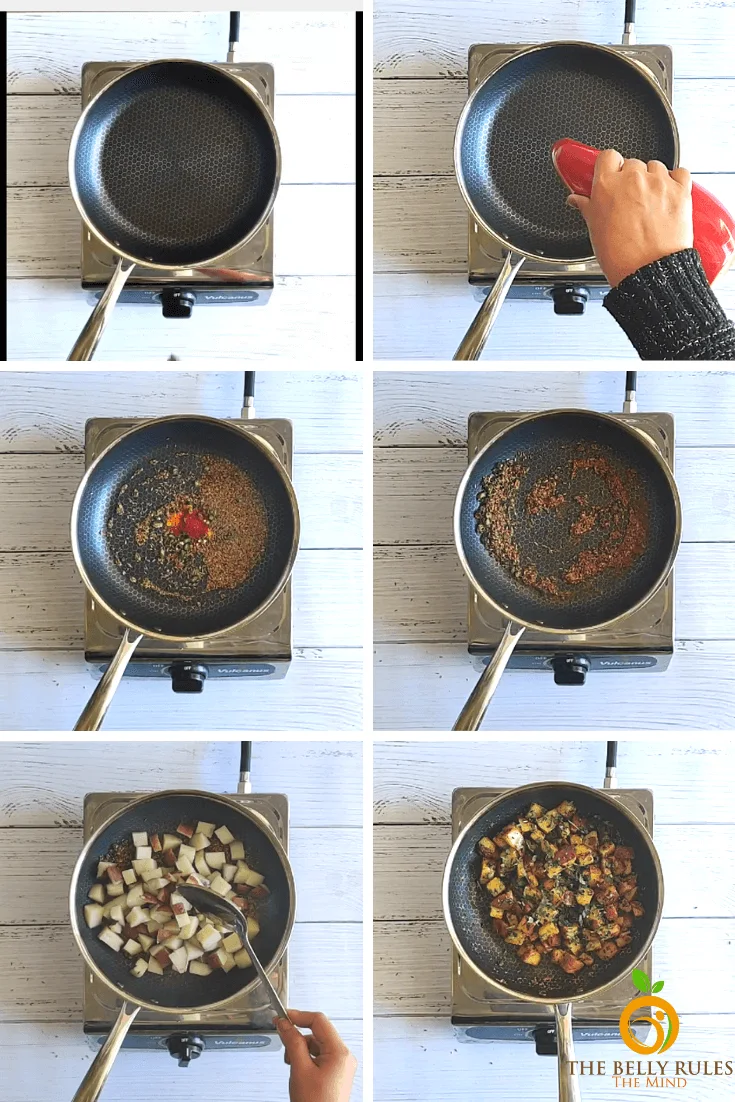 Stove Top Jeera Aloo Video Recipe
How do you make Jeera Aloo in an
Electric Pressure Cooker
?
Jeera Aloo is very easy to make. You can follow these steps to make Jeera Aloo in your electric pressure cooker.
Start by cutting the potatoes in half. Don't dice the potatoes! If you dice them, they can overcook and become too mushy. After the potatoes are sliced into 1.5 inch cubes, place them in a steamer basket for the Electric pressure cooker .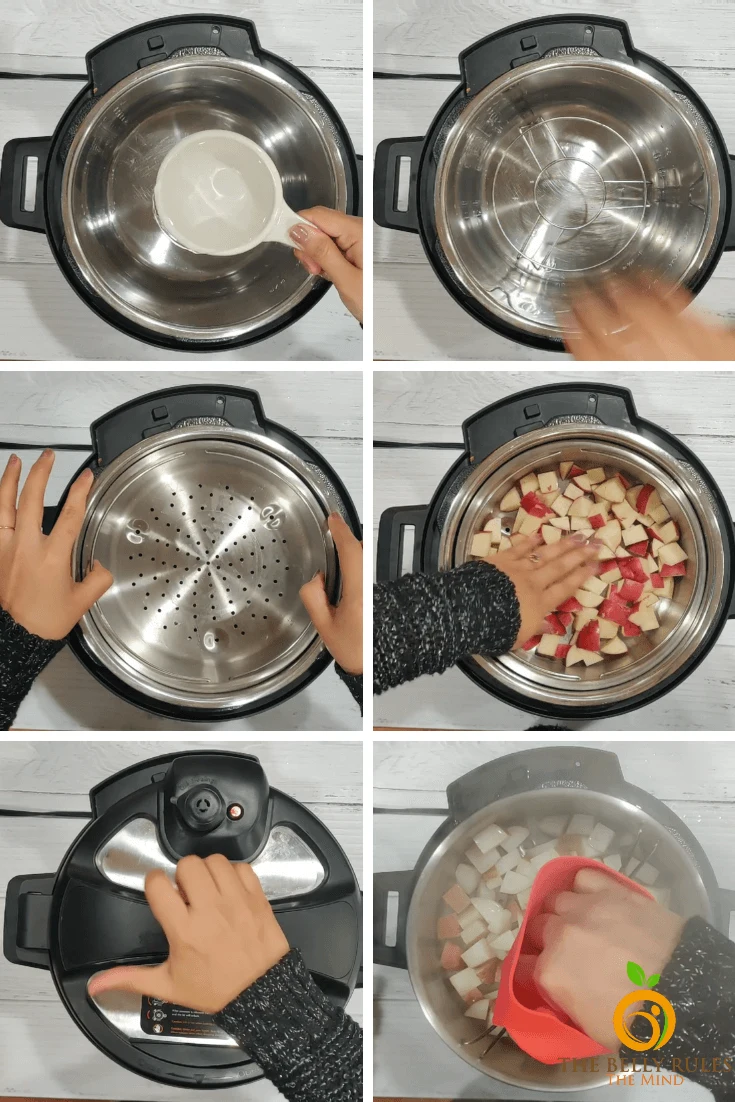 Next, pour the water into the inner pot and put the steamer basket with the potatoes onto the trivet. Once the potatoes and water are ready, close the lid, set it to sealing, and pressure cook the potatoes on HIGH for 4 minutes. When the timer goes off, do a quick release.
Carefully remove the steamer basket and the trivet from the inner pot. Drain the water and place the inner pot back into the pressure cooker.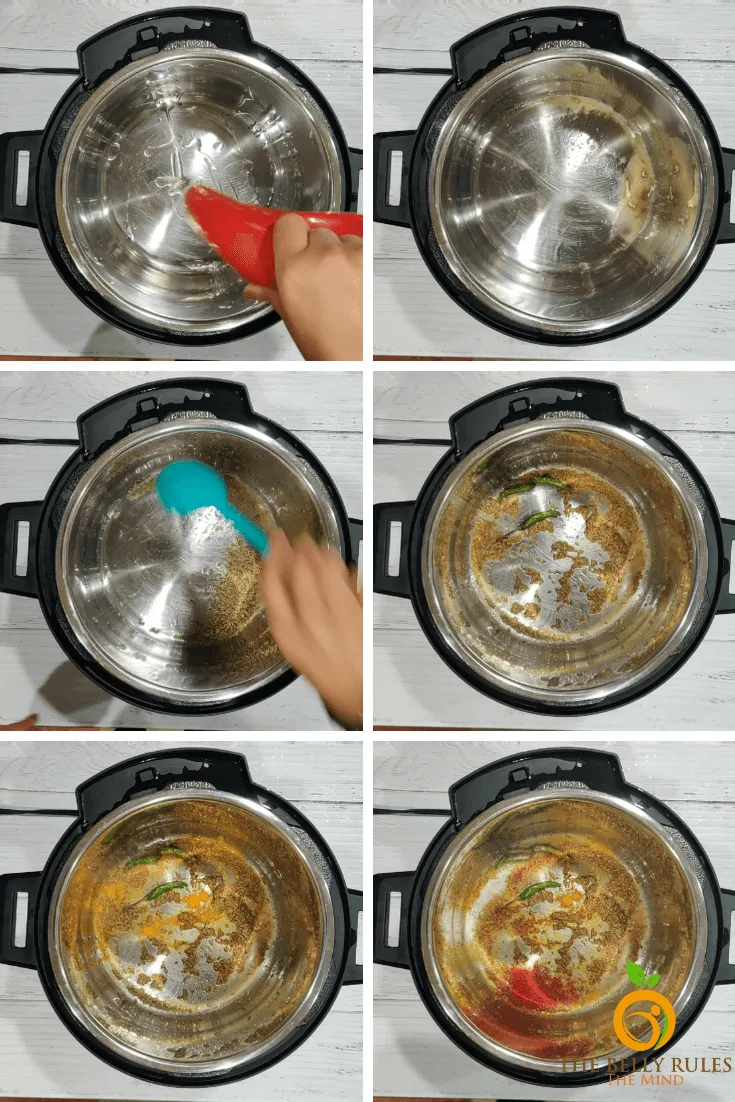 Press Saute and when it gets hot, pour the oil into the pot. After you add the oil, add asafetida and cumin, and let it splutter. Next, add the Thai green chili, turmeric powder, chilli powder, and salt. Finally, add the potatoes and stir until the potatoes are coated in the oil and seasonings and then add the juice of half a lime or lemon.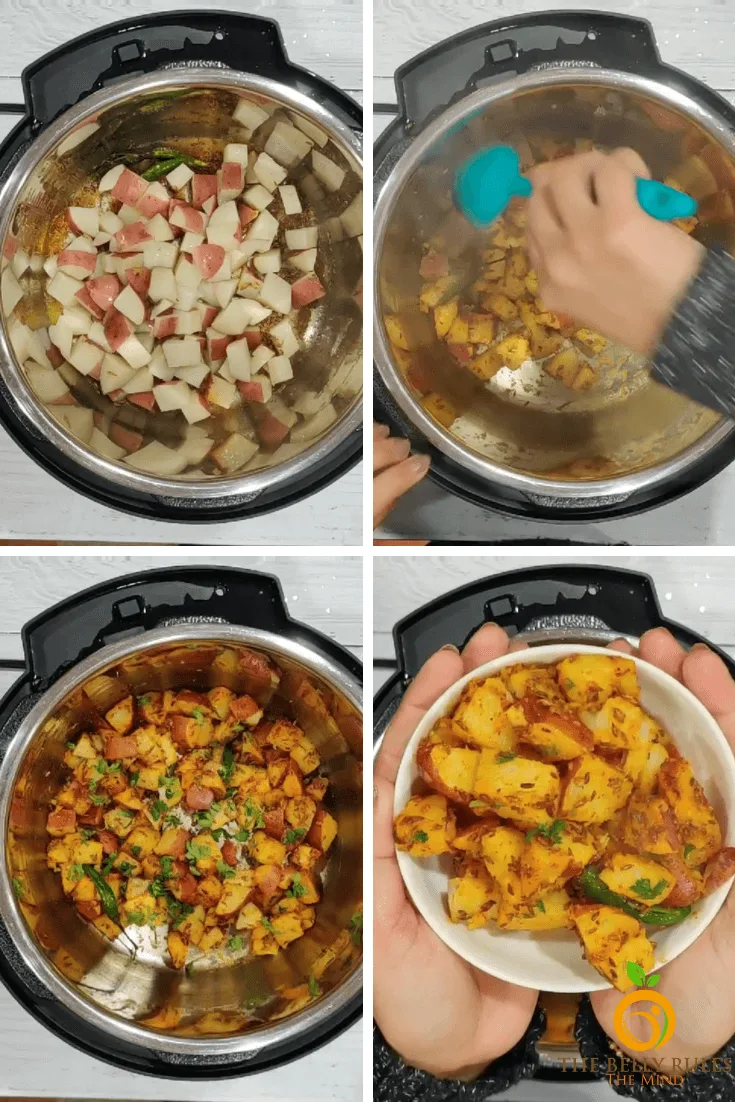 Serve hot with dal tadka, Basmati rice, or bread.
Is jeera aloo vegan?
Yes! Jeera Aloo is a vegan dish. But if you use ghee, it is no longer vegan, but it is still vegetarian.
Tips and Tricks for making Jeera Aloo
If you want to make Jeera Aloo in the Instant Pot like a pro, follow these tips and tricks:
Don't make the potato cubes smaller than 1 inch or you could overcook your potatoes

Use the Thai chili peppers wisely - they add heat to the potatoes. If you don't like hot and spicy, use fewer peppers.

If your cubes are bigger than 2 inches increase the cook time on high pressure to 8 minutes to fully cook them

Adding more or less potatoes does not affect cooking time

I usually use Thai, Birdeye or Serrano Chili Peppers in my recipe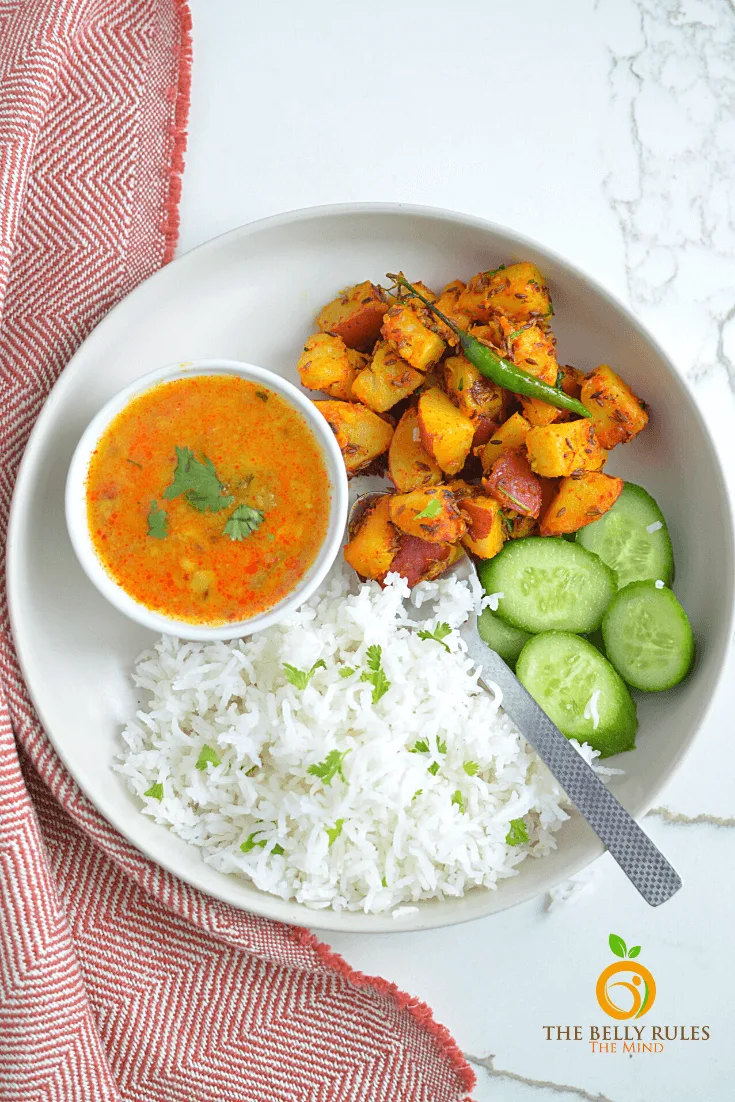 What to serve with Jeera Aloo?
Jeera Aloo works great with Homemade Roti or Dal tadka. Here's a great Dal tadka recipe you can try.
Need some rice recipes? You can try either my Basmati rice or jasmine rice recipes. They are delicious and will pair great with Jeera Aloo.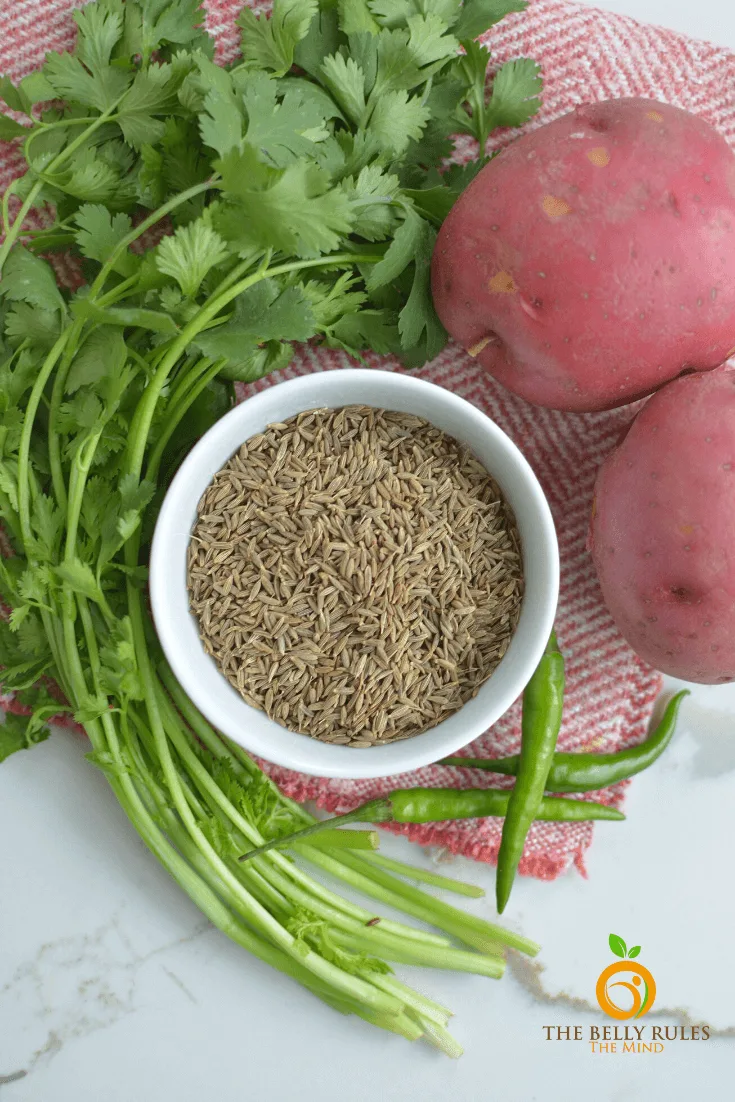 What type of potato is used to make Jeera Aloo?
I use russet, golden or white potatoes when I make the recipe. They are easy to work with, have a great taste, and are available in most stores. You can also use whole, baby potatoes if you prefer. If you use large potatoes or larger cuts, 2 or more inches, then cook the potatoes on high for 8 minutes instead of 4.
When I make my Jeera Aloo, I don't peel the potatoes. Leaving the skin on keeps some of the nutrients. But if you prefer the potatoes to be skinless, you can peel them before cooking them.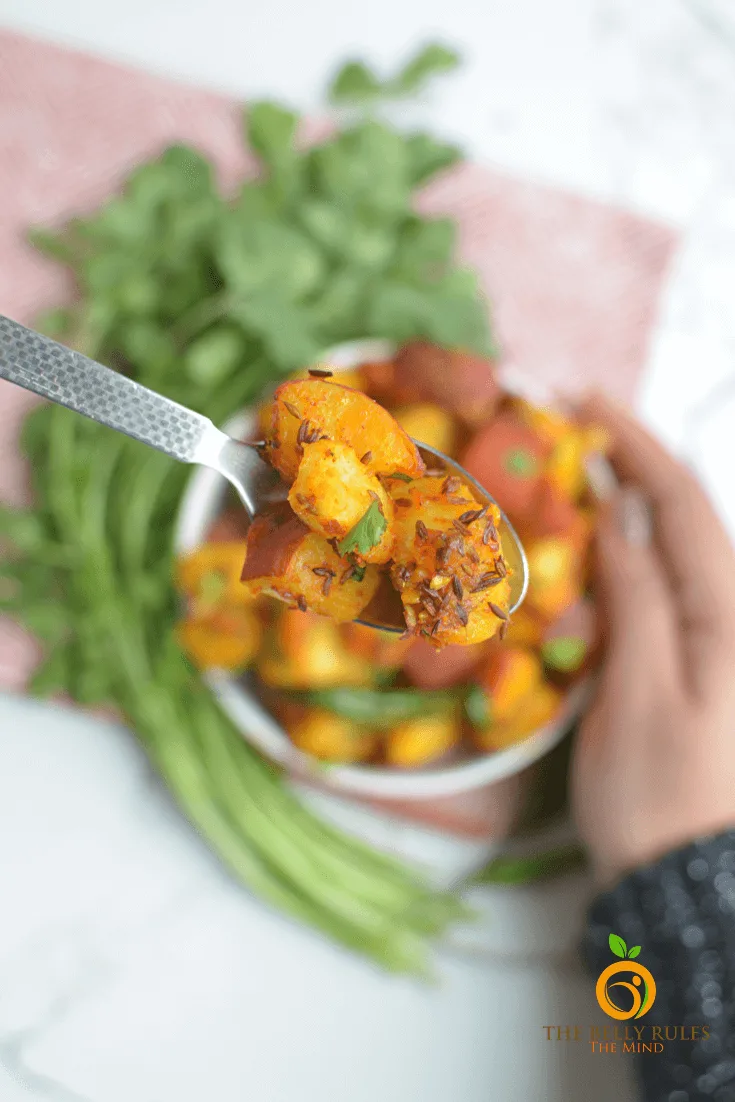 Do I need to peel the potatoes for this recipe?
I prefer to not peel the potatoes and get the nutrients in the skin. However you can choose to peel them. I used russet potatoes which were not peeled and cubed in this recipe. Cut the potatoes in 1-1.5 inch size. Don't cut the potatoes too small, else they can overcook.
Is Jeera Aloo freezer friendly?
You can freeze Jeera Aloo. Store it in an airtight container or freezer bag. You can warm it back up in the microwave when you are ready to eat it again. It should save for 3 to 6 months in the freezer.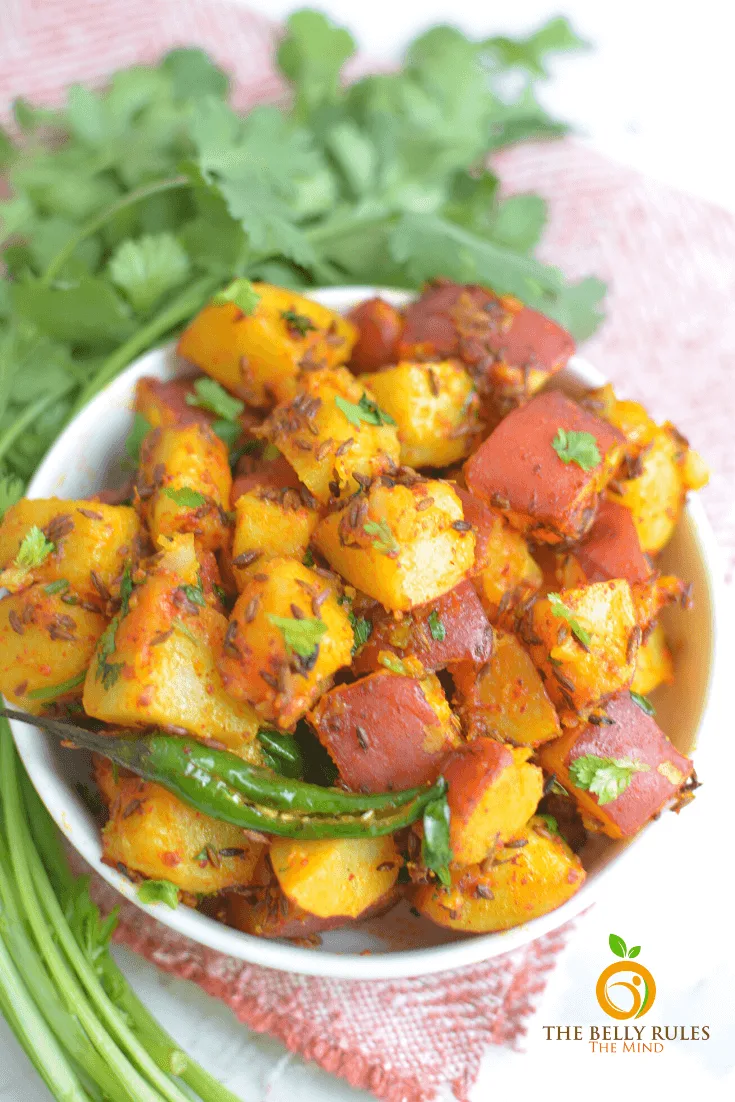 How long can Jeera Aloo be kept in the refrigerator?
I don't recommend keeping potatoes in the refrigerator for more than 3 to 5 days. You can make it ahead of time if you want to, but you should serve it within a few days of first making it. As with most food, it is best when served fresh.
Do you love Potatoes? Here are more delicious potatoes recipes for you to try
Jeera Aloo Video Recipe
Jeera Aloo Recipe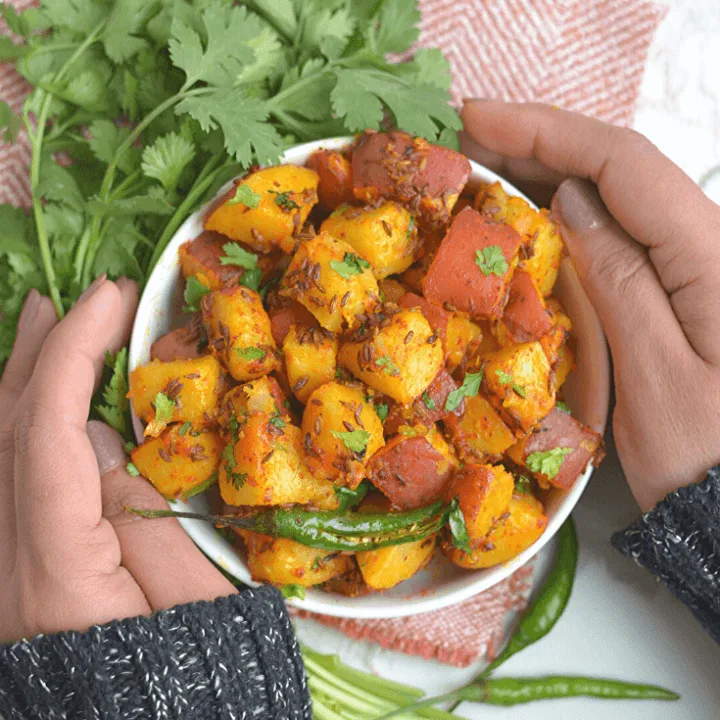 Jeera Aloo
Additional Time:
10 minutes
Jeera Aloo makes delicious, flavorful potatoes that you can serve on the side of so many Indian dishes. This vegetarian side dish is a delicious dish that will keep your family full and happy. Stove top recipe included
Ingredients
Oil - 1 tablespoon
Asafetida - 1/2 Tsp
Cumin seeds - 1 tablespoon
Thai Green chilli 2-3
Potatoes/medium - 4
Turmeric powder - 1/2 teaspoon
Red Chilli powder - 1 teaspoon
Salt to taste
juice of half Lime or lemon
Coriander to garnish
Instructions
Cut each potato in half inch cubes. Place the potatoes in steamer basket.
Pour the water into the liner of the Instant Pot. Place the steamer basket with the potatoes on the trivet
Pressure cook on HIGH for 4 min . When done do a Quick release QR.
Remove the steamer basket and trivet and drain the water .
Press Saute and when its HOT pour the oil. Add Asafetida, cumin and let it splutter .
Now add Thai green chili, turmeric powder followed by chilli powder and salt.
Add potato cubes and stir it gently until potatoes are coated well with spices and cumin.
Next add juice of half lemon and garnish with chopped cilantro leaves and
Serve it with Dal Tadka and Basmati Rice

Stove top instructions
Boil the potatoes on stove top
Heat the pan and when its HOT pour the oil. Add Asafetida, cumin and let it splutter .
Now add Thai green chili ,turmeric powder followed by chilli powder and salt.
Add the boiled potato cubes and stir it gently until potatoes are coated well with spices and cumin.
Add juice of half lemon and garnish with chopped cilantro leaves
Notes
Green Chili Pepper:I typically use Thai, Birdeye or Serrano Chili Pepper in my recipes. Don't forget to adjust to your taste.
Potatoes: I prefer to not peel the potatoes and get the nutrients in the skin. However you can choose to peel them. I used russet potatoes which were not peeled and cubed in this recipe..Cut the potatoes in 1-1.5 inch size. Don't cut the potatoes too small, else they can overcook. Baby potatoes will work in this recipe too.
Larger potatoes:For potatoes about 2-2.5 inches in size, increase pressure cooking time to 8 minutes.
Quantity of potatoes:The cooking time remains the same even if you increase or decrease the quantity of potatoes, however the size of the potatoes affects the cooking time as mentioned in previous note
Lime juice ; Do not skip it. It adds a wonderful tanginess to the potatoes
If you make this recipe, Don't forget to come back and leave your feedback and star rating. We would be THRILLED if you would take a pic and tag us on Instagram @dbellyrulesdmind or Facebook @thebellyrulesthemind