Imagine enjoying crispy fried okra coated with chickpea flour and infused with Indian spices. This delicious okra is known as Kurkuri Bhindi in India. It's delicious but my problem is fried. So here is my guilt-free version of this classic Air Fried Okra coated with chickpea flour and spices. Vegan. Gluten-Free. It's the yummiest okra you have ever tried.
[avatar user="Anvita" size="thumbnail" align="right" link="https://thebellyrulesthemind.net/about+us" target="_blank"]Anvita[/avatar]
LET'S BE FRIENDS ON PINTEREST! WE'RE ALWAYS PINNING TASTY RECIPES!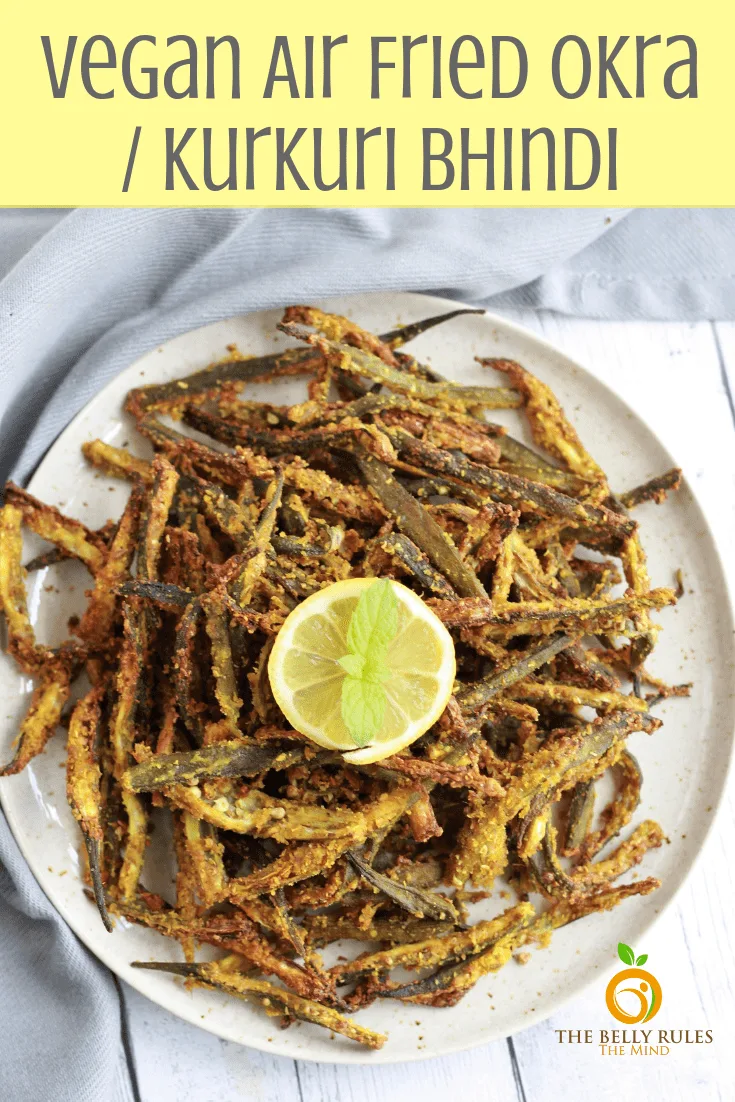 What is Kurkuri Bhindi?
Bhindi is Okra in English and Kurkuri means crispy. Back home in India, Kurkuri Bhindi is a common side dish served during meals along side Dal Tadka or Dal Makhani or Punjabi Kadhi and paired with Indian breads like Rotis/ Chapattis or Parathas. It's nothing but okra sticks coated with chickpea flour lots of Indian spices like cumin seeds, coriander powder, red chilly powder, dried mango powder, turmeric, a spice blend called chaat masala. Now can you imagine the taste of these crispy crunchy okra sticks when dipped in the above batter and fried? In the end, drizzle some lemon juice over this fried okra to tantalize your tastebuds. It's seriously delicious. You are talking of a lot of flavors here in each bite.
Originally these are fried so I had literally stopped making these except until I started making these vegan fried okras in the oven. Thanks to the air-fryer that these crispy fried okras or Kurkuri Bhindi have been frequently rotating on my menu with their original crispiness. I can now enjoy these crispy delicious okra sticks guilt-free. Yay!!!!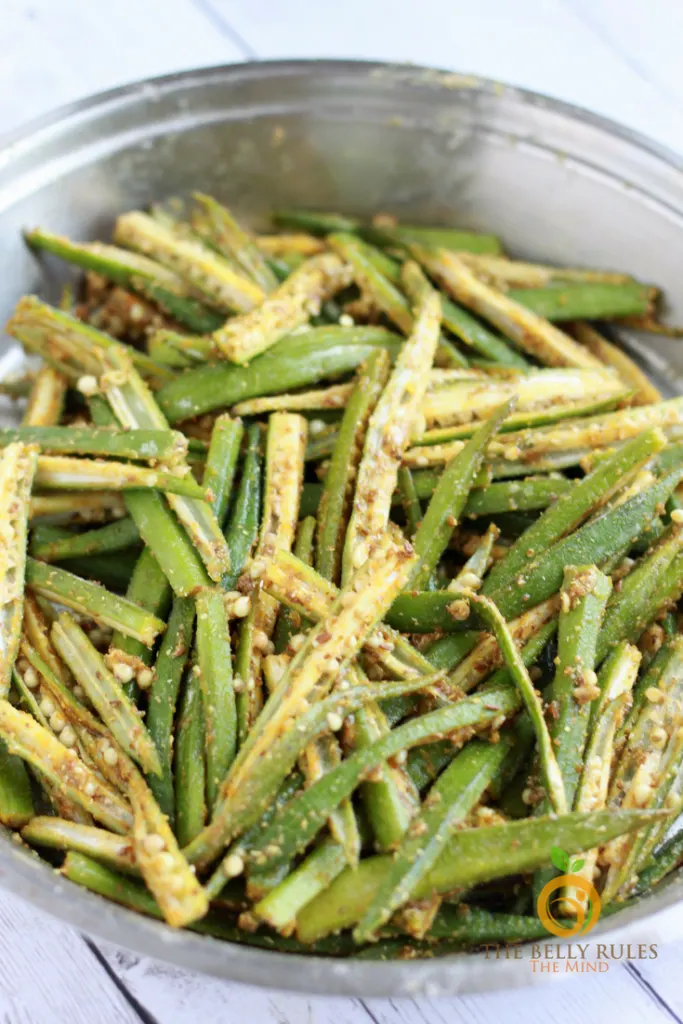 What other spice blends or seasonings can be used for Air Fried Okra?
Well first of all the original version of using the Indian spice blend is a bomb of flavors so you won't regret it at all. Just incase you are bored of making this frequently or want to tweak this recipe using different flavors, here are a few spice blends that would go really well too.
Abodo
Chipotle
Cajun
Peri-Peri
Lemon Pepper
Don't have an Air-Fryer, make them in the oven.
Kurkuri Bhindi got its name because the okra is traditionally fried. The flour coating okra when fried in fat is what made these okra sticks crispy. Not that I don't indulge but I like to follow the 80-20 rule (80 parts healthy and 20 parts for the occasional treats). Since I am not a big fan of frying food, I often made these in the oven. I must admit the okras are crispy for sure but not as close to the fried or air fried okra. I have shared the baking instructions in the recipe card below at the bottom of the post.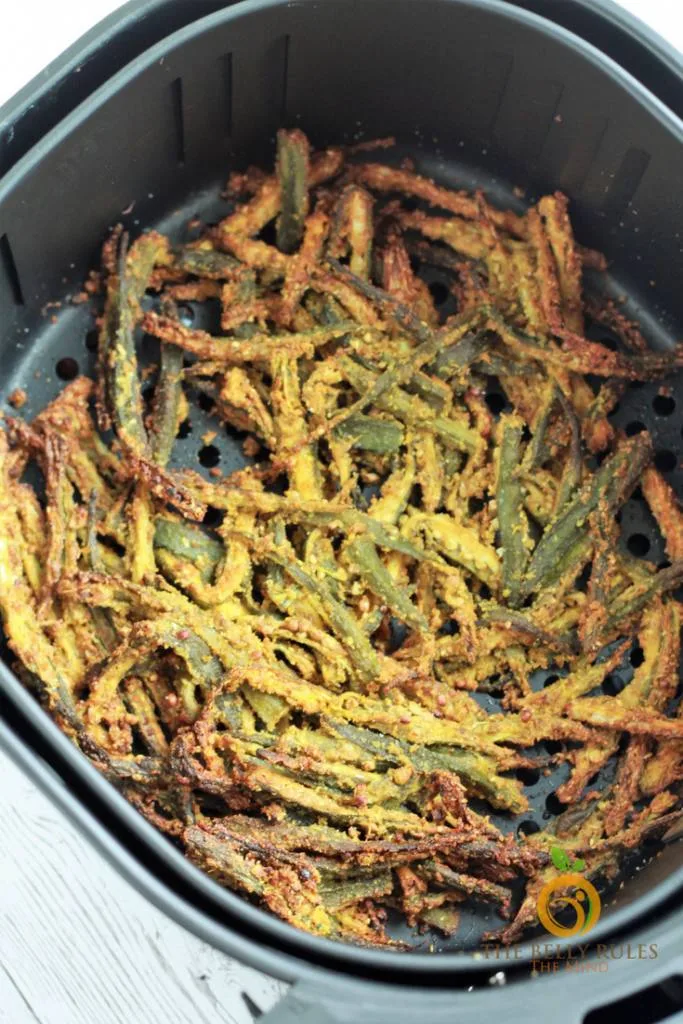 Coating Alternative for Chickpea Flour
Well if for some reason you don't have chickpea flour also known as besan or gram flour handy or say you are allergic to it, you can substitute chickpea flour for rice flour. Rice is readily available you can make your own flour using a grain jar, blender or I love to use my home mill WonderMill to make my own flour. Only make as much flour as you need. My post on Milling Your Own Flour at Home Using a Grain Mill, has a lot of details on why you should mill your own grain at home in smaller quantities and how? Make sure you stop by this post after getting this recipe.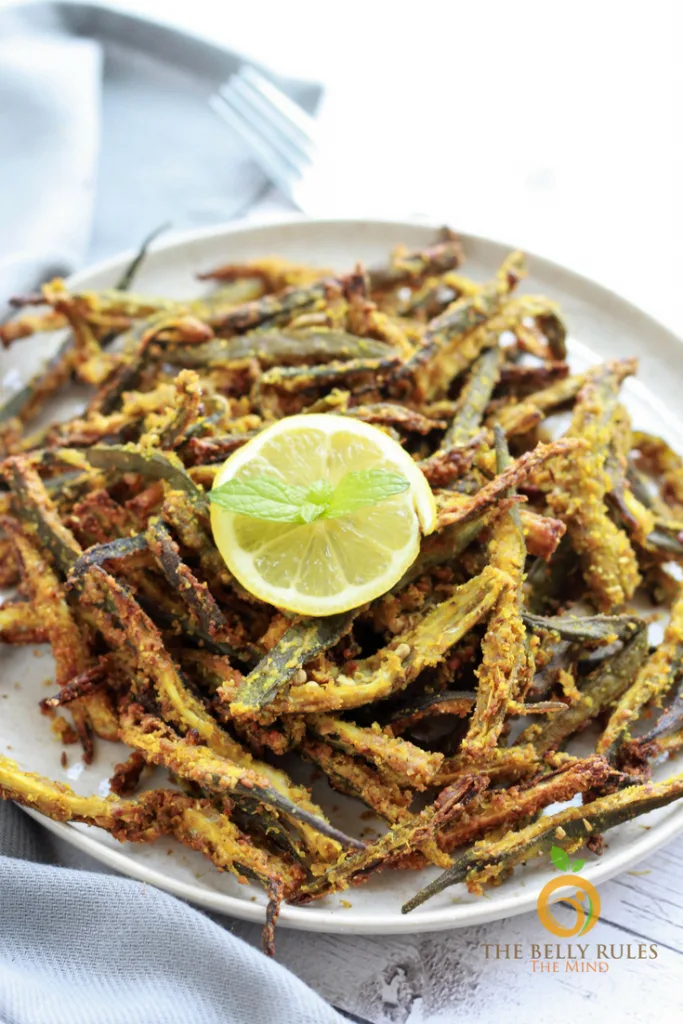 What can you pair with Air Fry Okra?
Typically Kurkuri Bhindi is served as a side along side Kadhis or Dals and Indian flatbreads. But I have often enjoyed leftover Kurkuri Bhindi in my raitas or vegan yogurt. Just add some leftover air fried okra to your yogurt and the whole flavor will change. Ofcourse it will not remain crispy anymore but the combo is super yum. If you try it don't forget to give us a shot out.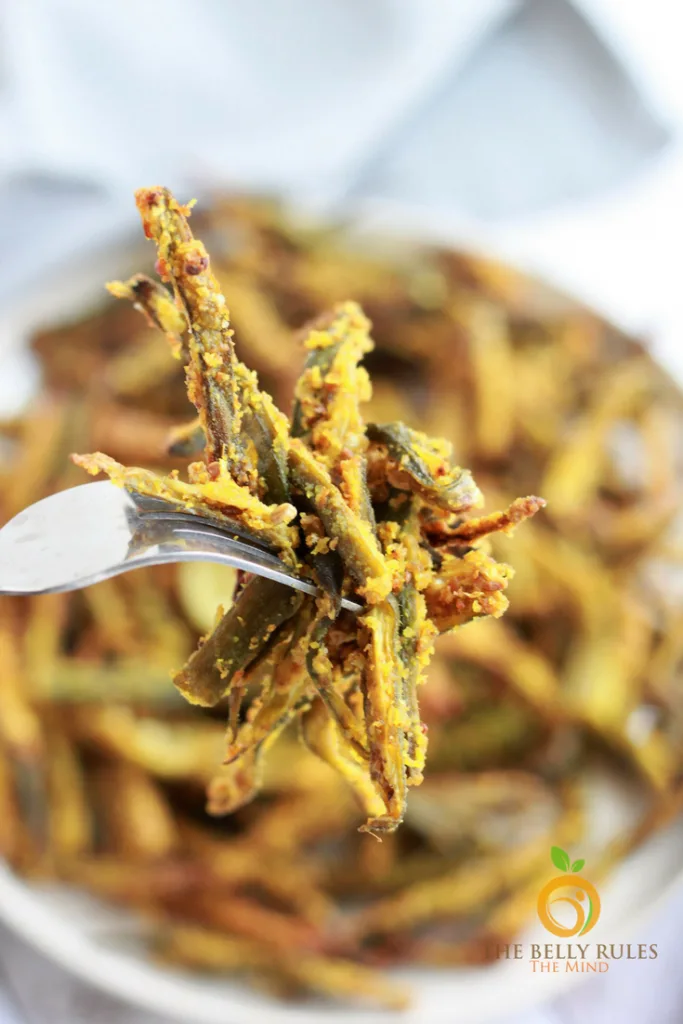 Make a kid-friendly Fried Okra in Air Fryer
I don't remember making separate meals for Little A once we crossed the 2 year mark. He ate what we ate, no more baby food or no more special food. Except that I moderated the spice level in his food a little. So you could skip the red chilli powder to adjust the hotness or if you think your child might not like the tangy flavor of Chaat masala, the spice blend available at Indian stores, then you could skip the chaat masala too. Some kids might like it some might not, so you will have to try and experiment yourself.
Air Fried Okra Lunchbox Idea
Yes, lets get a little creative here. Like I said earlier, I never gave Little A any special meals, I started packing Kurkuri Bhindi for his lunch when he was in Kindergarten. I sometimes make a wrap with just air fried okra in it or even spread our popular Avocado Cilantro Sauce in his roti /tortilla, spread some Kurkuri Bhindi and made a burrito wrap out of it. He quiet liked it. Sometimes I mix it in his thermos with Dal and Rice, or make a Stuffed Paratha from left over Kurkuri Bhindi. The next time I pack it for lunch I will remember to take some pictures.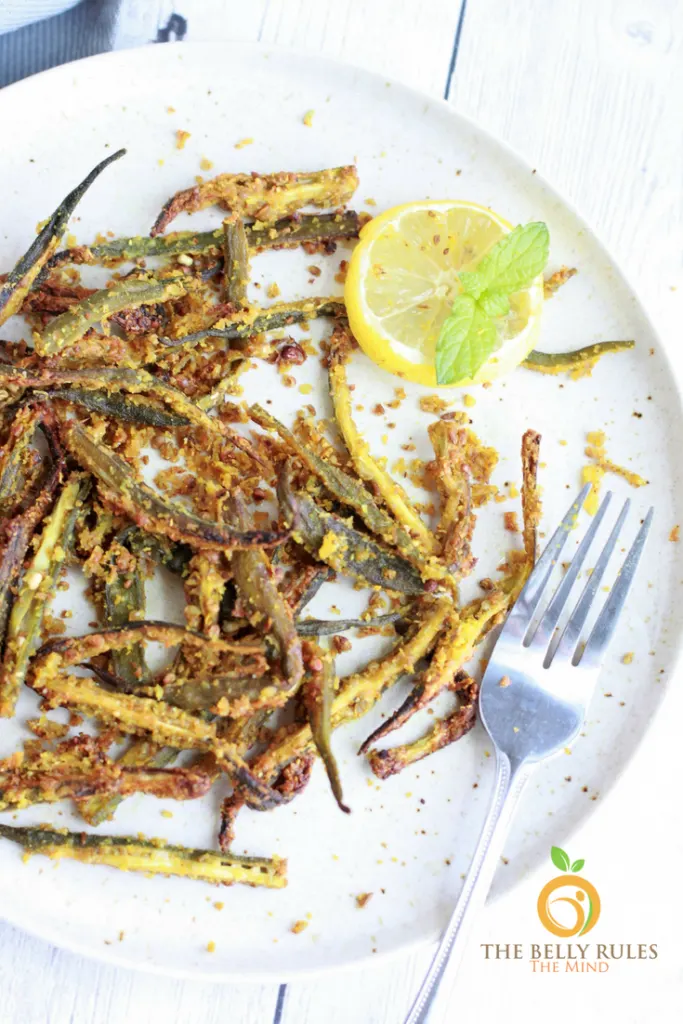 Why I love making Okra in Air Fryer?
Well I grew up relishing this dish as a child. My mom didn't always fry it but she shallow fried it. I often enjoyed it at Indian weddings so when I make it now this dish brings back all those childhood memories to me. However more than anything I love the flavors & texture of Kurkuri Bhindi. It's a medley of flavors and best of all it's super easy to make. Except for cutting the okra sticks, the rest is just mixing and coating the batter and placing the okra in the Air Fryer. It can't get easier than this. Once you place it in the air fryer it's literally ready in like 10 minutes.
So try this easy air fried okra recipe that is full of flavors and when you do, don't forget to tag us on Instagram @dbellyrulesdmind. We love to hear form you.
How to make Kurkuri Bhindi? Pin this recipe for later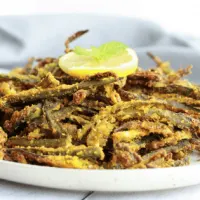 Air Fryer Okra / Kurkuri Bhindi (Vegan)
Kurkuri bhindi is crispy fried okra coated with spices and chickpea flour. Guilt-Free, Vegan , Gluten-Free, Air-Fried. Yummiest Okra ever!!!
Ingredients
1/2 pound okra / bhindi
1/2 teaspoon cumin seeds
1/4 teaspoon turmeric
1 tablespoon coriander powder
1 teaspoon red chili flakes
1/2 teaspoon mango powder
1 teaspoon salt
2 tablespoons chickpea flour / besan
1 teaspoon chaat masala
2 tablespoon oil
Instructions
Wash and towel-dry the okra completely before you use them.
Cut the okra length wise into sticks. Traditionally okra is de-seeded as it's makes the frying easier however we don;t have to deseed the okra since we are using the air frier. It's optional.
In a mixing bowl, toss in the okra and all the above ingredients and mix well coating the okra with the flour and spices.
Air Frier Recipe
Preheat the airfrier at 360 degrees F. Place the okra in the air frier mesh evenly without over crowding and cook for about 10 minutes. You can flip the okras after about 5 minutes so they can evenly cook.
Based on your air frier you could get different results but typically air fried okra should be ready in 10 minutes. if you like it even more crispy, you could slide the basket in for a minute or two more but keep a close eye after 10 minutes.
Serve it warm as a snack or side. Drizzle some freshly squeezed lemon juice to tantalize your taste buds.
Oven Recipe
Pre-heat oven for 400 degrees C.
Line the baking tray with parchment paper.
Evenly layer the okra sticks in a baking tray in a single layer.
Bake for 20 minutes