These Baked Vegan Wheat Crackers or Mathri are ready in 15 mins only with just some flour, oil, water and seasoning. Super easy to make and are a perfect savory snack option. It's hard not to fall in love with these crispy crunchy crackers Vegan. Dairy-Free.
Mathri / Wheat Crackers
It's that time of the year when I am gearing up for Diwali. It's time for a Diwali ritual. Baking Mathris or Wheat Thins kind of crackers. My boys love these savory crispy crunchy bites. Little A likes to munch on these after school, while Dr.Mystery likes it with his evening tea. Typically mathris are fried but since I am not a big fan of frying. Not that the fried food doesn't taste good, but I guess I don't have the patience to stand and wait while the food is getting fried. Also, I am always skeptical about the fat content when frying foods. I don't mind it occasionally but not with something like Mathris that I bake often. So like you guessed it, I prefer to bake my crackers or mathris rather than frying them. A much healthier alternative to the traditionally fried mathri.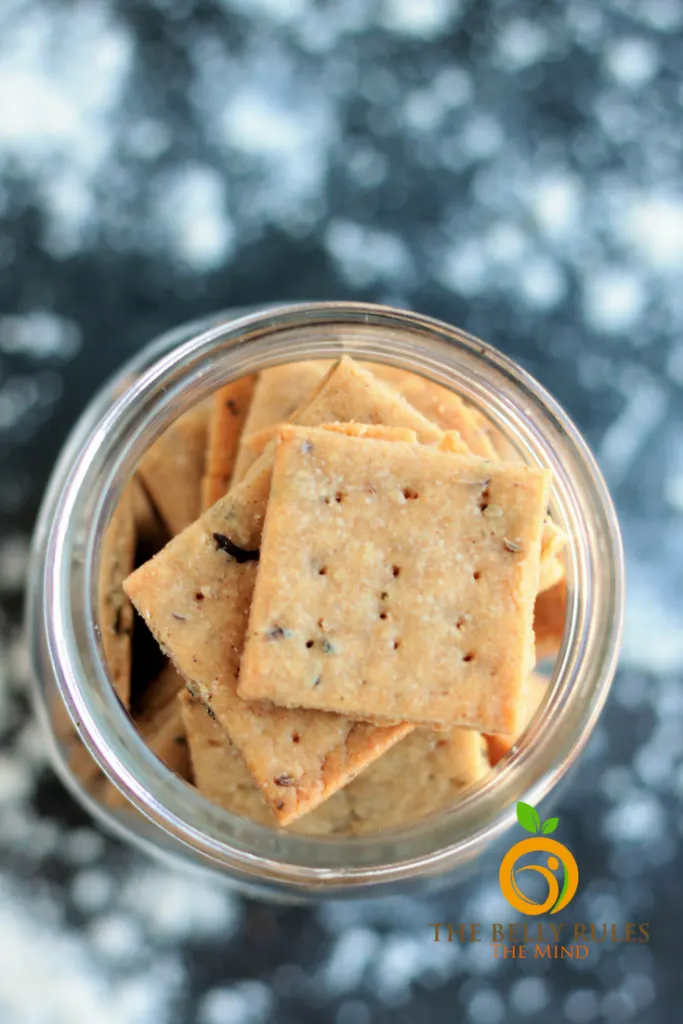 Multigrain Flour
Don't they look just perfect? Crispy & crunchy just liked the fried ones, minus all the calories from frying. Typically I like to make them with whole wheat flour. However, this time I am taking it up another notch. I am using multigrain flour to make these. An awesome way to enjoy the goodness of soyabean, oats, corn, ragi, barley, jowar, channa dal and even psyllium husk. This is what I use on a daily basis to make Rotis / Indian Flatbreads. I alternate between this and whole wheat flour. If you don't have multigrain flour readily available you can make your own multigrain flour with individual flours.
Update: I now mill my own multigrain flour using my home grain mill. Read my post on 'Mill your own flour using a grain mill' to learn all about how easy it is to mill grains at home and some of the benefits.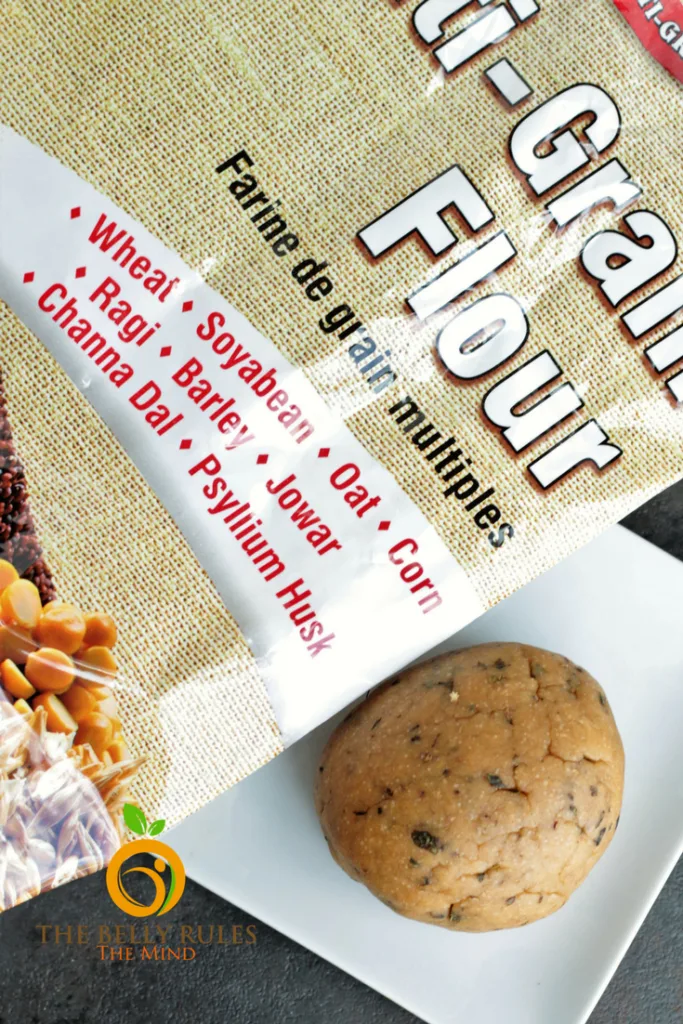 Add some flavors
What I also like to do is add a few flavors to my crackers or mathri. If you like to keep your cracker plain, you can skip adding the flavors. My favorite variations are adding, cumin, carom seeds, dried fenugreek leaves, oregano, Italian herb mixes. Like these Pizza Flavored Crackers / Namak Pare. These variations are always a hit in our family. If you are adventurous, try all them all or try them one at a time, in either case you will never be disappointed.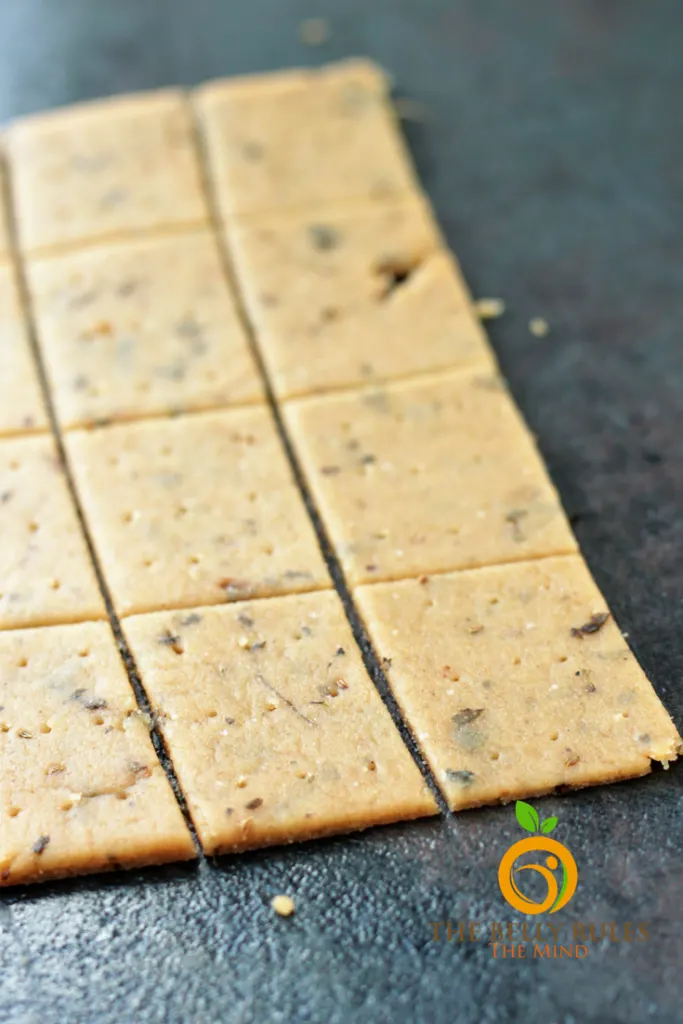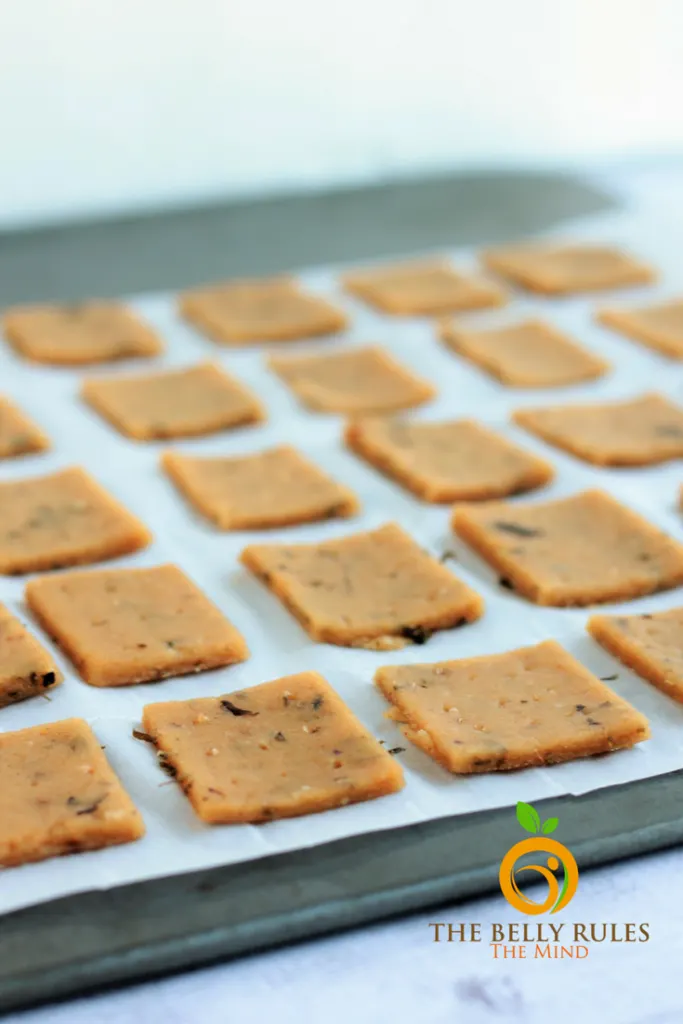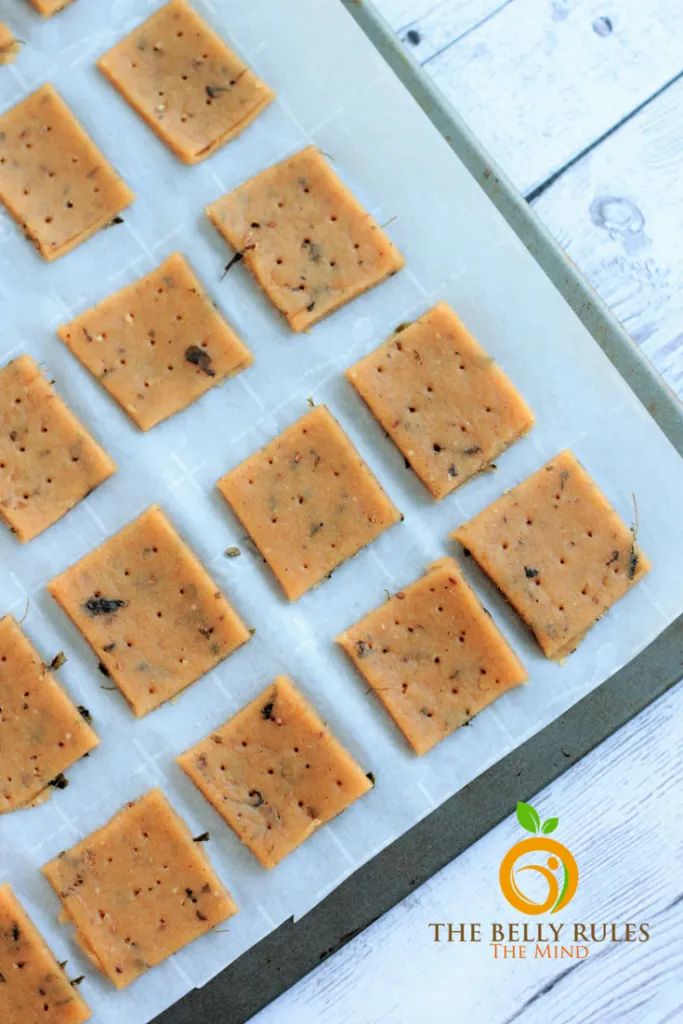 Why I love these crackers?
Apart from this being a healthier alternative to the traditionally fried mathris, what I love about these crackers is that they are super easy to make. I like that I can make a big batch of these and use it for an edible gift exchange during Diwali. It's always been a hit with friends and family here. Every year the size of my batch increases but I have never leftovers that last me for long. I am usually left with a jar or so which will be gone in a week again.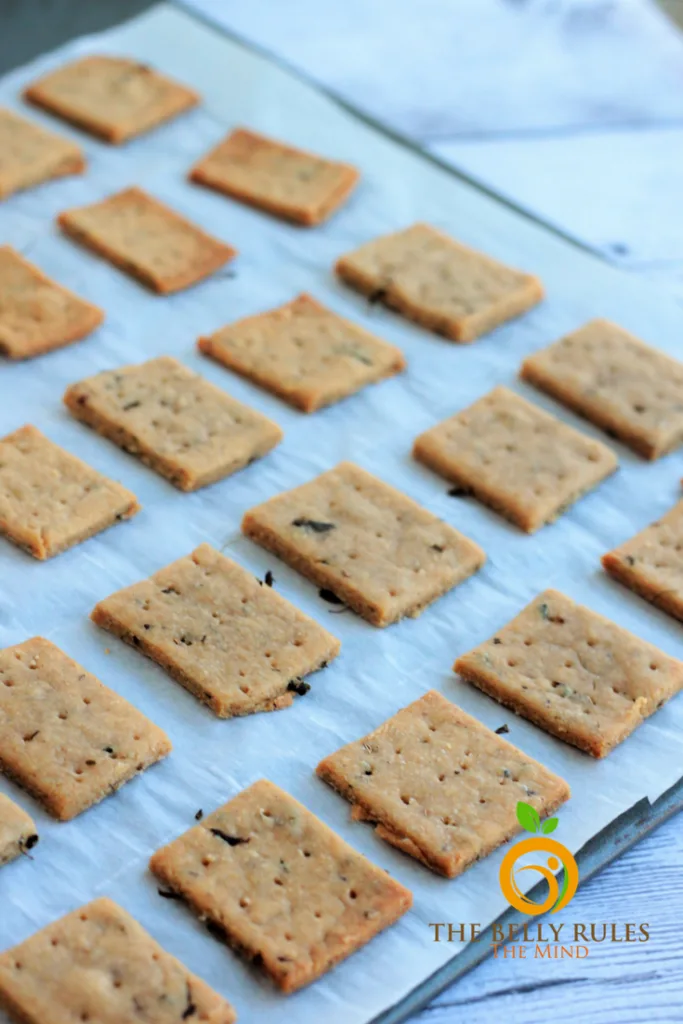 Snack on-the-go
I also often make these when Dr.Mystery travels internationally or is going to a conference. They make a great snack-on-the-go. They easily last up to a couple weeks when stored in an airtight container. I usually pack a jar with him and then he will just toss in a few on a daily basis in his zip locks when he is at conferences. We never get bored of these as I keep changing the flavors and shapes. Sometimes I make them round, sometimes squares sometimes strips. In fact last year I wanted to make it fun for Little A so I made mathri diyas and kandeels (lanterns) too. If you are into shapes and Diwali edibles you will also like this vegetable kandeel that I made for Little A.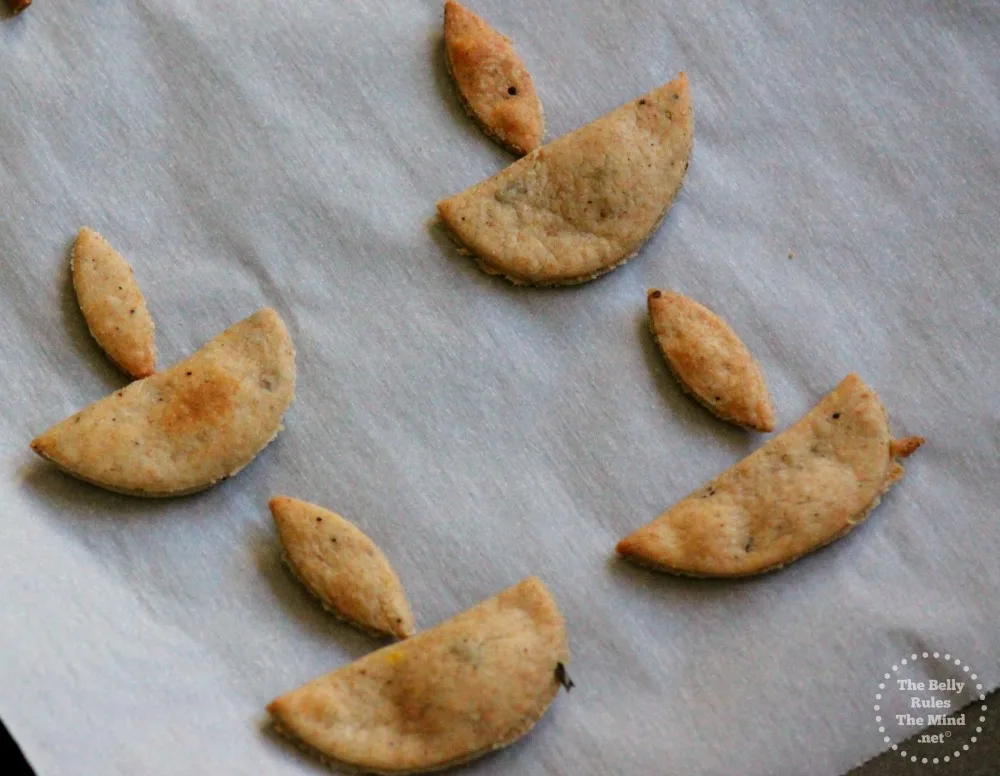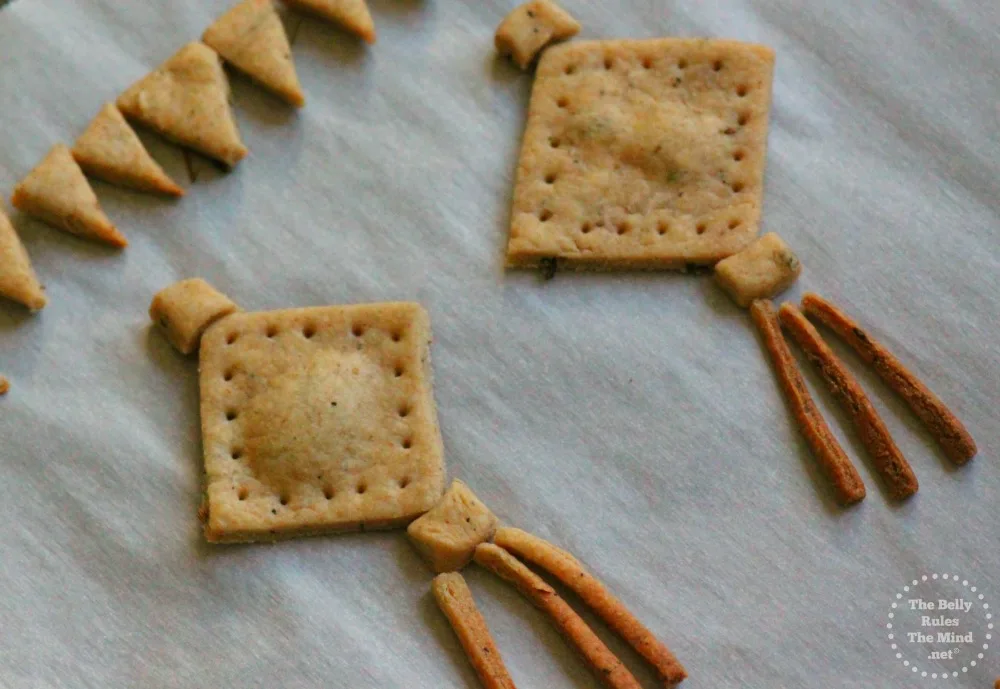 I hope you get around trying these Crackers as yseriouslyseriosly ditch the store bought crackers. They are so crunchy and delicious that you will want to bake more and more of these. Get creative and play around with the flavors. If you have figured out a favorite, drop in a comment below. I would love to hear about all the different flavors below.
If you of someone who is who might like this recipe, for the kids, or just a healthier snacking option or someone who travels a lot like my husband and likes to eat healthy, share this recipe with them.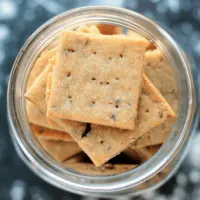 Vegan Mathri Wheat Crackers
These Baked Vegan Wheat Crackers or Mathris are ready in 15 mins only with just some flour, oil, water and seasoning. Super easy to make and are a perfect savory snack option. It's hard not to fall in love with these crispy crunchy crackers Vegan. Dairy-Free.
Ingredients
11/4 cup whole wheat flour / multigrain flour
4 tbs oil
1 teaspoon salt
1/2 teaspoon cumin powder
1/4 teaspoon carom seeds
1/2 teaspoon black pepper powder
1 teaspoon dried fenugreek leaves (kasuri methi)
1/4 (60 ml) cup water.
Instructions
Combine the flour, oil, salt, cumin powder, carom seeds, black pepper powder and dried fenugreek leaves. Feel free to add any seasonings you like, like rosemary, garlic or thyme. Mix well to make sure oil is evenly distributed.
Add water and knead it into a dough.
On a clean surface or on a parchment paper, roll the dough as thin as possible. Using a knife or a pastry wheel cut dough into 1 1/2 inch squares. To make them look like wheat thins, I used a toothpick to make a 9-dotted pattern. You could even use your favorite cookie cutter to give them a shape you would like. If you like the traditional round mathris, use the round cookie cutter.
To bake Mathri in oven
Preheat the oven at 400 degrees F.
Transfer the squares on a baking sheet and bake them for about 5-7 minutes until golden brown. Watch them closely as they can easily burn. The thicker squares will take a little longer to bake.
Cool them and store them in an airtight container.
To Air- fryer Mathri

Pre-heat air fryer at 180c for 2 minutes.
Place 5-6 uncooked mathri (or as many as you can accommodate leaving some space in-between each).
Air fry for 10 minutes and remove the cooked mathri.
Similarly, air fry all the remaining mathri and cool completely.
Cool them and store them in an airtight container.