All about our kid friendly spring break in Cancun, Mexico. It's pristine beaches with turquoise waters and white sand, wonderful people and delicious food.
Like I mentioned in my last post that earlier last month we went for a holiday to Mexico. Cancun to be precise. You are sure to fall in love with it's pristine beaches with turquoise waters and white sand. A destination with modern luxurious hospitality and shopping, while on the other hand we were a stone throw away from some of the best Mayan ruins, all on a stretch of 14 miles (22 kilometers) of warm sandy beaches. I couldn't ask for more. Ever since I have gotten back, the beaches of Cancun have been on my mind. More so when I think of Cinco de Mayo (May 5th), a celebration that to commemorate the Mexican army's unlikely victory over French forces. Since Mexico on my mind and I didn't get a chance to share anything about the trip I am going to share with you lots of beautiful, breathtaking pictures of the lovely Carribean and ofcourse some of the food and fun we had. I hate to say this, but I lost a lot of our pictures of the Mexican food, the Mayan ruins and Isla Mujeres, as one of the hard drives crashed. To make up for all the food, at the bottom of the post is a special roundup of all our Mexican recipes as a Cinco De Mayo special.
[adinserter block="2"]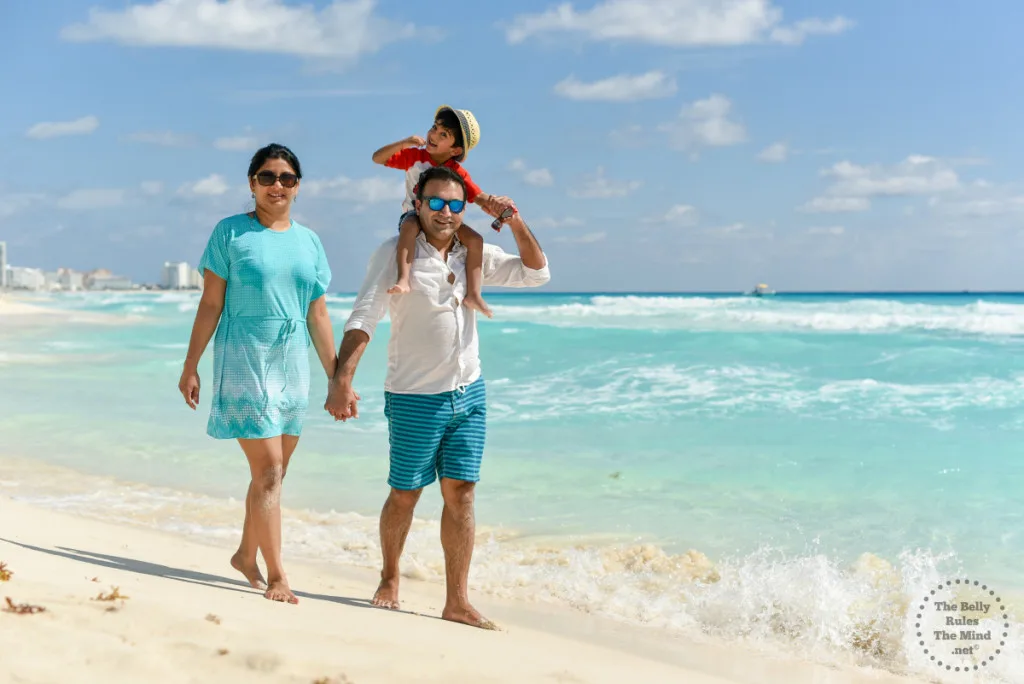 Where we stayed?
[adinserter block="3"]We stayed at the Westin Lagunamar, a great place to be with family. Although it was spring break, the crowd at the resort was very family friendly. It's a great place to be at as the resort in itself is self sufficient. An awesome infinity pool and swim up bar kept us cool and satiated with the Pina Coladas (recipe coming soon) and Margaritas. Little A loved pool hopping from one pool to another and enjoyed the shallow waters of the baby pool. In the mornings we would get into the pool and post lunch step out on the beach, where little A loved playing with sand while we relaxed, swam and enjoyed the serene view. 3 pm to 4 pm was Happy Hour so we made sure we didn't miss out any Pina Coladas and Fruit Punches then too. Before heading back to our villa, we would pamper ourselves in the hot tubs wrapping up our cocktails and smoothies (for A). The resort also has numerous restaurants serving different cuisines. So one of the days we enjoyed a Mexican food with traditional Pinata and Mariachi. The musicians were super talented. The resort also has a Market Place where you can buy groceries and swimming essentials. A couple times I made lunch but the rest of the times we enjoyed the food outside. This location is also bang opposite the famous La Isla Mall, which has some great restaurants and stores. They have a professional photo studio onsite that takes pictures of every family visiting. Best of all is the view, overlooking the sea. Every villa overlooks the sea...when we got back home Little A was disappointed to not wake up with the view below.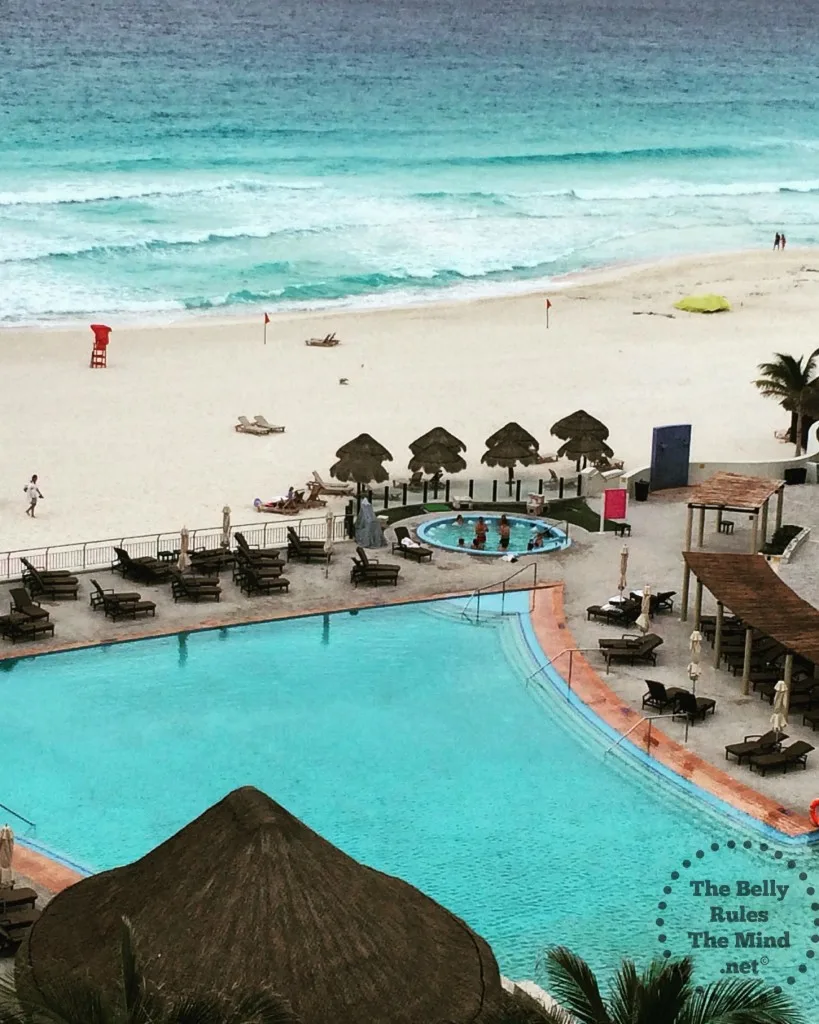 [adinserter block="2"]
What did we do there?
[adinserter block="3"]Bludge!!!We wanted to relax and enjoy quiet times, so we didn't do a whole lot of touristy stuff. We were so content we our resort that we didn't feel the need to step out at all. However one of the days we did take a local bus and ferry to the colorful Isla Mujeres (meaning Island of Women) to get a taste of the island life. This island is 14 kilometers off the Yucatán Peninsula coast. It's one of the favorite destinations for travelers who seek natural beauty, island serenity, and a slower pace of life—all without compromising its cultural traditions. I fell in love with this place. It is a contrast from the luxurious hotel strip in Cancun as it has more of a hippie vibe. People are warm and friendly and so laid back. As you walk across the island, the local stores are filled with Souvenirs and local treats and goodies. I was delighted to spot street side vendors selling fresh coconut cream and sliced mangoes. This place had my ideal restaurants "On the beach" .
[adinserter block="2"]
[adinserter block="2"]
What we ate?
[adinserter block="3"]We had some really good food through out. The night of Mariachi, we had an awesome spread of Mexican food with almost 52 varieties of Mexican dishes. Wow, I was just going crazy trying all the different types of salsas, guacamole, ceviche, soups, fajitas and what not. I actually took a video of the whole spread which was on that hard disk that crashed. The rice puddings and Tres Leches were lip smacking an ofcourse their hospitality is number one. Another night we headed across to the mall and ate at Thai Lounge. We had a booking reservation for 6 pm. The restaurant has some really authentic Thai decor and each table is under a palm shelter or palapas, with an ambient of tables and. It sure was a romantic candle light dinner as we watch the sun go down. Yes we saw the sunrise and sun set both from just across the road!!! We order some green curry, spring rolls and pad thai noodles and I was impressed to get such amazing Thai food in Mexico. I have to admit it is a hidden gem in the mall. We also found an Indian restaurant Elephenta next to the Thai restaurant. The next day little A was craving for Dal and Rice so we tried this awesome Indian restaurant. Apparently it's the same owners as Thai lounge, so the concept was pretty much similar except that the decor in each shelter was Indian. It was a serene view and I would have never thought I was enjoy such good Indian food in Mexico.
[adinserter block="2"]
[adinserter block="2"]
Now if all this food makes you hungry and makes you want to be in Mexico too, we have some quick, easy and healthy Mexican 'inspired' recipes lined up for.
Fresh Homemade Salsa
Tropical Fruit Salsa
Pineapple Guacamole
Ceviche (Vegan + Gluten Free)
Broccoli & Corn Quesadilla
Southwest Chipotle Salad with Avocado Dressing
Tomatillo Salsa Verde
Spicy Chipotle Vegetarian Pizza
Samosa Quesadilla
Burrito Bowl
Follow us on Facebook to stay updated with all the healthy information we share. Check out our Pinterestboards for all the healthy eating inspiration you'll ever need. For an unending buffet of healthy photographed food, follow us on Instagram