This shop has been compensated by Collective Bias, Inc. and its advertiser. All opinions are mine alone. #TeaProudly #CollectiveBias
This Pindi Chole (Garbanzo beans in Indian spices) recipe is known for its authentic spicy flavors and mild sour taste. Pindi chole is usually dark brown in color & dry. This dish will leave a burst of flavors on your taste buds! There is a secret ingredient in the recipe that may surprise a lot of our readers. To know more about it, read on.
We love our tea and cannot live without having at least 2 cups a day and hence the concept of Tea Proudly. For me, Tea Proudly means sitting with my better half while relaxing and having a hot cup of tea. I wait for my hubby R1 to be home in the evening so that I can share some us time while having tea. We are very passionate about our Tea and hence very picky about the brand we use and like as well :-).
I am sure you must be wondering as to why we are discussing tea when we are presenting a recipe for Pindi Chole. The reason is Bigelow Constant Comment tea, it is not only perfect for drinking as a regular hot tea but also for using it in this Pindi Chole base. Yep, Bigelow Constant Comment Tea is the secret ingredient that I was referring to in the introduction. Now that the cat is out of the bag, using tea in any food dish might sound a little strange for a lot of our readers, but believe me, its the tea that gives the dish its rich dark color and subtle flavor and aroma. We have started liking different flavors that Bigelow provides, however, prefer the Constant Comment tea for our Pindi Chole recipe as it has an interesting flavor and aroma that does not over-power the other spices used.  Get your pack now. You can hover over on the image below and click on the tag to directly take you to Walmart to purchase the tea.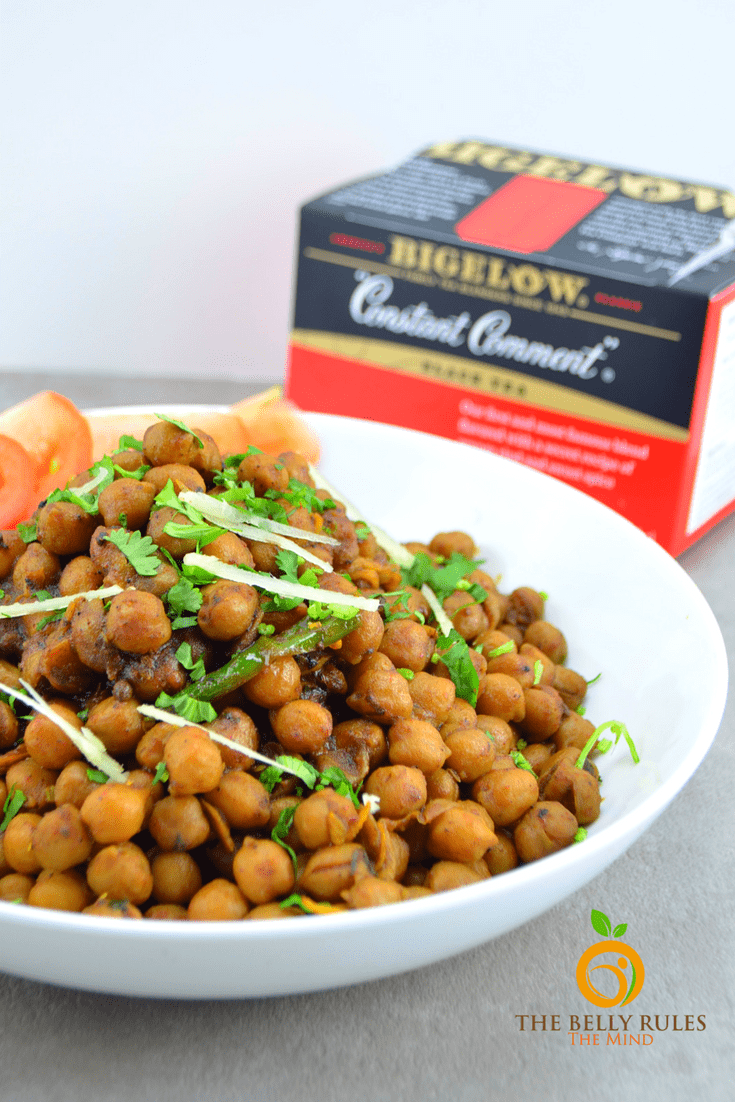 Pindi chole is one quintessential dish in a Punjabi household and for all those who love Punjabi food. Chole means chickpeas/ garbanzo beans/ Channa. This Pindi Chole recipe is traditionally from the city Rawalpindi which is now in Pakistan. These chickpeas are very similar to the chickpeas available in the restaurants except what makes them different is that they are darker in color as they are cooked using tea. Raw chickpeas are soaked in water for 6 to 8 hours (preferably overnight) and then cooked in a bouquet garni of Bigelow Constant Comment tea and other spices which totally enhances the flavor and color.
This recipe has many variations, however, I am sharing with you the way my mom has been making this for years. I have learned cooking from my mom and there are few recipes which are meant to be made traditional. The best part about this Pindi chole is there is no cutting and chopping needed ;).
Chole is an excellent party or potluck recipe as most of the people will love it and it can be served with different sides like Naan, Rice, Roti or Chappati. It comes especially handy when you have to host some guests at home or plan a kids party.
I have enjoyed eating this dish every time we visit India and travel to Amritsar. They are served in Dhabas(roadside Indian eateries) near Golden Temple with Kulchas (Indian bread),  aloo parathas & lassi( Sweet or savory yogurt drink ).
There are few ways of making Pindi chole and this is street style or dhaba style chole.The secret shhhhh…… add a few tea bags while boiling soaked chickpeas (chana) and then discard it to bring the beautiful dark brown color, flavor and aroma to chole.
You might think the list of ingredients is long but it's very easy to make with the ingredients readily available at home. We usually get our Bigelow Constant Comment Tea from Walmart stores from the tea section.
Pindi Chole (Indian Style Dry Garbanzo Beans )
Ingredients
4 cups Garbanzo beans /chole/ soaked and boiled
2 tea Bigelow Constant Comment tea bags
4-5 cloves
3 Green cardamom
2 Bay leaves
2-3 cinnamon
2-3 Black cardamom
1 inch Ginger/ peeled/ juliennes
3 Green chillies/ slit in half
1 tsp kasuri methi powder
1 tsp turmeric powder
1 Tbsp ajwain
salt to taste
1 tsp Red chilli powder
2 tsp dhaniya /jeera powder
1 tsp Pomegranate powder
handful chopped cilantro
1 Tbsp Oil
Instructions
Soak chole overnight
Take a Muslin cloth and put the tea bags, cinnamon, cloves, green & black cardamom, bay leaves in it and make a bundle ( Bouquet garni)
In a pressure cooker put overnight soaked garbanzo beans along with the bouquet garni and add water let it cook for 20 mites .
once cooked remove the bundle of masala and discard.
Take a pan , add oil add all the seasoning turmeric powder, dhania & jeera powder, red chilli powder, pomegranate powder, Ajwan seeds & kasuri methi powder.add the ginger , green chilli & chopped cilantro.
add the cooked Garbanzo beans in to the masala and stir well . add the water (Reserved from the cooked beans)
cook it over low flame for few minutes
Serve it hot with kulchas, rice, puri.
https://thebellyrulesthemind.net/pindi-chole/