Potli Samosa Wontons are the easiest way to make samosa.These delish, quick, easy & baked dumplings are way healthier than the traditionally fried version and are inspired from Asian cuisine.
This post is a part of the post Samosa Served 8 Ways & a sequel to Easiest Ever Samosa Stuffing (ready in just 30 minutes and tastes just like the store bought Samosas). If you haven't read it yet, I would highly encourage you to read that post to learn more about the popular so called 'Indian' snack, Samosas.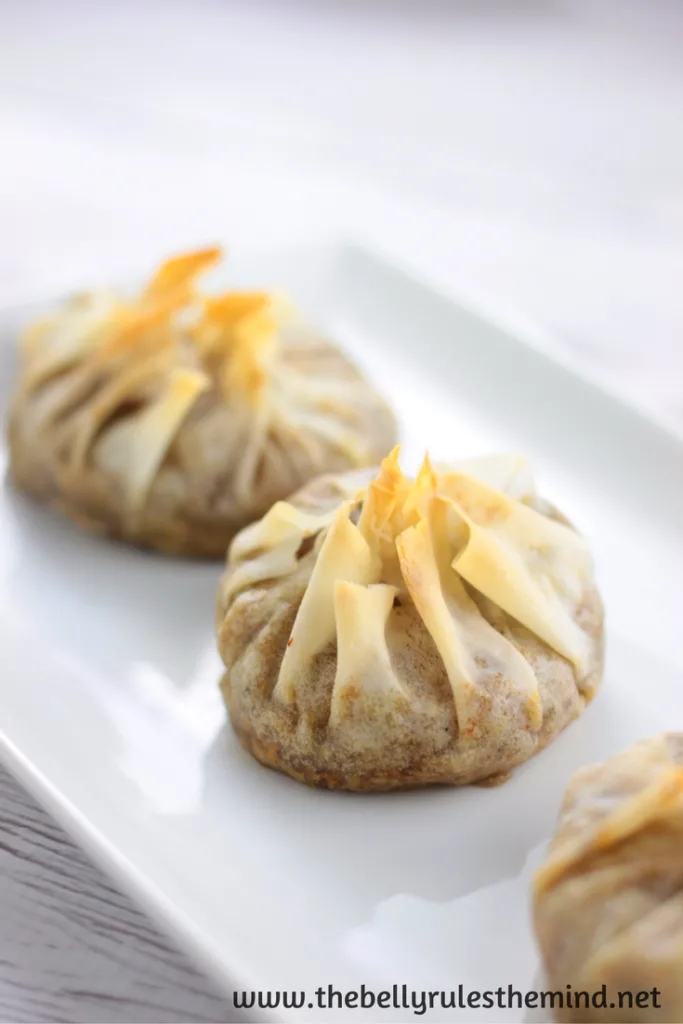 Are you a lover of Samosa? Well me family loves them. Ofcourse the first thought when you hear the word samosa are the triangular savory pastries filled with flavored potatoes & peas. If you have ever tried to make those triangular puffs, you will know that it's not as straight forward as it seems like. One does need to master the art and not everybody gets it right in their first few attempts. I have a confession to make here, that I was one of them.It took me a while to get the hang of it before I was even comfortable serving it to guests.
So if you haven't gone crazy yet trying to perfect this art, here is a super simple and easy way for you to wrap your favorite stuffing. I mean in the end, does the shape really matter? It taste pretty darn good and is much more convenient to make and serve. These Potli Samosa Wontons are inspired by the Asian wontons / momos / dimsums / dumplings. Although the Asian wontons are stuffed with a combination of vegetables and/or noodles, my Potli Samosa Wontons are stuffed with my Easiest Ever Samosa Stuffing. Typically these are fried but I took away the extra fat and deep frying and chose a healthier alternative.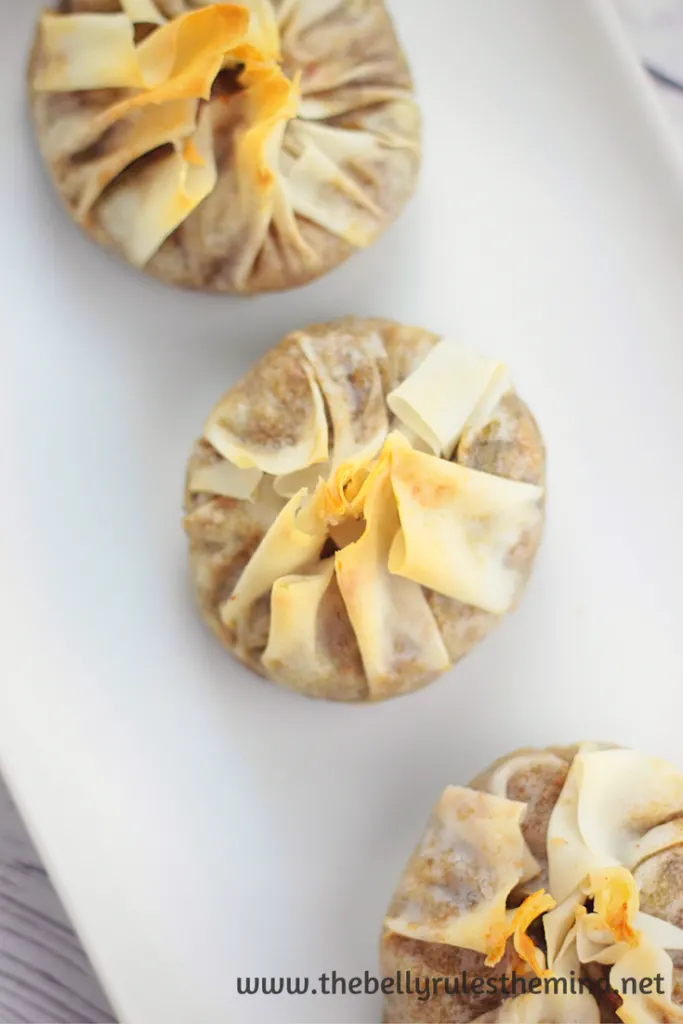 These cute little dumplings are perfectly baked to a crispy crust on the outside and a soft potato and pea stuffing on the inside. Using wonton or spring roll wrappers to wrap the stuffing is so much more easier than breaking my head to get the perfectly shaped triangles. Infact feel free to take them to the next level and stuff them with our Burnt Garlic & Cilantro Noodles or the Spicy Thai Noodles. Tell us what do you think in the comments section below. Do you think you will try this wrapping style and ditch the traditional wrapping?
For more healthy ideas and recipes subscribe to our email or follow us on Facebook to stay updated with all the healthy information we share. Check out our Pinterest boards for all the healthy eating inspiration you'll ever need. For an unending buffet of healthy photographed food, follow us on Instagram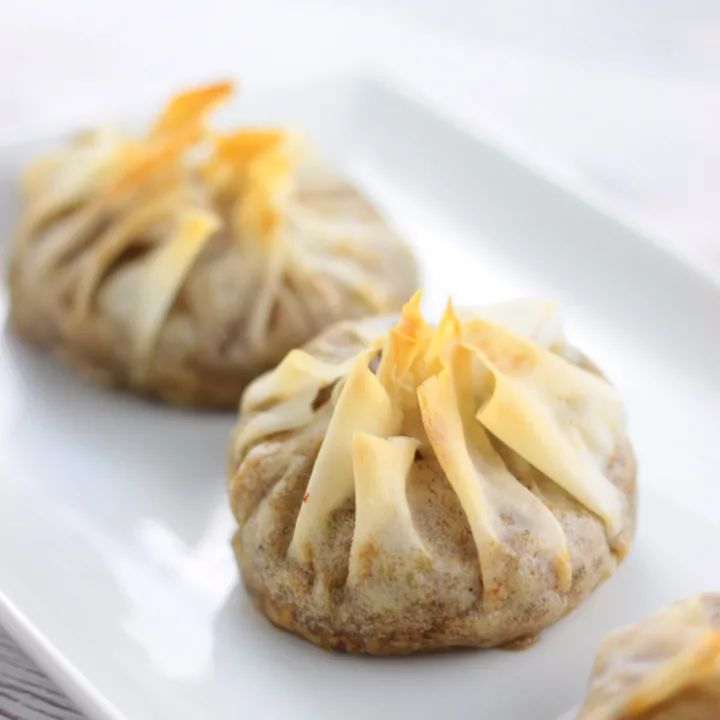 Potli Samosa Wontons
Ingredients
1/2 cup [Easiest Ever Samosa Stuffing|http://thebellyrulesthemind.net/2016/10/easiest-ever-samosa-stuffing/]
8 [Spring Roll Pastry Wrappers |[http://amzn.to/2eX9Um0]
[Cooking spray with flour|http://amzn.to/2er11ON] or oil
[Muffin Tray|http://amzn.to/2ezpwJy]
2 tablespoon water
Instructions


Preheat Oven to 400 degrees F.
Thaw the [Spring Roll Pastry Wrappers |http://amzn.to/2eX9Um0] in the refrigerator the night before you want you use them.
Spray the [muffin Tray|http://amzn.to/2ezpwJy] with [cooking spray|http://amzn.to/2er11ON] or coast the cavities with oil.
Use 2 [spring roll pastry wrappers |http://amzn.to/2eX9Um0] to fill 2 tablespoon of the [Easiest Ever Samosa Stuffing|http://thebellyrulesthemind.net/2016/10/easiest-ever-samosa-stuffing/] As you can see in teh pictures, using one wrapper makes the outer curst very thing. Thus I recommend using 2 wrappers.
%http://thebellyrulesthemind.net/wp-content/uploads/2016/10/Baked-Samosa-Dumplings.png
Bring together all the corners of the [spring roll pastry wrappers |[http://amzn.to/2eX9Um0], dampen the corners until the 4 corners stick to each other. Make sure the stuffing is properly concealed in a bag like shape before placing it into the muffin tray.
Wrap the remaining mixture into the wrappers.
Bake for 10-15 minutes until golden brown. Make sure you keep an eye on them as they burn pretty easily.
Serve it with [Multipurpose Green Chutney|http://thebellyrulesthemind.net/2016/05/multipurpose-green-chutney/]
Products Used