Poha is a delicious and easy Indian breakfast. We've made this yummy breakfast recipe even easier and faster by preparing it right in your Instant Pot. Your family will love this hearty rice based dish. You'll love it too because you can feel good knowing you served them a nutritious breakfast that gets the day started off right.
LET'S BE FRIENDS ON PINTEREST! WE'RE ALWAYS PINNING TASTY RECIPES!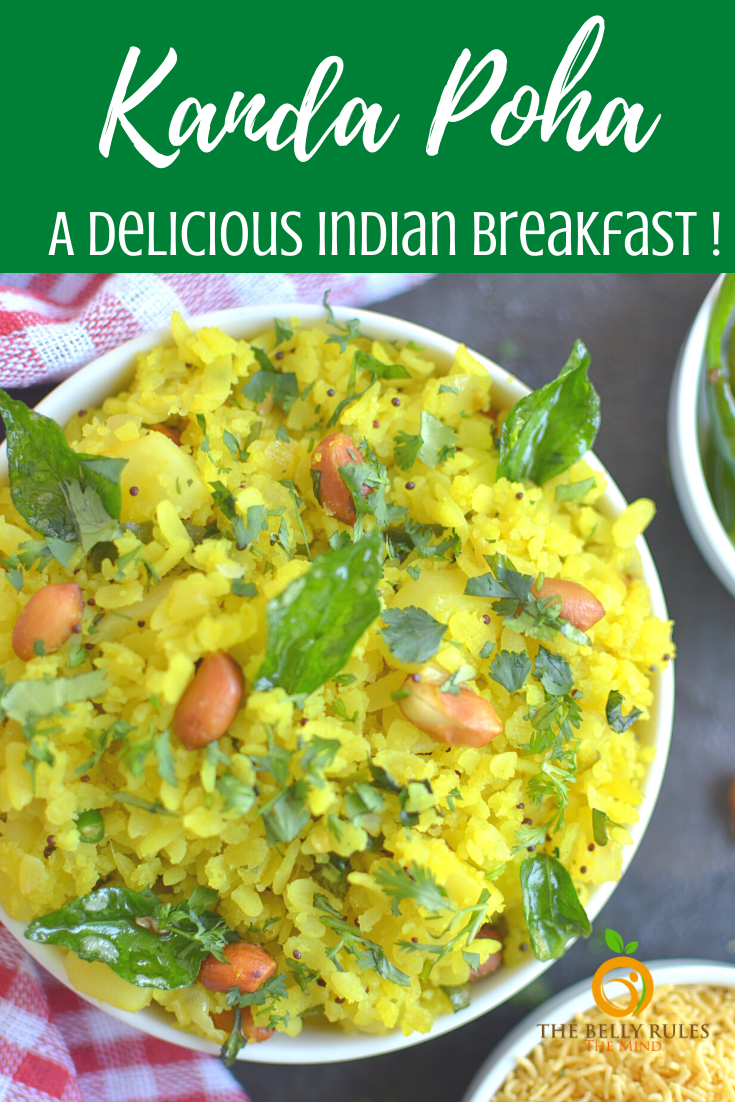 This recipe was originally published in Oct 2016 and has been update to include Instant pot instructions, videos and pictures.
Jump to:
What is Poha?
Poha or Pohe translates into English as "flattened rice" or "crushed rice" and is an easy breakfast or quick snack in many parts of India. The dish brims with hearty, healthy ingredients and is generally considered a very healthy breakfast choice in India.
Instant Pot Kanda Pohe Video Recipe
What do you need for Poha?
Poha doesn't need a lot of ingredients to make it taste delicious. It is primarily made using thick poha. You will also need an onion, peanuts, and a potato to make the base of the meal.
For flavor, you'll need:
sugar

salt

lemon

oil

mustard seeds

green thai chilies

curry leaves

turmeric powder
If you want, you can also add carrots, peas, and cabbage to the recipe for additional veggies.
Why Make Poha in the Instant Pot
The Instant Pot cuts down on the cook time of this breakfast recipe and delivers consistent, yummy results each and every time you make make it!
New to the Instant Pot and nervous about how to use it? We've got you covered. Check out our beginner's guide to the Instant Pot, called Is the Instant Pot Worth It? It'll break down everything you need to know and get you pressure cooking like a pro in no time at all.
How to make Kanda Poha?
Start by washing or rinsing the poha in a bowl of cold water. Drain the pohe and then sprinkle salt, sugar, and lemon juice on top. Mix it all together and set it aside for at least 7 to 10 minutes.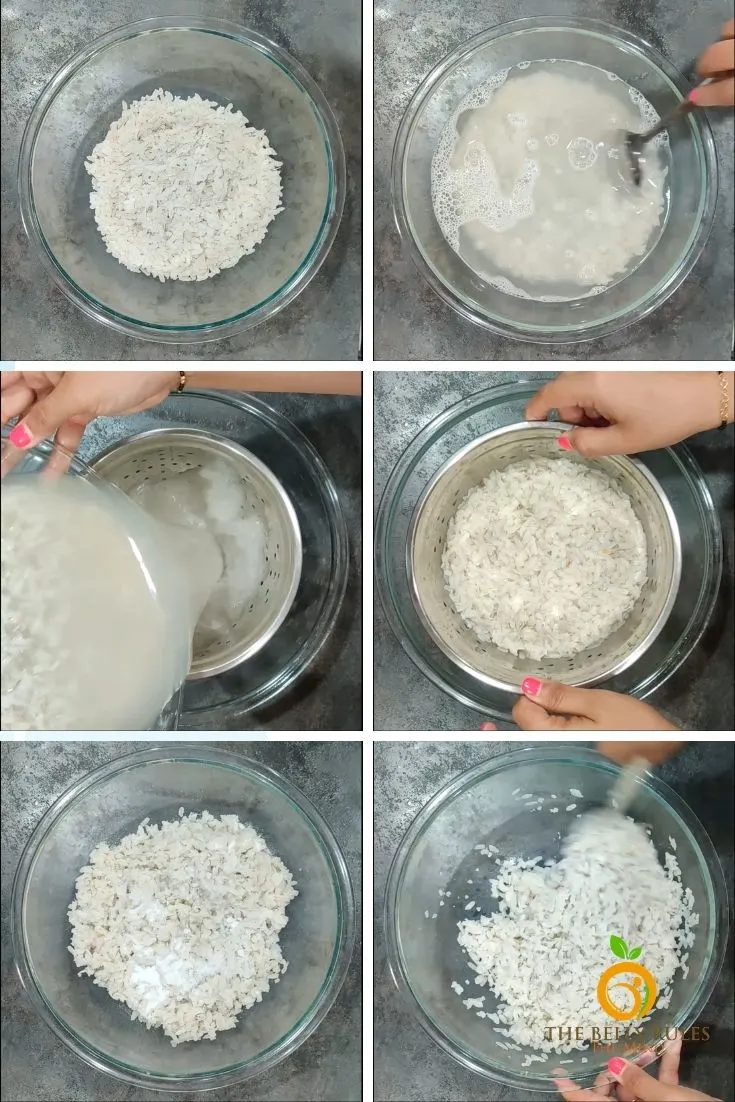 While it rests, turn your Instant Pot onto Saute mode and add in the oil. When the oil is nice and hot, add the raw peanuts and roast for 2 to 3 minutes and remove them. They should start to turn darker brown. If you are using roast peanuts, you can skip this step.
Add in the mustard seeds and let them cook until they start to splutter. Add in the curry leaves, onions, and Thai green chilies and saute for 1 minute. Next, add in the potato cubes and water. Cancel the saute mode as soon as you add the potato cubes.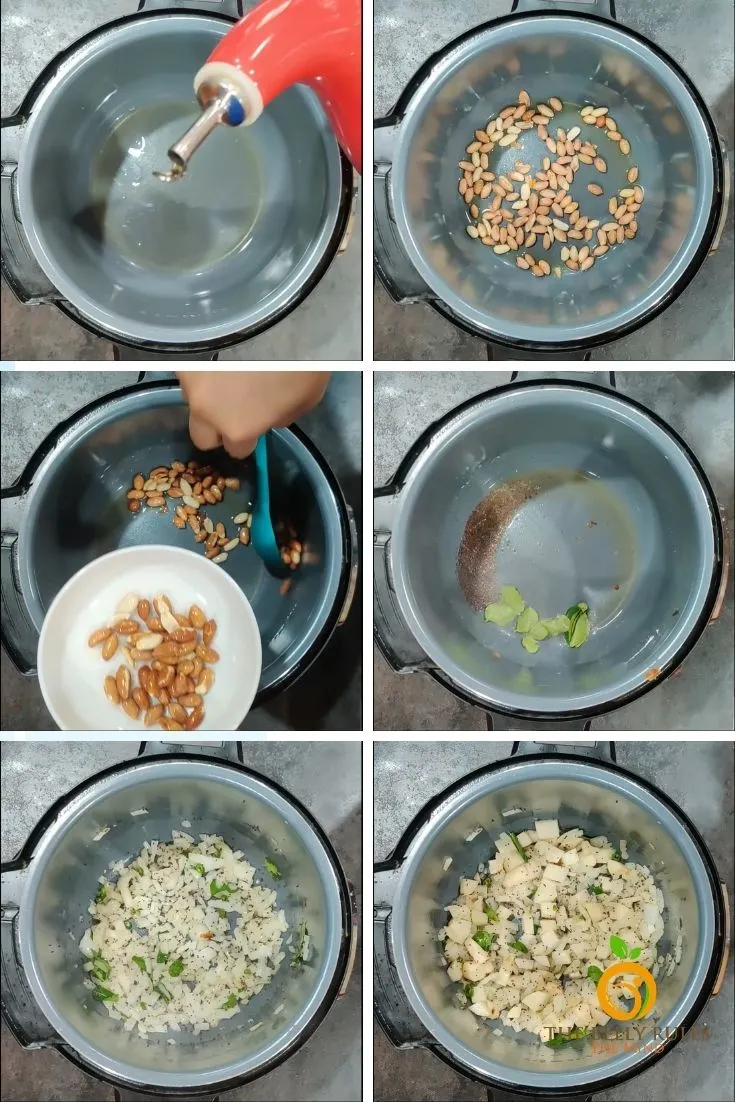 Place the Instant Pot lid on, close it, and set the valve to sealing. Set the Instant Pot to high pressure cook for 1 minute. Once the timer goes off, do an immediate quick release of pressure.
Carefully open the lid to the Instant Pot. If there is some liquid left, use the saute mode for a few minutes until most of it has evaporated. Add in the turmeric powder and give it a stir add the poha and mix it all together well. Then sprinkle in the cilantro and roasted peanuts.Switch off the instant pot and cover with the glass lid for the Instant Pot and let it rest for 10 minutes.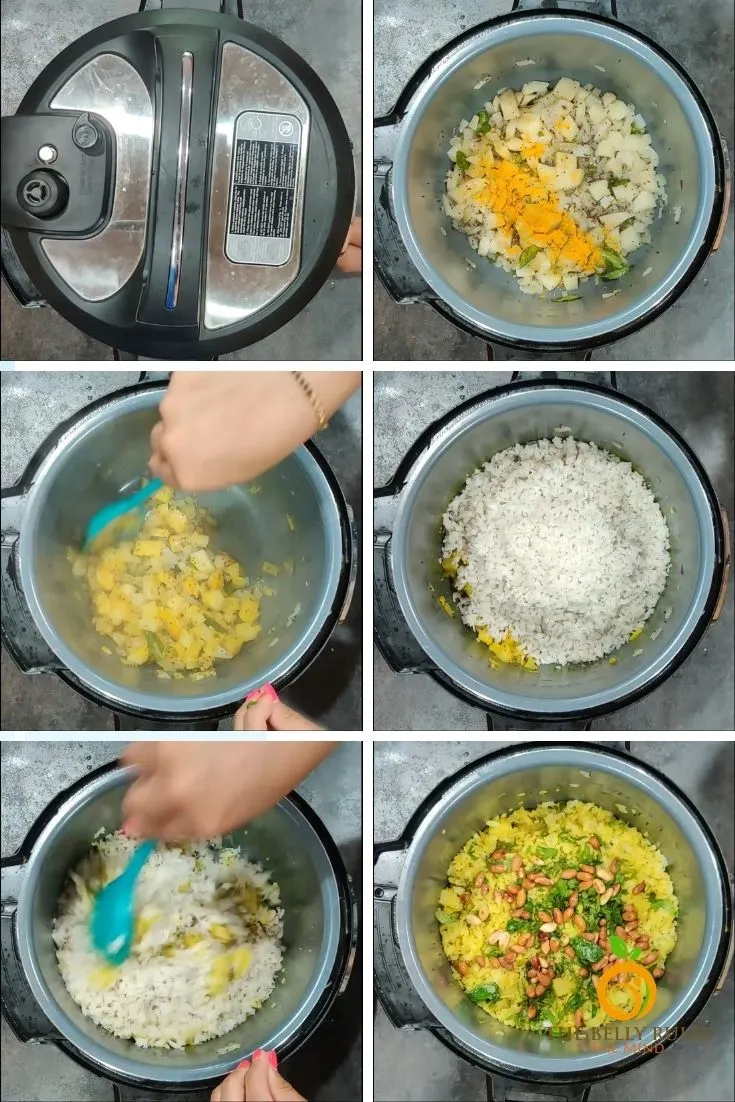 Finally when serving, garnish it with peanuts and chopped cilantro. Serve it warm with sev and lemon slices and enjoy!
Pro Tips
Always use thicker poha to avoid a mushy breakfast

Make sure you rinse but don't over rinse the poha. One to two times is enough and then set aside, covered, until the tempering is ready. You can check their moisture level by pushing them a bit. If they break easily, they are ready. If not, then add some water.

Top with peanuts, finely chopped onions, lemon juice, cilantro, and sev

Add peas, carrots, or cabbage if you are looking for more veggies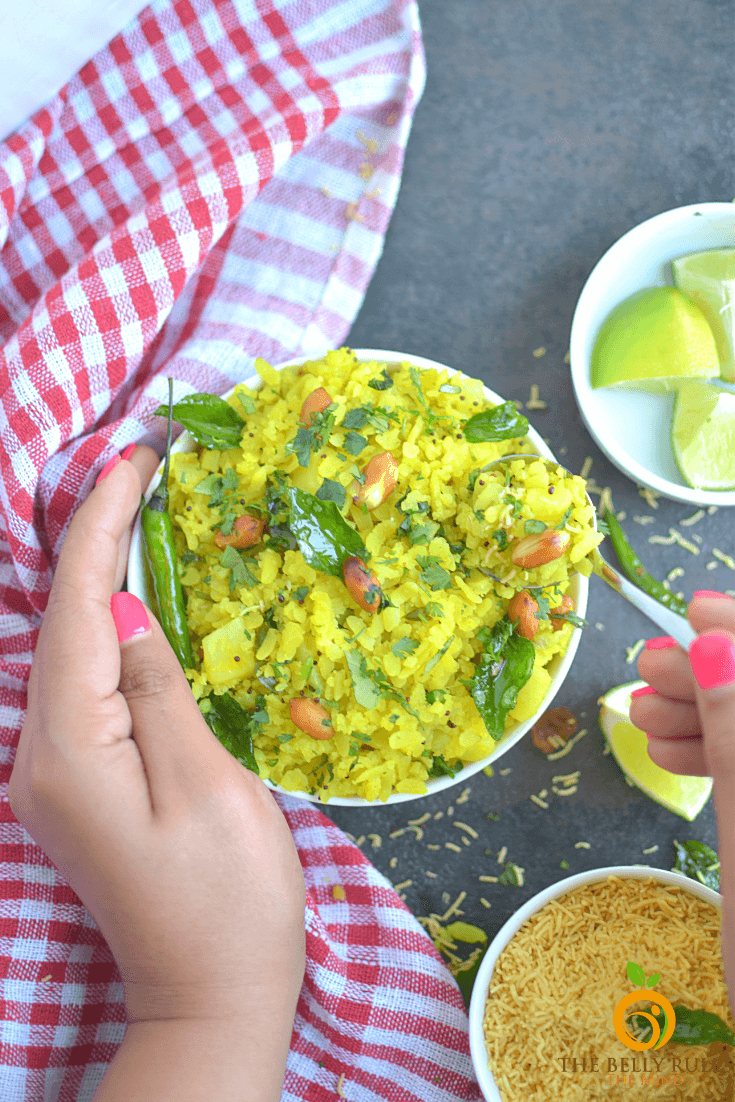 Why did my Poha turn out dry?
If it came out dry, chances are you didn't rinse them well enough or use enough water. You can fix this by placing the poha in a pan, sprinkling with some water, covering the pan, and heating it over low heat for 2 to 3 minutes.
How can I make dry Poha edible?
If it dries out after storing it or if it is not as moist as you would like, you can re-moisturize them. Add no more than a teaspoon of water over top, cover them, and heat them in a pan over low heat for about 2 to 3 minutes. They should become moist again.
What type of Poha should I use for making Kanda Poha?
Wide or thick poha works best for kanda poha. Thinner poha are not as good for making breakfast poha because they become mushy when you rinse and cook them.
Can I add other veggies to the Poha
Yes, you can add other veggies like:
peas

diced carrots

Finely chopped cauliflower.
You can add other vegetables if you want to. A lot of it comes down to personal preference, but you can add as many vegetables as you want to.
How do I store left over Poha?
To store, let it cool before storing. Once it has cooled, scoop it into a large, air tight container, sealable bag, or individual, airtight containers for an even faster mid-week breakfast or snack. It will keep in the refrigerator for 4 to 5 days. When you are ready to eat it again, warm through in a microwave.
What toppings can I use for Poha?
We use roasted peanuts, sev, raw onions, lemon juice, and cilantro as our garnishment. Farsan and grated coconut are other popular options.
What can I serve Poha with?
You can serve a lot of different foods with poha. You could try it with our Homemade Instant Khaman Dhokla. Another good pairing is with our Vegan Vermicelli Bowl recipe. Another popular breakfast you can pair poha with is our Instant Pot Idli Sambad recipe. Or you could make them all if you are feeding a large family or having a get together.
If you make this recipe, don't forget to come back and leave your feedback and star rating. We would be THRILLED if you would take a pic and tag us on Instagram @dbellyrulesdmind or Facebook @thebellyrulesthemind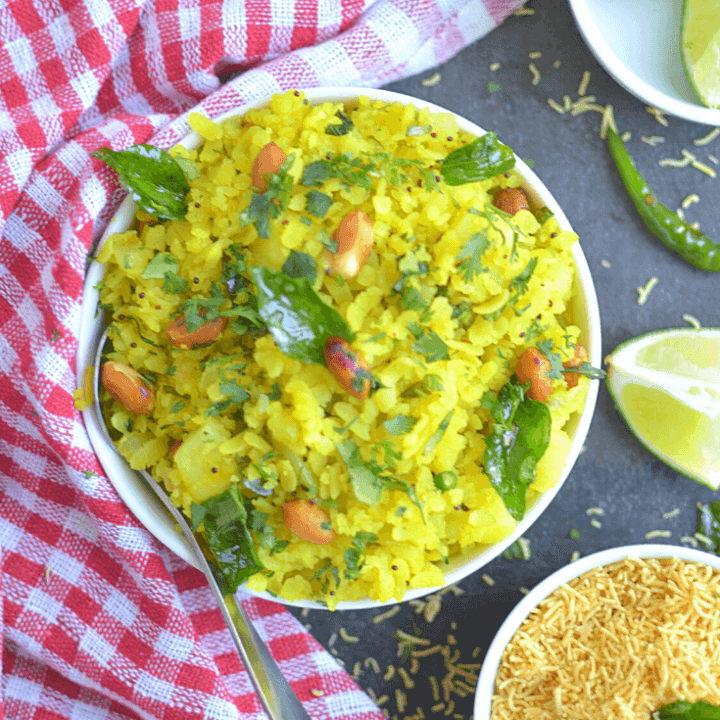 Poha Recipe- Kanda Aloo Poha
Additional Time:
10 minutes
Ingredients
1-1/2 cup Thick poha
1/2 cup peanuts (Roasted)
1 potato / peeled and cut into bite size pieces
1 onion /chopped finely
1/2 tsp sugar
1 tsp salt or to taste
1/2 lemon juice
1 tablespoon oil
1 tsp mustard seeds
2 to 3 green thai chilies
6 to 7 curry leaves
1/2 tsp turmeric powder
1 tbsp finely chopped cilantro leaves
Instructions
Instructions

Wash the poha in a cold water and drain the water and set aside for at least 7-10 minutes

Turn on the saute mode in your IP and add the oil. When hot, add the raw peanuts and roast it for few time and remove it . (you can skip this step if you already have roasted peanuts).

Add the mustard seeds and when it splutter, add the onions, green chilies and saute for a minute add in the chopped potatoes , water and switch off the saute mode immediately.

Close the lid and cook on manual high for 1 minutes .

When done release pressure immediately.Then add the washed and drained poha. Mix and close the lid again and let it rest for 10 minutes or more. (Do not switch on keep warm mode) The poha will get cooked in the retained heat. After 10 minutes, open the lid . Garnish with peanuts and chopped cilantro . Serve the poha with some spicy sev and lemons slices
Recommended Products
As an Amazon Associate and member of other affiliate programs, I earn from qualifying purchases.