After coming back from my trip to India, my kids have been craving the Indian style pizzas, the flavors, the texture and the taste .. yum... You don't get DESI flavored pizzas in our area and so once again mom is to the rescue!! lol... I looked at various options to see how i could reduce the time it takes to prepare the pizza. Thought of creating my own dough and create the pizza base, but it does take a lot of time.... that can definitely another recipe, however today i wanted to see how i could make my kids happy in q quick timeframe. I prepared this pizza in under 15 minutes and the look on my kids face when they tasted this was bliss. You can also use this recipe as a quick go to recipe when you have guest coming over. This quick & easy paneer tikka pizza will get the party started because it's so good, so easy, and ready in under 15 minutes.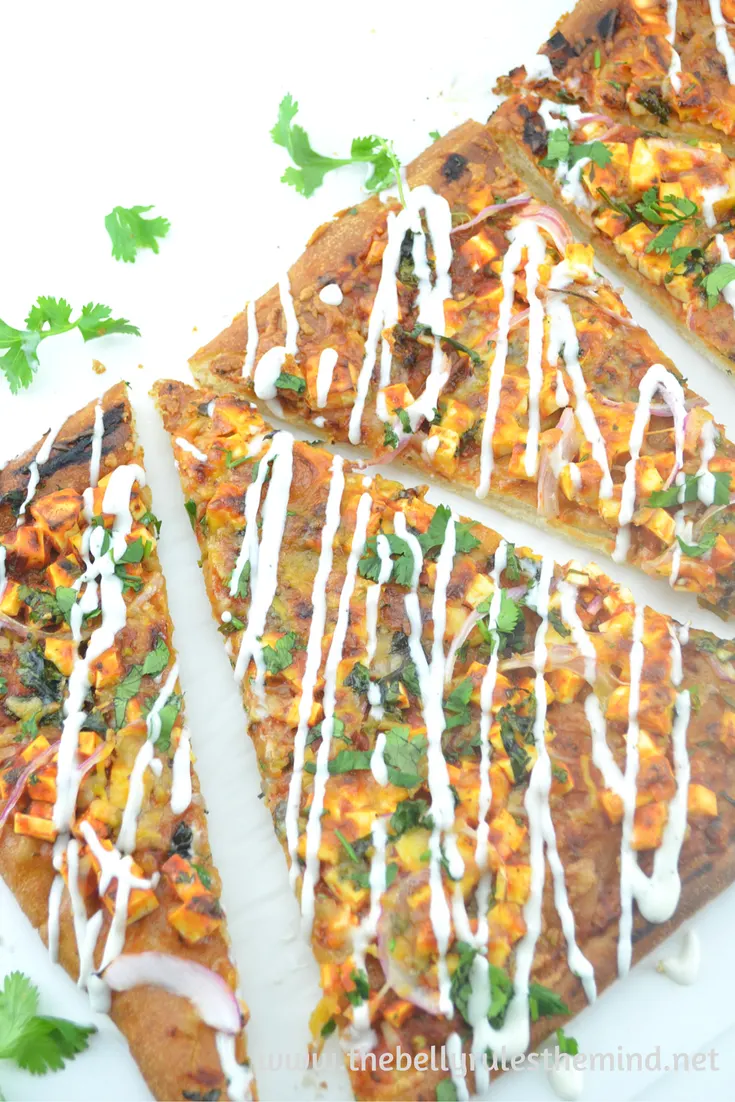 This Quick & Easy Paneer Tikka Pizza is layered with flavor bursting paneer, red onions, cheese and cilantro. This Pizza make the most satisfying lunches/dinners or a super fun appetizer!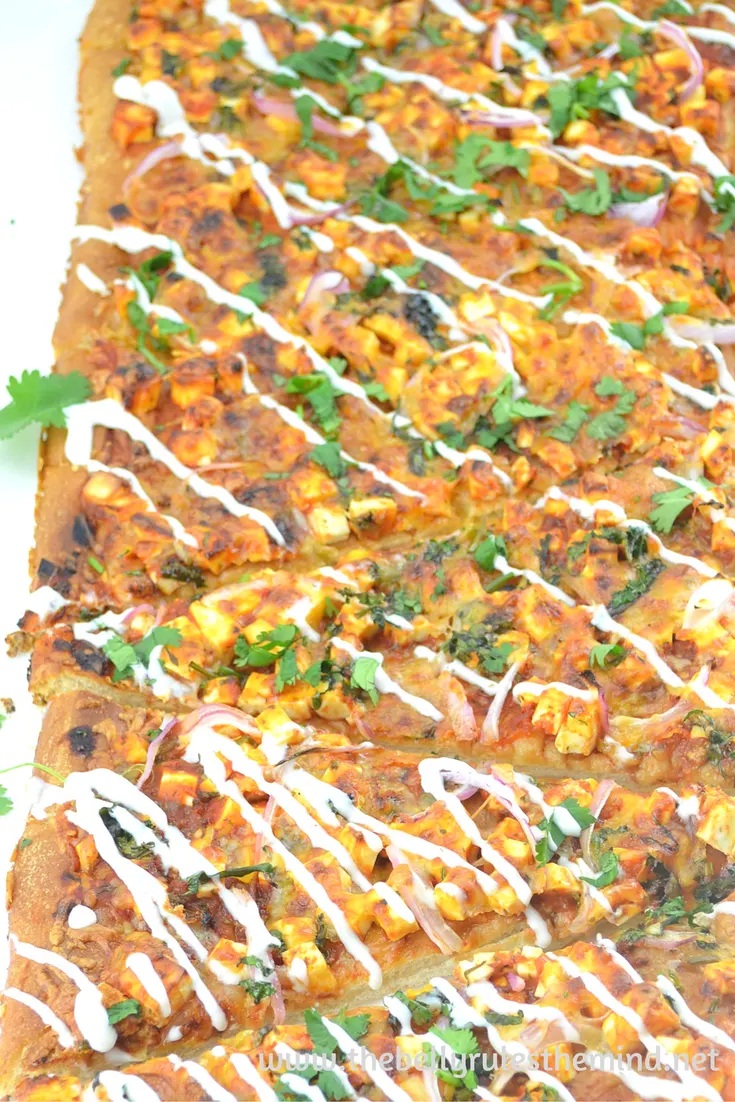 This Quick & easy Paneer Pizza is one of my favorite culinary creations :D :P And the paneer tikka marinade might be my new favorite marinade e-ver. this recipe is definitely a keeper . I have been making this Quick & easy paneer tikka pizza On , pizza dough, Naans, flatbreads, tortillas but this one is made on a afghan bread. YES you read it correct!!Afghan bread, or Naan-e Afghani, is the national bread of Afghanistan. The bread is oval or rectangular and baked in a tandoor, a cylindrical oven that is the primary cooking equipment of the sub-continental region.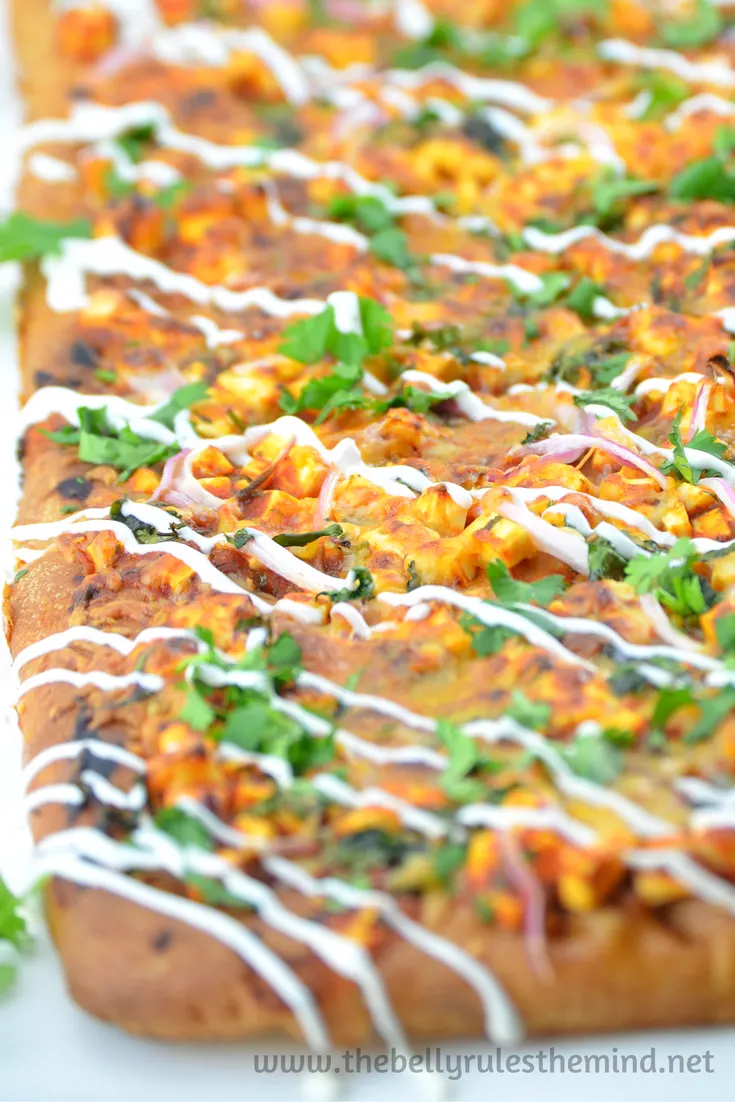 The marinade very few ingredients ! To make the marinade, whisk together olive oil, lemon juice,tomato paste and a plethora of spices including garlic, cumin powder, garam masala and paprika. Best. Paneer tikka marinate. EVER!
When it comes time to actually make your Paneer tikka Pizza, they take minutes to whip up because you have already marinated your paneer . First you bake your afghan bread for 2 minutes. Afghan bread comes in whole wheat & all purpose flour . I used whole wheat with sesame seeds because that's my personally favorite . And because we are using this flatbreads instead of pizza crust, you can eat and eat and eat with a big blissful, guilt free smile on your face :D
Quick & Easy Paneer Tikka Pizza
Ingredients
1 Afghan Bread( Whole wheat)
1/2 cup tomato pure
1 teaspoon Garlic paste
2 tablespoon Tomato ketchup
1 cup Paneer/ Tofu
1 cup shredded 5 cheese
1/3 cup red onions/ thinly sliced
3 tablespoon Cilantro / Chopped
2 teaspoon Butter/ oil
Salt to taste
1/2 teaspoon Red chilli powder
1/2 teaspoon Garam masala
3 tablespoon Sour cream/ Optional
Instructions
Preheat the oven to 450ºF.
Spread the butter on the afghan bread and bake it for 2 mins
Remove from the oven.
In a medium bowl, toss together the diced Paneer with the Tomato puree and ketchup.
Add in the salt, red chilli powder, garam masala , garlic paste and some chopped cilantro .
Micro wave it for 5 mins and remove it .
Spread the Paneer masala on the afghan bread, leaving a 1/2-inch border around the edges.
Sprinkle the cheese on top . Scatter the red onions atop the paneer tikka masala.
Bake the pizza for 8 to 10 minutes.
Remove the pizza from the oven to a cutting board, sprinkle it with chopped cilantro, slice spread some sour cream and serve.
Do try our
Pizza Flavored Roasted cashew-nuts
,
Pizza flavored baked Namak pare/wheat thins
If you know of someone who would enjoy this recipe, please don't forget to share this recipe with them. If you land up making a batch for these, don't forget to drop us a comment and let us know.
For more healthy ideas and recipes subscribe to our email or follow us on Facebook to stay updated with all the healthy information we share. Check out our Pinterest boards for all the healthy eating inspiration you'll ever need. For an unending buffet of healthy photographed food, follow us on Instagram