Think you don't like Brussel Sprouts? These Roasted Brussel Sprouts with Homemade Szechuan Sauce are sure to change your mind. Quick, easy and super delicious. Vegan. Gluten-Free.
Brussel Sprouts are vegetable that not everyone is fond of. These edible buds that look like mini cabbages are known for their health benefits. Did you know that their origin is linked to Brussels, Belgium and thus the name? Well, we are making a conscious effort to incorporate Brussel Sprouts into our diet just for the health benefits, so we are trying different permutations and combinations to figure out the recipes we like. This recipe of Roasted Brussel Sprouts with homemade Szechuan Sauce definitely gets a thumbs up on our like list.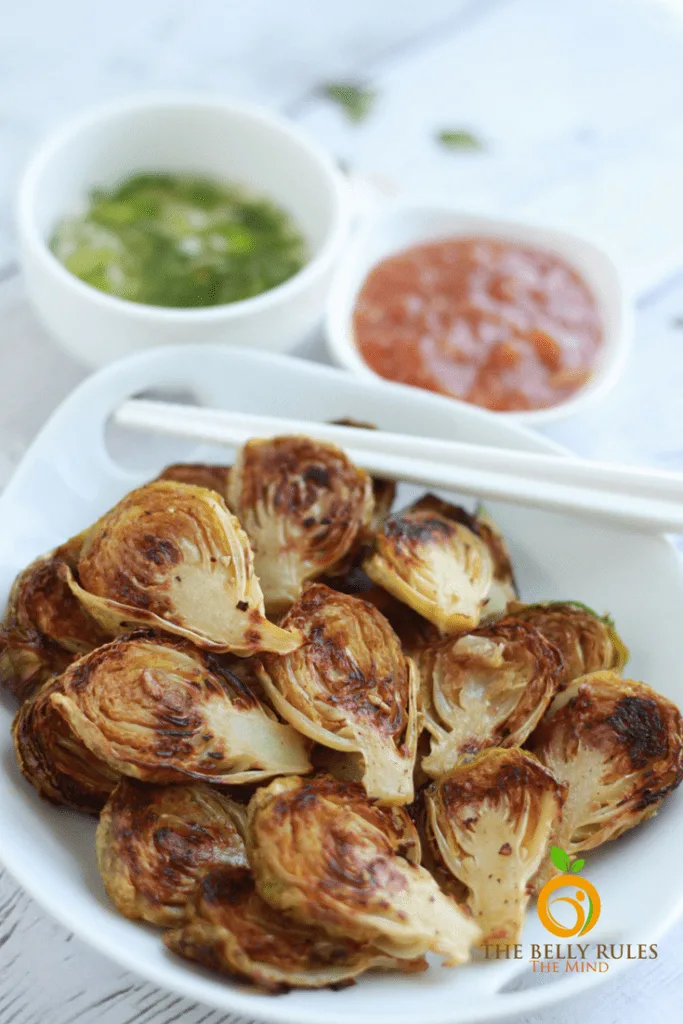 Why will you love these Roasted Brussel Sprouts with Szechuan Sauce?
This is the easiest Brussel Sprouts preparation ever with lots of yummy flavors to go with them. Roasting veggies is the best way to get the most of the nutrients from vegetables. So we like to keep things simple and just roast the Brussel Sprouts with a dash of lemon, pepper and salt and just it by itself tastes so delicious. Imagine combining it with the everyone's favorite Szechuan Sauce. Can you imagine the burst of flavors in your mouth? You are sure to fall in love with this version. The sauce comes together so easily but just mixing a few pantry staples. In just 5 minutes the sauce is ready while the Brussel Sprouts are being roasted in the oven. In just 20 minutes these delicious buds are ready. Serve them as a side or enjoy them as an entree, you won't be disappointed. These Roasted Brussel Sprouts with homemade Szechuan Sauce are always a crowd pleaser. These are Vegan, Glutenfree & Nut-Free.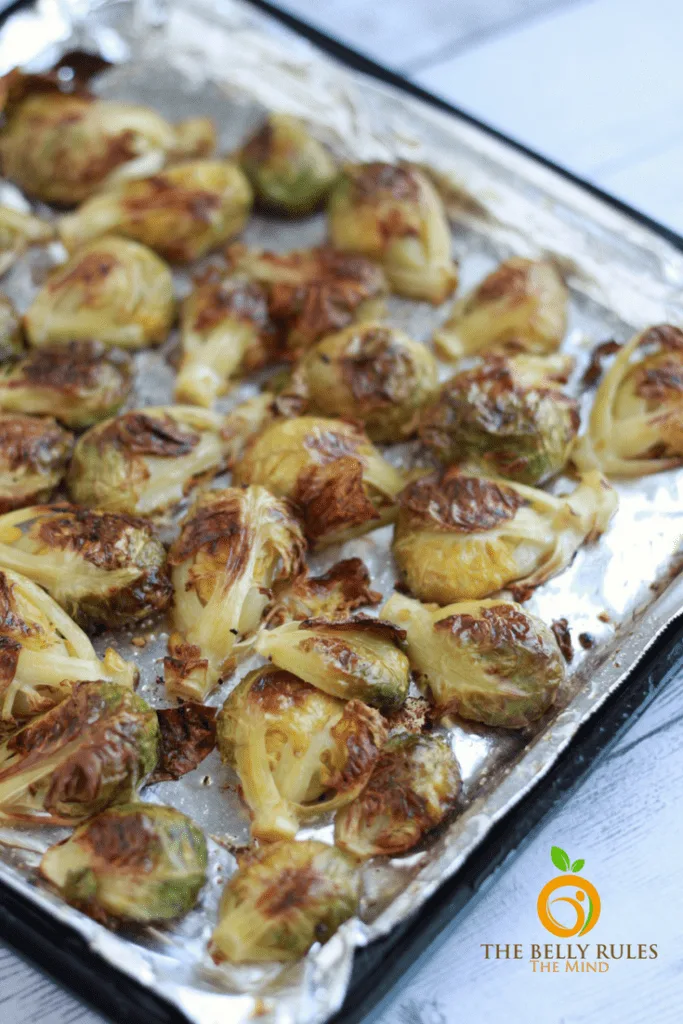 Preparation of Roasted Brussel Sprouts with Szechuan Sauce
So let's get them roasting. While the oven is preheating, make sure you rinse the Brussel sprouts thoroughly. Please don't pluck out the outer leaves of this bud unless they are wilted as they contain the maximum Vitamin D. Trim the stems and cut them into halves lengthwise. Next, in a roast the Brussel Sprouts with some oil, salt & pepper. Layer the Brussel Sprouts on a baking tray and get them roasting.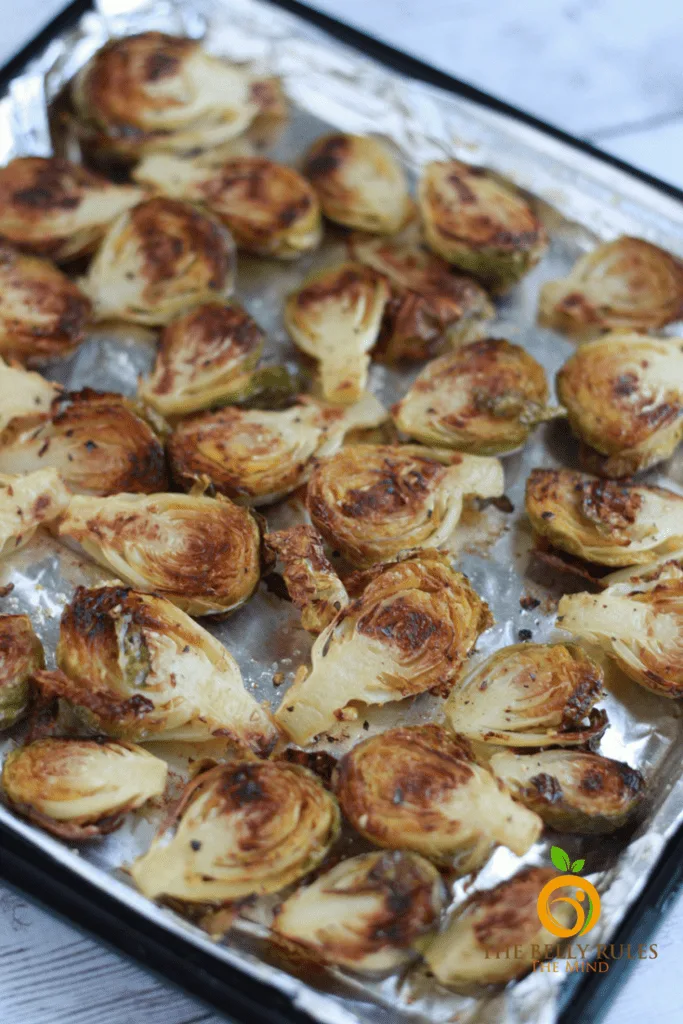 After about 10 minutes into roasting flip the side of the Brussel Sprouts and roasted the other side. Meanwhile prepare the yummy homemade Szechuan Sauce. All you will need for this Szechuan Sauce is dried Red Chillies, ginger, garlic, tamari, vinegar, ketchup, maple syrup. Add all ingredients into a blender and give it a couple blitz and the delicious sauce is ready. Roast the Brussel Sprouts until you see a nice char. If you don't like the char then roast them until golden brown. However, keep an eye out when roasting these as temperatures can vary depending upon the ovens. The end product is super yum.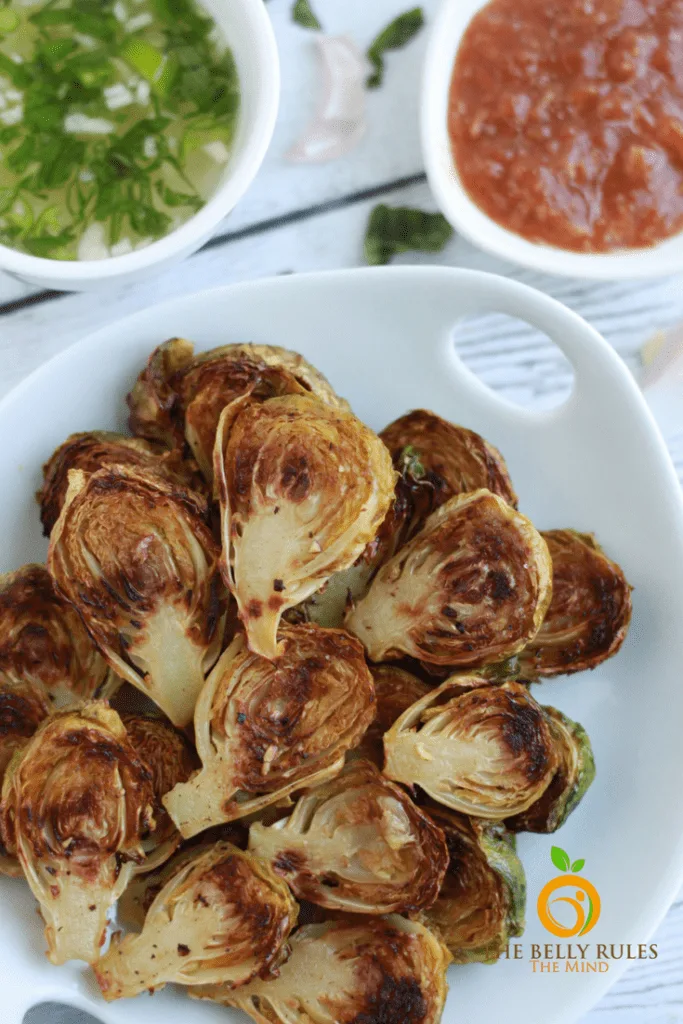 Why Brussel Sprouts?
Brussel Sprouts are a great source of Vitamin K & Vitamin C.
Brussel Sprouts are very low in calories.
Brussel Sprouts have a very low glycemic index.
Brussel Sprouts are high in fiber.
Brussel Sprouts top the cruciferous vegetable list thus help in cancer prevention properties.
In short, incorporate Brussel Sprouts into your lifestyle because they are loaded with so much goodness. This above recipe of Roasted Brussel Sprouts with homemade Schezuan sauce is a good starting point to fall in love with Brussel Sprouts. Another variation of the Brussel Sprouts from the blog is the Teriyaki Brussel Sprouts. Go ahead and give these recipes a shot.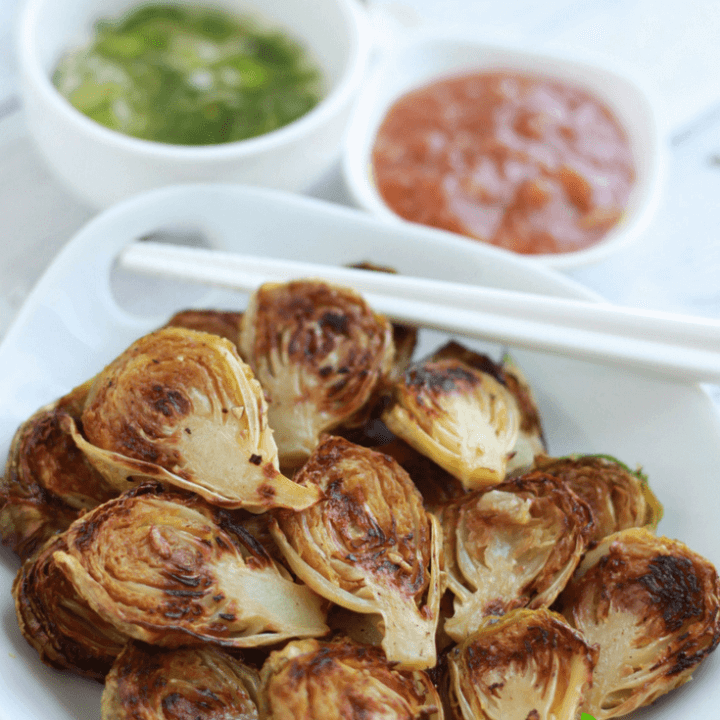 Roasted Brussel Sprouts with Szechuan Sauce
Ingredients
For Roasting
1 pound Brussel Sprouts
2 tablespoons olive oil
1 teaspoon black pepper, freshly cracked
salt to taste
For Szechuan Sauce
8 dried whole chillies, deseeded
2 inches ginger root
8 garlic cloves
2 tablespoon vinegar
2 tablespoon tamari or soy sauce
1 tablespoon ketchup
1 tablespoon monk fruit extract
Instructions
Preheat oven to 400°F.
Rinse and cut brussel sprouts length wise.
In a large mixing bowl, add olive oil, salt, crushed pepper & brussel sprouts.
Spread the brussel sprouts onto a large baking sheet with the flat side down.
Start roasting the the brussel sprouts and flip the sides half way through after 10 minutes.
Bake until lightly charred and crisp on the outside and toasted on the bottoms. Keep and eye out when roasting them as different oven temperatures may vary.
!For the Szechuan Sauce.
In a blender, add deseeded whole chillies, garlic, ginger, tamari or soy sauce, vinegar, ketchup, & monk fruit extrat. Blend until you get a smooth consistency and serve with roasted brussel sprouts.