When you think Summer rolls, You usually think of a something light,fun or a quick meal. I've switched things up and turned these summer rolls into a spicy fun party food! Summer Samosa Rolls makes a great light meal to enjoy this Festive season.
This post is a part of Samosa Served 8 Ways & a sequel to Easiest Ever Samosa Stuffing (ready in just 30 minutes and tastes just like the store bought Samosas). If you haven't read it yet, I would highly encourage you to read that post to learn more about the popular so called 'Indian' snack, Samosas.Perfect for kids or adults, these Samosa Bites are sure to be a hit and perfect for any occasion!
I have been obsessed with summer rolls & I've been dying to try making these Summer Samosa rolls with rice paper ever since Anvita posted her Vietnamese Summer Rolls. India meets Vietnam and I can safely say .... what a lovely fusion !!

Samosa, which is known under several names including sambossa, samsa or samusa, is a famous snack originally from northern India. It is a 4-inch triangular-shaped fritter made of a thin wheat dough that wraps some filling.


Fresh rolls are one of my favorite ways to snack and I enjoy them so much that I have been known to make a whole meal of them. I love that this time they were filled up with our Easiest Ever Samosa Stuffing for a totally unique taste.Best part is you can serve this with our Multipurpose green chutney , 5 minute Asian Peanut Sauce and they taste amazing!!
For more healthy ideas and recipes subscribe to our email or follow us on Facebook to stay updated with all the healthy information we share. Check out our Pinterest boards for all the healthy eating inspiration you'll ever need. For an unending buffet of healthy photographed food, follow us on Instagram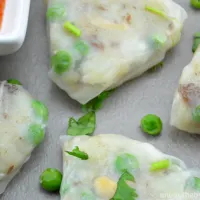 Summer Samosa Rolls
Instructions
Fill a large dish with warm water. Briefly soak a rice paper wrap in water 10 seconds, being sure not to let the wrap become too soft.
Remove from water and lie on a clean flat surface.
Scoop a large spoonful of filling onto the center of each half.Fold one side over the filling,
followed by the other side of the wrap so you are left with a triangle-shaped pocket. Fold the open side of the pocket over itself, to close.
Transfer samosas to a serving plate and enjoy them .